Christmas Styling with Vanessa Colyer Tay
---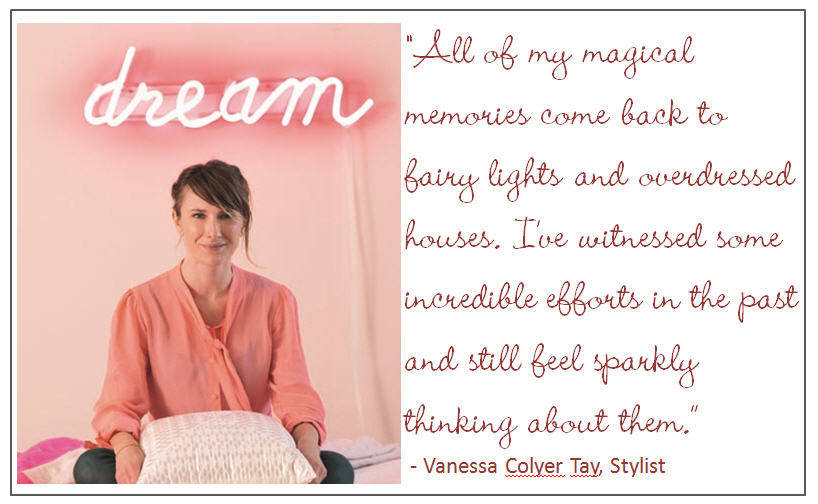 Portrait photo by Sam McAdam Cooper for Inside Out magazine.
As the supremely talented stylist behind our beautiful Christmas Homewares catalogue, Vanessa Colyer Tay knows a thing or two about dressing your decor with the latest looks for the festive season. Here she shares her simple styling tips and top picks from our current Christmas collection.
Can you provide a brief overview of the main trends showcased in the catalogue?
In this season's Christmas catalogue we cover a large variety of trends but my absolute favourites are the Effortlessly Elegant (pictured below) for it's classic and timeless feel, the Storybook Character theme for it's heirloom pieces (the kind of decorations that children love when they're young and reminisce over when they're grown up), Nautical and Tropical.
What is your favourite Christmas Homewares shot?
The main hero shot for the green Storybook Character theme (pictured below). We suspended decorations above the table using a ladder, which we hung from the ceiling. I love this concept because it gives any soiree an abundant ambience of festive decoration without using up too much table space. Inspiration came from the beautiful feather tails of the decorations – they deserved to be shown off somewhere extra special.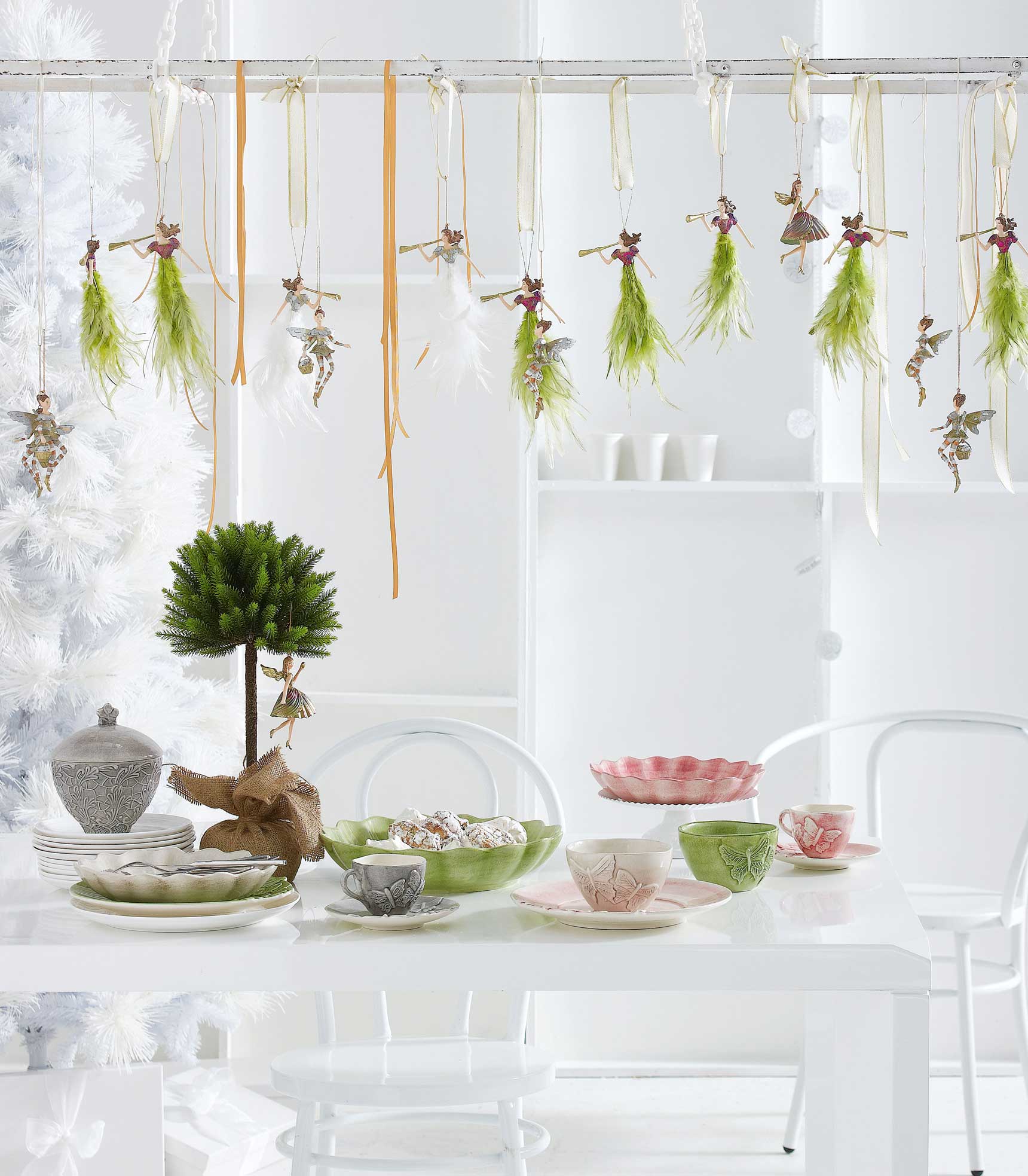 Which Domayne pieces will be gracing your tabletop this Christmas?
Mateus dinnerware, Laguiole cutlery and simple glassware.
What are the no nos when it comes to dressing up your home with Christmas ornaments?
It's not really a no no – I love to look beyond the tree for places to hang ornaments, like one feature ornament hanging from a bunch of beautiful blooms, door handles or light fittings. A few scattered around the house will tie your Christmas decorating scheme in nicely.
What's your favourite childhood Christmas memory?
All of my magical memories come back to fairy lights and overdressed houses. I've witnessed some incredible efforts in the past and still feel sparkly thinking about them.
Can you share your 2013 Christmas styling tips:
Table top: Nothing says Christmas quite as well as ornaments – place one ornament along with each table setting either on a plate or tied around cutlery or napkins and offer them as a take home gift.
Christmas tree: More is more! Decorate it in abundance.
General décor: Bundled fairylights in clear vases add a lovely touch to evening gatherings.
When adding a touch of Domayne Christmas magic to the home – what are your must-haves?
1. Lace Angel (because it's tricky to find a nice tree-top angel these days!)
2. Golden Spruce Christmas tree.
3. Lots of candles, votives and lanterns to help set the mood.
4. A good quality front door wreath to invite you home each day and welcome your guests – my favourite is the Feather Wreath.
5. Some large or over-sized ornaments like the Festive Drop. These are great for the tree but also beautiful when hung from chandeliers.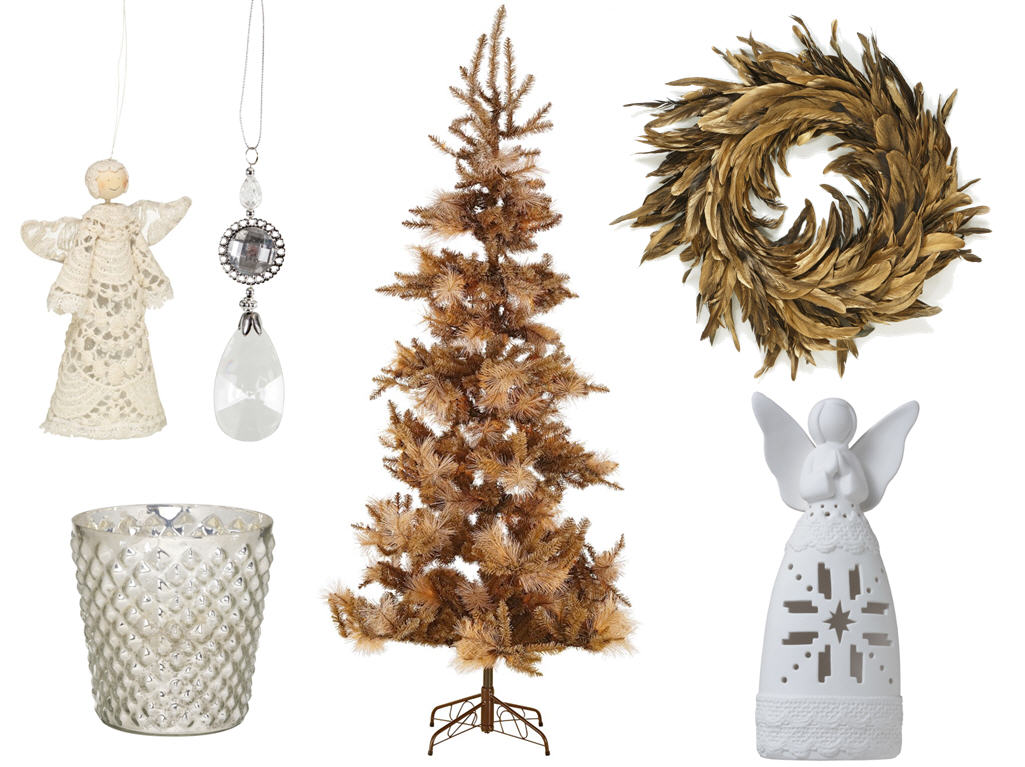 Clockwise from top left: Lace Angel, Vintage Jewel Drop Decoration x 3, Spruce Golden Christmas Tree, Feather Brown Wreath, Pure Angel Tealight, Antique Candle Pots Set of 2