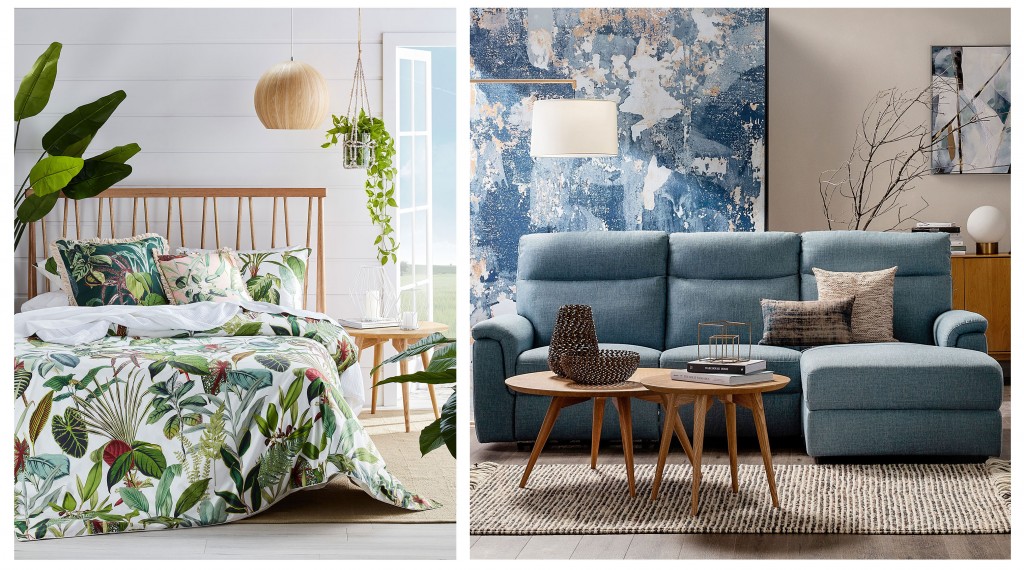 3 Summer Colour Trends You'll Love For Your Home
---
Sun-kissed summer days are on the horizon – this means beautiful beach weather, bright blue skies and a refreshing sea breeze. While you can hit the sandy shores to escape the stifling heat, is your home equipped to deal with the seasonal change?
When writing your summer checklist, don't forget to include updating your home décor right at the top. While the list might also include getting your air conditioning sorted, putting away your winter bed linen and loading your freezer with ice cream, the interior décor of your home will impact the comfort levels throughout your living space.
At Style Insider we've identified 3 key summer colour trends – as featured in the Domayne Summer Launch 2018 catalogue– that offer the easiest way to instill a sense of cool calm to your home.
Summer Blues
Blue celebrates what we love most about summer: clear skies and coastal getaways. Bring this bright summer hue into your home by incorporating vivid hints of homewares, vibrant bed linen or bold statement furniture. Create a cohesive interior style in your living area by pairing different shades of blue with sandy beige, taupe or bright whites.
Pictured above: 'Delmara' Fabric Lounge
Pictured above: 'Willow' Quilt Cover
Pictured above: 'Takoda' Fabric Lounge
Pictured above: 'Aura' Denim Quilt Cover
Lush Greens
Summer is all about lush greens! Soothing to the eye, this colour palette is all about creating a seamless flow between the outdoors and indoors. You can easily create a tropical oasis in your own home with your favourite shade of green – it can be something as simple as botanical prints on your bed linen, cushions in varying shades of jewel, mint and forest greens or strategic placement of trending greenery throughout the house.
Pictured above: 'Wonderplant' Quilt Cover Set
A small selection of the Greenery pictured above: Namibia Large Cactus | Monstera Split Leaf Philodendron | Daintree Echivaria in White Bowl
Pictured above: Potted Needle Succulent | 'Kamana' Ceramic Vase 23.5cm and 32cm
Pictured above: 'Santa Clara' Cushion (45 x 45cm) | 'Florida' Round Cushion | 'Fotana' Cushion | Basic Linen Square Cushion | 'Kew' Cushion | 'Palomar' Cushion  
Subtle Neutrals
Easy on the eye, the whisper-soft colours of a neutral palette will help you create a relaxed summer style in your home. Pair light timber furniture with decorator pieces in muted colours such as taupe or cream to create a clean and refreshing ambience.
Words of wisdom from Domayne Stylist, Danielle Hackney: "Summer is a time for paring back the layers, so lighten up the colours and declutter. Simple statement pieces speak volumes."
Pictured above: 'Kiowa' Dining Table |'Marli' Dining Chairs
Pictured above: 'Hamptons' Bed
Pictured above: 'Sophie' Fabric Modular Lounge
Pictured above: 'Casper' Bed
Feeling inspired to give your home a makeover this summer with one of these colour trends? View our incredible range of furniture, bedding and homewares online or visit your nearest Domayne store and talk to our friendly team about all your summer decorating needs.