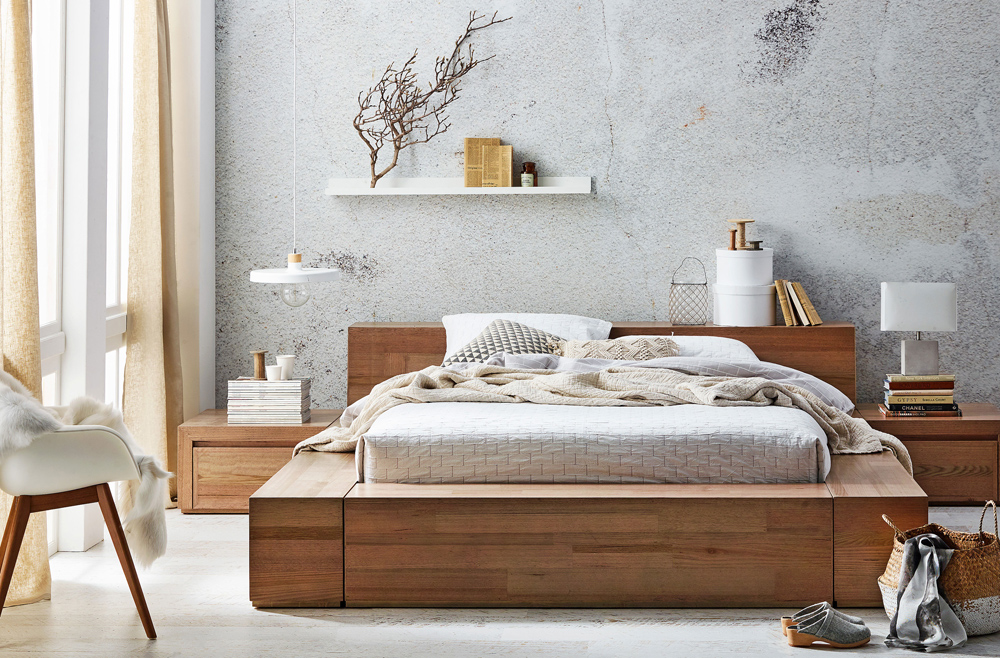 4 Autumn Design Trends For Your Home
---
There is so much to love about autumn – sun-speckled days accompanied by gentle gusts of wind; deciduous foliage transforming the landscape into a burnished bounty of rich reds, warm ochres and tawny maples; bubbling pots of soup permeating the air; the cosy comfort of a well-feathered nest to come home to.
Speaking of well-feathered nests . . . is your home ready for the seasonal change? At Style Insider, we've picked four of our favourite autumn design trends that you're going to love for your home: Millennial Pink, Timber Tones, Hues of Blue, Into the Wild.
Trend #1: Millennial Pink
Millennial pink is everywhere – bespoke stationery, high fashion and home décor designs. This subtle shade is soft and forgiving; pairing well with classic black, white, grey, navy or beige as well as other colours on the pastel palette. It also works well with both gold and silver accents, and its dusty appearance is a perfect partner to organic textures and matte finishes – beeswax candles potted in muted ceramics or rich velvet fabric cushion covers come to mind.
Here's some sound advice from our stylist, Sibel Alpsal, on making this colour of the moment work in your home:
"When styled well, millennial pink can add a sense of confidence to your space. Start small if you want to play it safe with cushions and homewares. But if the shade really resonates with you – go all out with a sofa or even paint a wall, if you dare."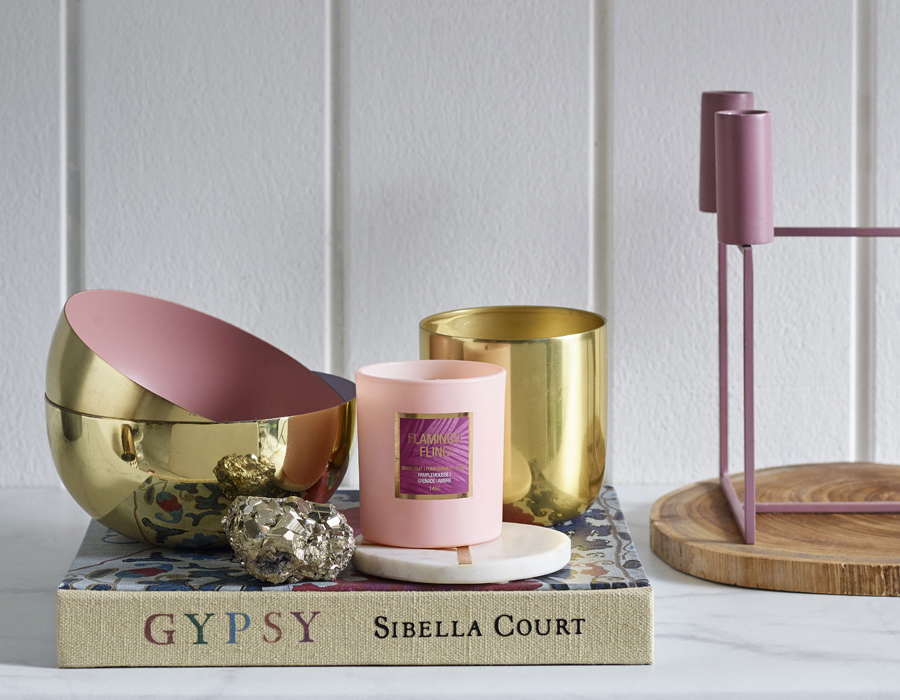 Here are some of our favourite millennial pink picks from Domayne:
Trend #2: Timber Tones
Let's talk timber. This natural material is ideal for every home, finding a place for itself in practically every interior décor style – the key is choosing the right stain or colour of timber. For autumn, we love rich honey hues, warm teaks and mild maple tones. Timber is the perfect choice for big ticket items such as beds and bedroom furniture.
Our other stylist, Kristin Rawson, loves the 'Javier' bed (pictured above) – especially its extra long bed head that is perfect for leaning on while enjoying a calming cuppa just before bed:
"As a beautiful natural wood frame, the 'Javier' bed allows layers of linens for winter warmth. European pillows along the frame will provide additional comfort – great for those lazy weekends spent in bed."
Here are some of our favourite timber beds from Domayne:
Hamptons Bed Frame with Leather Bed Head
Javier Queen Bed
Trend #3: Hues of Blue
Colour is an easy way to transform the look and feel of a room and the best way to introduce colour to a bedroom is with beautiful bed linen. Moody blues are a great choice as they'll easily shift the look and feel of a space from season to season. Intricately detailed patterns and florals are big this autumn as far as manchester is concerned. As for fabrics – cotton is always popular, which can be made to feel more warm and snuggle-friendly with layers of waffle blankets, throws and rugs in a similar colourway.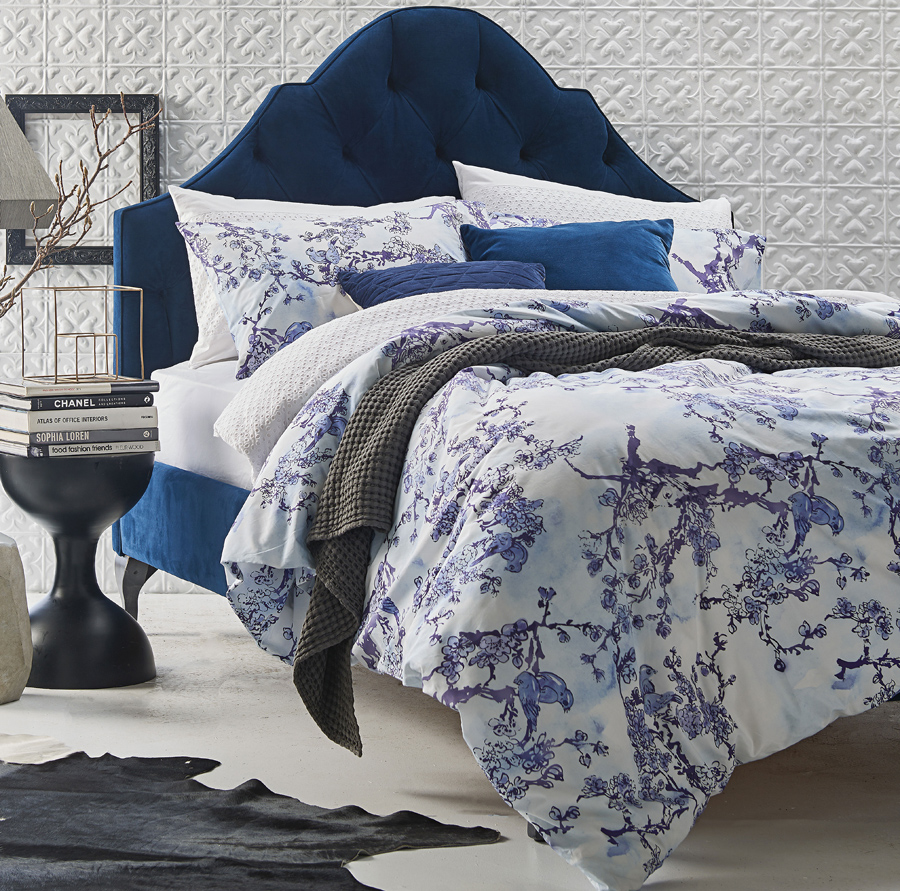 Here are some of our favourite blue-hued bedroom picks from Domayne:
Trend #4: Into the Wild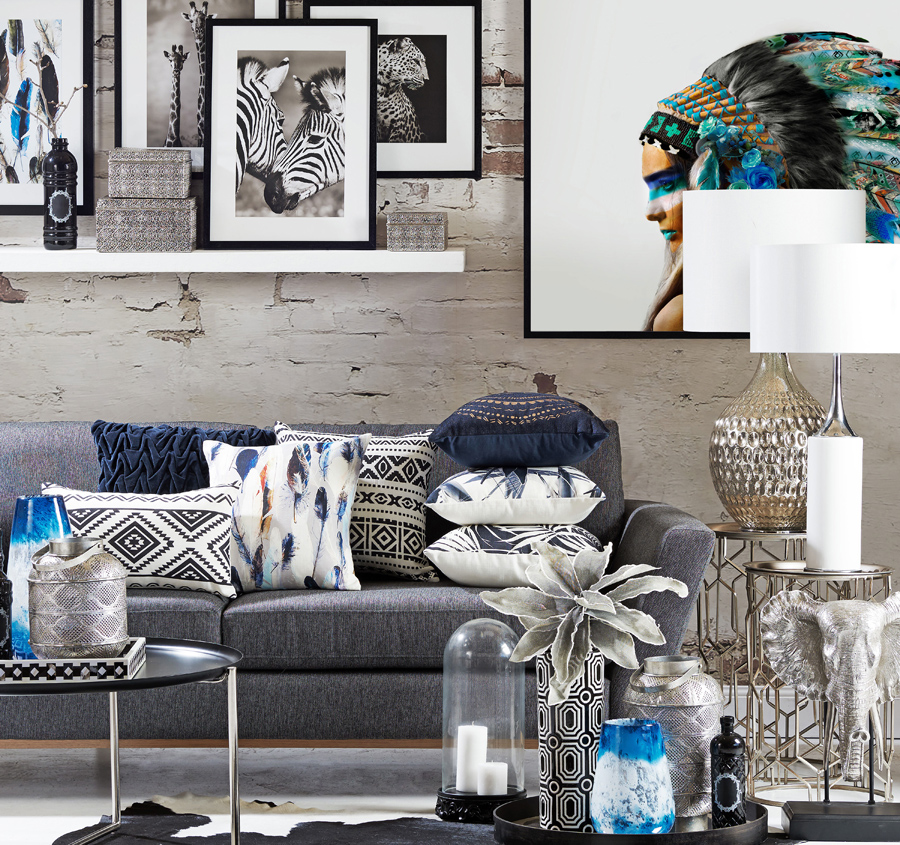 Looking for a little drama? Why not go tribal and add instant impact with a dramatic decorator item that celebrates world heritage. Think Aztec-inspired prints, Moroccan-themed patterns, Kutch silverwork and African wildlife prints.
We love them all clustered together (as pictured) but if you're after a more restrained effect, choose one key item and build your style story around it.
Here are some of our favourite wild-at-heart decorator items from Domayne:
Elephant Head Sculpture in Silver
Have we gotten you excited about the seasonal change?
Make autumn your favourite season with inspired style finds from Domayne. View the incredible range of furniture, bedding and decorator online or take a trip to your nearest store for a little sticky beak.