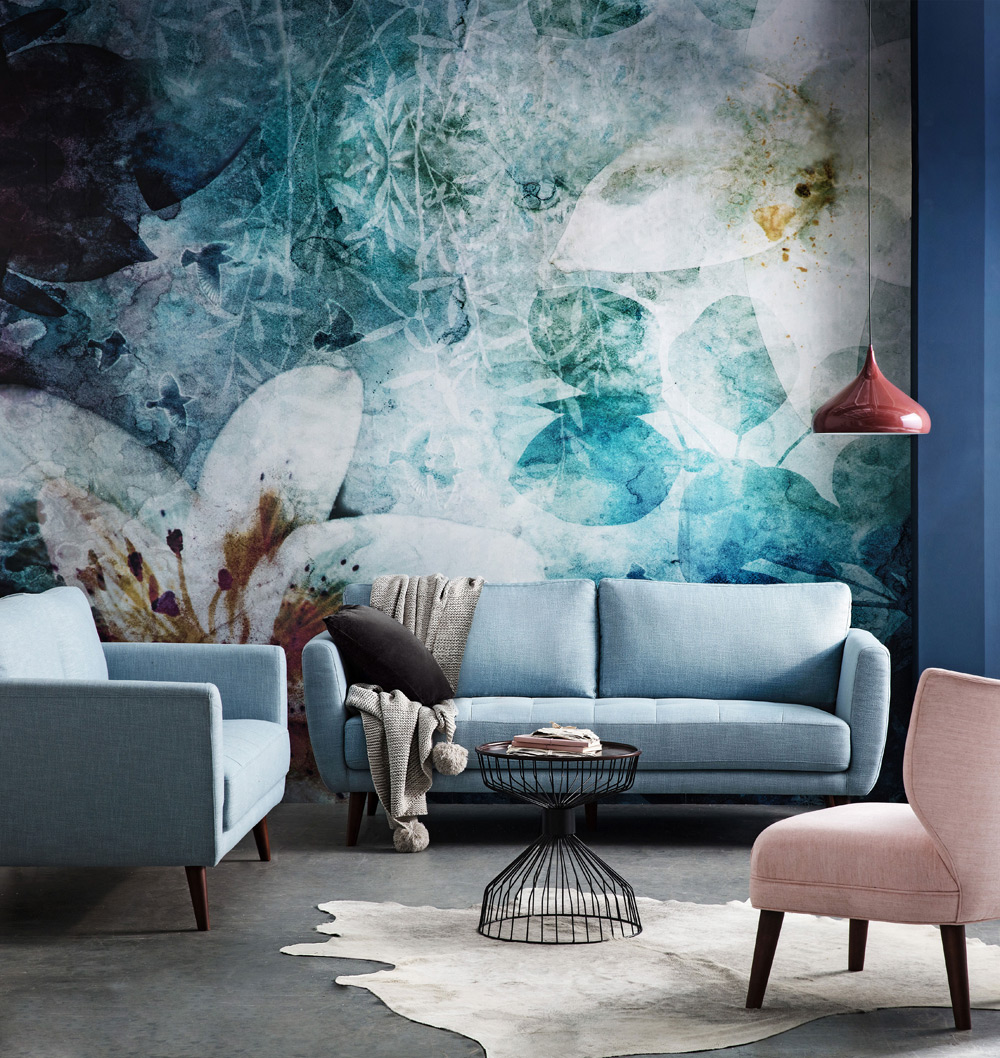 5 Interior Must-Haves For Your Apartment
---
Apartment living is all about striking a balance between form and function. Remember, comfort is key and style is a must. Keeping that in mind, we've browsed through the latest Apartment Living catalogue from Domayne and picked five drool-worthy looks for your home, sweet home. We also sat down with Domayne stylist, Danielle Hackney, to get her insights into this season's hottest looks.
1.   Dramatic, Detailed, Dynamic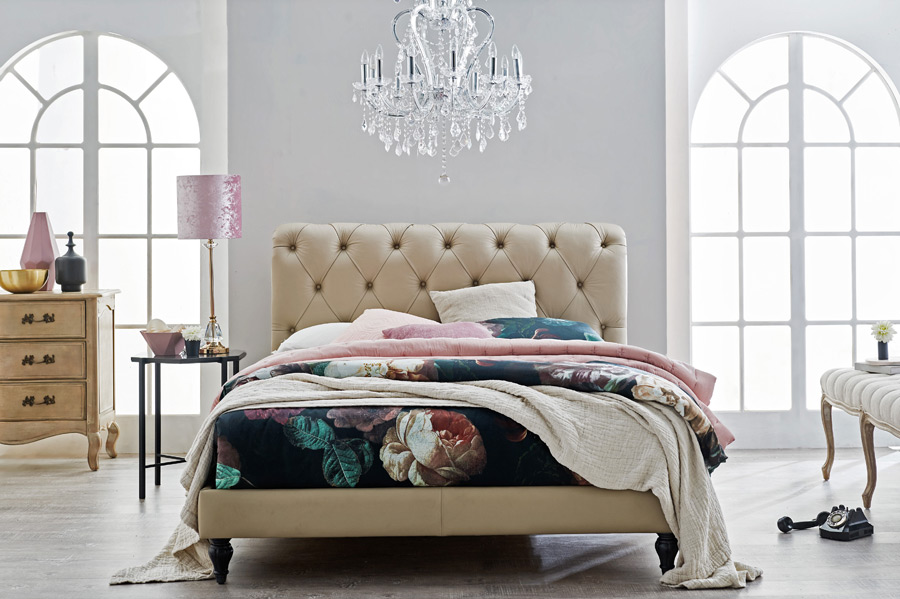 Don't let a diminutive bedroom deter you from making daring choices. Select a statement piece that knows how to work the room. The Chester Queen Bed with its tufted bed head in a hushed beige hue is ideal for modern homes where quality craftsmanship is celebrated.
Here's a great tip on being bold in the bedroom from Danielle:
"If the ceiling is too low for such a large scale chandelier [as shown in the image above], opt for a delicate vintage style pendant. Domayne has four styles available – you could use two different scaled pendants over a bedside table."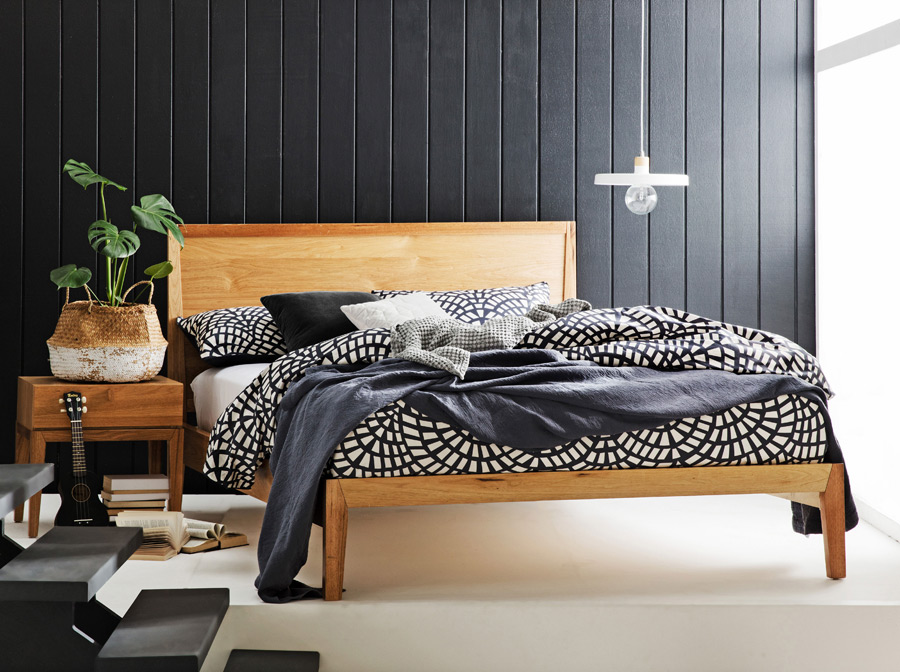 Danielle's favourite product to shoot was the Lola Queen Bed (pictured above).
"We created a loft-style bedroom and sat the light timber bed frame against a dark tongue-in-groove wall. Sometimes people are afraid to use a bold colour in a bedroom or small space but if there is adequate light streaming in, then some nice floor lighting, indoor greenery and graphic bed linen can work very successfully."
2.   Pretty, Practical, Patterns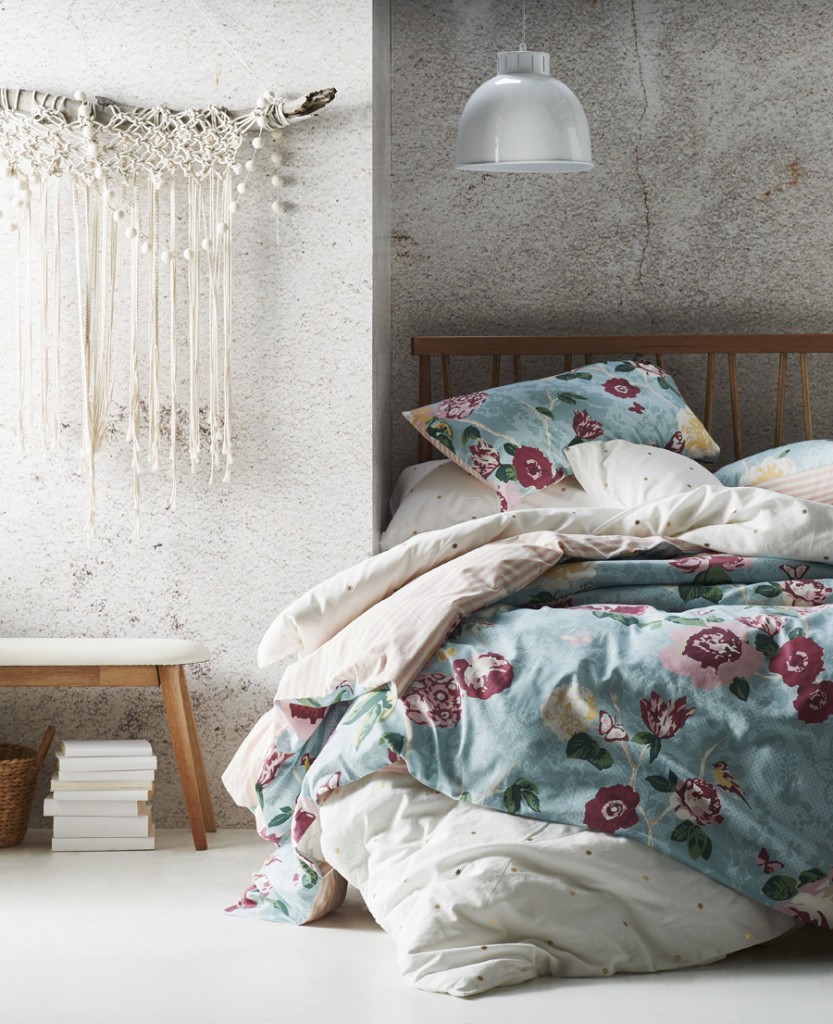 Gorgeous florals are perfect against a sea of blue and great for giving depth and dimension to petite rooms. We love the billowy beauty of the Paloma Quilt Cover Set.
When asked what the inspiration was for the styling of the photo shown above, Danielle said:
"These Shannon Fricke exclusive designs layer up perfectly for a cosy look. The Paloma is a modern floral – fresh and fun – so this shoot needed to embody that. The bed styling is relaxed and flowing."
She goes on to advise:
"If you're purchasing new bed linen, evaluate whether you want something fun and fashionable or more timeless. If you're on a budget, an inexpensive pattern is an easy way to update your room each season. But if you have a bit more to spend, invest in crushed linen in white, flax or charcoal – you will not regret it!"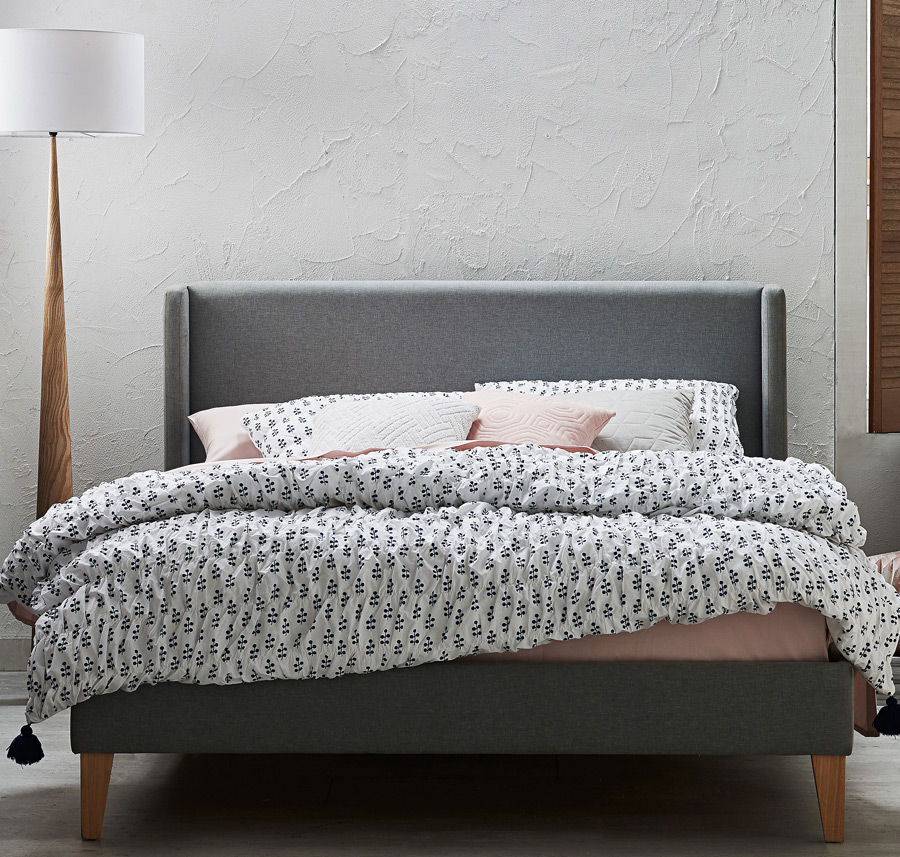 We also love the crinkled cotton Acacia Quilt Cover (shown above) with dotty leaf patterns in navy. Supremely soft, it's an easy way to add a sense of luxury to your bedroom.
3.   Compact, Cosy, Chic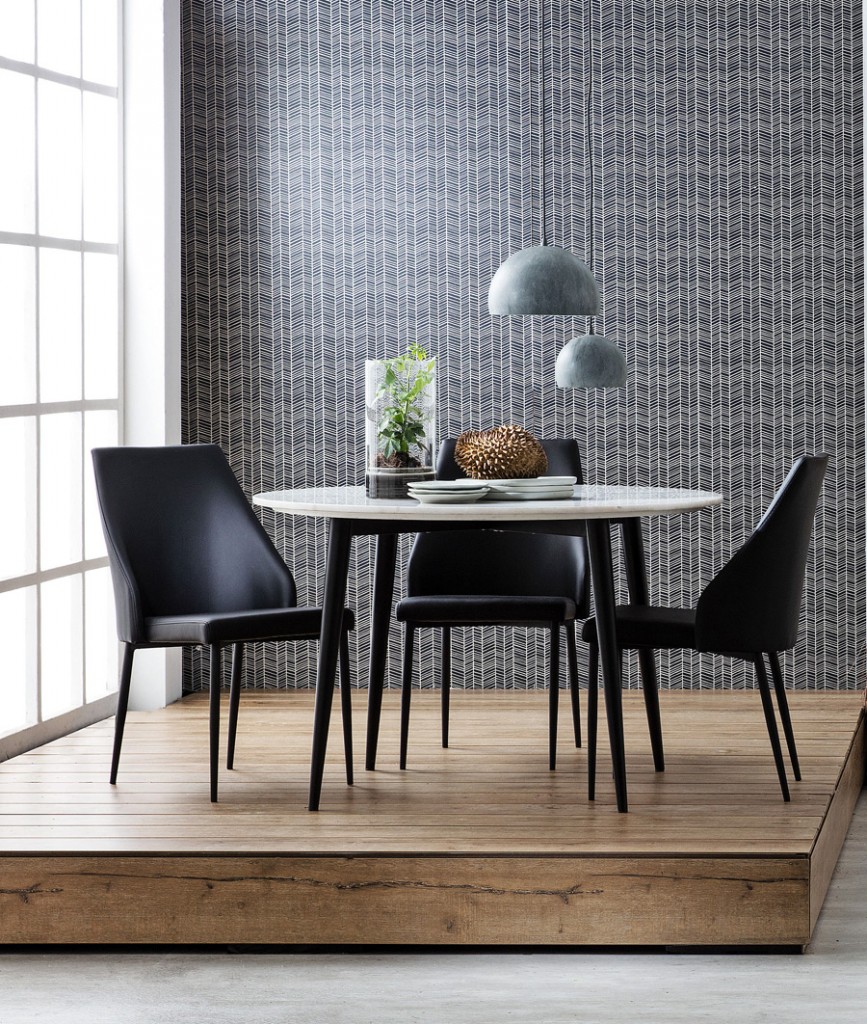 Short on space? That doesn't mean you have to compromise on style. Make mealtimes more enjoyable with the Metz Dining Table and Dining Chairs. The refined and modern table features a subtle marble table top that contrasts strikingly against the black pin legs.
Danielle loves the compact shape of the chairs, which neatly tuck away right underneath the table when not in use.
"In terms of styling, monochromatic dinnerware with a confident centrepiece works well with the Metz."
4.   Flexible, Functional, Fabulous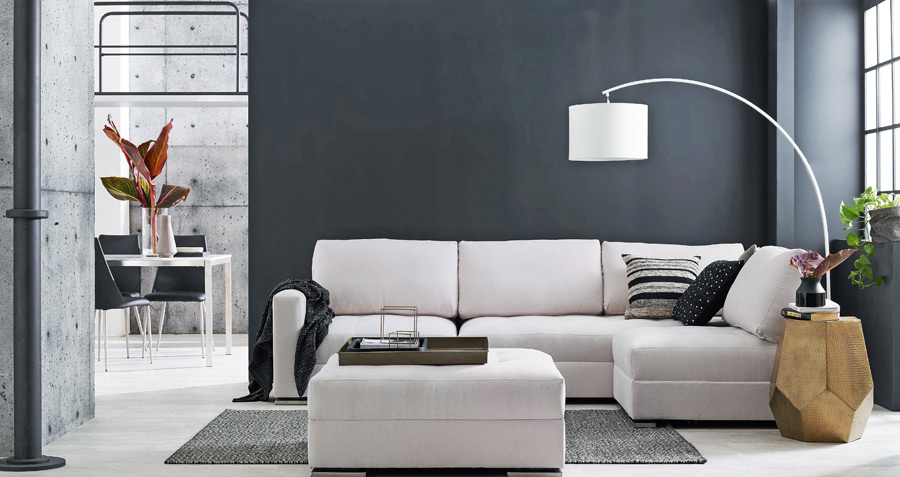 Versatile modulars, such as the Sophie 4-Piece Modular & Ottoman are a clever option for apartment style homes.
Here's what Danielle has to say on the matter:
"The Sophie can be configured in so many ways. It's ideal for small or unusually shaped spaces. Keep the soft furnishings to a minimum, perhaps with three scatter cushions and a throw so as not to overcrowd the sofa. Also, work with the colour of the sofa fabric – different tones of the same colour can be very effective."
5.   Trend Alert – into the Grey
Ranging from gentle rain clouds and shimmering silver to full-bodied slates and charcoals – grey is the perfect shade for contemporary apartment-style homes.
Here are some of our favourite go-to grey pieces:
We asked Danielle why she thinks grey is such a popular choice:
"Grey just never dates. In recent times we have seen it paired with blush tones. If you invest in quality accessories, whether they are soft furnishings or decorative pieces, you can update your palette seasonally with a few different additions in a new accent colour. Try a mix of grey, mustard, olive and ink for winter."
Pictured right on top of the page, our favourite is the Elysse Sofa range, which is shown in a powder blue but is also available in lovely light or dark grey shades that are right on trend.
What's your favourite from the Apartment Living catalogue? Browse more furniture, bedding and decorator on the Domayne website or go to your nearest store and speak to one of our friendly team members about your apartment-living needs.