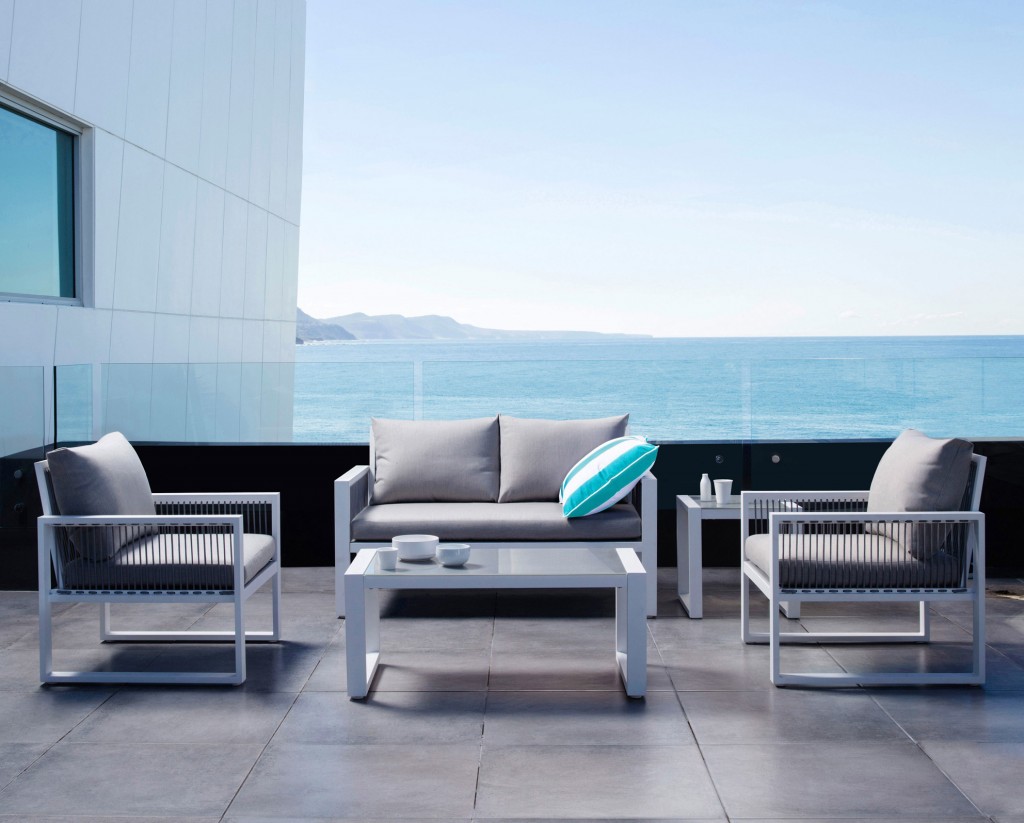 7 Outdoor Trends For Summer 2017 That You Will Love
---
You've survived winter! But what about your outdoor living area? Could it do with a little TLC before the warm weather is upon us? Before you know it, it'll be time to host backyard barbecue lunches, cocktails by the pool and dinner parties on the patio!
Never fear, the Domayne Outdoor Furniture Launch 2017 catalogue is out now and we've identified 7 key outdoor trends that will help you transform your al fresco area into an entertainer's haven this summer.
1.   Greenery – Pantone Colour of the Year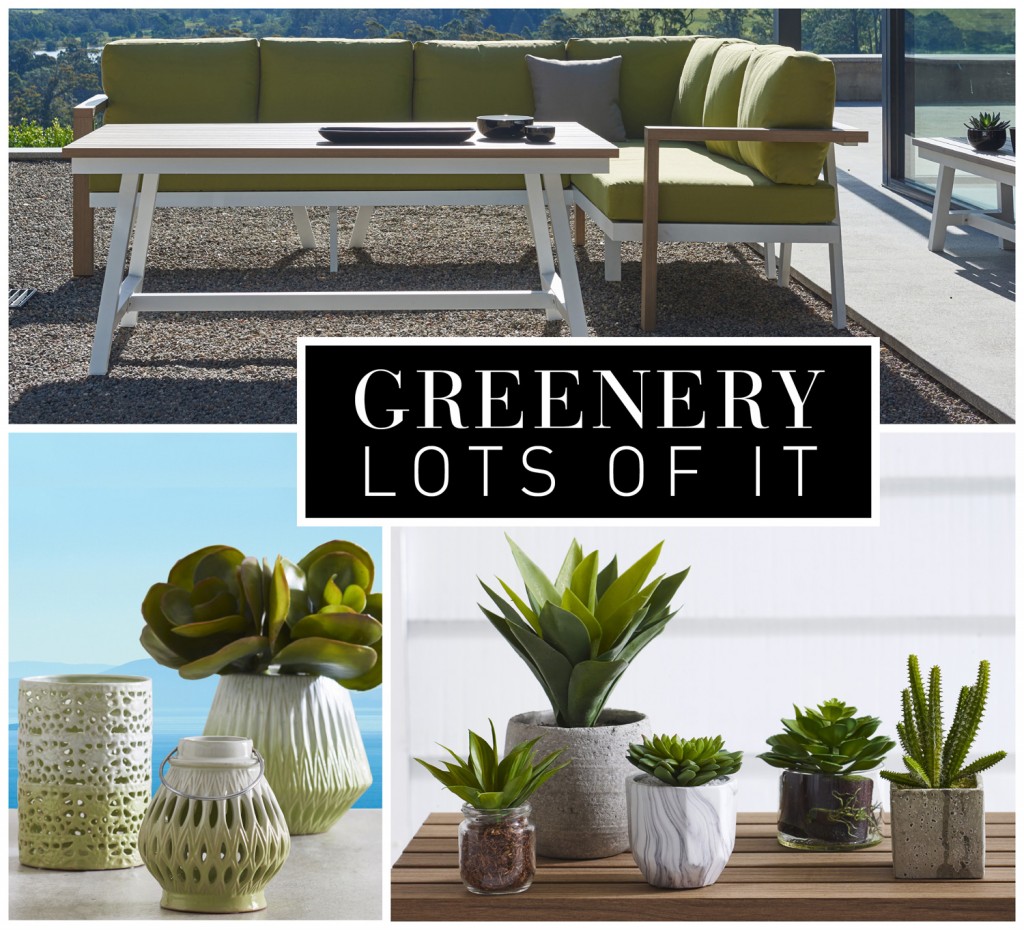 Take a leaf out of nature's book and go for greenery with a yellow-green hue that is evocative of tender young shoots that spring to life in September and October. Think gem-like peridot, golden kiwifruit, olive green and pretty pistachio, and make these lush shades shine against natural timber, marble, concrete and glass. While the best way to introduce greenery is through potted plants, vases and lanterns, don't limit it to just decorator items. A statement-making furniture piece, such as an outdoor lounge with cushions upholstered in chartreuse will create a warm and welcoming ambience.
Our favourites include (as pictured above, clockwise):
Piazza 2-Piece Outdoor Modular Lounge
Succulent in Pot
Cactus in Cement Pot
Flat Echeveria in Marble-Look Pot
African Agave in Pot
2.   Wicker Meets Its Match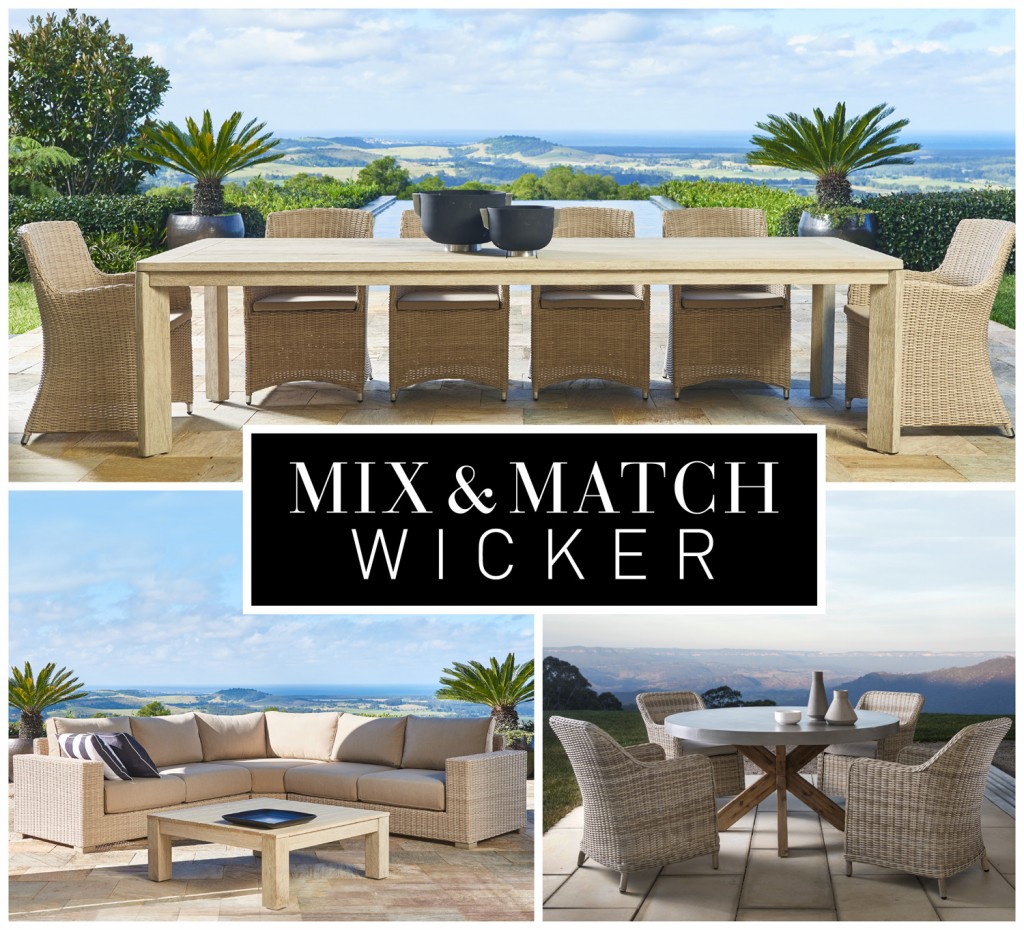 Wicker is a classic choice for outdoor furniture and has been a staple in Australian backyards for decades! The great thing about the availability of synthetic wicker these days is its weather-resistant properties and comfort-oriented construction, which makes it a popular choice in modern homes. This season, wicker sofas, modular lounges and dining chairs are paired with sealed fibreglass and stone powder table tops with an acacia timber base (such as the Azure) or a karri gum timber dining or coffee table in a light blonde finish (such as the Verena). This variation in material creates interest and makes for a more contemporary décor, rather than being too matchy-matchy.
Our favourites include (as pictured above, clockwise):
Verena Outdoor Rectangular Dining Table
Verena Outdoor Chair
Azure Outdoor Round Dining Table
Mississippi Outdoor Dining Chair
Verena Outdoor Modular Lounge
Verena Outdoor Square Coffee Table
3.   Indoor/Outdoor Oasis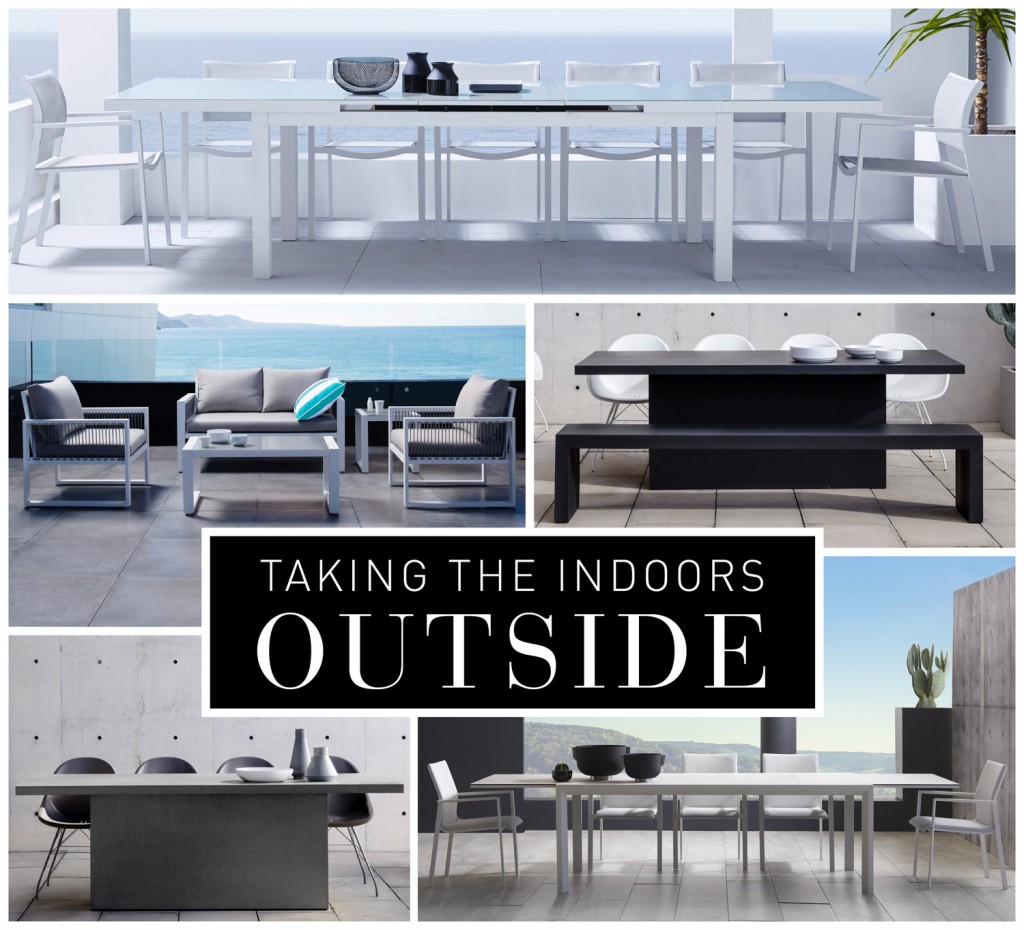 Make the transition from indoors to the outside seamless and natural with outdoor furniture that's been designed with indoor style and creature comforts in mind. Create a luxurious setting where you'll want to linger over lunch with your nearest and dearest. Sleek aluminium frames with a glass overlay tabletop (such as the La Tavola) are right on trend, as are sealed fibreglass and cement frames (such as the Linear), sealed fibreglass and stone-powder tables (such as the Onyx) and cute tub and carver chairs (such as the Montpellier).
Our favourites include (as pictured above, clockwise):
La Tavola 11-Piece Outdoor Extension Dining Setting
Onyx Outdoor Rectangular Dining Table
Onyx Dining Bench
Linea Outdoor Rectangular Dining Table
Montpellier Tub Chair
4.   Block Colours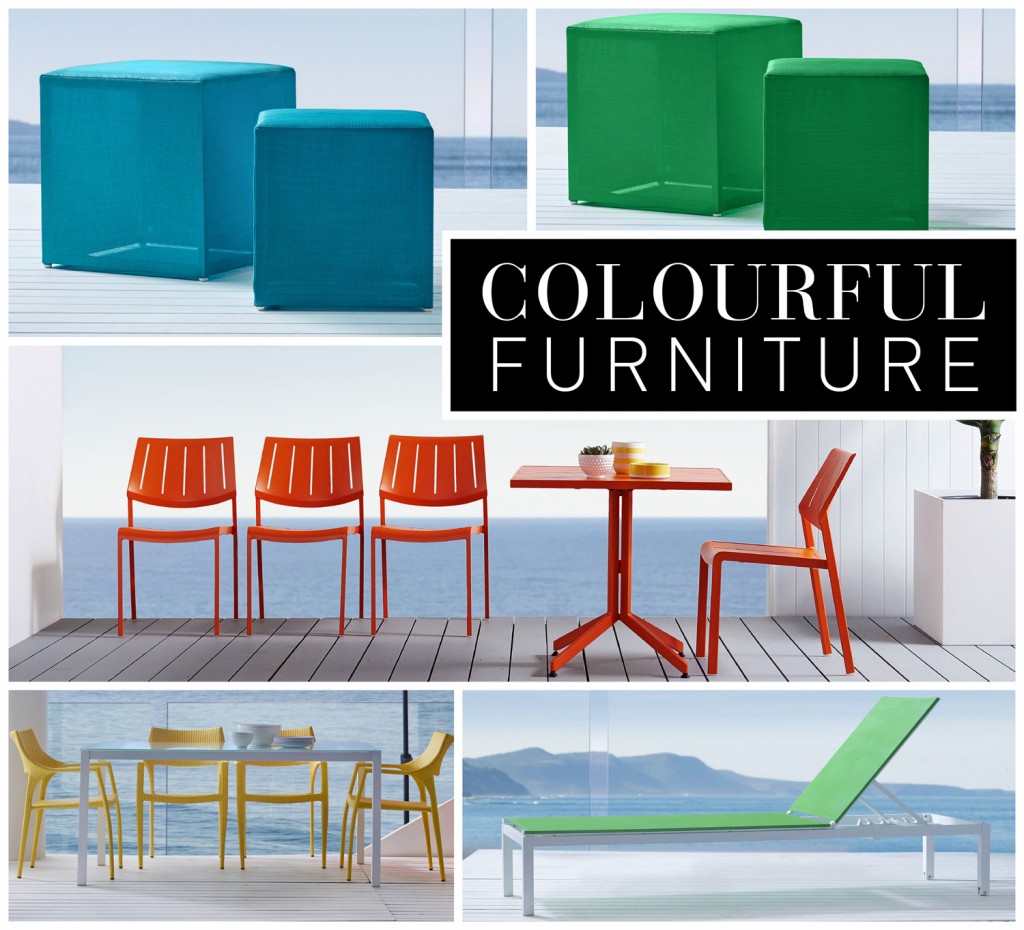 This summer is all about vibrant pops of colour in a rainbow palette. The addition of one or two bright furniture pieces will imbue a fun, fresh feel to your winter-weary outdoor area. Think bright sunloungers in zesty apple green (such as the Arcadia), an azure footstool (such as the Zed) or a tangerine-toned compact table and chair setting for four (such as the Stax). If you're still shying away from daring hues, why not try mixing and matching confident colours in small doses (such as the Golf) with stable neutrals (such as the Trend dining table in white)?
Our favourites include (as pictured above, clockwise):

Stax Flip-Top Square Table
Arcadia Sunlounger
5.   Floor Candy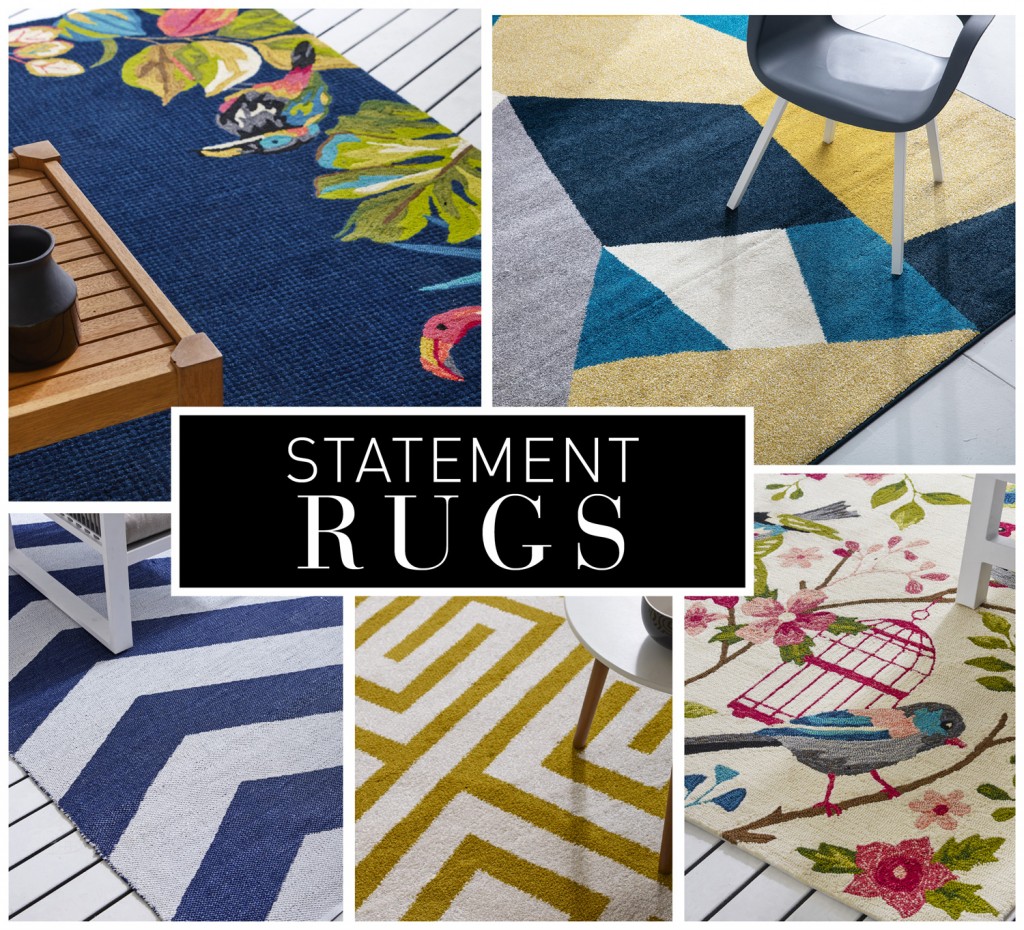 Usually, the floor is an afterthought when renovating or updating any room, including the outdoors. Not this season, though! Outdoor rugs showcasing exciting prints and patterns in striking colourways are here to help you create a focal point in your al fresco area that will draw the eye and start a conversation!
Our favourites include (as pictured above, clockwise):
Copacabana Outdoor Rug in Navy
6.   Cushion Corner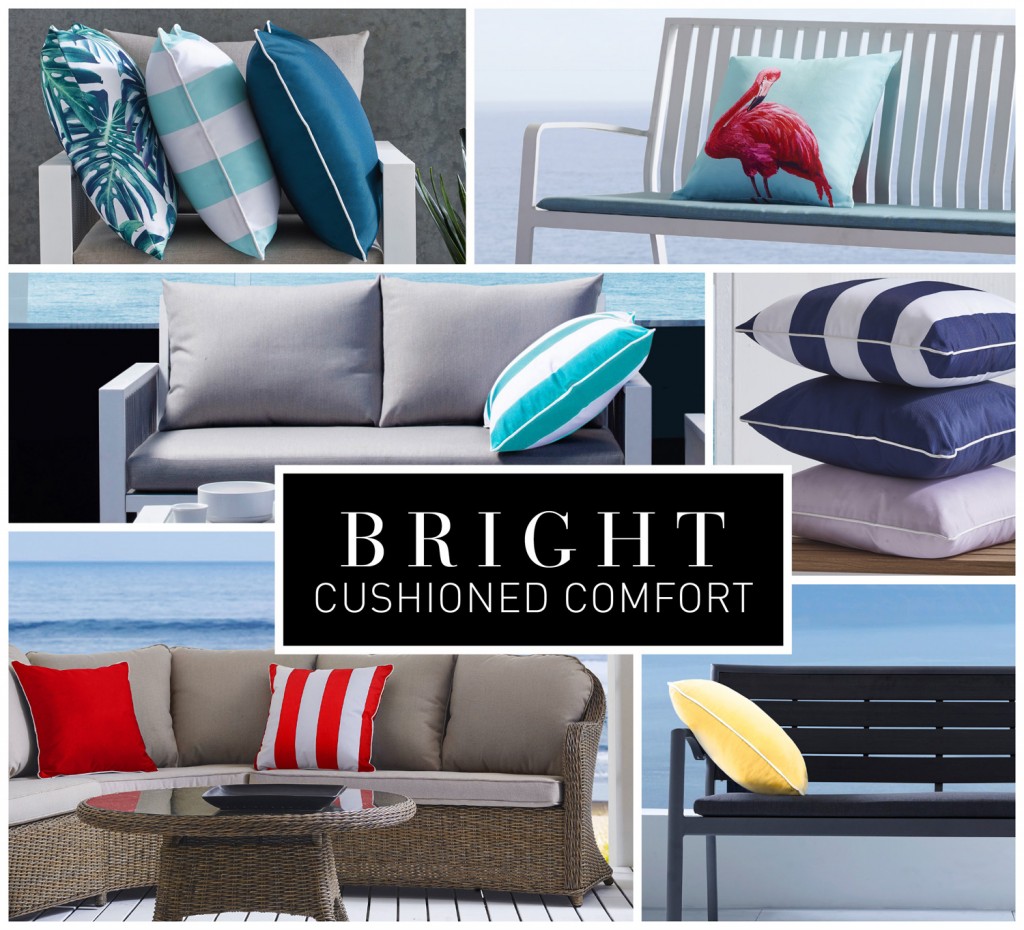 Fact of life: you can never have enough cushions – indoors or out! Not only are they great for resting your head on, leaning your back against or hugging when a coastal breeze hits, they are also a great way to incorporate colour and character into your decor and a cost-effective way to breathe new life into a stale space. This season is all about playful prints, solid colours and bright stripes balanced with hints of white and grey.
Our favourites include (as pictured above, clockwise):
7.   Dynamic Decorators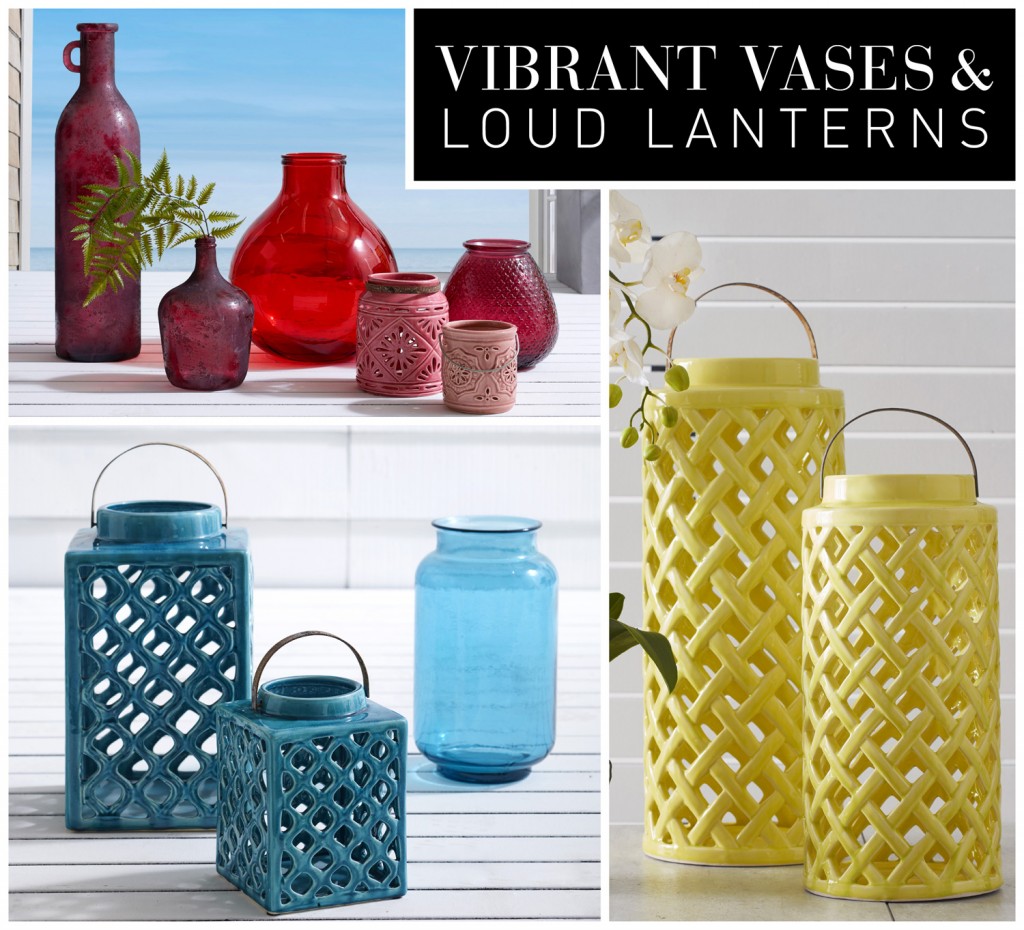 No décor project would be complete without the addition of a few key decorator items to add personality to a space. Place either a dramatic individual piece against a clean backdrop or cluster a few similarly coloured items in varying heights to create a unique vignette. Our favourites include lanterns and candle holders in sunny yellow and sky blue, as well as vases and bottles with a ruby red and pale pink hue.
Our favourites include (as pictured above, clockwise):

Tempted to transform your outdoor area in preparation for the warm weather? Check out our outdoor furniture collection online or visit your nearest Domayne store and speak to our friendly team who can help you pick the right outdoor modular, dining setting, sunlounger and decorator items to deck out your backyard or balcony.