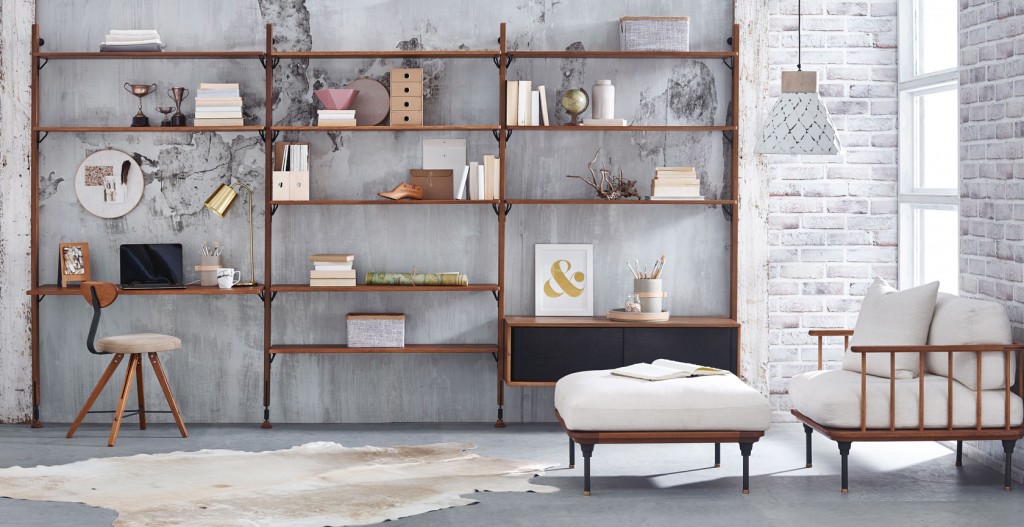 7 Storage Options That Will Make You Want To Get Your Home Office Organised!
---
Does the paperwork pile up in your home office at the blink of an eye? No matter how often you sort through the bills and your to-do lists, your desk is constantly hidden under layers of envelopes, A4 sheets and sticky-notes that make you procrastinate from getting any actual work done? If you find yourself nodding along, then you will love these 7 amazing storage options from Domayne to tame your unruly home office, study area or library once and for all!
1.     WALL-TO-WALL STORAGE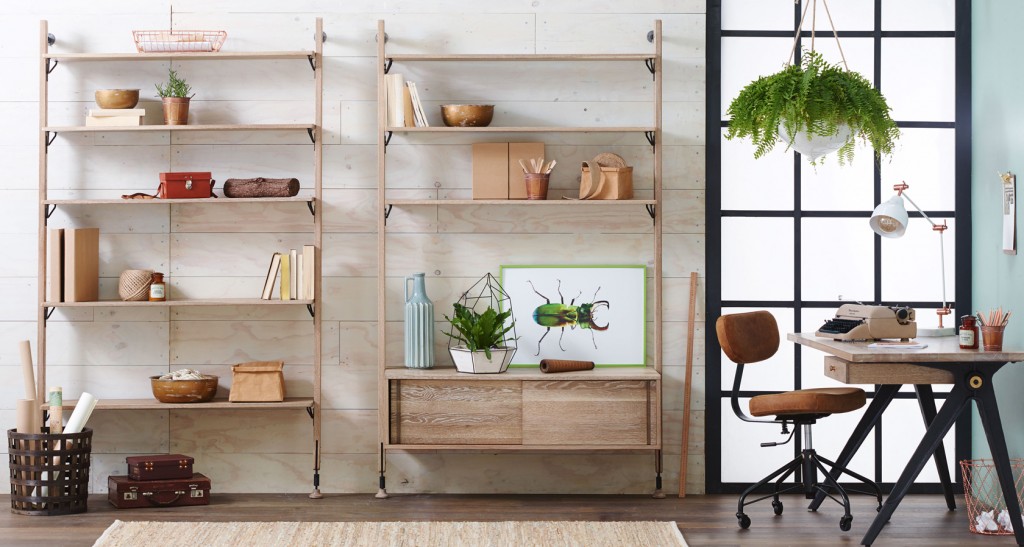 The Theo Wall Unit boasts durable and stylish oak timber and steel construction, and is available with medium or large shelving options as well as with a cabinet. Choose the 3-piece wall unit (as shown on top of the page) for the complete home office solution – not only will you have plenty of shelves to store all your documents and stationery, you can also use it as a desk to house your computer and office chair. If you already have a desk and just want to invest in some extra storage space, then choose the wall unit with large shelves or the one with shelves and a cabinet – the choice is yours. One of the standout features of the Theo range is the ability of the individual wall units to be joined together with the help of the capping posts – this is great for creating a large, flowing shelving unit for larger homes.
2.     THE PYRAMID PLAN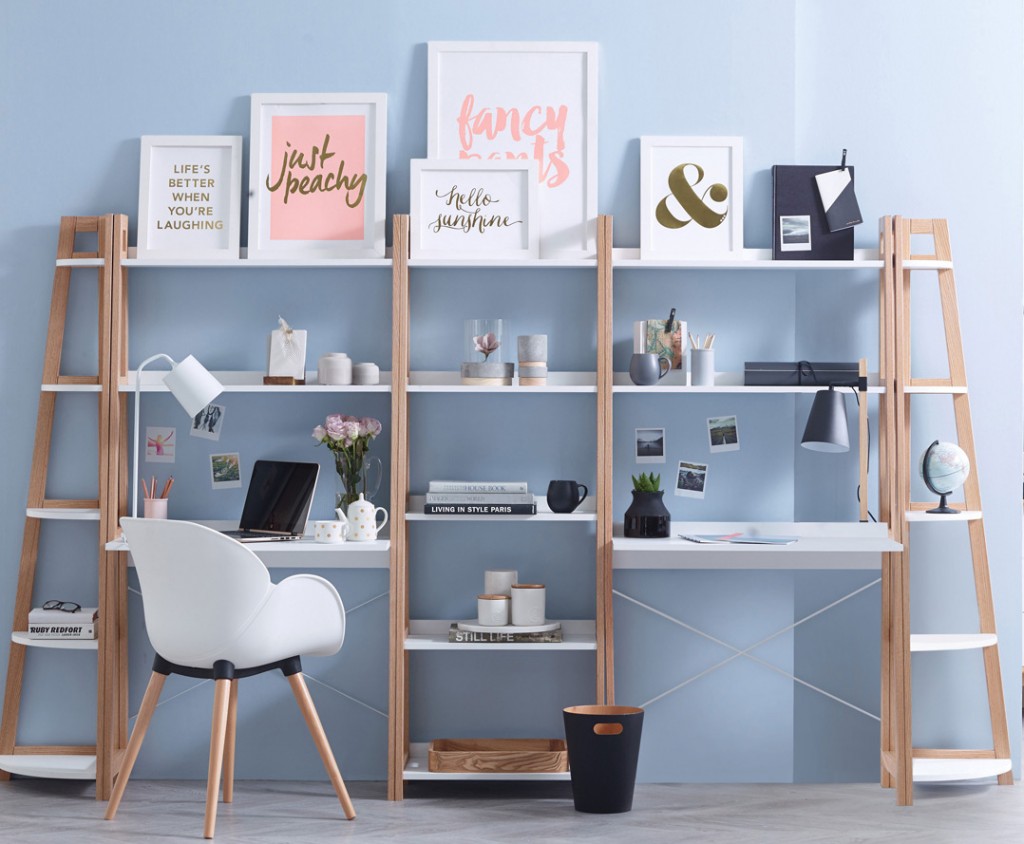 The calm and collected beech and white colour scheme of the Levi pyramid range makes it a popular choice for contemporary homes – it is also available in all white. Take advantage of the tall open shelving of the book case to store all your books, framed inspirational quotes, family photos and other knick knacks. Opt for the desk shelf that comes with a built-in desk and twin shelves; making it a great choice for the kids' study room. The compact pyramid shelf is a great add-on for households that require all the storage space they can get their hands on! Mix and match the individual Levi pieces to create a tailored unit that's the right size for your home.
3.     ACE IT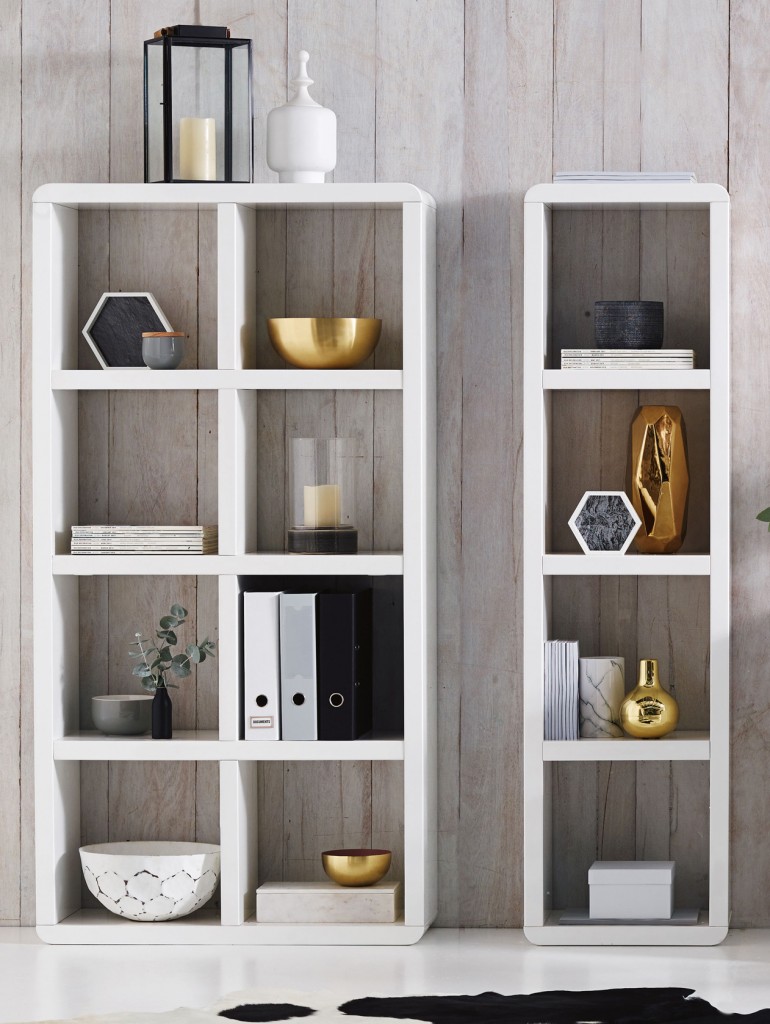 The streamlined and fuss-free design of the Ace cube bookcase makes it the ideal choice for any home. Whether you're looking for additional storage to control the chaos in the kids' room, or want a subtle display unit for your home office to showcase your prized possessions, you can't go past the Ace.
4.     THINK INSIDE THE CUBE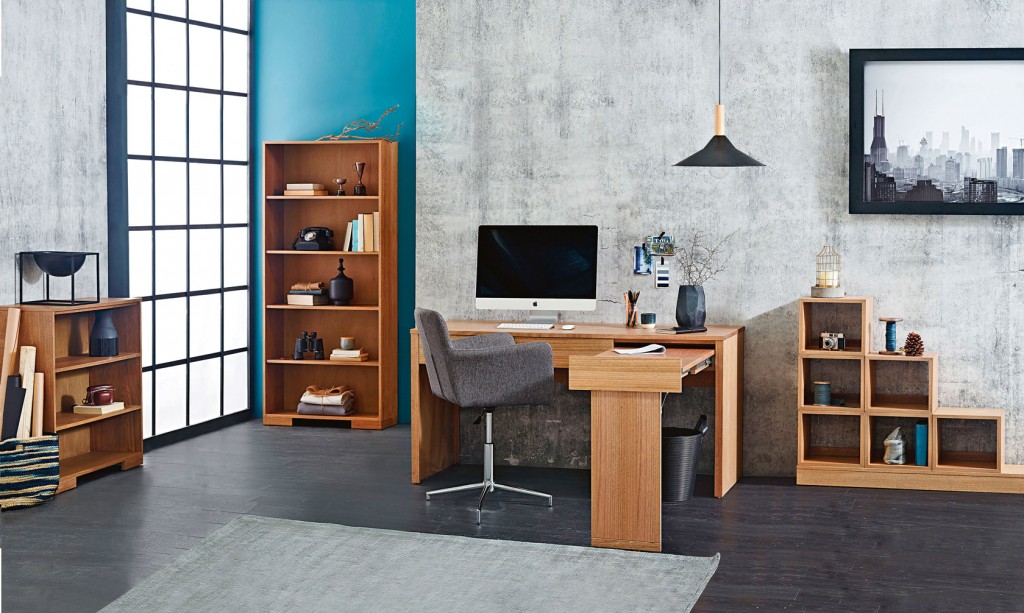 The entire Eco home office range is the complete home office solution in an elegant timber finish, but our favourite has to be the individual display unit cubes (shown in the far right corner of the image above). Their versatile design will see them fit into any space seamlessly. Pair with the display unit stand and custom-create a storage unit that's big or small enough to fit into your home with perfection. Made locally right here in Australia from Tasmanian oak, the Eco is an investment that you will enjoy in your home for years to come.
5.     SHARED SPACES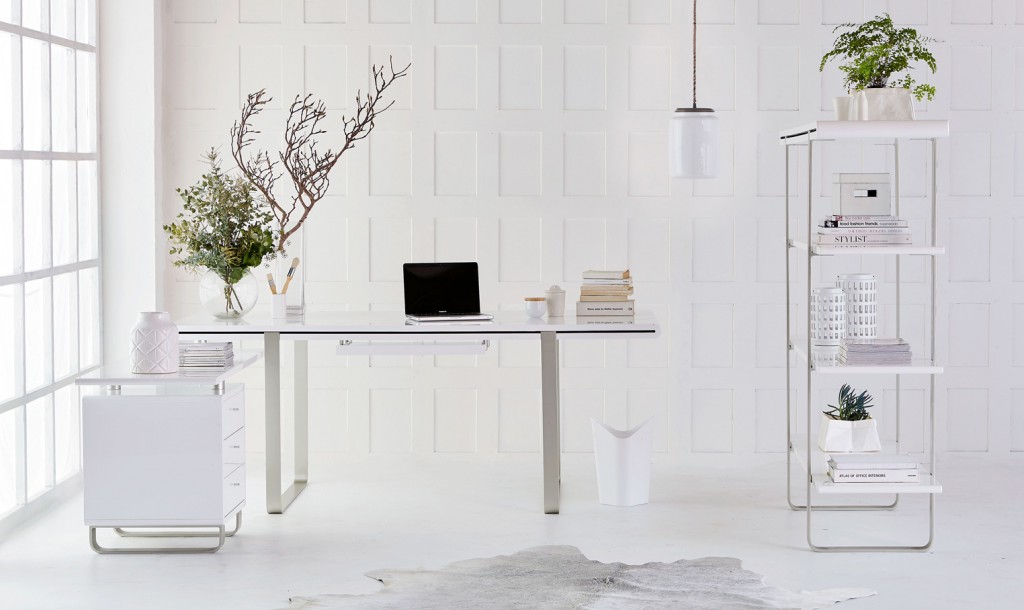 A modern home office is usually a shared space that co-exists with a family room, guest bedroom or in the corner of a bedroom. Give your home office its own habitat by employing the help of a room divider. The Loren room divider (shown in the far right corner of the image above) has the added benefit of being a book case and display unit in one, making it a clever storage solution.
6.     PEAS IN A POD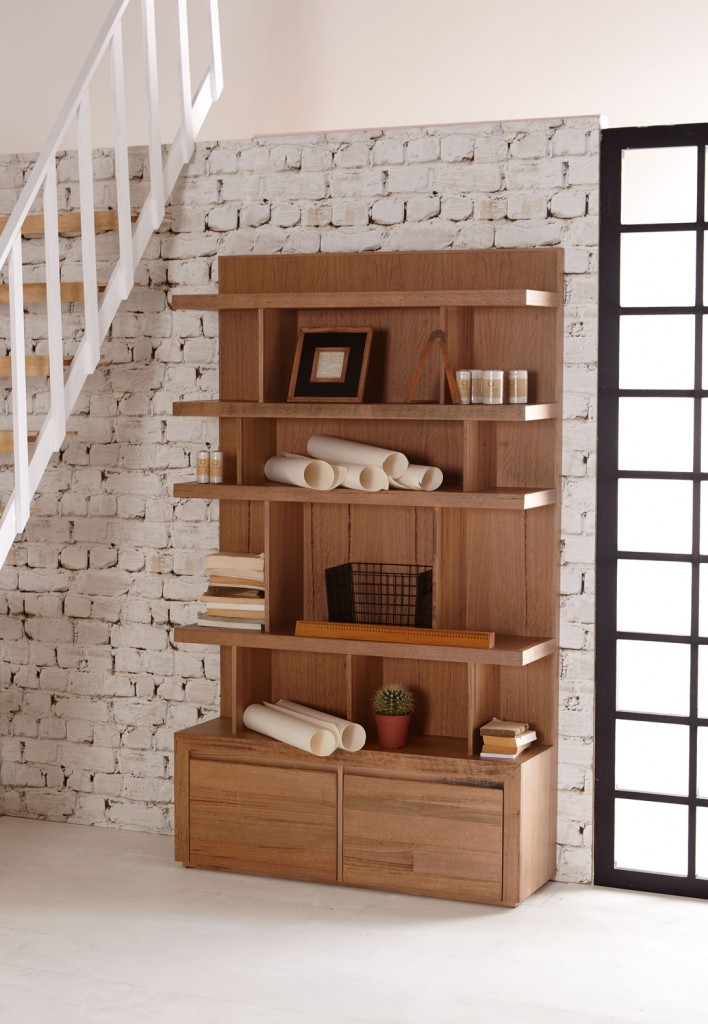 Your home office supplies will fit like peas in a pod and be right at home housed in our Pod book case with its two large storage drawers, five shelves in varying heights and compartmentalised sections within each shelf! Handcrafted in Australia from local hardwoods and available in four beautiful colour stain options, the timeless beauty and classic design of the Pod makes it a standout choice for your home office.
7.     COMPACT CUBES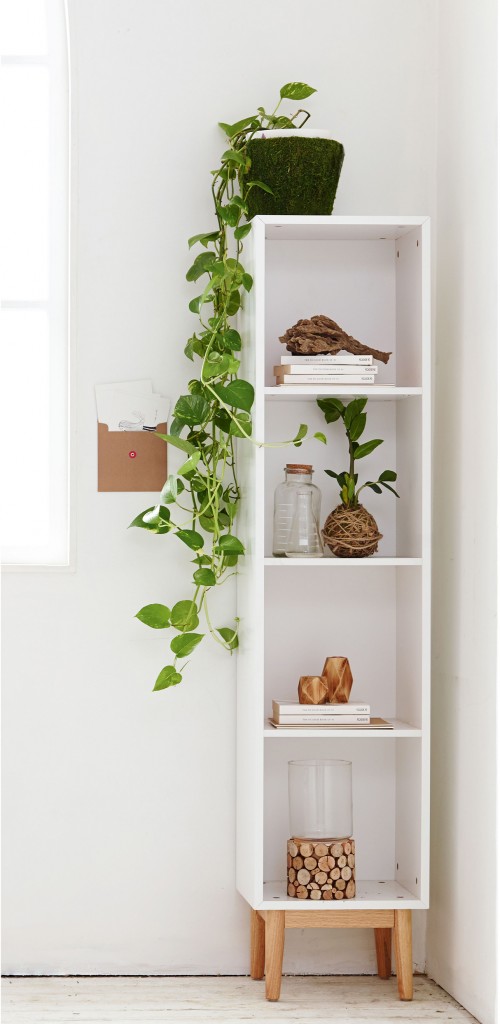 When space is at a premium and your home office is a tiny nook in your bedroom, corridor or under the stairs, every square inch counts! Which is why the Snow 4-cube book case is the right choice for you, especially if you live in an apartment-style home. Slim and trim, this compact case will fit into little corners that would otherwise go wasted, giving you plenty of much-needed storage space.
Feeling inspired to stock up on storage and give your home office a well-deserved makeover? Browse our Home Office range online for more ideas or go in to your local Domayne store and talk to our friendly and helpful team today.