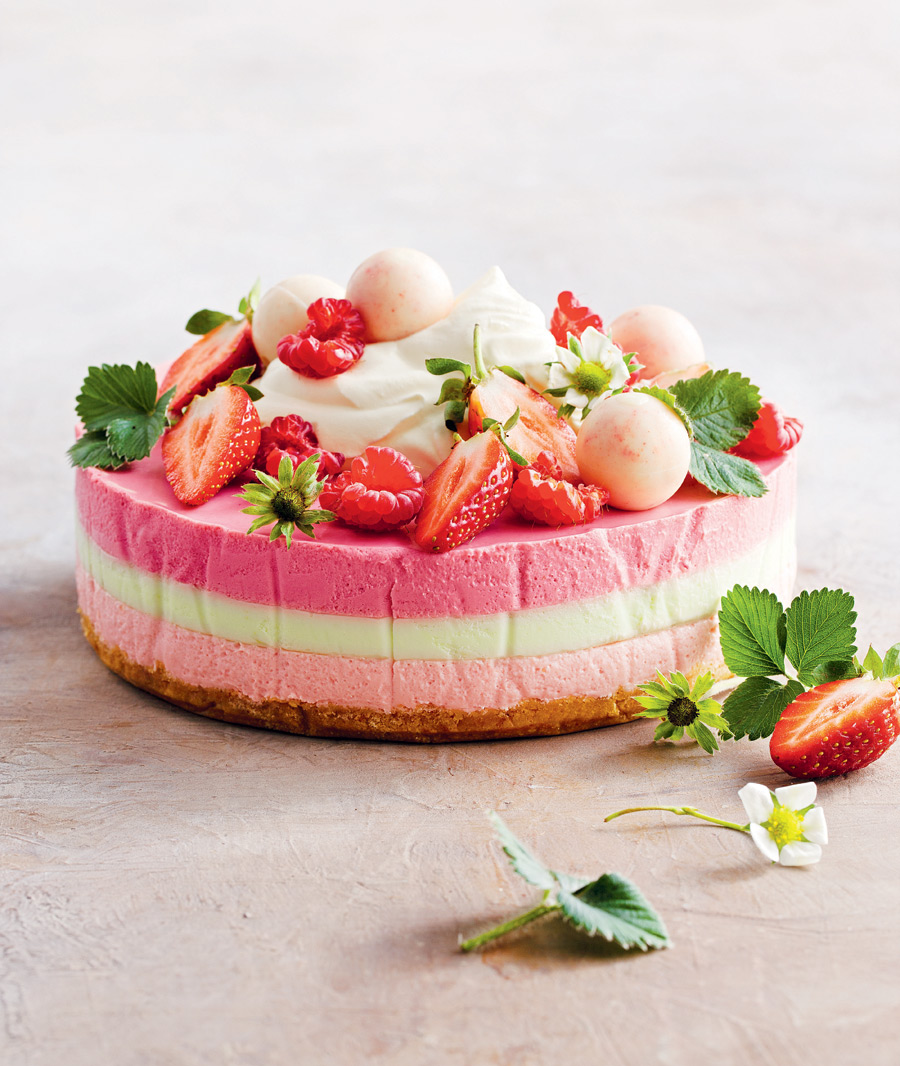 Berry Mojito Mousse Cake
---
This colourful dessert features three of our favourite things – berries, mojito and mousse – and that too, in cake form! The moreish flavours of white chocolate and white rum combine with the tart sweetness of raspberries and strawberries – and the crunch of butternut snap biscuits – to create a truly memorable, no-bake summer dessert.
Serves 12
 Ingredients
1/2 x 250g packet butternut snap biscuits
40g butter, melted
125g raspberries
250g strawberries, hulled, chopped
1/2 cup caster sugar
1 lime, peeled
4 sprigs of mint
1 tablespoon white rum
1 cup milk
4 egg yolks
180g white chocolate, chopped
Green food colouring
1 tablespoon gelatine powder
1/4 cup boiling water
Pink food colouring
2 cups thickened cream
Whipped cream, raspberries, strawberries and white chocolate balls, to serve
 Method
1 Grease a 20cm-round springform pan. Line side with baking paper, extending paper 5cm above edge of pan. Process biscuits until fine crumbs. Add butter. Process until combined. Press biscuit mixture over base of pan. Refrigerate.
2 Place raspberries, strawberries and 2 tablespoon sugar in a saucepan over low heat. Cook for 10 minutes or until berries soften. Place mixture in a fine sieve set over a bowl. Using the back of a spoon, press berries to release as much juice as possible. Discard solids.
3 Using a juicer, process lime and mint and place in a bowl. Add 2 tablespoons sugar and rum. Stir until sugar dissolves.
4 Bring milk to a simmer in a saucepan over medium heat. Using an electric mixer, beat egg yolks and remaining sugar until pale and creamy. With motor operating on low, gradually add the milk in a slow, steady stream. Return mixture to saucepan. Cook over low heat, stirring for 5 minutes or until mixture thickens and coats the back of the spoon.
5 Place white chocolate and berry mixture in a heatproof bowl. Add 2/3 of the milk mixture. Stir until smooth. Add remaining milk mixture to lime mixture. Tint pale green. Dissolve gelatine in boiling water. Add half to the berry mixture and remaining to lime mixture. Pour half the berry mixture into a separate bowl. Tint one portion bright pink, while leaving the other pale pink.
6 Using the electric mixer, beat cream until firm peaks form. Gently fold 1/3 of the cream into each mixture. Pour the pale pink berry mixture over biscuit base. Freeze for 20 minutes or until just set (leaving the remaining mixtures at room temperature).
7 Pour over lime mixture. Freeze for 20 minutes or until set. Pour over remaining bright pink berry mixture. Cover. Refrigerate for 4 hours or until completely set.
8 Remove cake from pan. Dollop with whipped cream and top with raspberries, strawberries and chocolate balls. Serve.
Get Equipped
Thinking of making this cake? Lacking the right tools? Invest in a Breville Fountain Crush Slow Juicer and Kenwood Chef Sense XL Mixer from Domayne and get started on your culinary adventures.