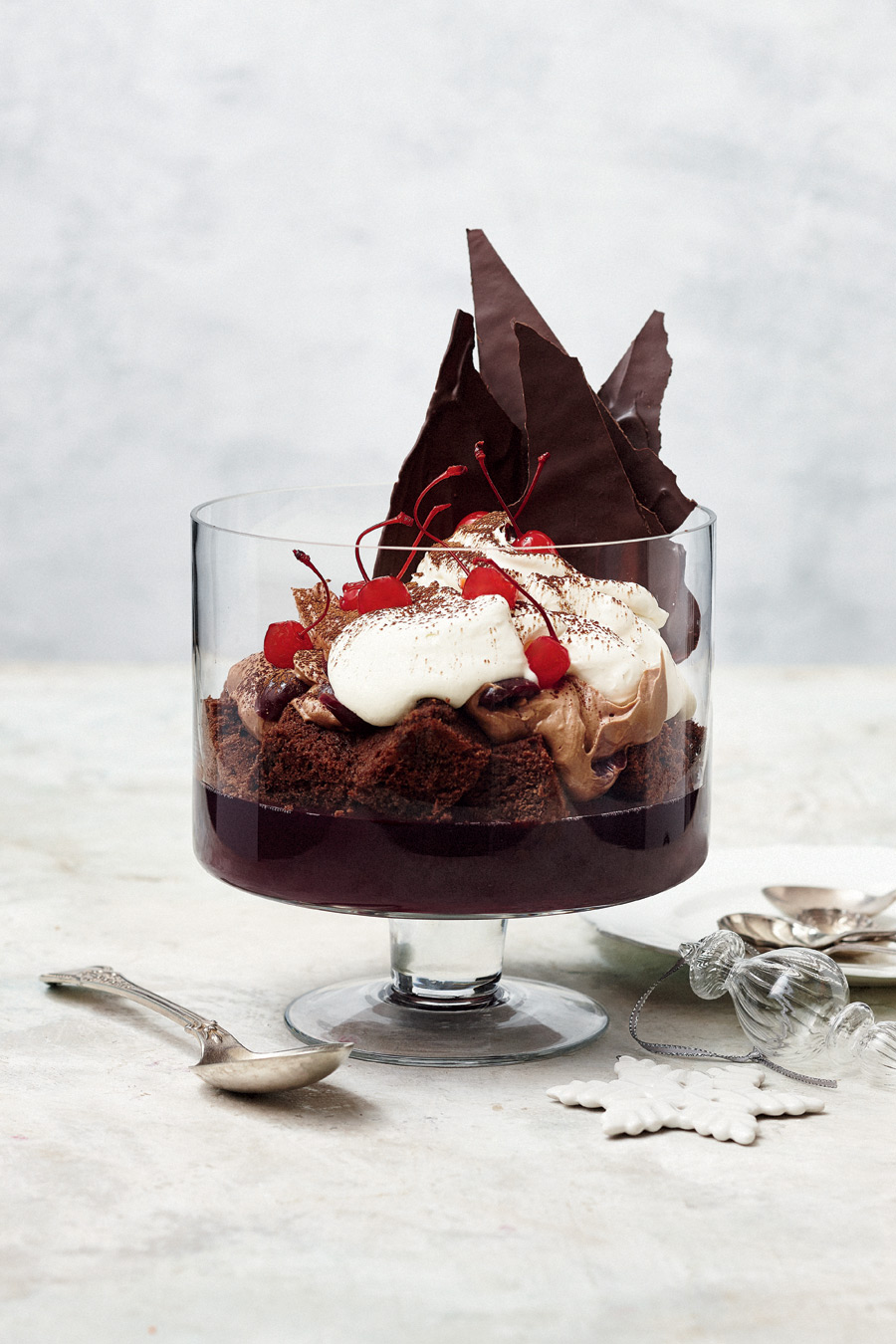 Black Forest Chocolate Mousse Trifle
---
This black forest chocolate mousse trifle is a dark, decadent, delicious temptation that's easy to make and even easier to eat! Be sure to share it with all your favourite people over the festive season, we know we will.
Serves 12
Prep 35 minutes (plus cooling and 3 hours 30 minutes refrigeration)
Cook 45 minutes
 Ingredients
150g butter, chopped
1 1/2 cups caster sugar
2 tablespoons cocoa powder, sifted, plus extra to serve
1/2 teaspoon bicarbonate of soda
1 1/2 cups self-raising flour
2 eggs
2 x 85g packets raspberry jelly crystals
1/3 cup cherry liqueur
300g fresh cherries, pitted
600ml thickened cream, whipped
Maraschino cherries and chocolate bark, to serve
Chocolate Mousse
180g dark chocolate, chopped
600ml thickened cream
1/4 cup cocoa powder, sifted
 Method
1 Preheat oven to 180°C/160°C fan-forced. Grease an 18cm x 28cm slice pan. Line base and sides with baking paper, extending paper 2cm above edges of pan.
2 Place butter, sugar, cocoa, bicarbonate of soda and 1 cup water in a large saucepan over medium-high heat. Cook for 5 minutes or until sugar dissolves. Bring to the boil. Reduce heat to low. Simmer for 2 minutes or until mixture doubles in size. Set aside to cool for 15 minutes.
3 Transfer mixture to a bowl. Add flour and eggs. Using an electric mixer, beat for 3 to 4 minutes or until pale and combined. Pour into prepared pan. Bake for 35 minutes or until a skewer inserted into centre of cake comes out clean. Cool 5 minutes. Turn onto a wire rack to cool completely.
4 Make jelly following packet directions. Pour into a 16-cup-capacity trifle dish. Refrigerate for 3 hours or until set.
5 Meanwhile, make Chocolate Mousse Melt chocolate and cream together in a saucepan over medium heat until smooth. Refrigerate for 2 hours or until cold and thick. Using electric mixer, beat mixture with cocoa until soft peaks form (don't overbeat).
6 Cut cake into 4cm pieces. Arrange on top of jelly. Drizzle with liqueur. Top with half the cherries, then dollop with mousse. Top with remaining cherries. Refrigerate for 30 minutes. Decorate with whipped cream, maraschino cherries and chocolate bark. Serve dusted with extra cocoa powder.
Christmas Wish List Item!
Go on, treat yourself to an early Christmas present and get this sleek, stylish and high performing Kenwood Chef Sense XL stand mixer from Domayne. It's an investment worth making.