Can't Live Without…Cushions!
---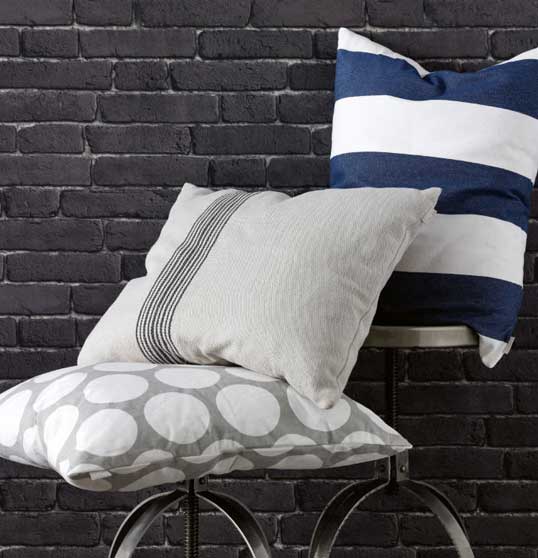 The humble cushion – it's more important to our everyday lives than you may realise. Imagine couch time in front of the TV without cushions. Where would you rest your weary head? What would you hug tightly to your chest throughout those heartbreaking movie scenes? What would you hide your face behind during those suspenseful moments of a horror film? What would you hit your partner/sibling/flatmate over the head with to quiet their incessant chatter during your favourite show? Cushions!
Okay so now that we've addressed their vital importance to our very existence, it's time to look at how the right selection of cushions can enhance your decor. Just as accessories can make or break an outfit, it's vital to give careful consideration to your choice of throw cushions.
Make it Pop. Cushions are a wonderfully simple way to punctuate your space with a pop of colour. For a striking contrast, place bright and bold cushions against a pale, neutral coloured lounge. Unify the look by picking up the colours of your cushions elsewhere in the room – in a vase, rug, cluster of candles, throw, lamp or print.
Take a Hands-On Approach. Get touchy-feely with your cushions by introducing a decadent combination of textures. Crochet and cable-knit are a cosy, inviting choice for the winter months – particularly when teamed with a woollen blanket or throw. For lovers of luxe decor, bring a touch of bling to your sofa with ornately sequined and beaded cushions. These also tie in well with silk and satin finishes.
Mix 'em Up. Add personality and a fashionable edge to your decor by showcasing a range of different patterned cushions depicted in one colour. Whether you mix spots, checks, florals, typography or stripes… it doesn't matter! Be brazen with your collection of patterns  – as long as they are all in a similar hue! Mixing different cushion shapes is another great way to add interest. Try teaming traditional squares with round or oblong cushions to add depth to your sofa.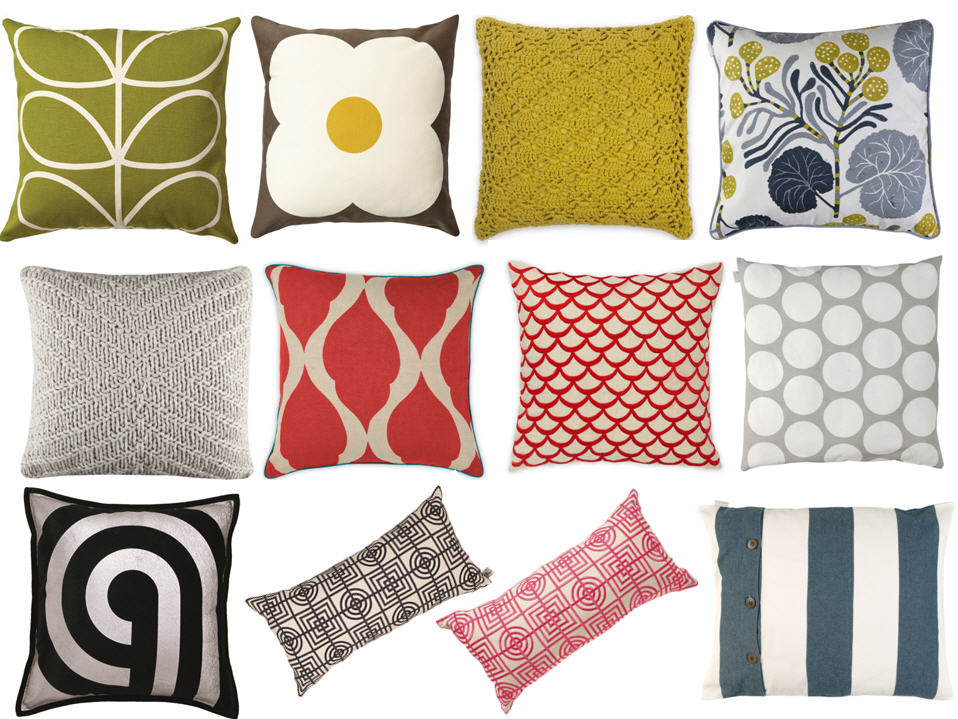 Top row from left: Orla Kiely Linear Stem Cushion, Orla Kiely Abacus Cushion, Crochet Cushion, Bridget Green Cushion
Middle: Cable Cushion, Tahla Cushion, Scallop Cushion, Dot Grey Cushion
Bottom: Florence Broadhurst Turnabout Cushion, Florence Broadhurst Circle Cushion in Black and Coral, Signe Navy Cushion