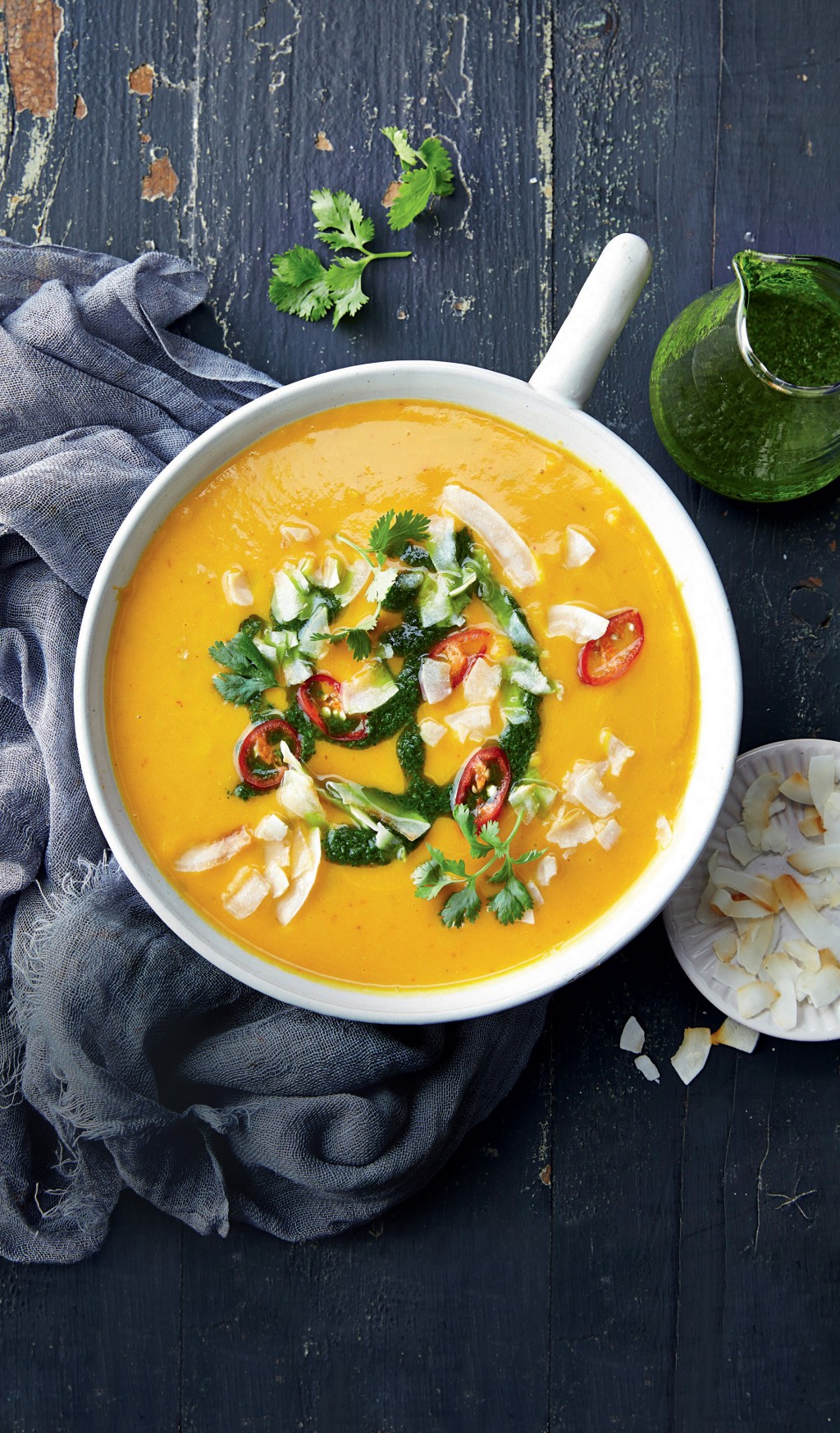 Caramelised Pumpkin Soup with Chilli Coconut Crumb
---
Pumpkin soup is a winter staple and this version uses warm Southeast Asian flavours to perfection, creating a medley of aromas that entices with every spoonful. Yum!
Serves 4
 Ingredients
2kg whole butternut pumpkin
1/2 cup vegetable oil
1 brown onion, cut into thin wedges
2 tablespoons brown sugar
2 teaspoons ground cumin
2 teaspoons ground coriander
1/4 teaspoon chilli powder
1/4 cup coconut flakes
1 long red chilli, sliced
1/3 cup fresh coriander leaves, plus extra sprigs to serve
3 cups chicken stock
270ml can coconut milk
 Method
1 Preheat oven to 220°C/200°C fan-forced. Cut pumpkin in half lengthways. Remove and discard seeds. Place cut-side up in a roasting pan. Drizzle with 2 tablespoons oil. Roast pumpkin for 30 minutes. Remove from oven. Add onion to pan and sprinkle pumpkin with sugar and spices. Roast for a further 30 minutes or until tender.
2 Meanwhile, place coconut in a frying pan over low heat. Cook, tossing for 2 minutes or until coconut is just toasted. Add chilli. Set aside. Place coriander and remaining oil in a blender. Blend until smooth.
3 Stand pumpkin for 10 minutes to cool. Transfer onion to blender. Scoop out pumpkin flesh from skin and add to blender. Add half the stock. Blend until smooth. Transfer mixture to a saucepan. Add coconut milk and remaining stock, adding a little more if soup is too thick. Heat over medium heat. Cook, stirring occasionally, for 10 minutes or until heated through.
4 Ladle soup among bowls. Drizzle with oil and sprinkle with coconut crumb and coriander sprigs. Serve.
Tools of the Trade
These great food processors and blender from Domayne are a must-have in your kitchen. Versatile and easy to use, they'll come in handy for a host of recipes throughout the entire year.