Champagne Cocktails, Sweetie?
---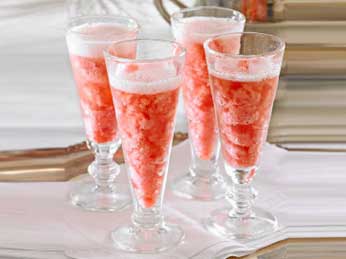 Recipe courtesy of Better Homes and Gardens
Champagne, Watermelon and Strawberry Granita
Bright, fruity and elegant, this iced refreshment is the perfect way to get the party started this festive season!
Prep time: 20 mins plus 6 hours freezing time
Cooking time: 5 mins
Serves 6
1 cup caster sugar
1 x 200ml bottle Champagne or sparkling wine
1.5kg watermelon, skin removed, chopped
250g punnet strawberries,hulled, chopped
Extra 750ml bottle Champagne or sparkling wine, chilled
1 Put sugar and Champagne in a medium heavy-based pan and stir over a low heat until sugar is dissolved and mixture comes slowly to the boil. Cook for 2-3 minutes, then remove from heat and pour champagne syrup into a bowl. Let cool, then cover and refrigerate.
2 Process watermelon and strawberry in a food processor until smooth. Put mixture in a fine strainer over a bowl and push mixture through strainer using a wooden spoon. Discard pulp. Pour strained mixture into cold champagne syrup and stir to combine. Pour into a shallow cake tin, cover with plastic wrap and freeze for 4-6 hours. Stir granita with a fork every hour to break up ice crystals until set.
3 Remove granita from freezer and refrigerate for 10 minutes. Spoon granita evenly between 6 champagne glasses, then pour over extra Champagne and serve immediately.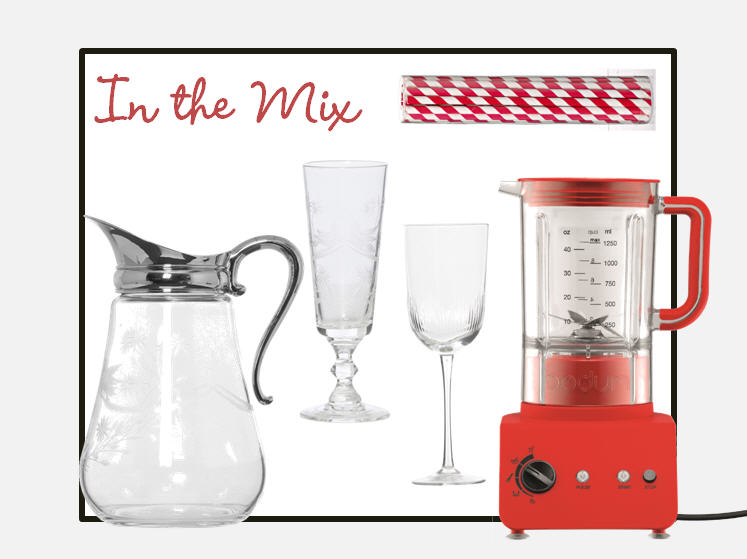 At top: Paper Straws Pack
Bottom from left: 'Leesa' Etched Jug, 'Leesa' Champagne Glass, 'Oslo' Wine Glass, Bistro Blender