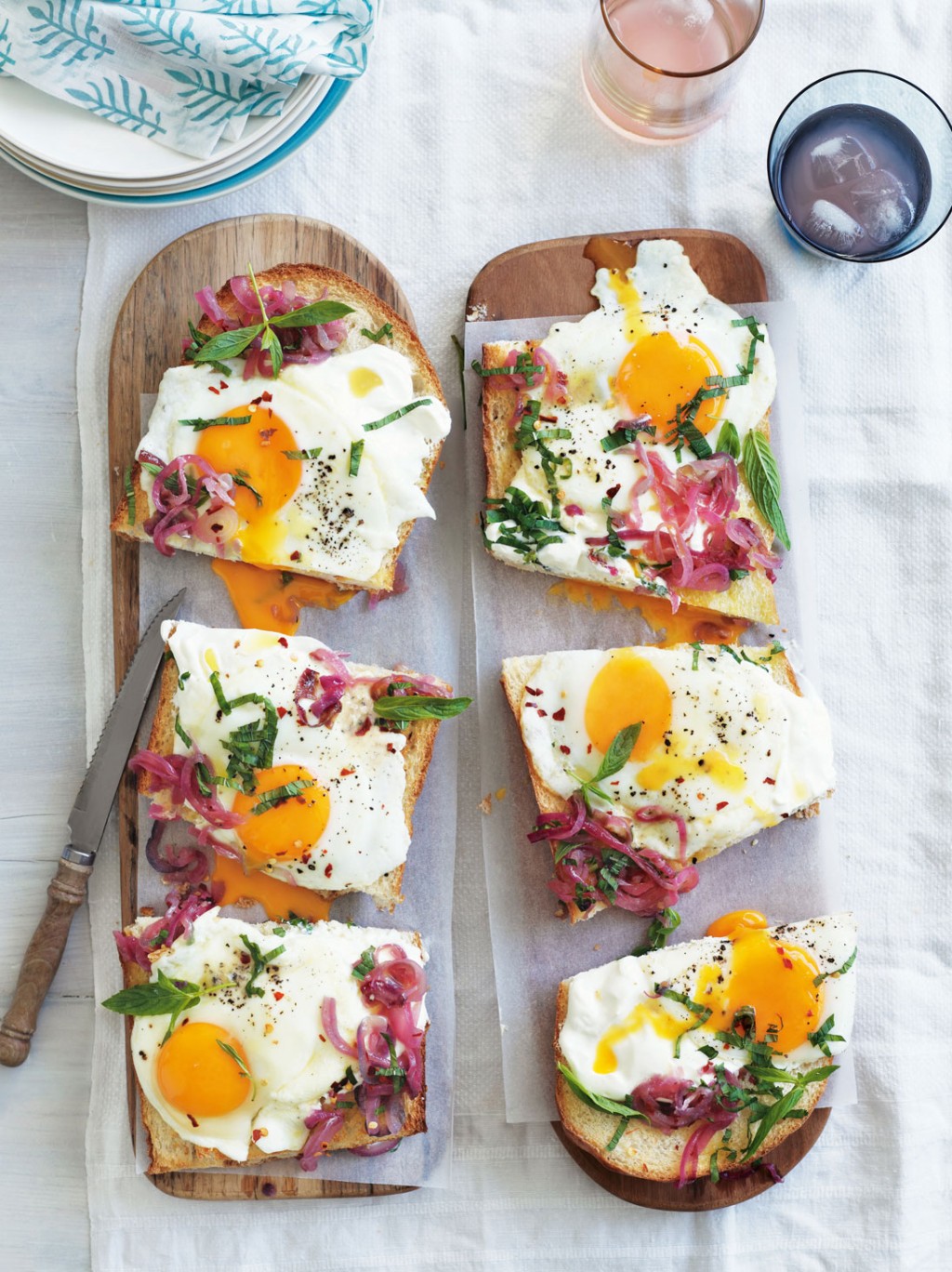 Christmas Entertaining: Brunch Recipe
---
Start your Christmas day celebrations on the sunny side and enjoy a  fresh and filling brunch with this gourmet-inspired eggs on toast. Rustic ciabatta bread with a chewy and porous interior acts the perfect base for the creamy consistency of runny eggs, which are contrasted nicely with the lightness of labneh-style strained yoghurt and the  sharp sweetness of red onions gently pickled in red wine vinegar.
Sunny-Side Eggs with Pickled Onion
Serves 6
Prep 25 minutes (plus standing and overnight refrigeration)
Cook 15 minutes
Photo by Ben Dearnley
Recipe Supplied
Start this recipe the day before serving.
Ingredients
1 1/2 cups plain Greek-style yoghurt
1/2 teaspoon salt
1 large red onion, halved, thinly sliced
2 tablespoons red wine vinegar
2 teaspoons caster sugar
1 ciabatta loaf
1 garlic clove, halved
1/4 cup extra virgin olive oil, plus extra to serve
6 eggs
1/4 teaspoon dried chilli flakes
2 tablespoons shredded fresh mint leaves, plus extra leaves to serve
Method
1 Preheat oven to 200°C/180°C fan-forced.
2 Combine yoghurt and salt in a bowl. Line a sieve with 2 layers of muslin cloth or 4 layers of paper towel. Set sieve over a bowl. Spoon yoghurt mixture into lined sieve. Cover. Refrigerate overnight to allow excess liquid to drain from yoghurt.
3 Place onion in a heatproof bowl. Cover with boiling water. Stand for 10 minutes. Drain well. Return onion to bowl. Add vinegar and sugar. Toss to combine. Set aside, stirring occasionally.
4 Cut bread in half horizontally. Place bread halves, cut-side up, on a large baking tray. Rub cut side of garlic over bread. Drizzle with 2 tablespoons oil. Bake for 10 minutes or until bread is toasted.
5 Meanwhile, heat remaining oil in a large non-stick frying pan. Crack 3 eggs into pan. Cook for 2 minutes or until egg whites are set and yolks are still soft. Transfer to a tray lined with baking paper. Repeat with remaining eggs, adding a little extra oil to pan if needed.
6 Drain onion. Place bread halves on serving platters. Dollop yoghurt mixture onto bread. Top with eggs and pickled onion. Sprinkle with chilli and shredded mint. Season well with salt and pepper. Drizzle with extra oil and top with extra mint leaves. Cut into 6 pieces and serve.
Sensational Serveware
Make your brunch even more beautiful with this gorgeous selection of plates and platters from Domayne.
S&P Fromage Bread Paddle | Round Cheese Board with Dome | Kali Dinner Plate | Kali Tapas Bowl | Bamboo Large Bowl