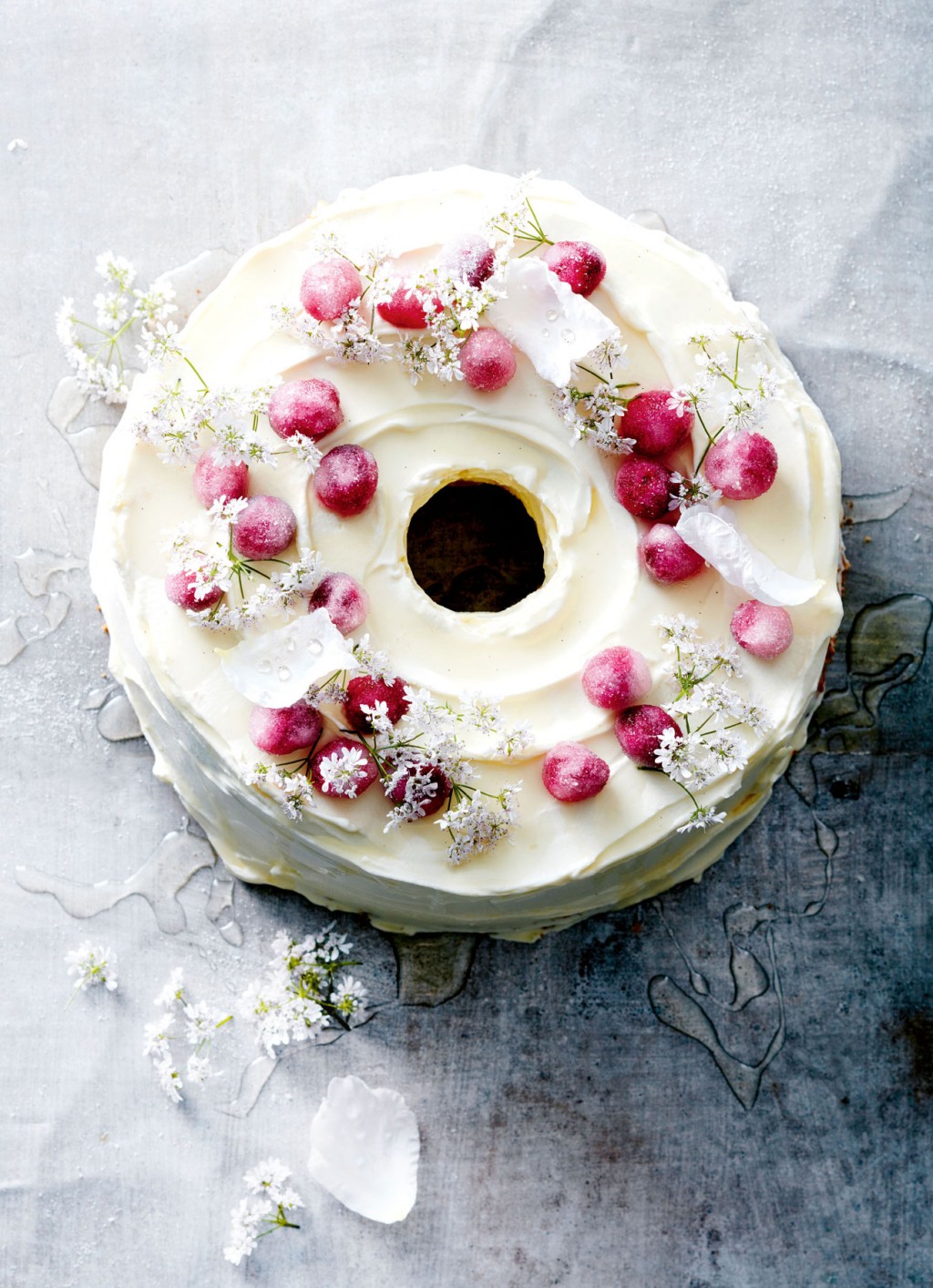 Christmas Entertaining: Coffee and Cake
---
Hosting a high tea this festive season? Try the recipe below and impress your guests with an edible Christmas wreath! This light and fluffy white chocolate bundt cake with a hint of rose water is studded with cranberries, frosted with a rich mascarpone cream and decorated with edible flowers and sugared cranberries. Seconds, anyone?
Cranberry and White Chocolate Wreath Cake
Serves 12
Prep 40 minutes(plus cooling)
Cook 2 hours 10 minutes
Photo By Jeremy Simons
Recipe Supplied
 Ingredients
250g butter, chopped
180g white chocolate, chopped
1 1/2 cups caster sugar
1 cup milk
2 eggs
2 teaspoons vanilla bean paste
2 cups plain flour
1/2 cup self-raising flour
1 cup frozen cranberries, partially thawed, halved
Extra 1/3 cup caster sugar
1/4 teaspoon rosewater essence
Frosting
375g mascarpone
3/4 cup sour cream
3/4 cup thickened cream
Edible flowers, to serve
Sugared Cranberries
1 cup frozen cranberries
2 tablespoons caster sugar
Method
1 Grease a 6cm-deep, 22cm (base) round cake pan. Line base and side with 3 layers of baking paper.
2 Place butter, chocolate, sugar and milk in a large saucepan over medium heat. Cook, stirring, for 8 minutes or until smooth. Remove from heat. Set aside for 15 minutes to cool. Preheat oven to 160°C/140°C fan-forced.
3 Whisk eggs and vanilla into chocolate mixture. Add flours. Whisk to combine. Fold in cranberries. Pour mixture into prepared pan. Bake for 1 hour 50 minutes to 2 hours or until a skewer inserted into centre of cake comes out with crumbs clinging (cover cake loosely with foil if over-browning during baking). Cool in pan.
4 Meanwhile, place extra sugar and 1/3 cup water in a saucepan over medium heat. Cook, stirring, until sugar dissolves. Simmer for 5 minutes or until thickened slightly. Remove from heat. Stir in rosewater essence. Set aside to cool completely.
5 Make Frosting: Combine mascarpone, sour cream, thickened cream and 1 1/2 tablespoons cooled syrup in bowl of an electric mixer. Beat until stiff peaks form.
6 Trim top of cake to level, if needed. Using a small knife, cut a 5.5cm circle out of the centre of the cake. Transfer to a serving plate. Spread frosting over top and sides of cake.
7 Make Sugared Cranberries: Place cranberries and sugar in a bowl. Toss to coat. Decorate cake with sugared cranberries and edible flowers. Drizzle with remaining syrup.
Would you like tea or coffee with that?
No high tea would be complete without a selection of soothing tea or aromatic coffee. Bring your favourite loose leaf blend or single origin beans to life with our beautiful Bodum Chambord collection that's available in gold or copper colours. Choose from a French Press, Teapot, Milk Frother, Cups or Sugar and Cream Set to name just a few. Check out the entire collection now at Domayne.