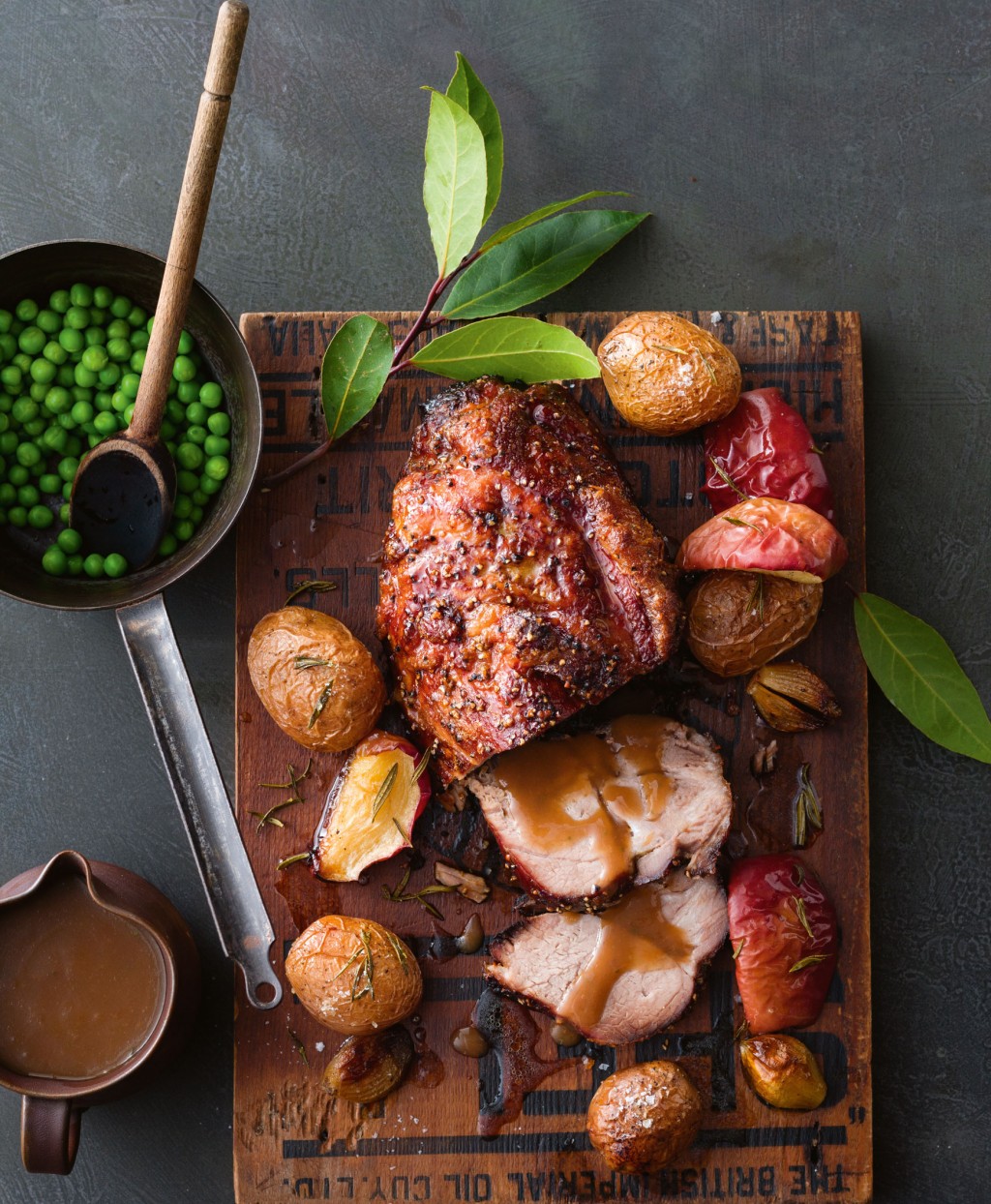 Christmas Entertaining: Dinner Recipe
---
Turkey doesn't tickle your fancy? Seafood doesn't sizzle your tastebuds? Try something a little different this Christmas and get some pork on your guests' fork with this roast dinner recipe:
Ginger Beer and Maple Roast Pork
Serves 6
Prep 20 minutes
Cook 3 hours 20 minutes
Photo by Andrew Young
Recipe Supplied
Ingredients
1/3 cup maple syrup
1/4 cup brown sugar
2/3 cup ginger beer
1cm piece fresh ginger, finely grated
2 garlic cloves, crushed
2 teaspoons fresh thyme leaves, finely chopped
1.3kg piece pork scotch (neck)
1.25kg baby red potatoes
12 eschalots, peeled
3 fresh bay leaves
2 tablespoons fresh rosemary leaves
2 tablespoons extra virgin olive oil
3 pink lady potatoes, cored, quartered
Gravy and cooked peas, to serve
 Method
1 Preheat oven to 150°C/130°C fan-forced. Line a large roasting pan with baking paper.
2 Place maple syrup, sugar, ginger beer, ginger, garlic and thyme in a jug. Mix well to combine. Place pork in prepared pan. Pour over half of the ginger beer mixture. Place on lowest oven shelf. Bake for 1 hour 30 minutes, turning and brushing with pan juices every 30 minutes.
3 Place potatoes, eschalot, bay leaves and rosemary on a greased baking tray. Drizzle with oil. Season with salt and pepper. Place on highest oven shelf. Pour remaining ginger beer mixture over pork. Bake pork and potato mixture for a further 1 hour 30 minutes, turning and basting pork with pan juices every 30 minutes, or until pork is tender and cooked through (see note). Remove pork from oven. Season well with salt and pepper. Cover loosely with foil.
4 Increase temperature to 220°C/200°C fan-forced. Add apple wedges to potato mixture, turning to coat in oil. Roast for 15 to 20 minutes or until apple is tender. Serve pork with potato mixture, gravy and peas.
Cook's note Ginger beer mixture will caramelise during cooking.
Sensational Serveware
Make your roast dinner pop on the plate with Domayne's Fresh dinnerware range that's available in a pretty pastel palette. Choose from dinner plates, salad bowls and pair with matching tumblers and dessert coups to complete the look.