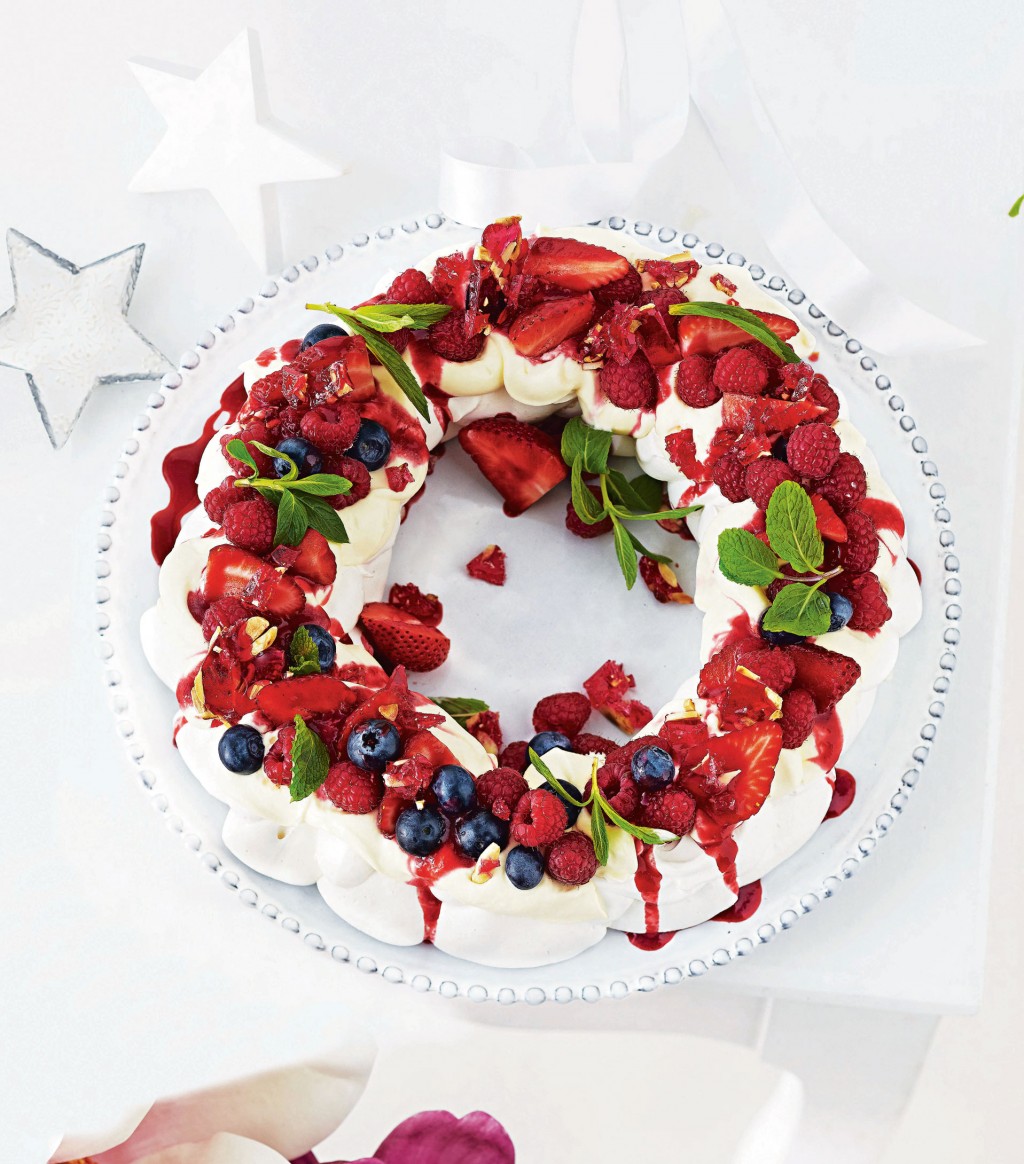 Christmas Pavlova with Boozy Berry Sauce
---
Get carried away to dessert heaven on a cloud of meringue magic with a classic Christmas dessert – the great Australian pavlova. Drenched in a boozy berry sauce and sprinkled with glittering, golden shards of toffee, this melt-in-your-mouth masterpiece is best served with lashings of fresh cream and your favourite summer berries.
Serves 8
Prep 30 minutes (plus cooling and 30 minutes standing)
Cook 1 hour 35 minutes
Pavlova
4 egg whites
1 cup caster sugar
Pinch of cream of tartar
1 teaspoon cornflour
1 teaspoon white vinegar
2 cups thickened cream, whipped
250g strawberries, hulled, sliced
125g fresh raspberries
125g fresh blueberries
Fresh mint leaves, to serve
Toffee
2 tablespoons slivered almonds, toasted
2/3 cup caster sugar
Pink liquid food colouring
Boozy Berry Sauce
250g fresh raspberries
2 tablespoons caster sugar
2 tablespoons gin (see note)
 Method
1 Preheat oven to 120°C/100°C fan-forced. Draw a 22cm circle on a sheet of baking paper. Draw a 13cm circle inside large circle. Place paper, marked-side down, on a greased baking tray.
2 Using an electric mixer, beat egg whites, sugar and cream of tartar together for 8 to 10 minutes or until mixture is thick and glossy and sugar has dissolved. Add cornflour and vinegar. Beat for 30 seconds or until combined. Spoon meringue mixture onto marked circle to form a wreath. Bake for 1 hour to 1 hour 15 minutes or until crisp and dry, but not browned. Turn off oven. Cool in oven with door ajar.
3 Make Toffee: Spread almonds on a baking tray lined with baking paper. Combine sugar and 2/3 cup water in a saucepan over medium heat. Cook, stirring, until sugar is dissolved. Bring to the boil. Boil, without stirring, for 8 to 10 minutes or until mixture is golden in colour. Remove from heat. Carefully tint pink with food colouring, swirling pan to combine (do not stir). Pour over almonds on tray. Set aside for 20 minutes to set. Roughly chop.
4 Make Boozy Berry Sauce: Place raspberries, sugar and gin in a small saucepan over medium-high heat. Cook, stirring, until sugar is dissolved. Bring to a simmer. Reduce heat to medium-low. Simmer for 3 to 4 minutes or until raspberries are starting to collapse. Set aside for 10 minutes to cool. Using a stick blender, blend mixture until smooth. Strain through a fine sieve over a jug. Set aside.
5 Carefully transfer pavlova to a serving plate. Dollop with whipped cream. Arrange strawberries, raspberries and blueberries on cream. Drizzle with sauce and sprinkle with toffee. Serve decorated with mint leaves.
Cook's note: You can use Frangelico, brandy or Grand Marnier instead.
Tools of the Trade
Bring your tasty Christmas creation to life with these clever kitchen appliances from Domayne:

Appliances from left:
• Kenwood Tri-Blade Handheld Blender
• Sunbeam 'Zumbo' Limited Edition Mixmaster®
• KitchenAid Artisan Tilt-Head Stand Mixer