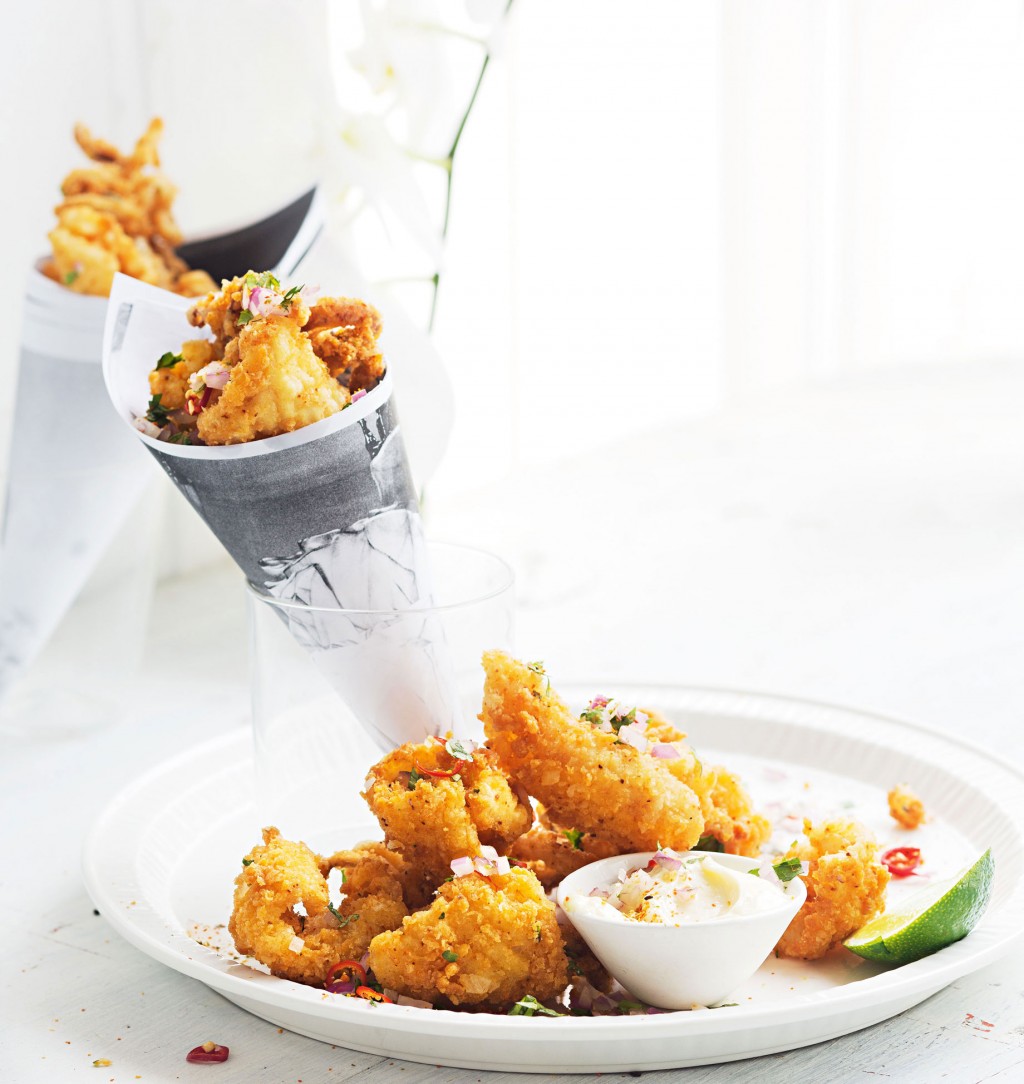 Crunchy Salt and Pepper Squid
---
When you have a hankering for something crispy, salty and satisfying – you can't go past the crunch of well-seasoned salt and pepper squids. With this easy recipe, you can whip a batch at home to enjoy al fresco with a tall glass of your favourite refreshment.
Crunchy Salt and Pepper Squid
Serves 4 people
Prep time 25 minutes
Cooking time 10 minutes
Ingredients
1kg cleaned squid hoods
3/4 cup panko breadcrumbs
3/4 cup plain flour
2 teaspoons sea salt
1 teaspoon freshly ground peppercorn medley, plus extra to serve
2 eggs
Vegetable oil, for deep-frying
3/4 cup whole-egg mayonnaise
1 1/2 tablespoons lime juice
1 long red chilli, thinly sliced
2 tablespoons roughly chopped fresh coriander leaves
1 purple eschalot, finely chopped
Pinch of chilli powder and lime wedges, to serve
Method
1.  Cut squid hoods in half lengthways. Score the inside flesh in a criss-cross pattern. Cut into 3cm-wide strips.
2.  Place breadcrumbs, flour, salt and pepper in a bowl. Whisk eggs with 1 tablespoon water in a separate bowl.
3. Heat oil in a deep-fryer following manufacturer's instructions.
4. Working in batches, dip squid in egg mixture then toss in breadcrumb mixture to coat. Deep-fry for 1 to 2 minutes or until golden and crisp. Drain on paper towel.
5. Meanwhile, combine mayonnaise and lime juice in a bowl.
6. Top squid with chilli slices and chopped eschalot coriander leaves. Sprinkle with chilli powder and extra pepper.
7. Serve with lime mayonnaise and fresh lime wedges.
Tools Of The Trade

Achieve culinary perfection with these handy kitchen helpers from Domayne.

Appliances from left:
Tefal Oleoclean Deep Fryer with Digital Timer, Philips Avance Collection XL Airfryer, DeLonghi FH1394 Extra Chef Multi-Cooker