Discover: Domayne's 2013 Outdoor Furniture Launch
---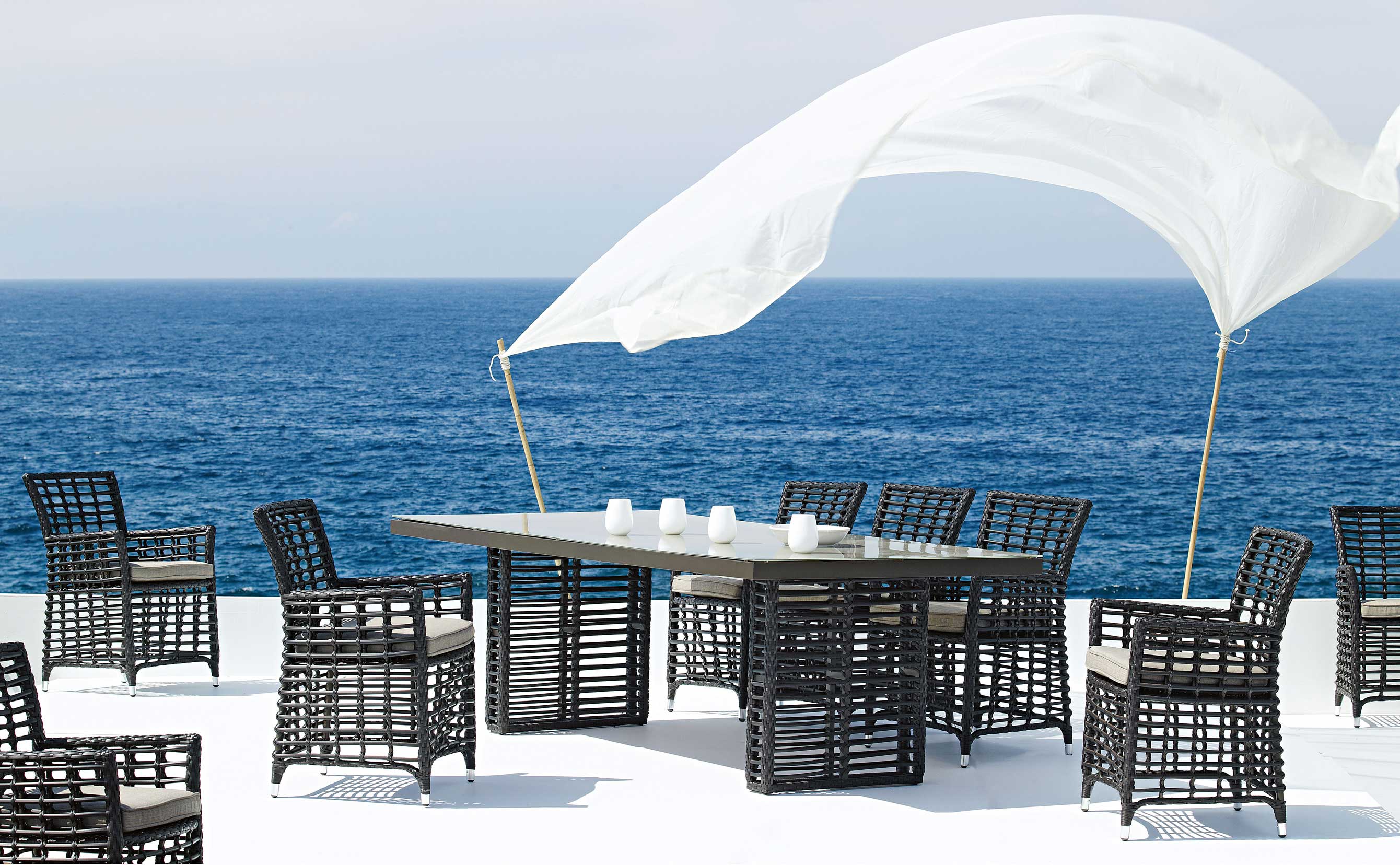 Discover: Quality, cutting-edge fashion, mix 'n' match options, innovative design, affordability, versatility, vivid colour, weather-resistant materials, space-saving style.
Discover Domayne's new-season outdoor furniture collection and transform your outdoor entertaining area in preparation for summer. Browse our vast range of fashionably functional outdoor pieces and find the ultimate setting to suit your space and budget.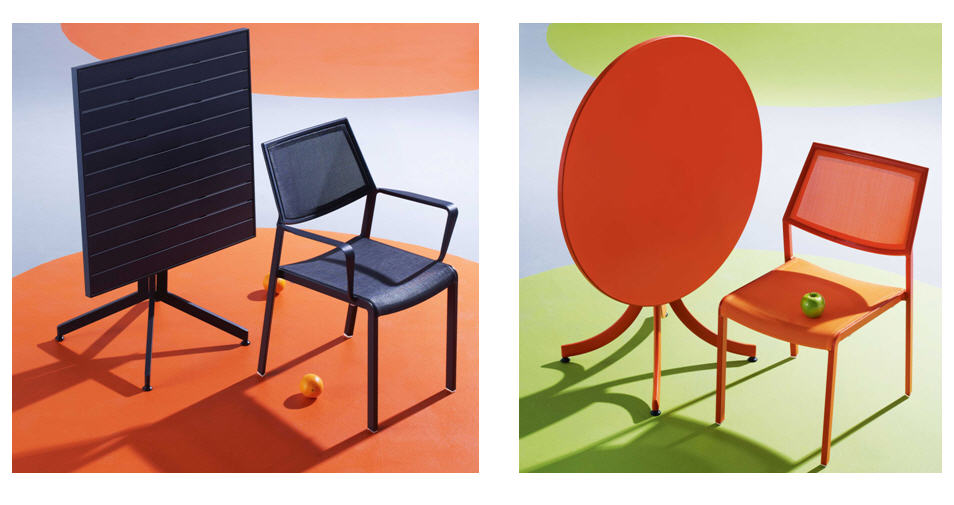 Discover over 20 Balcony Settings at Domayne.
Space at a premium? Need an extra table and several chairs for those unexpected guests? You're gonna flip out over our space-saving, super-convenient Fliptop 'Skat' balcony range! Expertly constructed from commercial-grade quality aluminium, the range includes a 'Skat' round or square fliptop table that folds up and packs away when no longer needed. The sleek 'Skat' dining chairs are available in three contemporary styles and stack away neatly into a corner. Available in charcoal, white or orange, this chic design is the perfect choice for those with small courtyards and balconies.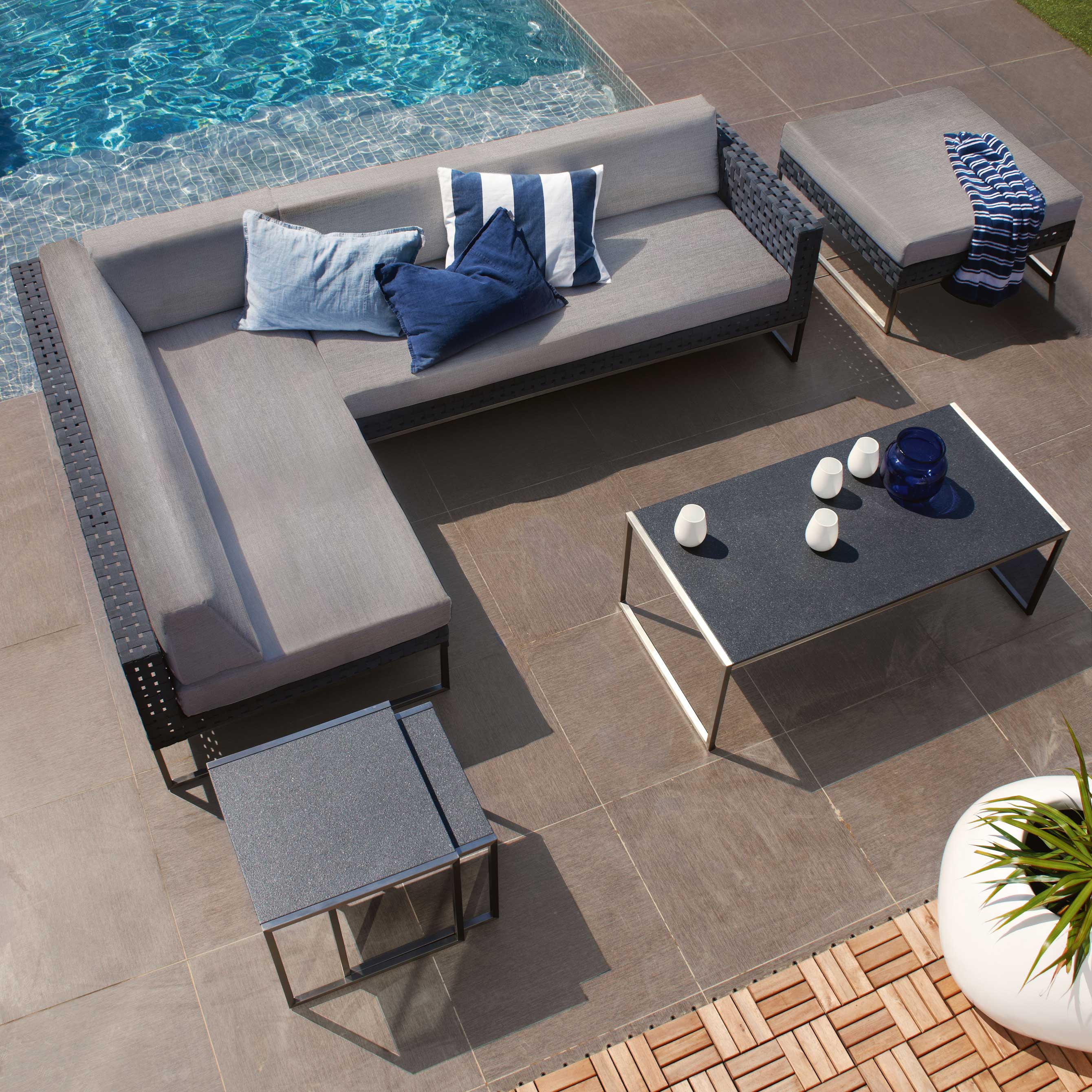 Discover over 20 Outdoor Lounges at Domayne.
Wish your home was a little bigger? Need more space to spread out, lounge around in, entertain family and friends? Think outside the square and create a space outside that unites all the delights of the open-air with all the comforts of the indoors.
Fashion-forward and oh-so-versatile, our elegant range of outdoor sofas, armchairs and modulars are the perfect solution for entertaining intimate get-togethers or larger gatherings. It's so easy to customise your outdoor sofa configuration to facilitate your lifestyle needs! Use that rectangular ottoman as a chaise with your lounge or slide it between two 2-seaters lounges for a spacious corner modular suite. Sweet! The skies the limit – configure the seating arrangement to suit every occasion.
Don't forget that you can take your outdoor furniture inside for double the function! Team your outdoor coffee table with that sleek leather lounge for a contemporary look or take the ottoman indoors to use as a comfortable footstool. Whatever works for you.
Discover over 40 Outdoor Dining Chairs and over 35 Outdoor Dining Tables at Domayne.
The sky is clear, the sun is shining – now's the time to embrace the relaxed holiday atmosphere that comes with easy, breezy al fresco entertaining. No matter if your outdoor space is a neat balcony, pool-side deck or rambling courtyard, find exactly what you're after with our new season collection of outdoor dining settings.
Make your outdoor room sing with this season's trending citrus hues of yellow, orange and green or make a classic nautical statement in clean white and cool blue. Update your existing outdoor dining setting by adding a selection of brightly coloured dining chairs – don't be afraid to experiment with different styles and hues. Be bold with textures, too! Team rich teak timber with beautifully hand-woven wicker or commercial-grade aluminium for a fresh look. There are no rules!
From flip-top balcony tables with stackable dining chairs and 5-piece bar settings to round tables with lazy susans and generous extension tables to accommodate a crowd – Domayne has it all, and in a range of price tags to cater for all budgets!
Discover Domayne. Your one-stop outdoor living destination.
Stay tuned for more on this season's outdoor furniture range.