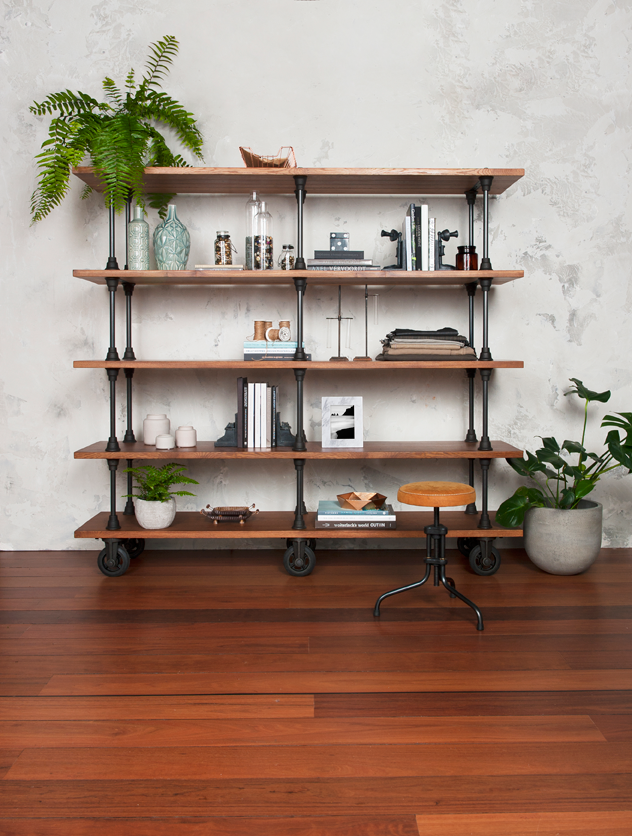 Discover Innovative Industrial Furniture with District Eight at Domayne
---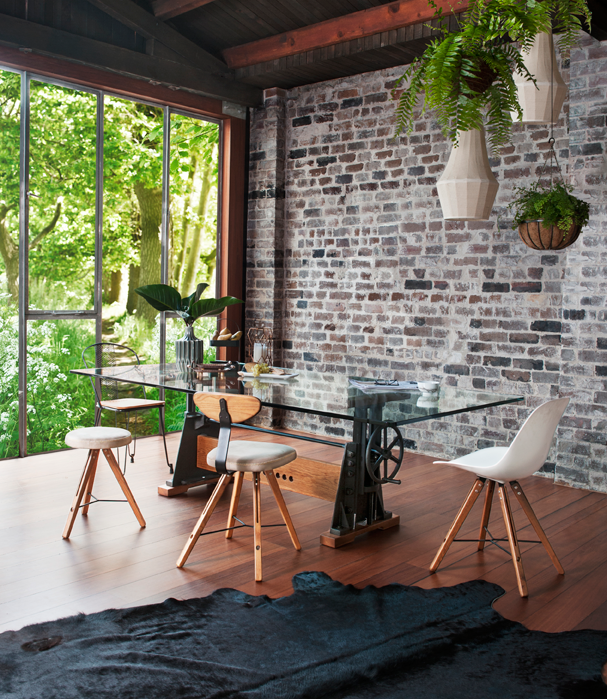 Featured above: 'Le Loi' Dining Table, 'Napier' Dining Chair, 'Theo' Low Stool, 'Theo' Shell Dining Chair
Specialising in custom-made industrial furniture, District Eight Design combines vintage design, reclaimed materials and traditional techniques with contemporary style and cutting edge innovation to create unique, handcrafted pieces – which can be viewed in our latest magazine feature showcased in Home Beautiful, InStyle and Marie Claire. Exclusive to Domayne, District Eight began as a labour of love in 2010 when Paul Norriss and Darren Chew set out to preserve, develop and repurpose architecture and industrial parts found in Ho Chi Minh City, Vietnam. Co-owners, Darren and Paul, now run their successful in-house design and production business creating modern, high-quality furniture which is crafted from raw and salvaged materials using time-honoured techniques.
Ho Chi Minh City – The Paris of Asia
Often referred to as "The Paris of Asia",  Darren explains that Ho Chi Minh City's popular nickname is derived from its tree-lined boulevards as well as the architecture of the municipal buildings and churches – all of which are reminiscent of Paris.
Drawing both inspiration and industrial material from the remnants of the French colonial architecture found throughout the rapidly developing Ho Chi Minh City, Norriss and Chew find satisfaction in preserving reclaimed objects and transforming them into pieces that are both functional and beautiful. "There's currently a huge amount of development in Vietnam which sadly means a lot of old historical buildings are being lost", says Darren. "We reclaim the materials for our furniture from those buildings and give them a new lease on life, but it's always sad to see the city losing its heritage".
Distinctive Designs Custom-Built to Last
When asked what drew him to the French-inspired industrial design concept, Darren cites the quality of both the materials and the craftsmanship that shapes them. Referencing L'uisine, the store/cafe he also owns with Norriss, Darren says he's always had an interest in custom, repurposed design: "Originally we built our store, L'usine, to replicate a turn of the century textile mill and collected many loom parts to build the furnishings. The forms of the original District Eight collection spun out of the inspiration of those castings."
Darren shares his view that in today's "disposable society", creating a collection that's "made to last" is a key factor behind all District Eight designs.  This ideal, he admits, directly influences the materials that are used in the production of their furniture. "We really dislike faux patina, so new timber gets a clean look with natural oil finishes. (Eventually) these items will take on a patina and character of their own. Over time the pieces begin to look better with age."
Reviving Reclaimed Materials
Darren asserts that the brand's ethos is all about preserving the integrity of the materials used – retaining the character and history of reclaimed timber, steel and cast iron. " It takes a lot of time to source reclaimed materials, then select and prepare them for production," he explains. "Every piece has the marks of a different saw or the scars from its former life. It's rewarding to see a final product as the reclaimed material has a history that we try to preserve."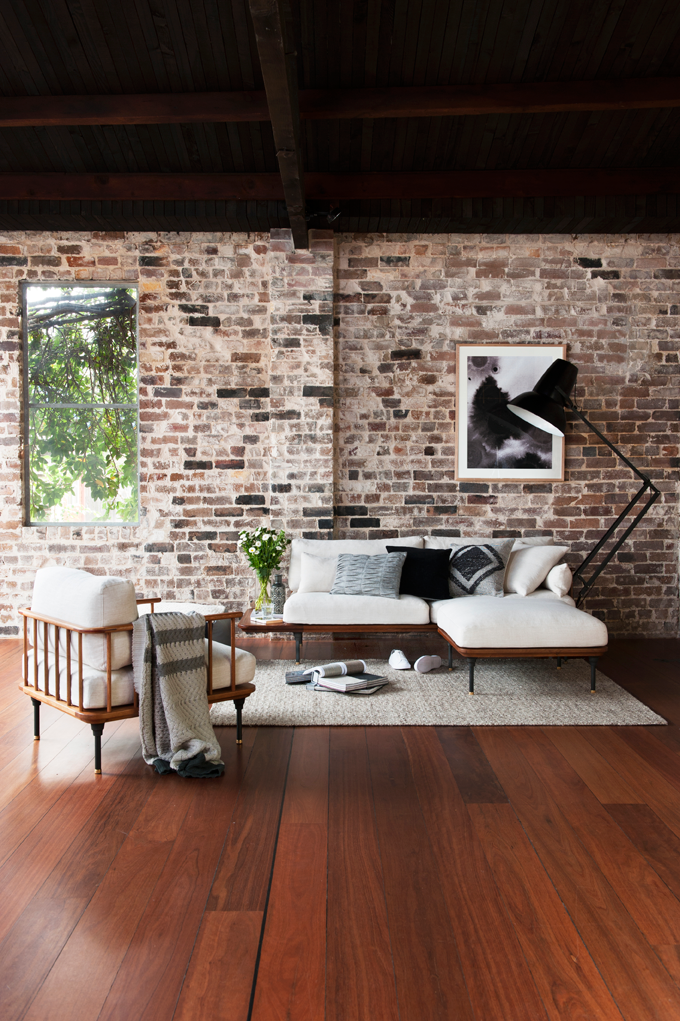 Featured above: 'Distrikt' 2.5 Seater Sofa, 'Distrikt' Ottoman
Styling the Industrial Vintage Look
Offering an impressive range of stunning statement pieces from hanging rails, shelving units,  and even foosball tables to more mainstream furniture such as fabric lounges and armchairs, entertainment units, computer desks, ottomans, bar stools and office chairs – Darren believes that the secret to styling this edgy aesthetic is to take a relaxed approach and mix it up. "I think people sometimes overdo the industrial concept in their home and it becomes hard to live with day in, day out. Nobody wants to live in a factory so it's nice to mix old and new, modern and vintage," he says. "Team an industrial table with something like our shell chair. It softens the industrial and makes the look more liveable. Also use textiles to further soften the look."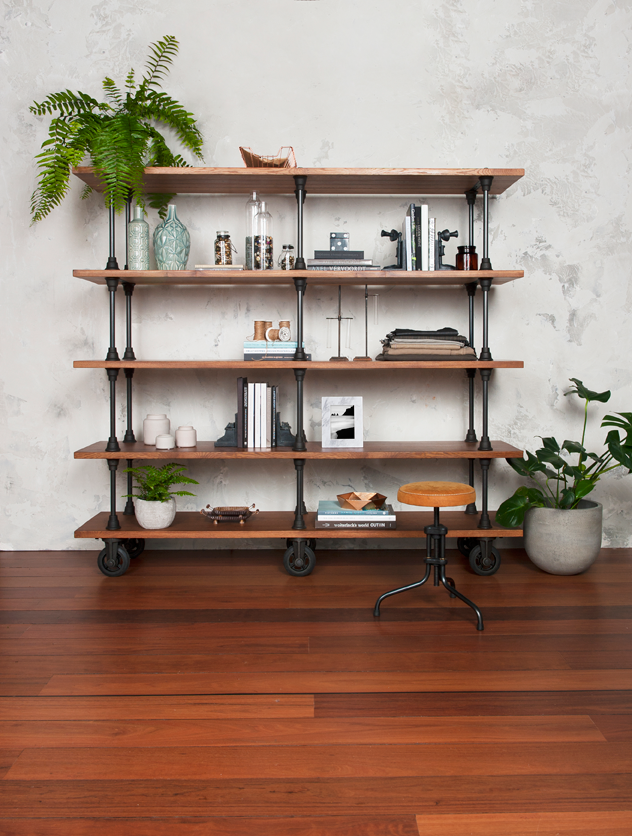 Featured above: 'Sheffield' 5-Tier Bookcase
Experimental New Designs
Constantly experimenting with different materials in their pursuit of artful new pieces, Darren says that he and Paul enjoy pushing the boundaries of design in order to see "something that is imagined become reality." Drawing inspiration from bridge construction, Darren reveals that they've recently brought concrete into their collection. "Our challenge was to make cast concrete furniture that was fine without the blocky nature you see in regular cement furniture," he explains. "It has been an interesting project with us developing our own process for casting."
District Eight designer furniture is available exclusively at Domayne. Browse this timeless range of premium furniture online or head into your local Domayne store and see these striking pieces for yourself.