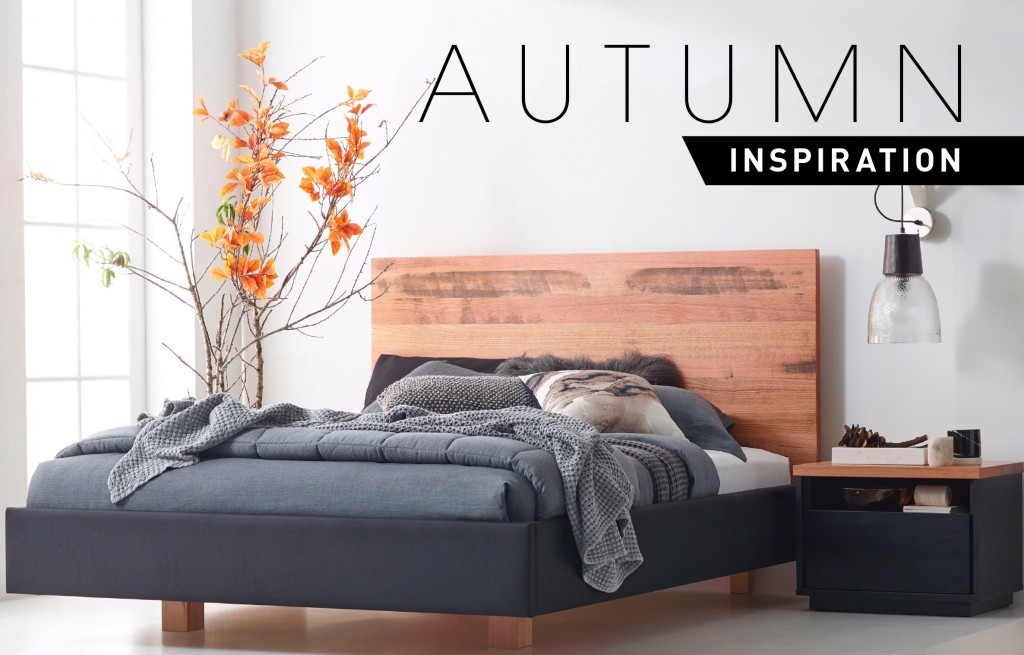 Domayne Furniture: Fall in Love with Autumn
---
Cool days, crisp nights, rich fall foliage, soul-warming soup and fluffy layers of throws, cushions and rugs. Autumn has arrived and at Domayne, we are loving the seasonal change. This is the perfect time to nest your home and create a sumptuous space, replete with cosy, cocoon-like gems.
Let's start with the bedroom. Hitting snooze on your alarm clock will be twice as tempting with our stylish new Mac queen bed (as pictured above with matching bedside table). Featuring the hottest autumn hue – molten caramel – the timber bed head and bed legs contrast remarkably against the bed base, which is upholstered in Zepel 'Mega' fabric in a deep charcoal colour. Paired with the Linen grid quilted comforter in slate grey and the soft Abbotson marl quilt cover in granite, you'll be tempted to stay snuggled under the covers for five minutes more!
Next up are more inspiring options to cosy up your bedroom, as chosen by our stylist, Danielle Hicks.
Taylor Fabric Bed
Soften your space with the sculpted styling of the Taylor. Offering a modern look, the luxe shape and feel of this plush bed in a muted grey fabric upholstery makes it a popular choice for all homes.
Landra Quilt Cover
The orchid-inspired floral motif of this cotton sateen quilt cover in indigo will create a fresh feel in your bedroom when paired with soothing navy and soft grey.
Drift Quilt Cover
Popular in the 70s, chenille is given a modern makeover with this textured quilt cover in snowy white that simply cascades down the bed, adding a depth of softness and style to your interiors.
Drift Cushion
The on-trend tasselled trim and delicate blue hue of this cute cushion will see it sitting pretty on your bed or propped up on your favourite armchair.
Gravity Pot
The distinctive design of this decorator pot in matte black with chrome accents is perfect for fans of art deco. Fill with your favourite autumn perennials and instantly brighten your boudoir.
Now that your bedroom's sorted, let's take a look at your lounge room – the hub of any home during the cooler months. Everyone in the family gravitates towards it – curling up on the sofa and nursing a hot cuppa, while the fireplace crackles away.
Our stylist, Caitlin Melling, has handpicked her favourite lounge room must-haves for this autumn.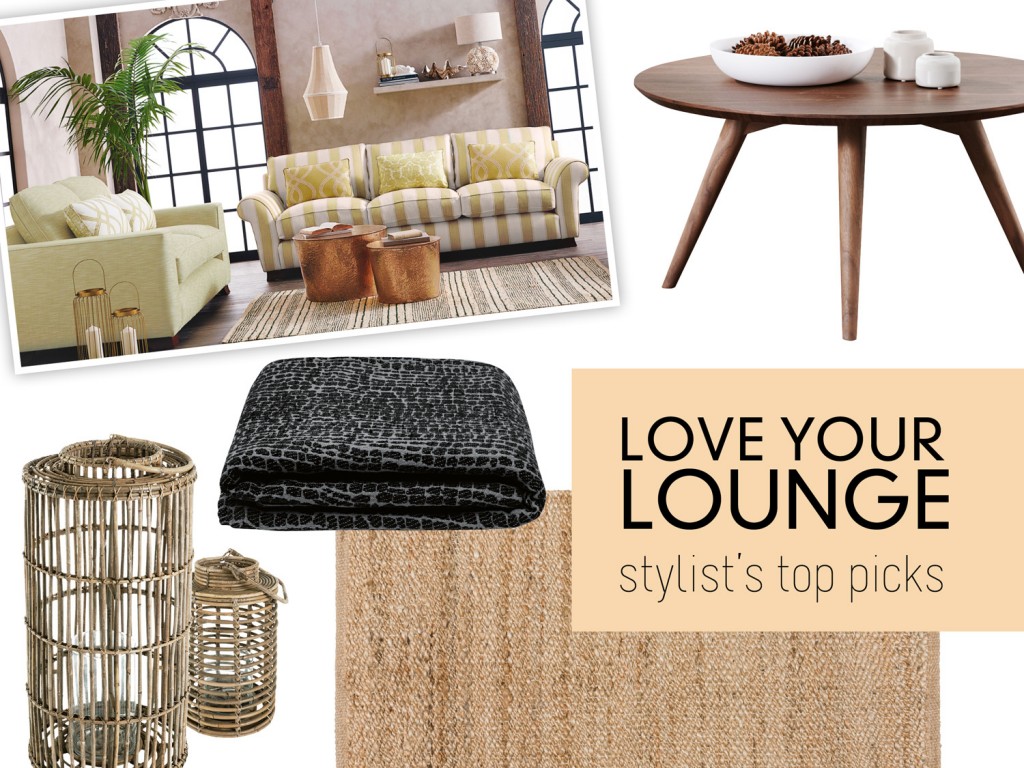 Issie Fabric Sofa
The classic silhouette of the Issie lounge collection – featuring a golden kiwifruit-coloured upholstery and sink-in seat cushions – makes it the ideal option for your family room. Scatter cushions are included in co-ordinating fabrics and you also have the option to choose round or square arm shapes. Get the complete setting, including the 2.5-seater sofa, the 3-seater sofa and the oversized 1.5-seater armchair.
Hemp Rug
Style your lounge room from the floor up, building a solid foundation with the right rug. The perfect base for any décor, our Hemp range features a strong hand-spun soumak weave, offering an invitingly organic aesthetic.
Natural Wicker Lantern
Lighting is crucial for creating a warm and welcoming atmosphere and this lantern takes its cue from nature, making it the perfect piece for achieving a autumn-inspired vignette.
Marli Coffee Table
The gentle contours, tapered timber legs and mild timber tone of this Nordic-inspired design will imbue your lounge room with warmth.
Greg Natale Snake Throw
Not only do throws give much needed sanctuary from the evening chill, they also are an easy way to freshen up your décor. The snake skin design manages to offer both glamour and comfort.
Are you ready to create an autumn-inspired cocoon in your home? Check our catalogue for more ideas and browse our beautiful furniture, bedding, bed linen and decorator online or go to your nearest store and talk to the friendly Domayne team.