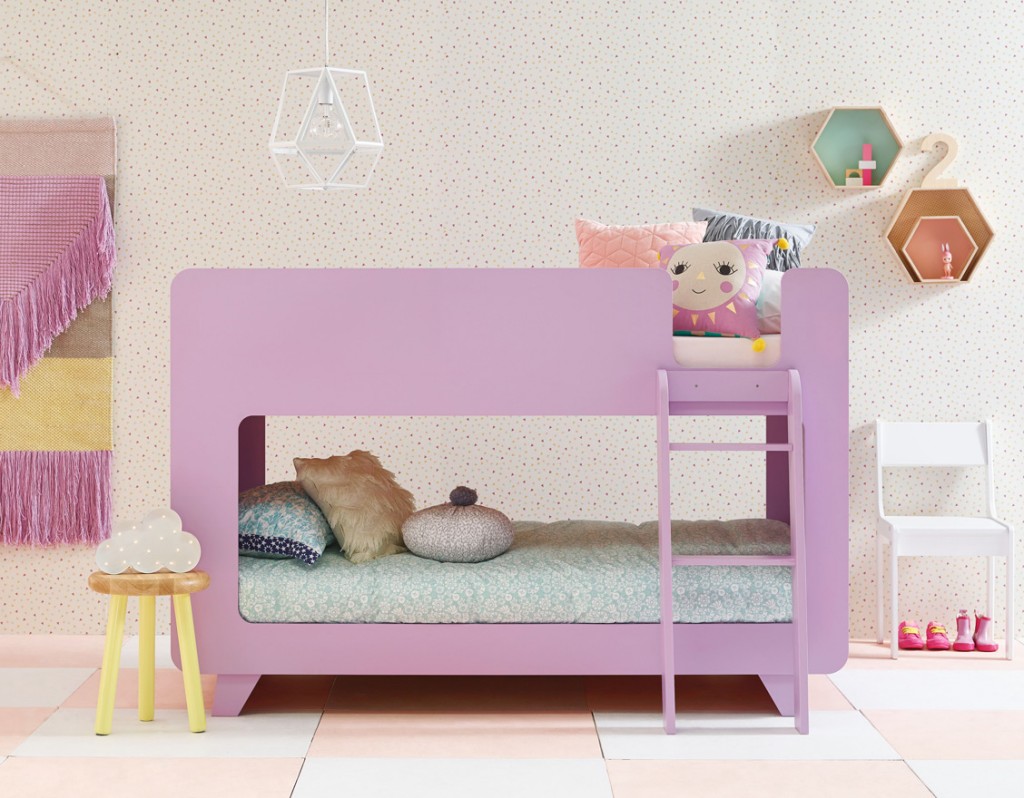 Domayne Kids' Bedrooms: Making Dreams Come True
---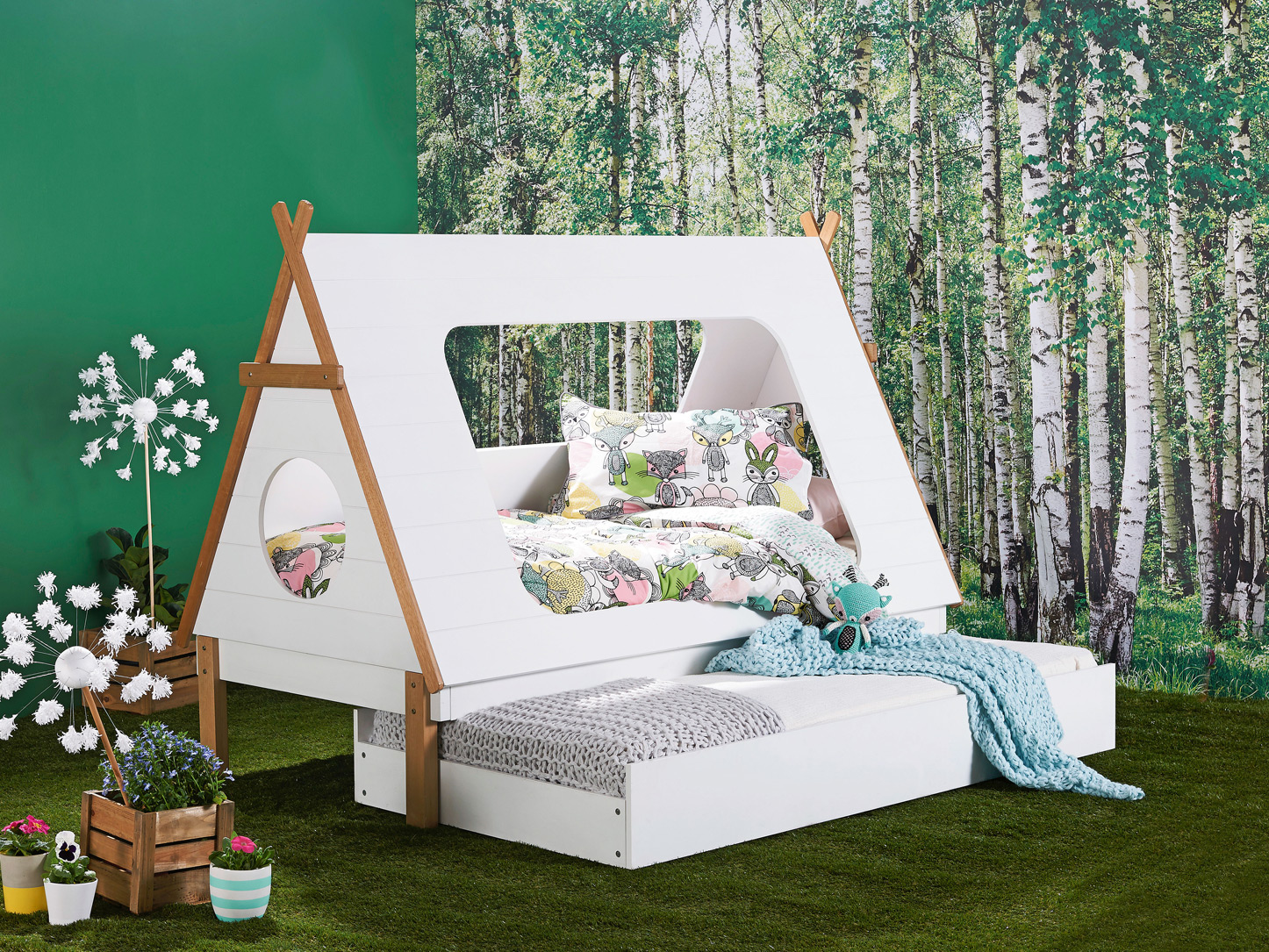 Create a magical space in your child's bedroom with Domayne's exciting collection of kids' beds. Create a space where there's plenty of room for inquisitive minds to grow. Where wild imaginations can roam free, where sleeping beauties can host their slumber parties and where little dreamers can flourish into big achievers.
Here are five of our favourite children's beds from our Domayne Kids' 2015 Collection catalogue that's out now. We guarantee hours of fun as you play with exciting textures, shapes and colours to recreate these looks that'll capture the fancy of your bright spark.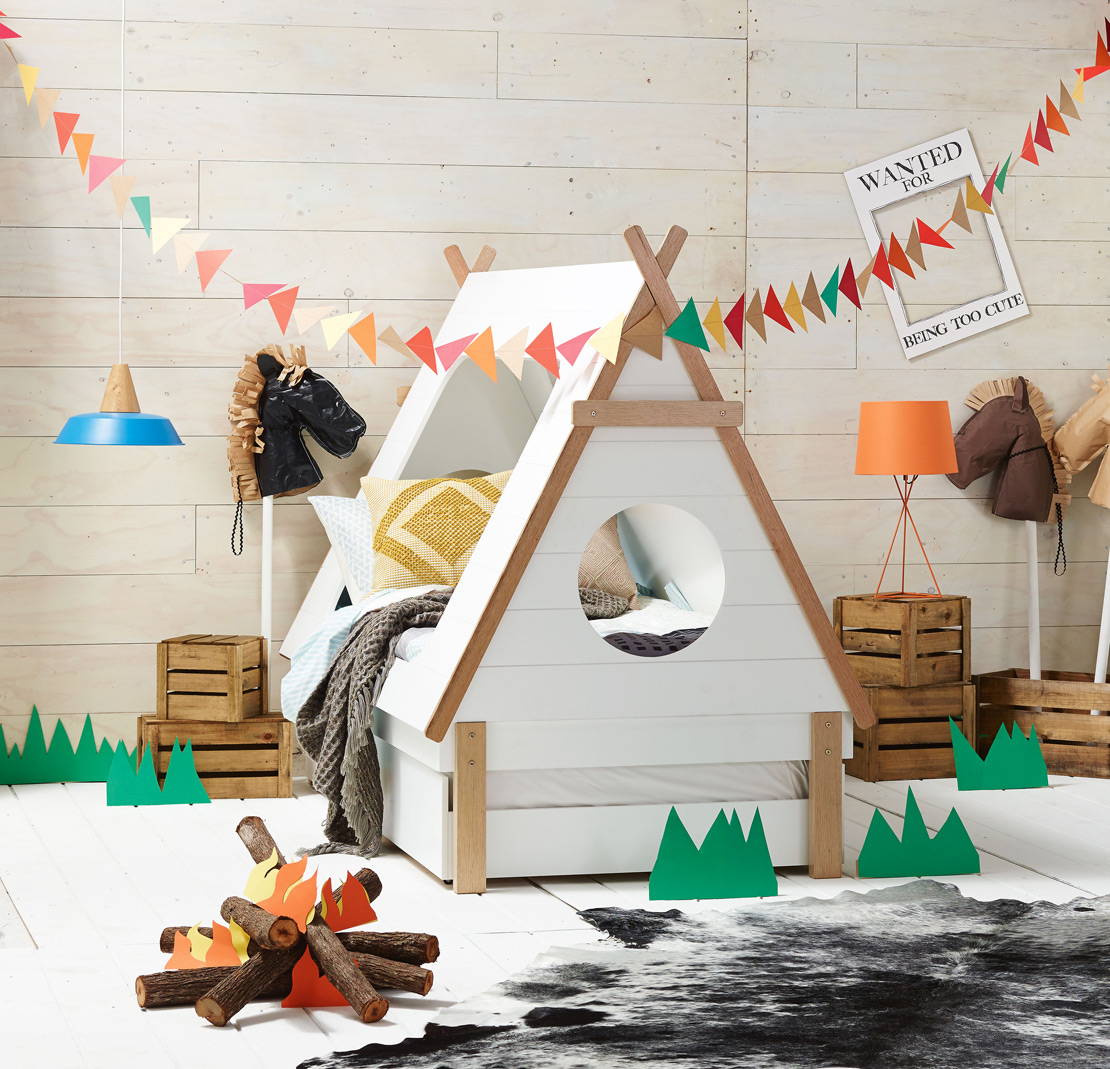 A-camping we will go, a-camping we will go! Little adventurers will explore faraway lands, tracking through the enchanted forest where woodland creatures await. They'll discover our very popular kids' bed, the Australian-made 'TeePee' and set up camp under the stars. With a canopy roof and window cut-outs, this cubbyhouse-inspired design comes with the option of a trundle, for those social butterflies who adore sleepovers. Pair with our 'Billie' Bed Linen with its cheerful animal kingdom illustration. Your little one and our 'Billie' Reindeer Toy will be thick as thieves in no time as they plot their next big expedition.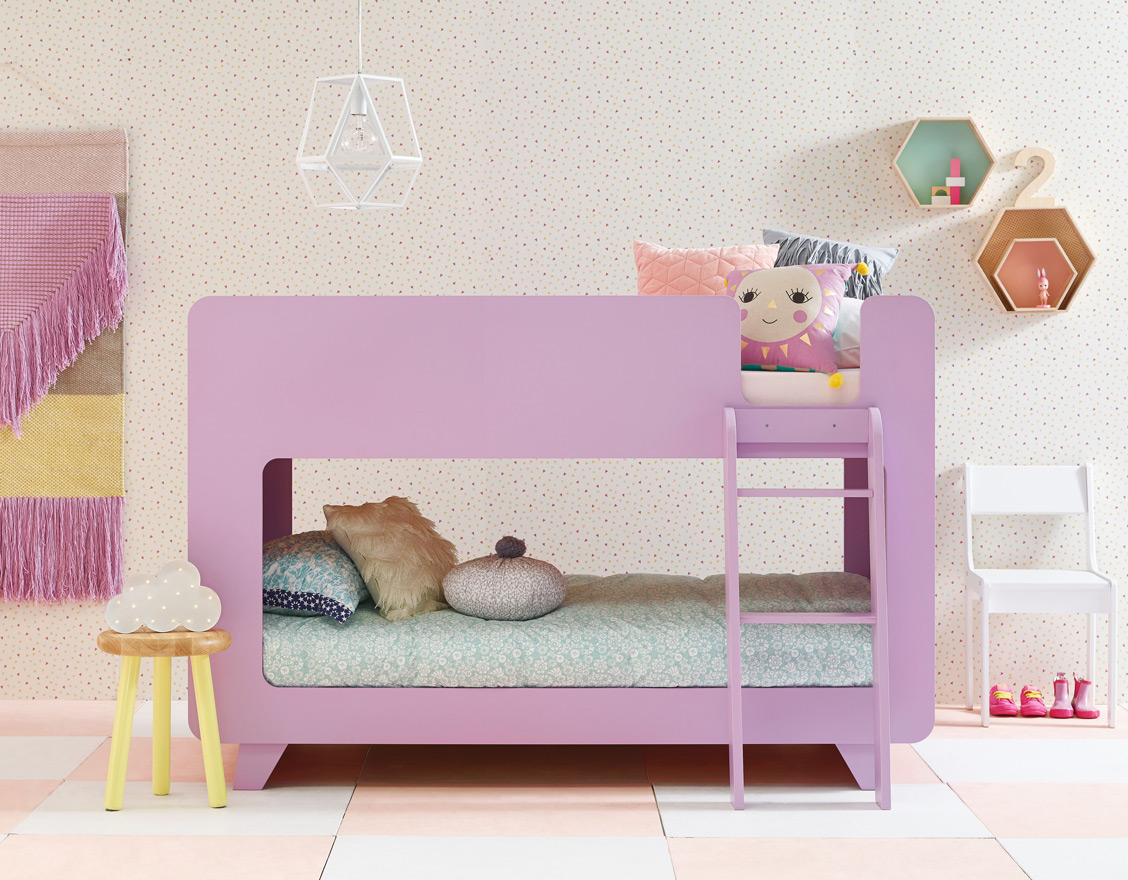 Bring dollhouse dreams to life with our Australian-made 'Frankie' Bunk Bed pictured here in a lovely lilac shade. With a height of only 133cm, it's perfect for little princesses to climb the castle tower as night falls across the realm. Our 'Hello Sunshine' Cushion with bright yellow pompoms will keep her company with its sunny smile, as she lays in a bed of dainty
blooms with our 'Sagewater' Quilt Cover. She'll float into sweet slumber as our playful 'Cloud' Marquee Light keeps watch. The 'Frankie', a champion amongst bunk beds, is available in other cool colours including mint, orange, charcoal and green.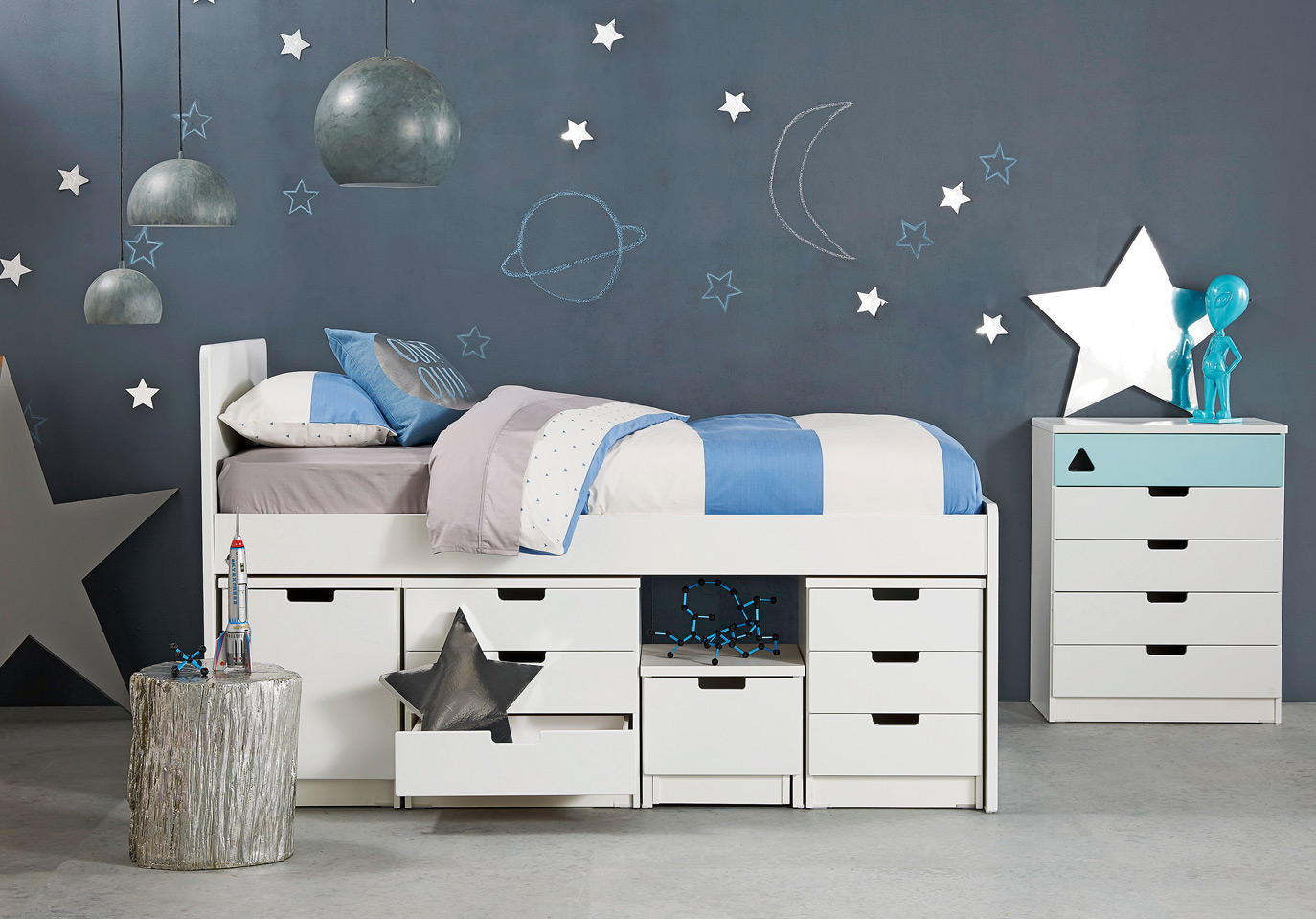 Put a twinkle in your little superstar's eye with our Australian-made 'Charlie' Single Bedroom Suite – a great toddler bed. If you're hunting for kids' beds with storage, you'll love this space-saving design with its many drawers and cupboards, while your little space cadet will love the rollout step unit – it's one giant leap for a heroic boy as he soars through the Milky Way. Get your astronaut ready for lift-off and outfit his rocket-ship with our striped 'Jean' Quilt Cover Set in sky blue. The silvery sheen of our 'Oui Oui' Cushion and 'Carbine' Trunk Stool completes the inter-galactic theme, while the 'Nordic' Concrete Dome Pendant Lights in small, medium and large sizes add a neat planetary touch.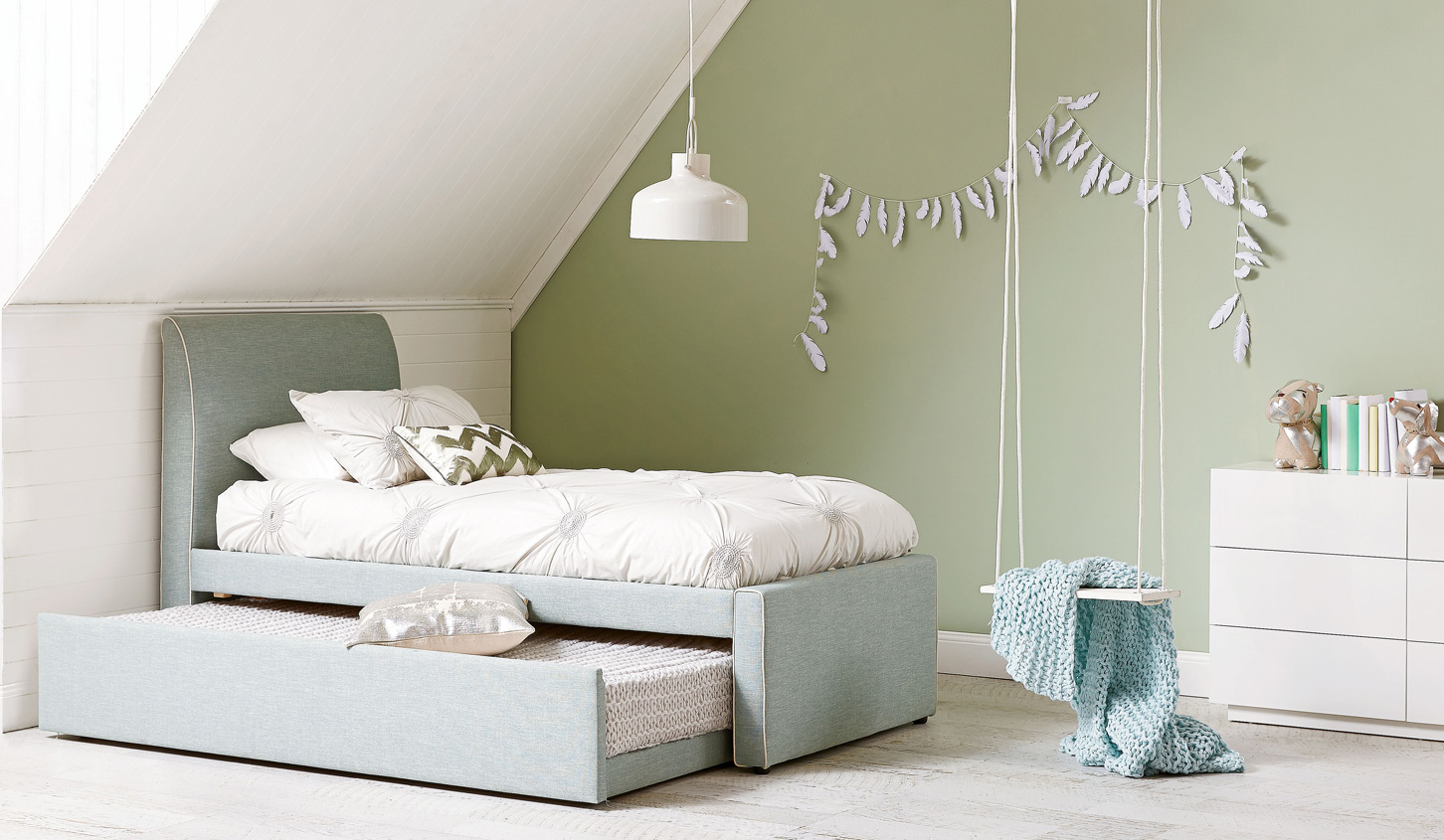 Sleepovers mean staying up late, sharing secrets, raiding the kitchen for a midnight snack and lots of giggling. Our 'Hunter' Single Bed with Trundle is just the thing for kids who love inviting their friends over. Plush fabric upholstery in a delicate colourway makes this kids' bed perfect for both girls and boys. Recreate this whimsical look with our 'Claudia' Quilt Cover Set – its intricate circular ruching appliqués will get a tick of approval from fashionistas of the future. Remember, kids just wanna have fun, and they'll love their fun parentals for glamming up their bedroom with these fantabulous accessories, including
our 'Industrial' Matte Pendant Light, 'Purl' Throw in baby blue and 'Flag Foil' Cushion in shimmering silver.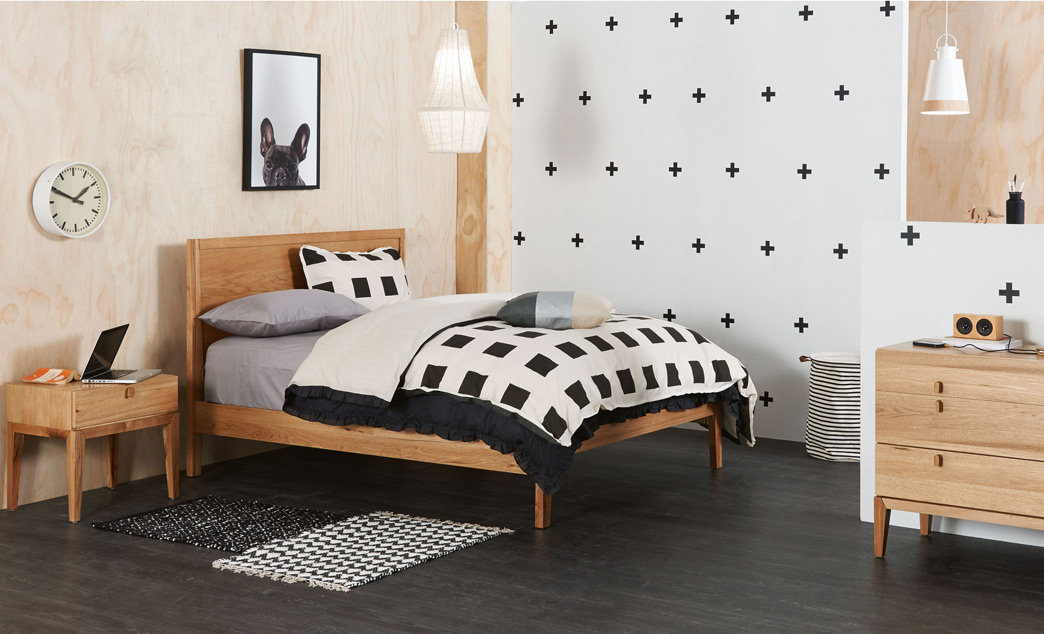 Give spirited teens their wings and create a calming space that's their very own classified zone. Our 'Lola' Double Bed, featuring light oak timber tones, will add a more grown-up feel that adolescents desire. This Scandi-style, too-cool-for-school bedroom furniture range includes bedside tables, a tallboy and a lowboy, plus queen and king bed sizes. Recreate this sophisticated look with our 'Squares' Bed Linen in graphite, 'Canvas' Striped Storage Basket, and 'Sibela' Pendant Light in soft jute colouring.
Have our awesome beds for kids inspired you to update your mini me's retreat with some new bedroom furniture? Browse our kids' bedroom furniture online or head down to your local Domayne store to view our extensive collection of boys' and girls' beds.