Domayne's Definitive Guide to Trimming Your Christmas Tree
---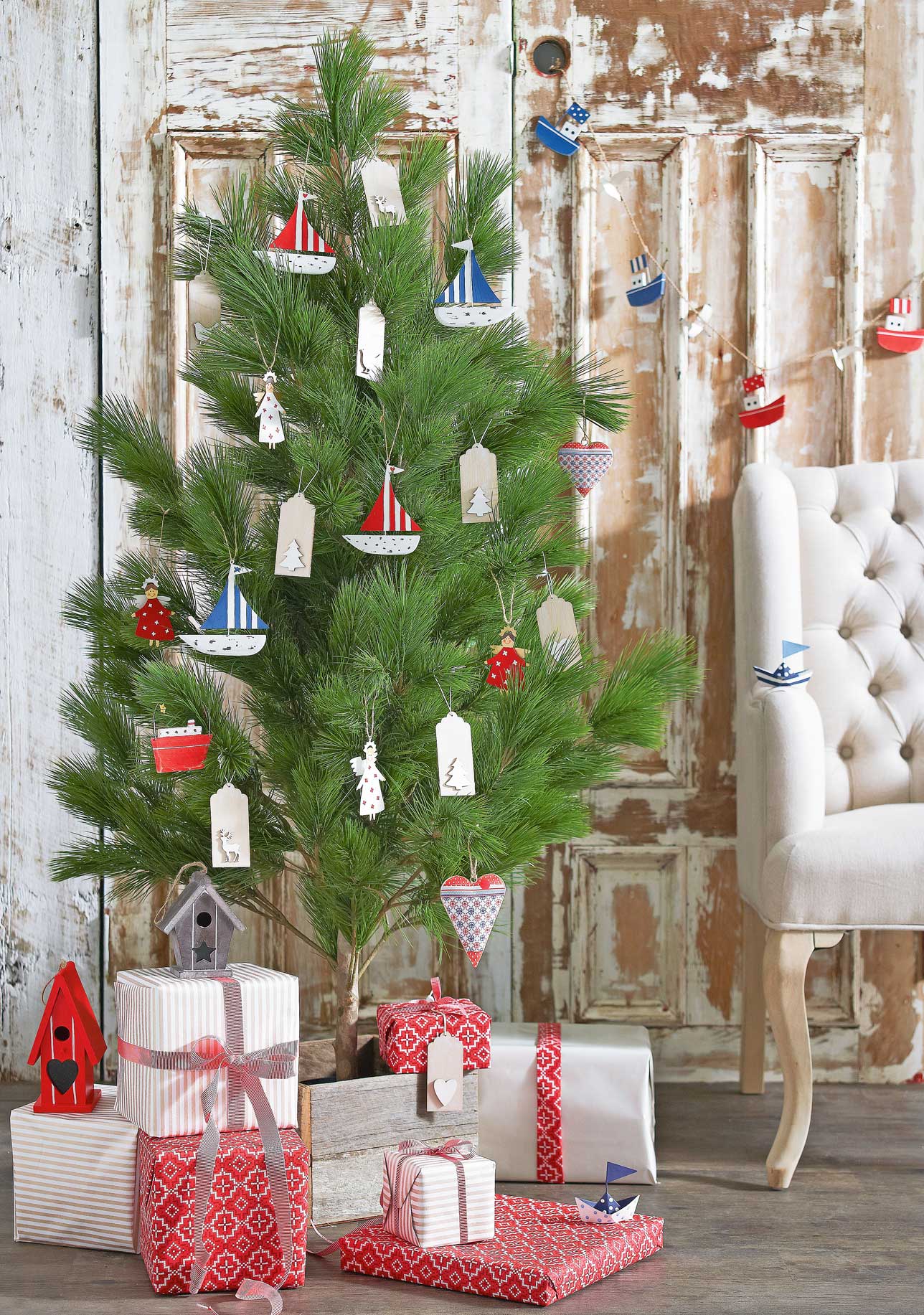 If you're a festive fiend you've probably realised it's almost time to get your Chrissie tree all gussied up! That's right people, December 1st – this Sunday – is the 'official' Christmas-tree-putting-up-day. It's true, Santa told us so. But wait! Before you get decorating, you might like to peruse these simple tips for sprucing up your spruce (try saying that with a lisp!).
Consider Your Dream Theme
There are countless things you may wish to consider when deciding on the colour palette and overall scheme for your Christmas tree ornaments:
1. You may wish to coordinate with the surrounding decor. For example, if you have a lot of latte and beige hues, a gold and pearl-coloured Christmas theme will add a beautiful luxe richness to the space. A neutral decor provides the perfect canvas for pretty much any colour scheme you opt for.
2. Give thought to your personal style. Are you a traditionalist when it comes to the festive season? Do you have a penchant for minimalist decorating? Do you (or your little ones, for that matter) have a love for bold, vibrant hues?
3. It's wise to take into account the Christmas decorations that you already have. Do you have treasured heirloom ornaments, if so how will they work with certain colour schemes?
4. You might like to consider the season's trends. Domayne's exquisite 2013 Christmas collection is based on three themes:
*Coastal and quirky Nautical – think seaside references depicted in a smart red, white and blue palette (as shown above).
*Whimsical and romantic Vintage  – lace angels, nostalgic imagery, crystal and plenty of bling in a pretty colour scheme of pearl, ivory, pastels, silver and gold.
*Showstopping Tropical – A merry, bright and exotic collection of fine feathered flamingos, toucans, parrots and more in a bright colour scheme of hot pinks, limes, yellows and oranges.
 Let There Be Lights (Lots)
Let us begin by saying that there is no true method or process by which to decorate your tree. Now forget what we just said and remember this golden rule: Christmas tree lights always come first. Always. Got it? Glad we cleared that up.
Ok, the next thing to remember is that you should have approximately 100 lights for every vertical foot (30.5cm) of tree to ensure optimal illumination (sounds fancy!). To get the best effect from your lighting, wrap one strand of lights around the trunk of the tree from top to base. Then, its time to illuminate the boughs. There are many ideas regarding the best way to string lights. You may wish to begin at the base and drape your lights underneath each bough, start from the top and work your way down or divide your tree into three vertical pieces and string each portion.
Whichever method you choose, it's recommended that the wire on your lights matches the colour of your tree to ensure a seamless finish – oh, and it goes without saying that energy efficient LED fairylights are the way to go to reduce costs and to minimise your carbon footprint.

Gorgeous Garlands
With the advent of Pinterest (we're obsessed), it's no suprise that people are tapping into an endless supply of arty and crafty festive ideas and how-tos – and as a result getting a lot more creative with their Chrissie decorating. We're all beginning to realise that when it comes to decorating our tree we're not limited to some tinsel and a few boxes of ornaments. Nope, we've moved on and it's all about the garlands, Dahlings! That's right, once you've added the lights it's time to adorn your spruce with beautiful garlands of glass beads or tiny coloured felt balls, shining pearls, sparkling crystals,  pretty ribbons, paper fringing…the ideas are limitless! Choose one colour and then layer with multiple strings in similar shades to add dimension and texture. Weave your garlands (and your magic) through branches and fill those sparse spots as you go.

Dazzle 'Em with Decorations
Now for the frou frou, the bling, the razzle dazzle! Bring character and life to your tree with a beautiful selection of baubles. Many people like to hang the largest ornaments on the lower branches, alternating colours as they go. Ensure you showcase your favourite  decorations at the front – where they will be seen – and if baubles are heavy, place them towards the back of the branch (bend the branch slightly upwards at the end if you have a faux tree). It is also a good idea to place ornaments toward the trunk, not just the branch-tips – as this adds depth. Keep those lengthy, drop baubles for the tips, though, as this emphasises height and gives the tree a pleasing symmetry. Every now and then, remember to step back and take in the entire tree – filling holes and gaps evenly with smaller baubles.

Top Notch
When it comes to deciding on your tree's crowning glory, you may wish to stick with the traditional angel or sparking starburst OR this year, it might be time to channel your Christmas creativity and DIY an awesome, ah-maaaazing tree topper. We had a brief  look at the tree topping delights on Pinterest and the ideas were incredible! Peacock feathers, beautiful oversized bows, starfish…anything goes. And, who knew that hats were a favourite? Santa hats, top hats and even Dr Seuss' Cat in the Hat hat! So cool! Top your tree with a look that's uniquely yours – we think Dr Seuss would approve!