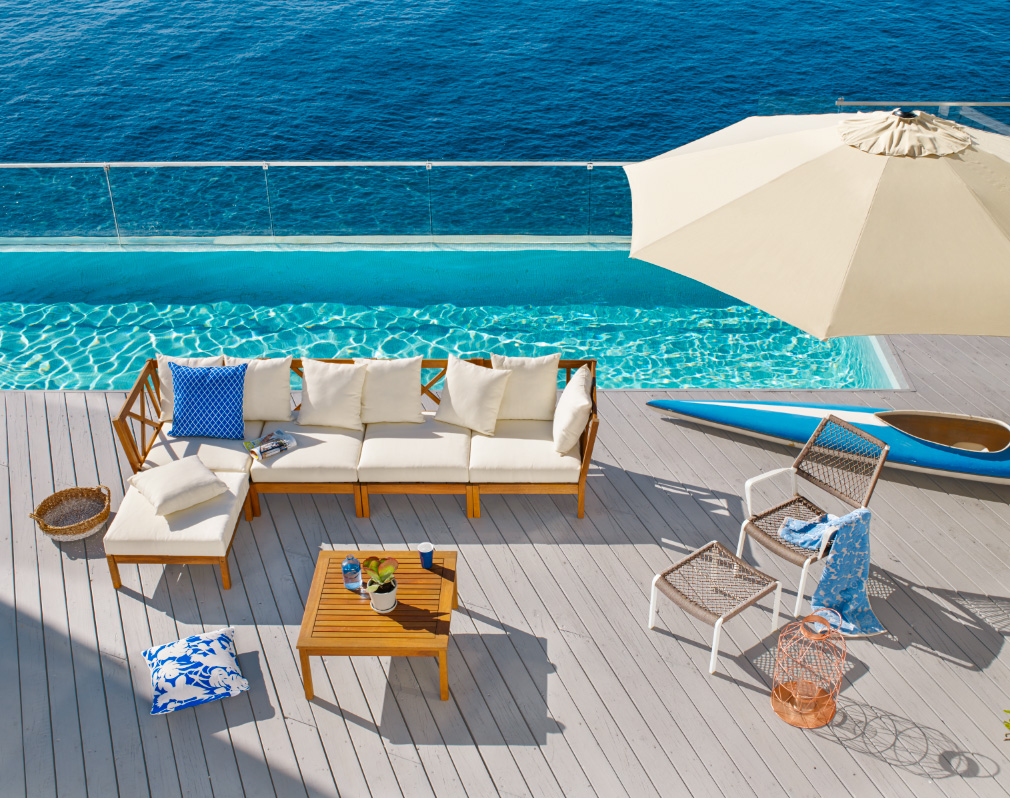 Domayne's Outdoor Furniture Collection 2014/15: Summer Chic
---
"With our climate, it's no surprise that Australians love outdoor entertaining, but it wasn't that long ago that it consisted of little more than a weathered timber picnic table and some faded plastic chairs – and a barbecue, of course!
Now, our outdoor areas are central to the design of a home, and the décor and style of these spaces is every bit as important to us as those inside – and it makes sense given how much time we spend there. Where we once furnished our balconies, terraces and gardens as an afterthought, we now see them as an extension of our indoor living areas, and the pieces we choose complement the style we like indoors. Colours follow the interior fashion, styles are in line with trends, and gorgeous homewares, like cushions and candleholders, can be changed seasonally to play up the area.
There are two big changes that have changed the way we furnish our exterior spaces. Firstly, top-end designers have turned their talents outdoors, and this clever design has filtered down. So no longer do we have a choice of one table and matching chairs, we can mix and match and choose multipurpose pieces that stack, contain storage or can be used inside and out. The other advance is in the materials used – think all-weather resin wicker, marine-grade aluminium, powdercoated steel, PVC and in fabrics, solution-dyed acrylic. These materials are durable and no longer fade after a blistering summer.
So with barbecue season almost upon us, outdoor entertaining has never looked so good!"
Bianca Martin – Lifestyle Editor, Marie Claire.
Set the stage for a sensational summer of alfresco entertaining and lounging with Domayne's new season outdoor furniture collection. Whether your outdoor space is an urban courtyard, poolside setting, leafy garden or modest balcony – give it a  summer lovin' makeover with a stunning new modular or dining setting.
Here, we showcase our fave outdoor lust-haves from the gorgeous Summer Chic look book – as seen in Marie Claire, InStyle and Home Beautiful. To tempt you even further, spend $499 or more on ALL Outdoor Furniture and Indoor Dining from Domayne and receive BONUS Elderton Wines. Cheers!
DECKED OUT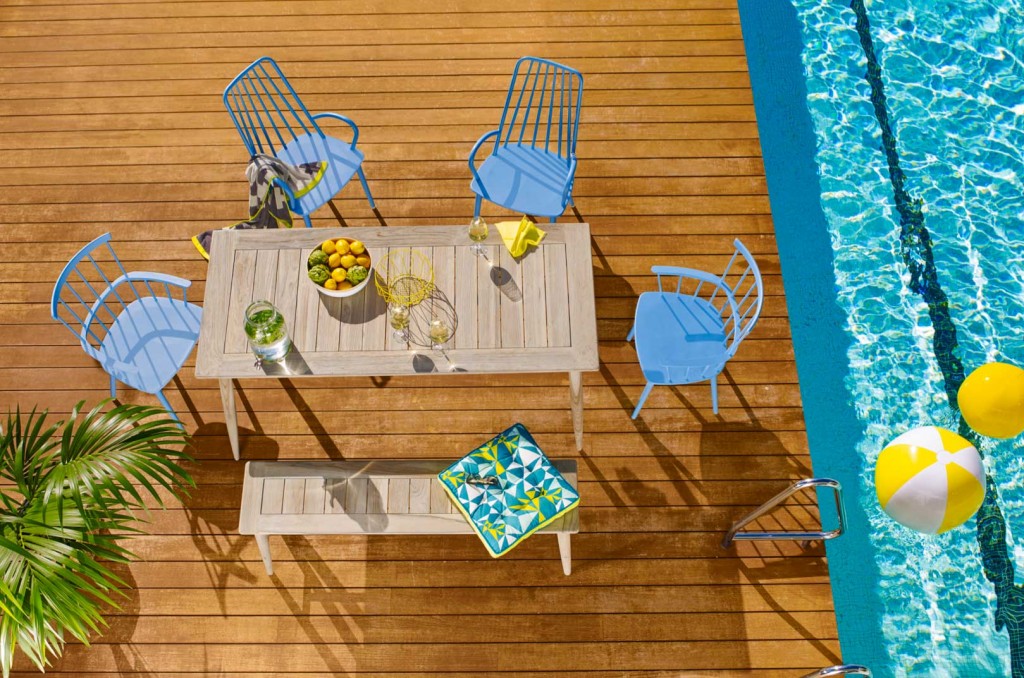 Get summer's hottest look with the exquisite 'Sleek' Dining Table expertly crafted from smooth teak timber and don't forget to add a pop of colour with the 'Sterling II' Dining Chair or retro 'Merlot' Dining Chair featuring classic Windsor back.
POOL PARTY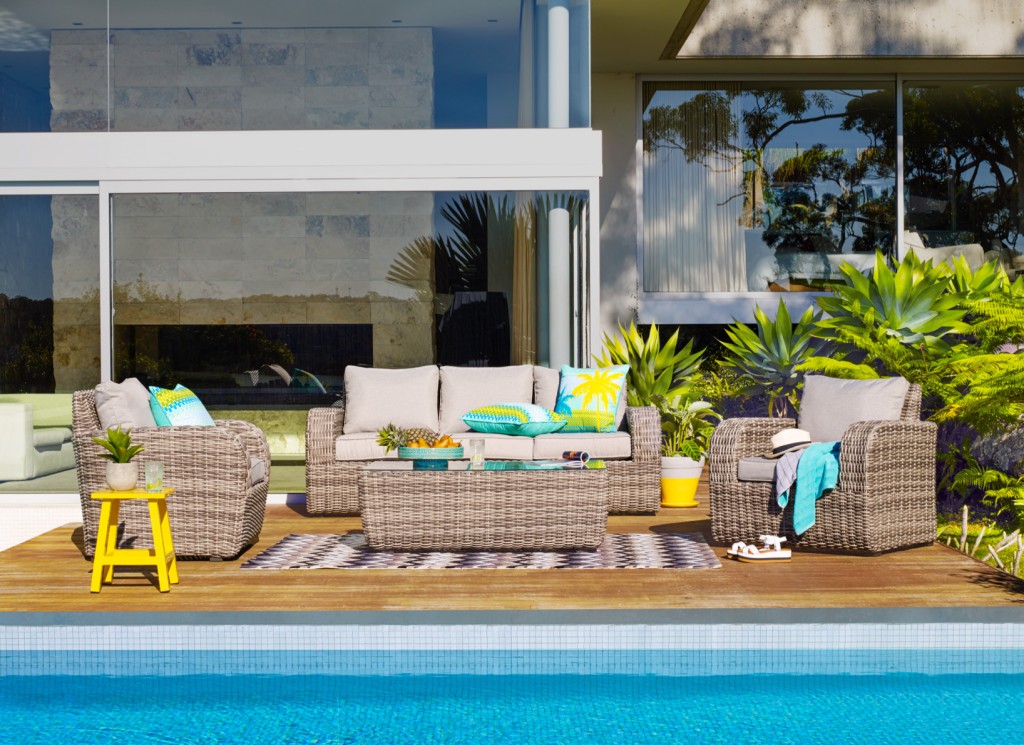 Wanna know how to make a splash at your next pool par-tay? Invite guests to kick back and relax in your outdoor comfort zone with the must-have 'Buffalo' 4-Piece Outdoor Lounge Setting featuring hand-woven UV-stabilised synthetic wicker and luxe cushioned seats. Love this!
COASTAL RETREAT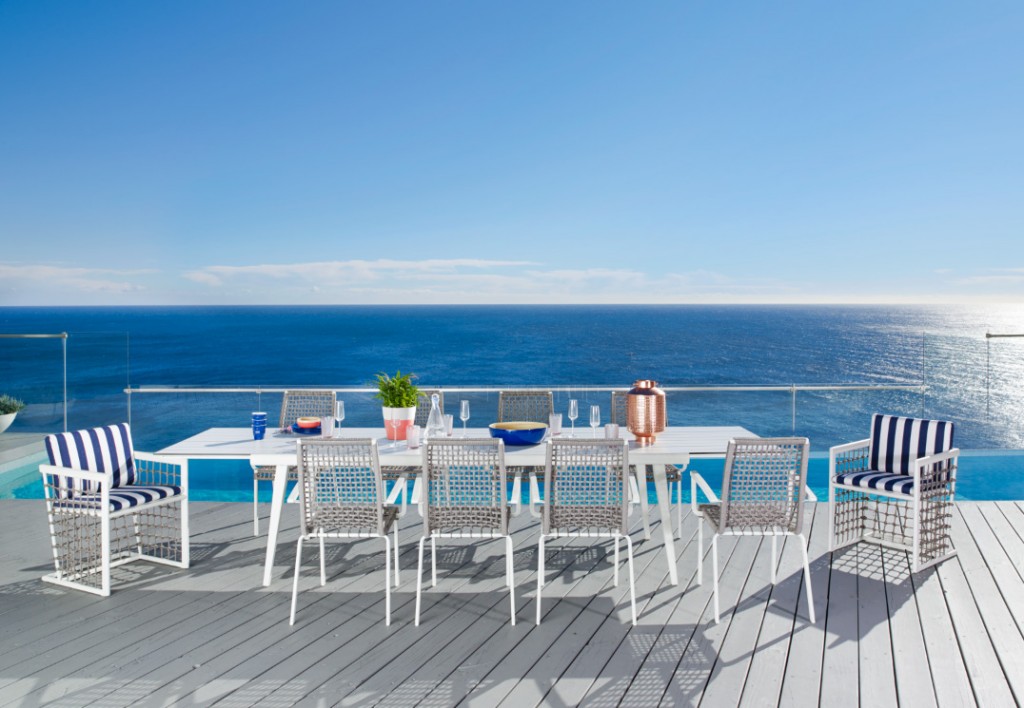 Give that alfresco brunch a distinctly nautical flavour with the 'Sterling' HPL Extension Dining Table – HPL is the perfect material for our harsh Aussie climate as it is UV resistant, lightweight and seriously durable. Complete the look with the on-trend 'Anglet' Rope Dining Chairs and 'Grid' Outdoor Dining Chairs.
LAZY SUN DAZE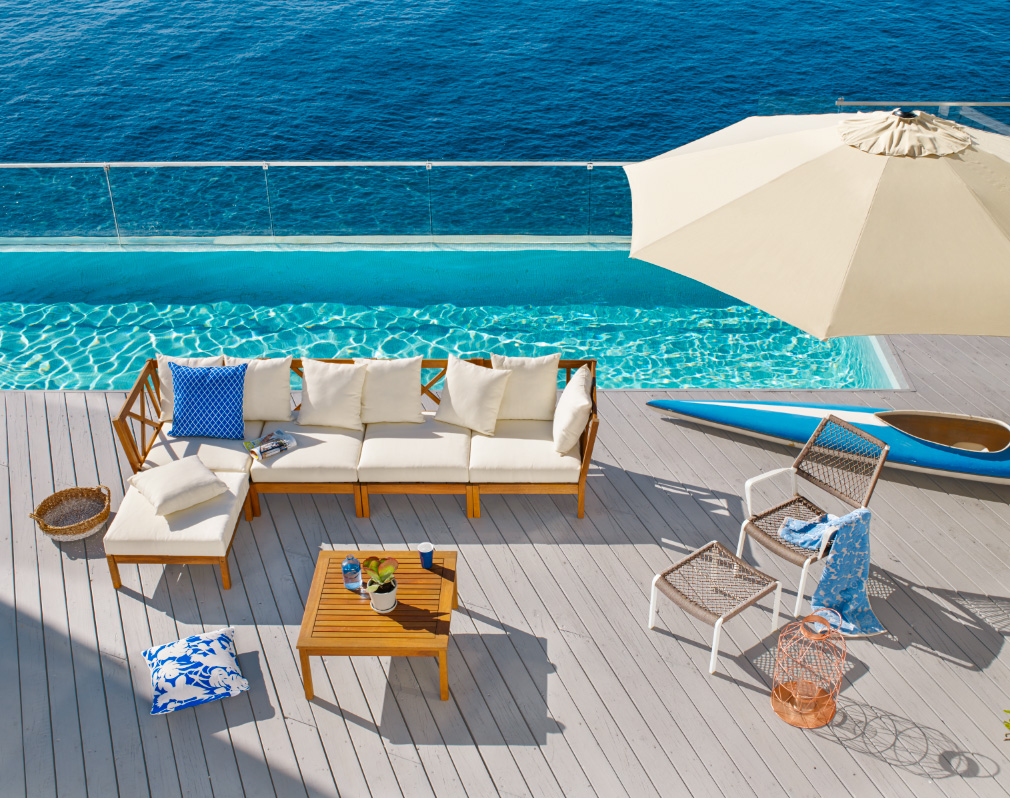 Configure the 'Bali' 6-Piece Timber Modular to seamlessly suit your outdoor space. Crafted from eucalyptus timber and dressed with sumptuous cream-coloured cushioning, the 'Bali' effortlessly evokes a resort-living vibe.
FUN AND FUNCTIONAL
Perfect for that diminutive deck or balcony, the vibrant 'Ditto' 5-Piece Outdoor Setting can be neatly packed away when not in use. Featuring a contemporary tempered glass top and sleek aluminium frame, the dashing 'Ditto' is also available in eye-catching Lime.
For more of our fantastic outdoor furniture range, head down to your local Domayne store or shop online today!