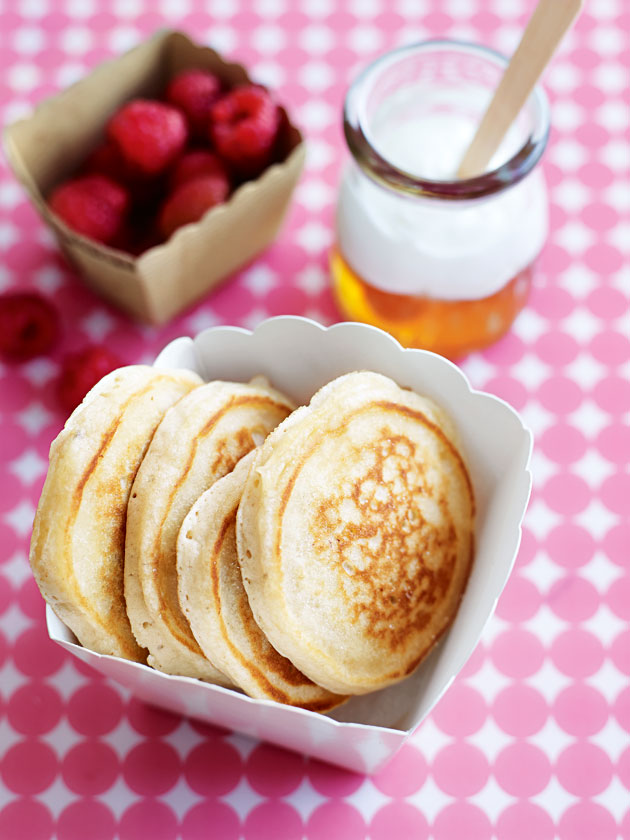 Donna Hay's Perfect Pikelets
---

Fact: These naturally sweet 'n' fluffy pikelets – from cuisine queen, Donna Hay – are the ultimate snack for big and little kids! Stack 'em up and munch them down for brekkie, recess, after school or dessert. They're easy-to-make, delicious to eat and lunchbox-friendly to boot!
1 cup (150g) self-raising (self-rising) flour, sifted
½ teaspoon baking powder
1 banana, mashed
2 tablespoons honey, plus extra, to serve
¾ cup (180ml) milk
1 egg
yoghurt and fresh raspberries, to serve
Place the flour and baking powder in a bowl and make a well in the centre. Place the banana, honey, milk and egg in a separate bowl and whisk to combine. Gradually add the banana mixture to the flour and mix until smooth. Heat a lightly greased non-stick frying pan over medium heat. Add tablespoonfuls of the batter to the pan and cook, in batches, for 2 minutes or until bubbles appear on the surface. Flip and cook for a further 1−2 minutes or until light golden. Serve with the yoghurt, extra honey and raspberries. Makes 20.
Tip: Place cooked pikelets in zip lock bags and freeze for up to 2 months. Spread with your favourite chocolate, nut or fruit spread.
Hungry for more? We've dished up some more of Domayne's fave recipes on the Flavour section of the blog. Bon appetit!