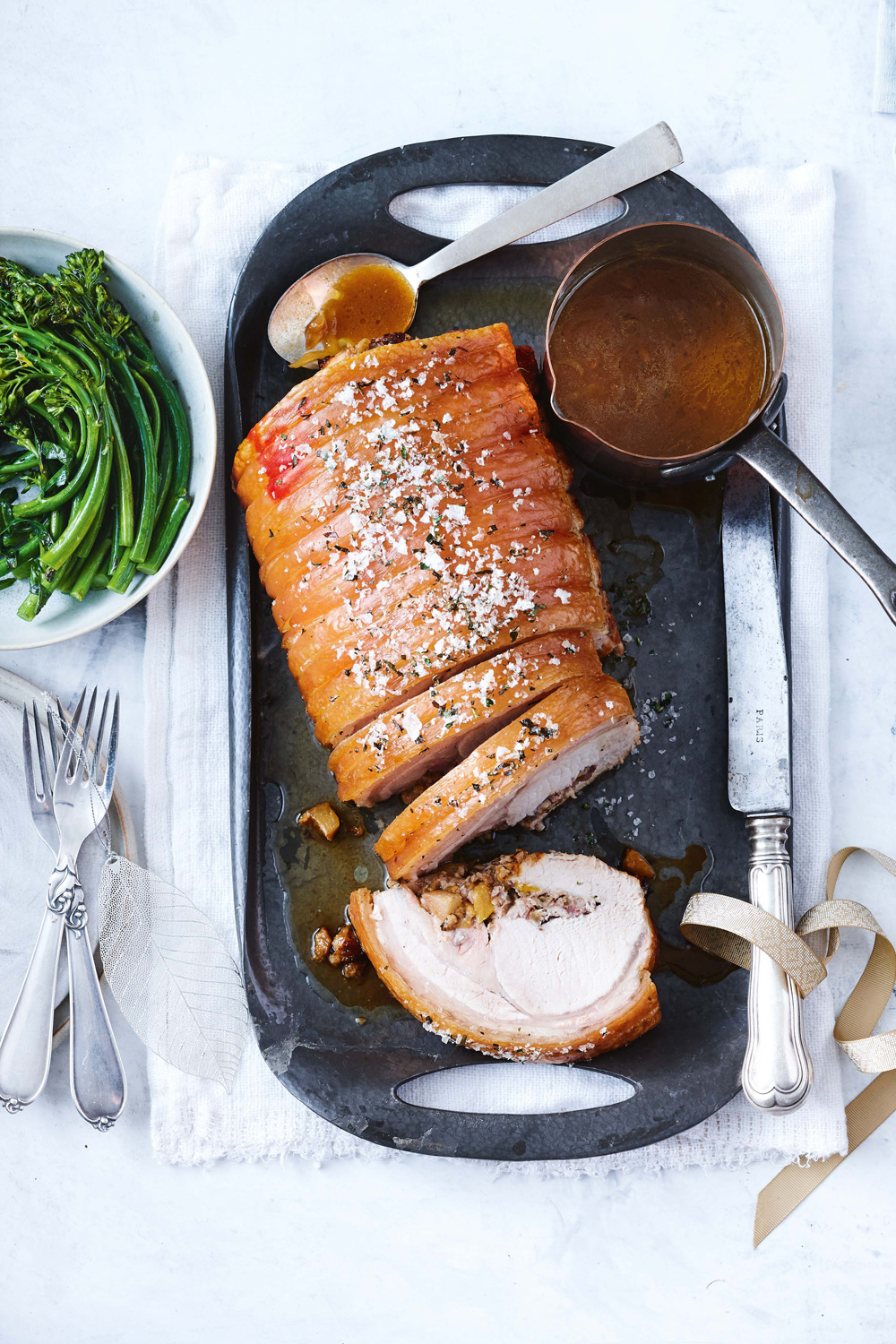 Fennel And Herb Stuffed Pork With Balsamic Gravy
---
There's nothing like a roast dinner, complete with steamed veggies and gravy to really lift the mood on a cool autumn evening. Treat the whole family to a hearty meal with this fennel, herb and balsamic flavoured feast of stuffed pork!
Serves 8
Prep 30 minutes (plus cooling)
Cook 2 hours 10 minutes
You'll need unwaxed kitchen string.
 Ingredients
50g butter
1 small leek, trimmed, thinly sliced
1 fennel bulb, trimmed, very thinly sliced
2 garlic cloves, crushed
1/2 teaspoon fennel seeds, crushed
1 1/2 cups fresh breadcrumbs
2 tablespoons chopped walnuts
1 tablespoon chopped fresh sage leaves
2kg rolled pork loin
1 tablespoon sea salt flakes
Steamed vegetables, to serve
Balsamic Gravy
25g butter
1 tablespoon plain flour
1/4 cup dry white wine
3/4 cup chicken stock
2 to 3 teaspoons balsamic vinegar
 Method
1 Melt butter in a large frying pan over medium heat. Add leek and sliced fennel. Cook, stirring for 10 minutes or until vegetables are softened. Add garlic and fennel seeds. Cook for 1 minute or until fragrant. Transfer to a bowl. Set aside for 15 minutes to cool. Add breadcrumbs, walnuts and sage. Season with salt and pepper. Mix well to combine.
2 Preheat oven to 250°C/230°C fan-forced. Remove string from pork. Unroll. Pat rind dry with paper towel. Score at 1cm intervals. Place pork, skin-side down, on a board. Slice crossways through thickest part of meat, being careful not to cut the whole way through. Open out to form 1 large piece. Press stuffing over pork. Roll up to enclose. Tie up with kitchen string to secure. Place on a greased wire rack over a large flameproof roasting pan. Rub all over with salt.
3 Roast for 20 minutes. Reduce heat to 180°C/160°C fan-forced. Roast for a further 1 hour 30 minutes or until juices run clear when a skewer is inserted into the centre of pork. Transfer to a plate. Cover with foil. Strain pan juices into a jug. Skim and discard excess fat.
4 Make Balsamic Gravy Melt butter in roasting pan over medium-high heat. Add flour. Cook, stirring for 1 minute. Stir in wine. Simmer for 1 minute. Gradually stir in stock, pan juices and vinegar. Bring to the boil, stirring constantly. Cook, stirring, for 4 to 5 minutes or until thickened slightly. Season. Serve pork with gravy and steamed vegetables.
Oven Envy

Putting off bakes and roasts because your oven isn't up to scratch? Equip your kitchen with the Fisher & Paykel 600mm Pyrolytic Oven and enjoy a roast dinner every night!