Five Facets of Christmas Entertaining with Domayne
---
Planning on entertaining this holiday season? Whether you're going to host a traditional Christmas dinner, a relaxed family lunch, a casual backyard brunch or simply invite friends over for happy hour or high tea, we have inspiring ideas to make your Christmas merry and bright.
Imbue your merry-making with the spirit of Christmas by pairing Domayne's stylish selection of dining settings, lounges or outdoor furniture with an exquisite array of serveware and decorator items. We've made it easy for you by covering all five facets of Christmas entertaining so you can stress less and party more.
 1. Backyard Brunch
What better way to spend a laidback Christmas morning than with your nearest and dearest in the comfort of your backyard or balcony, enjoying the mid-morning sun as you all exchange presents over a delicious brunch? Think bright bowls of ruby red cherries and fresh summer berries. Imagine comforting coddled eggs with toasted Turkish bread and buttermilk scones topped with smoked salmon and dill-infused crème fraiche.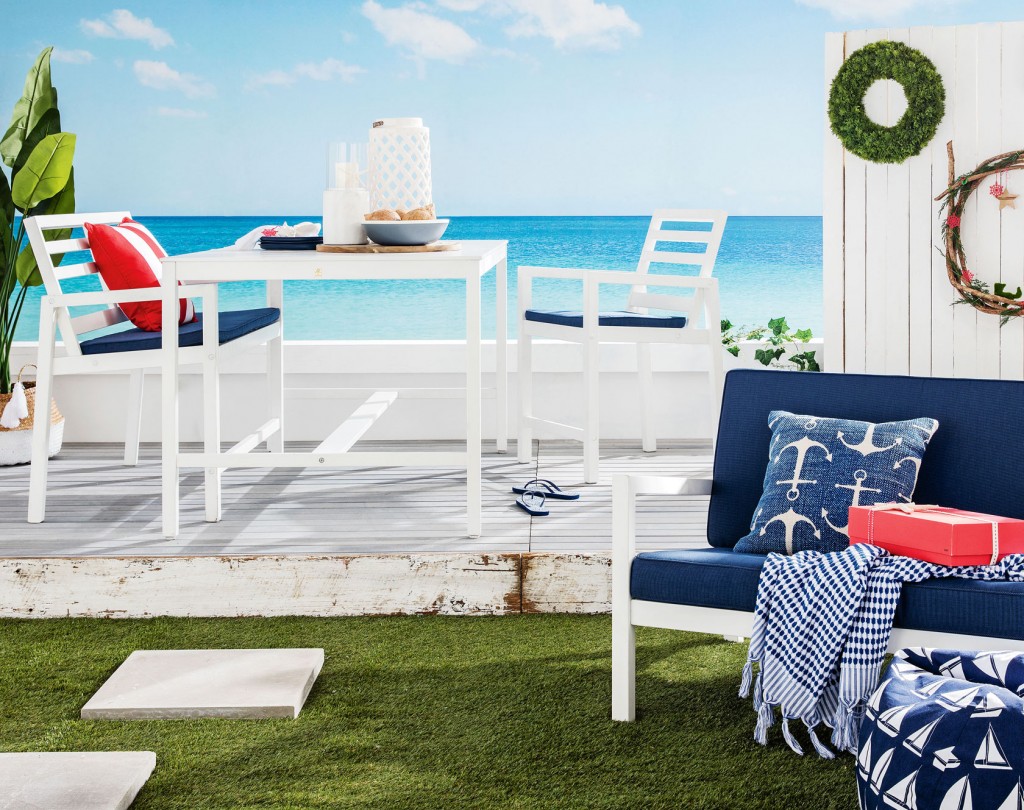 The clean and fuss-free aesthetic of our 'Oakland' outdoor tables, chairs and sofas will create the perfect al fresco setting for your backyard brunch. Serve your scrumptious spread on our beautifully bold 'Raww' serving board as well as the crisp white 'Hardware' dinnerware collection. As a finishing touch, the playful motifs on our 'Banana', 'Carnival' and 'Anchor' cushions are great for adding some holiday cheer to the day.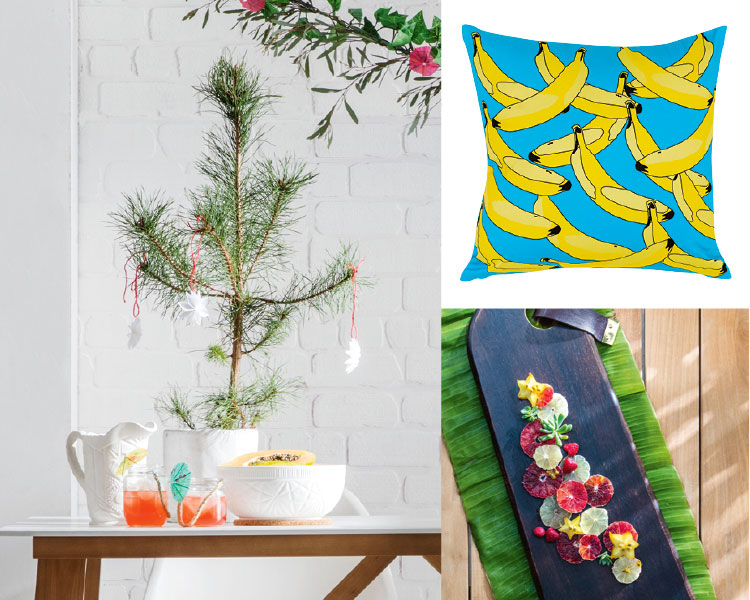 2. Christmas Lunch
Is it your turn to host the Christmas lunch this year? We suggest planning a menu that offers double the impact for half the work. Imagine a buffet-style smorgasbord of tasty treats your guests can feast upon without you breaking your back slaving in the kitchen! Opt for flavoursome summer salads, such as rocket, parmesan and beetroot with walnut or watermelon, cucumber and prawn with feta and pickled onions. Create generous platters full of goodies from your local deli and artisan bread from a reliable bakery. For something sweet, you can't go past juicy mangoes and other succulent stone fruits.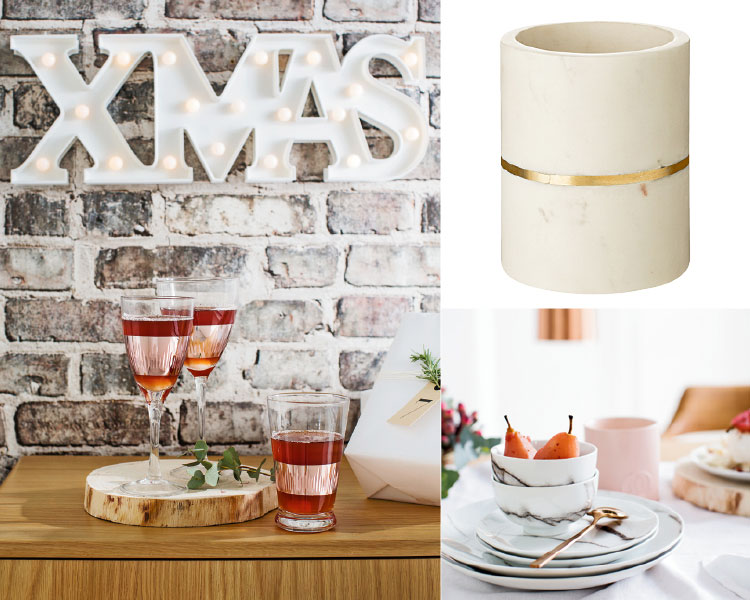 Achieve a welcoming setting for your guests to gather around with our 'Bianca' oval dining table and carver chairs in a muted timber tone. Serve your banquet on our stylish Salt & Pepper marble-look dinner set and 'Luxe' marble tray, which allow the fresh colours and flavours to pop on the plate. Create a striking centrepiece by arranging vibrant native blooms in our 'Luxe' marble vessel with a brass trim.
3. High Tea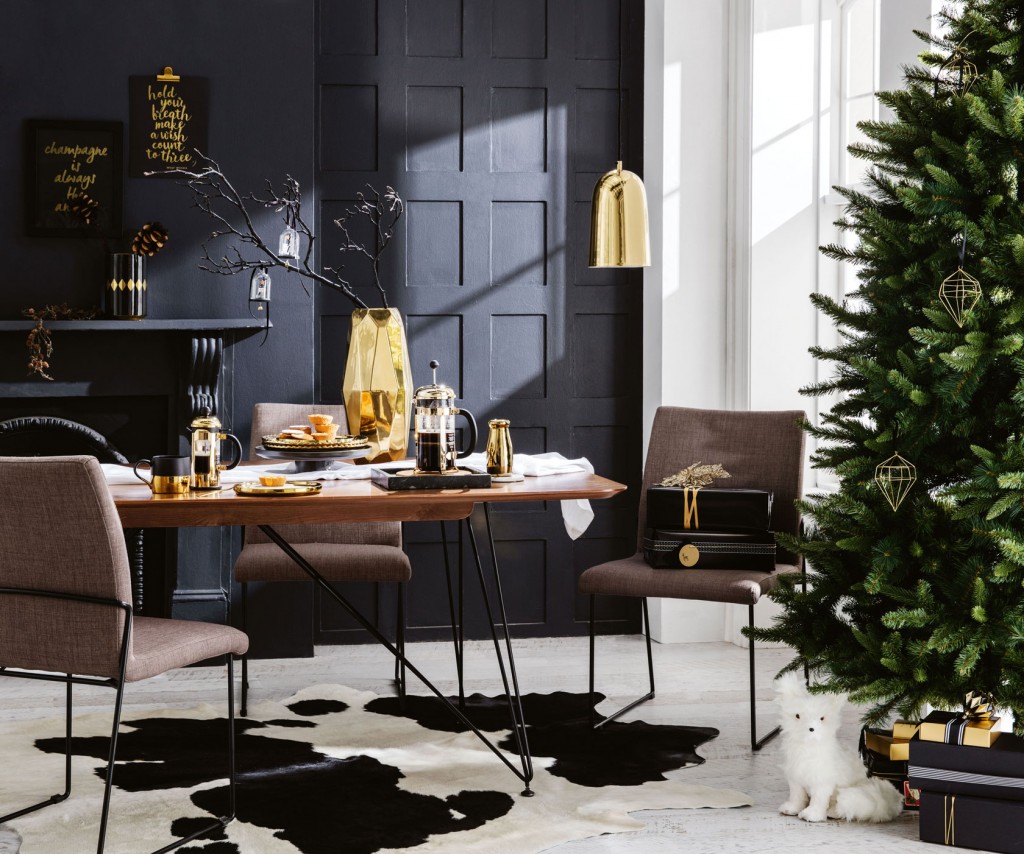 An elegant afternoon tea is the ideal way to catch up with friends, cousins and co-workers. Share news and stories with all your favourite people while enjoying a slice of soul-satisfying torte or delicately flaky pastries from your favourite cake shop with a strong cup of coffee or a refreshing tisane or tea. Set the scene for an intimate soiree with our simple yet stunning 'Serena' dining table and chairs. Add the right amount of glitz to your get-together with our lustrous 'Good As Gold' teacup and saucer set and the glossy 'Luxe' pitcher, both by Robert Gordan. Give your homemade cake or Christmas cookies the place of pride on our gorgeous Gourmet Traveller 'Signature' cake plate, available in four hot hues.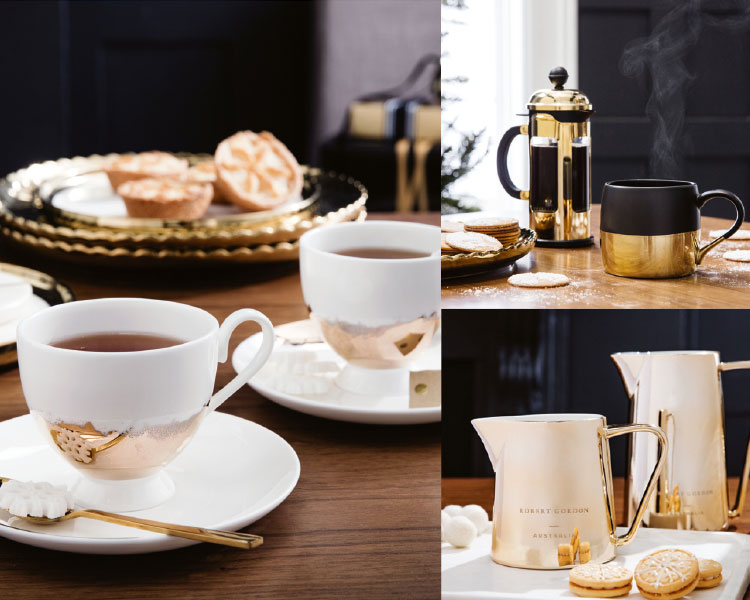 4. Christmas Dinner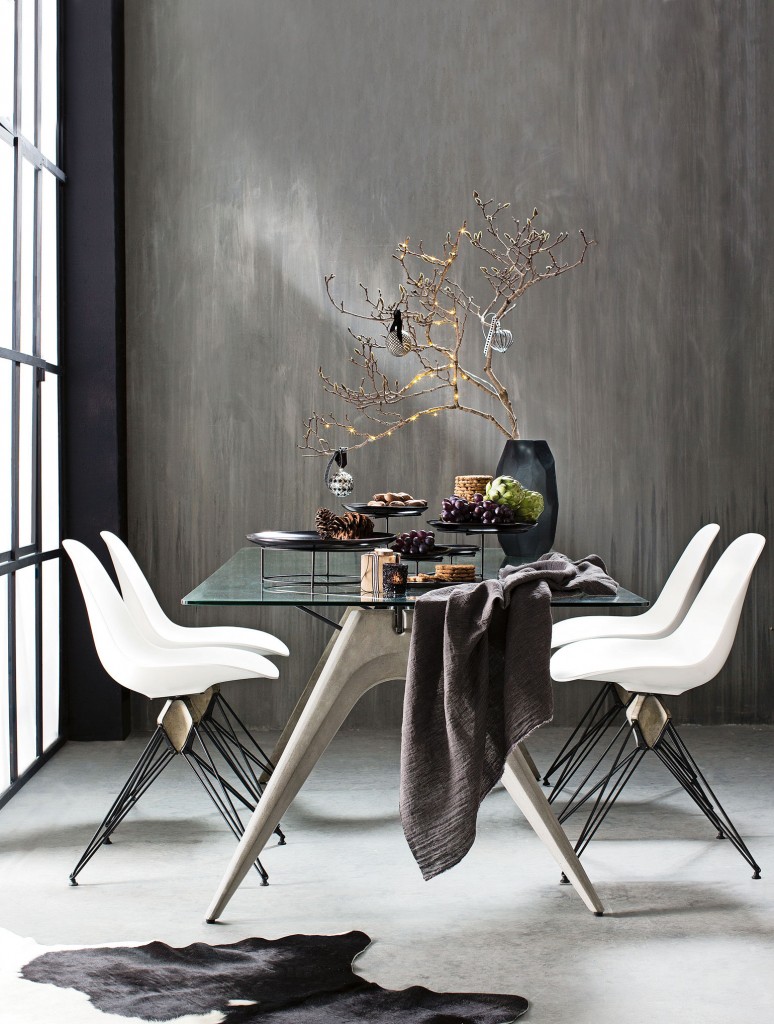 Have you spent months planning the ultimate menu? The vegans, the vegetarians, the allergy-prone, the meat lovers and the kids are all catered for? The personalised place-cards are ready and you know exactly where to seat whom? Perfect! All that remains between claiming your crown as the host or hostess with the mostest is an inviting table setting that will dazzle your guests and leave them singing your praises.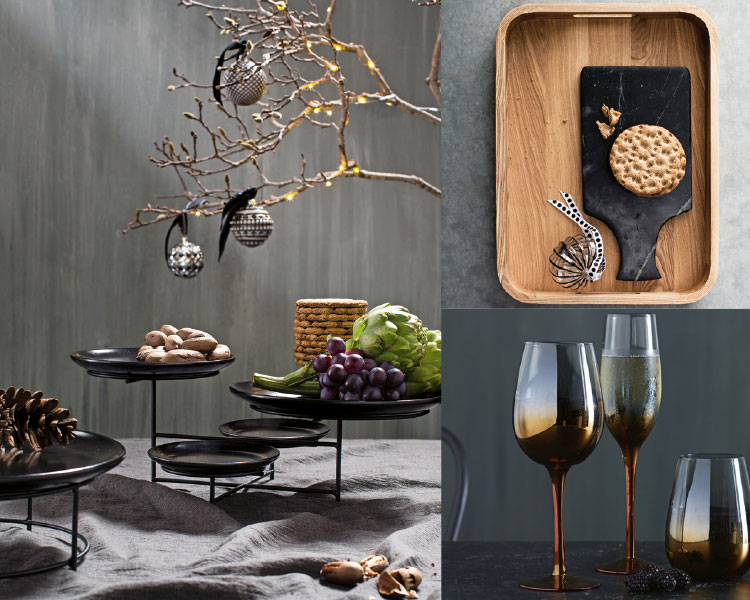 Our artistic and urbane 'Kahn' dining table and chair range is ideal for adding that wow factor to your dinner party. The streamlined table features a dramatic sculpted concrete base and clear glass table top. The edgy concrete-look is replicated on the gently curved chairs. Complement the contemporary aesthetic by serving your delectable Christmas dinner on our sophisticated 'Skyline' 4-tier platter in matte black finish. Add a touch of organic allure to the proceedings with our 'Wood' serving tray featuring oak stain and finally, glam things up with the ombre effect of our 'Chin Chin' glassware.
5. Cocktail Hour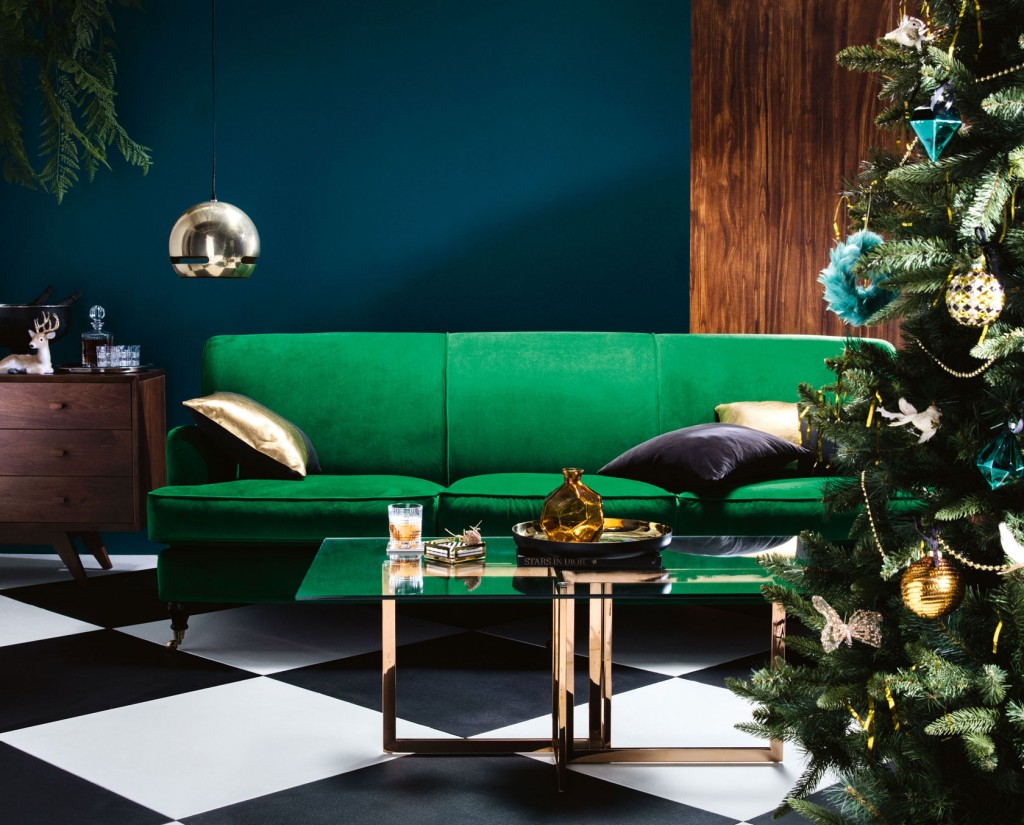 Host a fun and festive cocktail party and impress your guests by creating a glamorous Hollywood-inspired décor that encourages people to truly relax and soak in the ritzy atmosphere. Think luxurious velvet textures, vivid gem-like colours and classic gold accents.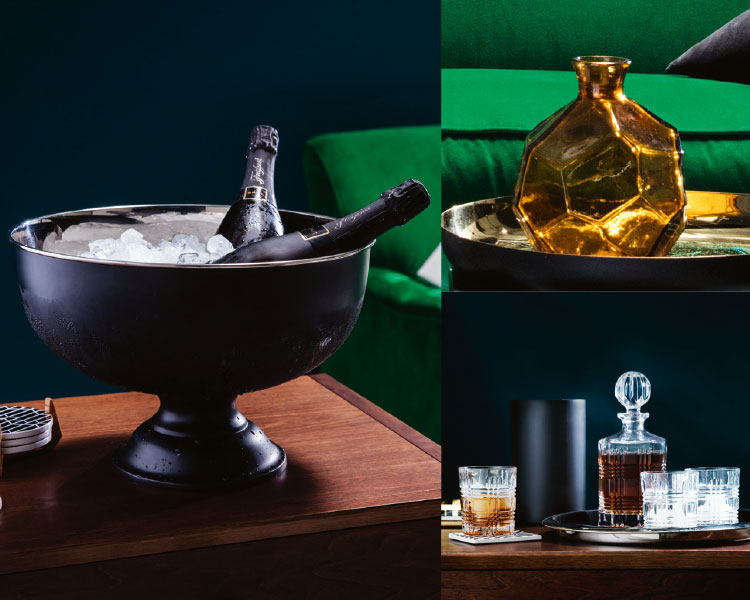 Our 'Indigo' 3-seater sofa with plush emerald green Warwick fabric upholstery will make a great lounging spot where everyone can enjoy their champagne, mimosa or margarita. Add to the wonderfully warm ambience with our conversation-starting decorator piece: the 'Origami' glass bottle in a liquid amber hue. Plus, keep your bubbly nice and chilled with our 'Bond' champagne bowl and raise the bar by serving your single malt whiskey or French brandy in our crystal-like 'Bond' 5-piece decanter set to really get the party pumping.
Feeling inspired to entertain this holiday season? Make your home a merry-making hub – where friends and family will love to gather – with Domayne's amazing furniture and homewares collection online or visit your nearest store and speak to our friendly team today.
For more Christmas inspiration, check out our decorating blog.
Keep an eye out for some exciting recipes to help you create a magical Christmas menu!