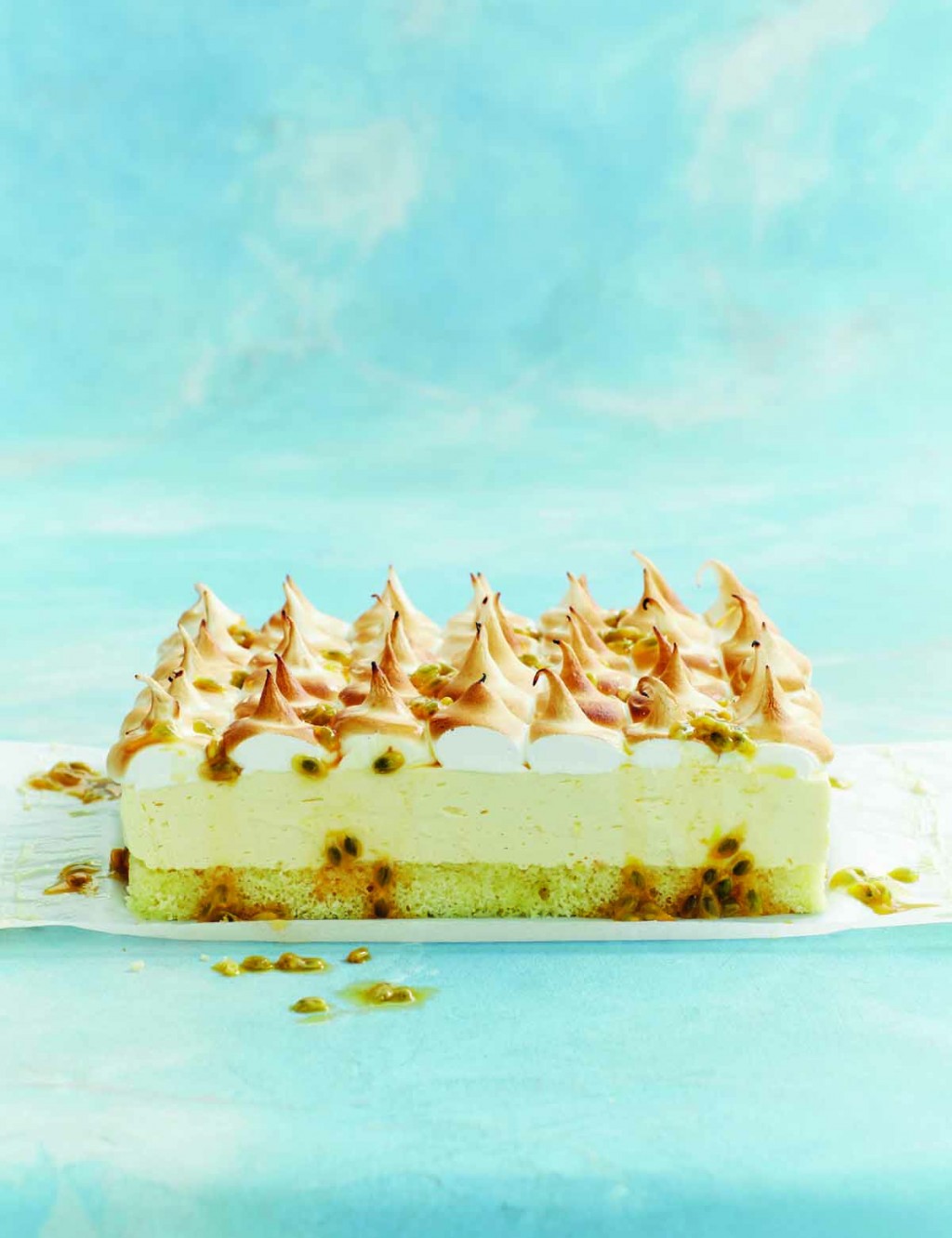 Frozen Passionfruit Sponge Cake
---
Serves 16.
Prep 30 minutes(plus overnight freezing).
Cook 15 minutes.
Start this recipe 1 day ahead. You'll need a candy thermometer, a piping bag fitted with a 1cm plain nozzle and kitchen blowtorch for this recipe.
Ingredients
2 litres vanilla ice-cream.
1/2 x 450g store bought rectangular unfilled sponge cake.
3 passionfruits, halved, plus extra to serve.
50g sachet coconut milk powder.
Italian Meringue
1 cup caster sugar.
3 egg whites.
Pinch of cream of tartar.
Method
1) Grease a 6cm-deep 20cm square cake pan. Line base and sides of pan with 2 layers of baking paper, extending paper 5cm above all edges.
2) Place ice-cream in a large bowl. Set aside for 10 minutes to soften slightly (ice-cream should not be melted).
3) Meanwhile, trim dark crust from sponge. Line base of prepared pan with sponge, trimming to fit and making sure base is completely covered.
4) Strain passionfruit into a small jug. Discard seeds. Add pulp to ice-cream with milk powder. Fold to combine. Spoon mixture over sponge base. Level top with a spatula. Cover surface with plastic wrap. Freeze overnight.
5) Make Italian Meringue. Place sugar and 1/4 cup water in a saucepan over low heat. Cook, stirring until sugar dissolves, brushing down sides of pan with a wet pastry brush. Increase heat to medium-high. Cook, without stirring, for 3 to 5 minutes or until syrup reaches 115°C (soft ball stage) on a candy thermometer. While syrup is cooking, use an electric mixer to beat egg whites and cream of tartar until soft peaks form. When syrup reaches 121°C (hard ball stage), slowly add it to the egg white mixture. Beat on high speed until mixture is thick.
6) Remove cake from freezer and discard plastic wrap. Stand for 5 minutes. Turn, top-side up, onto a serving platter. Return to freezer if needed.
7) Working quickly, spoon meringue into a piping bag fitted with a 1cm plain nozzle. Pipe meringue onto ice-cream. Using a kitchen blowtorch, lightly brown meringue. Drizzle with extra passionfruit. Serve immediately.
Recipes for Summer
► Barbecued Beef with Summer Tomato Sauce
► Spring Greens Salad with Whipped Goat's Cheese Dressing