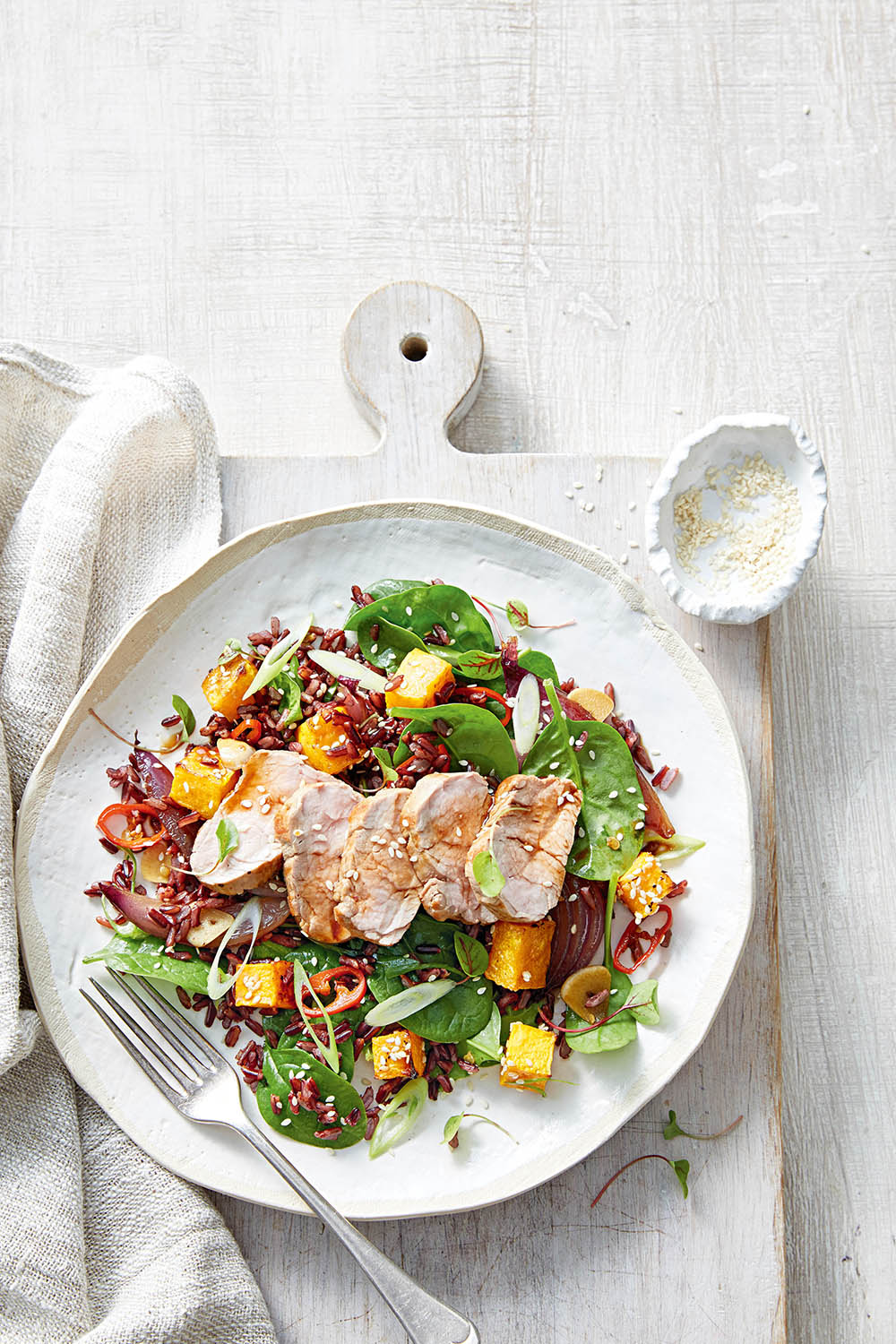 Ginger Chilli Pork with Sticky Sesame Salad
---
Steamed ginger chilli pork complemented with a sticky sesame salad? Yes, please!
Serves 4
Prep 20 minutes (plus refrigeration)
Cook 1 hour
Ingredients
2 long red chillies
2cm piece fresh ginger, finely grated
1 tablespoon soy sauce
500g pork fillet
1 cup black rice, rinsed, drained
400g orange sweet potato, peeled, cut into 2cm cubes
1 red onion, cut into thin wedges
1 tablespoon extra virgin olive oil or vegetable oil
2 tablespoons honey
2 garlic cloves, thinly sliced
1 tablespoon sesame seeds
2 tablespoons rice wine vinegar
2 teaspoons sesame oil
80g mixed salad leaves
1 green onion, thinly sliced
Method
1 Finely chop 1 chilli. Place in a small bowl. Add ginger and half of the soy sauce. Stir to combine. Rub mixture all over pork. Place pork in vacuum pouch. Seal pouch following manufacturer's directions. Refrigerate for 30 minutes.
2 Meanwhile, cook rice following packet directions until just tender. Drain well. Rinse under cold water. Drain.
3 Preheat oven to 220°C/200°C fan-forced. Line a large roasting pan with baking paper. Place sweet potato and red onion in prepared pan. Drizzle with olive oil (or vegetable oil). Season with salt and pepper. Roast for 20 minutes, turning vegetables during cooking.
4 Slice remaining chilli thinly. Add honey, garlic, sliced chilli and sesame seeds to sweet potato mixture. Toss to coat. Roast for a further 10 minutes or until sweet potato is golden and tender. Cover to keep warm.
5 Cook pork in steam oven following manufacturer's directions, until cooked through.
6 Whisk remaining soy sauce, vinegar and sesame oil together. Place rice in a large bowl. Add sweet potato mixture and salad leaves. Toss to combine. Transfer to serving plates. Remove pork from pouch. Slice thickly. Place pork on salad. Drizzle with dressing and sprinkle with green onion. Serve.
Steamy Trade Secrets
What's the secret to steamed cooking? Having the right tools of the trade! And just between us, the AEG 600mm SteamPro Steam Oven and the AEG 140mm Vacuum Sealer Drawer are the perfect steaming team.