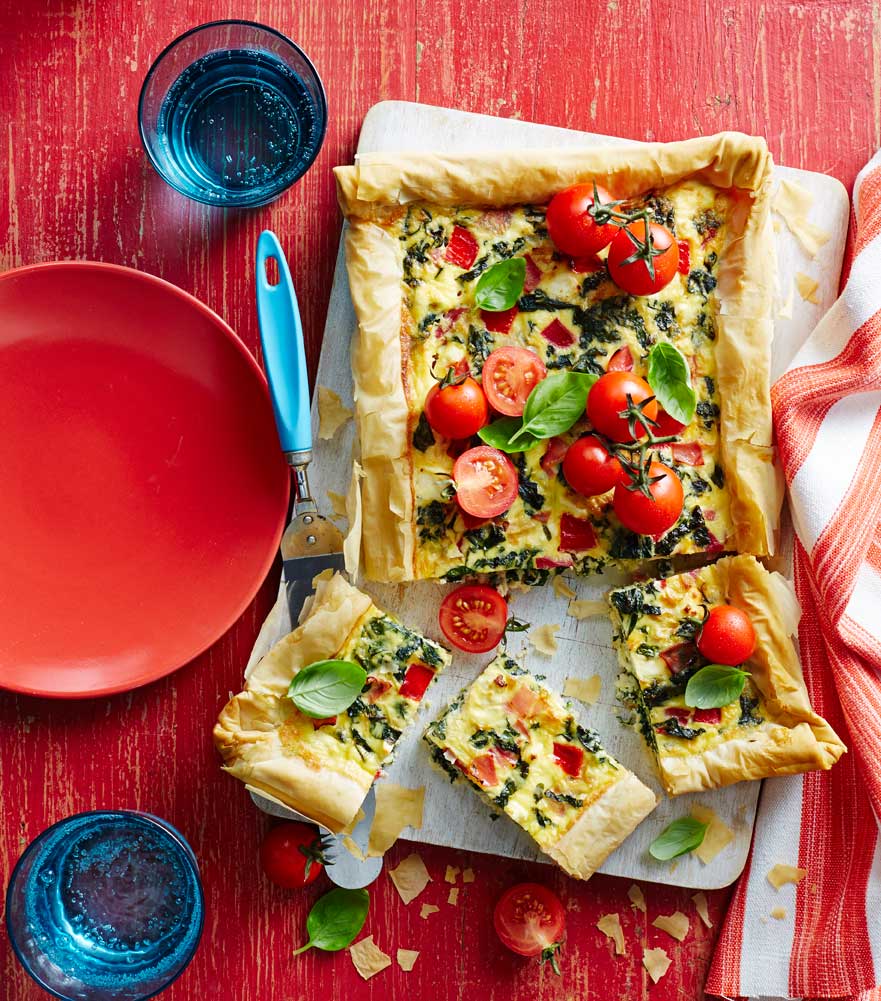 Ham, Egg and Vegie Summer Tart
---
Recipe courtesy of Diabetic Living - Sept/Oct, 2014
The perfect go-to dish for summer entertaining. If you think this fresh and vibrant tart looks good, you'd better believe that it tastes even better!
Creamy ham, egg and vegie tart

 PREP TIME 20 MINS (PLUS 15 MINS COOLING)
COOK TIME 50 MINS
SERVES 6 (as a light meal)
PER SERVE: 1162kJ, protein 20g, total fat 13.1g (sat. fat 5.5g), carbs 18g, fibre 4.5 g, sodium 599mg, Carb exchanges 1 1/4. GI estimate low.
1/2 tsp olive oil
1 large leek, trimmed, washed, halved lengthways, thinly sliced
8 x 50g eggs
250g container Philadelphia Extra Light Cream For Cooking
125ml (1/2 cup) skim milk
Freshly ground black pepper
1 bunch silverbeet, inner stalk removed, shredded
Olive oil cooking spray
10 sheets filo pastry
200g drained Always Fresh Fire Roasted Red Peppers, chopped
100g salt-reduced ham, chopped
100g fat-reduced feta, crumbled
500g truss cherry tomatoes (on the vine)
75g (3 cups) rocket or mixed salad leaves, to serve (optional)
Balsamic glaze, to serve (optional)
1 Heat the oil in a large non-stick frying pan or saucepan over medium heat. Add the leek and cook, stirring, for 2 minutes. Add 1 tablespoon water. Cover and reduce heat to low. Cook, covered, for 8-10 minutes or until the leek is soft.
2 Meanwhile, whisk the eggs, cream for cooking, milk and pepper in a large bowl. Set aside.
3 Add the silverbeet to the pan with the leek. Cover and cook for 2-3 minutes, stirring once, or until the silverbeet softens. Use scissors to cut the silverbeet into small pieces, if you like. Transfer to a large tray and spread out to allow it to cool quickly. Set aside for about 15 minutes or until cooled to room temperature.
4 Preheat oven to 180 C (fan-forced). Spray a 30 x 20cm (base measurement), 2.5L ovenproof dish with cooking spray. Place a piece of baking paper across the dish, allowing the paper to overhang the two long sides (this will make it easier to get out of the dish). Line a baking tray with baking paper. Place the tomatoes on the lined tray and spray with cooking spray.
5 Place one piece of filo out on a clean surface and spray lightly with cooking spray. Top with another sheet of filo. Continue layering and spraying until you have a stack of 5 sheets of filo. Repeat with the remaining 5 sheets of filo, ending up with 2 stacks. Use the pastry to line the dishes, overlapping slightly where necessary. Tuck the edges of the pastry down back into the dish.
6 Spread the leek mixture over the pastry. Sprinkle over the capsicum, ham and the feta. Whisk the egg mixture again and pour evenly over the vegetables. Place in the oven and bake for 30-40 minutes or until set and golden brown on top. Add the tray of tomatoes for the last 10 minutes of cooking until start to soften and skin blisters slightly. Set the slice aside for 10 minutes before serving. Top with the tomatoes to serve and serve with a few rocket leaves drizzled with balsamic.
Check out all of Domayne's fave recipes on the Flavour section of the blog.