Hearty Steaks with Garlicky Mushroom Sauce
---
Recipe courtesy of The Australian Women's Weekly
An all-time favourite, this succulent steak and mash dish with mouth-watering mushroom sauce is sure to hit the spot.
Steaks with garlicky mushroom sauce
Prep & cook time: 30 minutes
Serves 4
4 x 150g beef scotch fillet or eye fillet steaks
1 tablespoon extra virgin olive oil
40g butter
2 cloves garlic, crushed
400g Swiss brown mushrooms, sliced thinly
½ cup (125ml) white wine
1 cup (250ml) beef stock
1 cup (250ml) cream
2 tablespoons finely chopped fresh
flat-leaf parsley
steamed green beans, to serve
CREAMY MASH
1kg desiree potatoes, chopped coarsely
½ cup (125ml) hot milk
50g butter, chopped coarsely
1. CREAMY MASH: Boil, steam or microwave the potatoes until tender; drain. Mash in a large bowl with milk and butter. Season to taste; cover to keep warm.
2. Heat a large frypan over a high heat; rub the oil all over the steaks. Season generously with sea salt. Cook the beef until cooked as desired, turning once. Remove to a heated plate and cover to keep warm.
3. Melt the butter in the same pan; cook the garlic and mushrooms, stirring, until tender. Add the wine; bring to the boil. Cook, stirring, until the wine has almost evaporated. Stir in the stock and cream; cook, stirring, until the sauce thickens slightly. Stir in the parsley.
4. Spoon the sauce over the beef; serve with the Creamy Mash. Serve with steamed green beans, if desired.
Not suitable to freeze or microwave.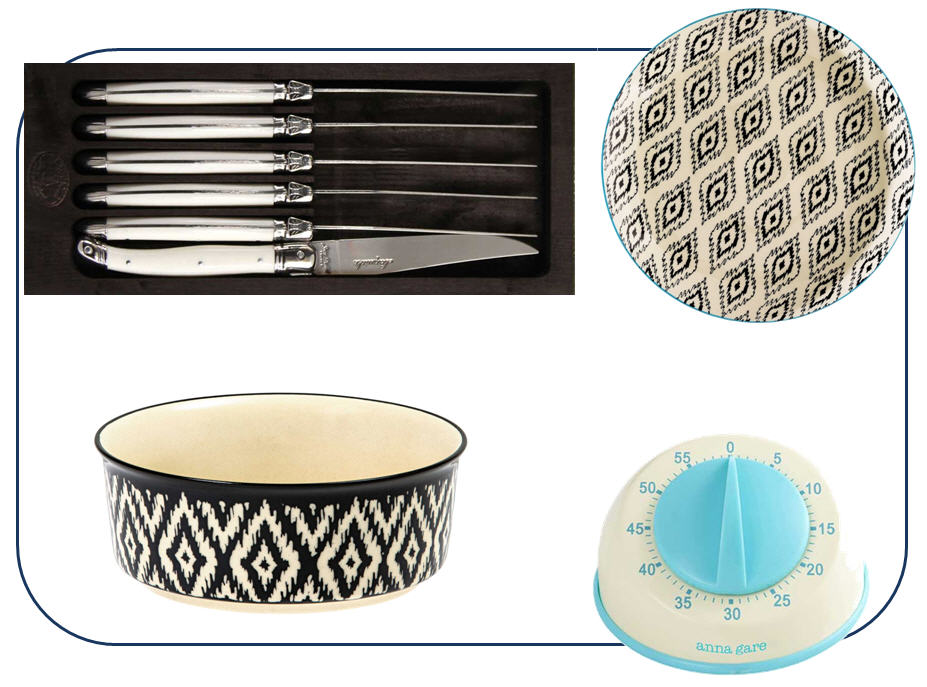 Clockwise from top left: Laguiole 6-Piece Steak Knife Set, Solok Dinner Plate, Anna Gare Kitchen Timer, Solok Serve Bowl