Hit the Sweet Spot – Chocolate & Coconut Layered Cake
---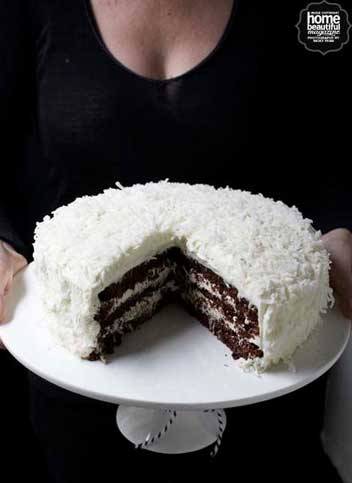 Recipe and Image courtesy of Home Beautiful Magazine
Kitchen tea, baby shower, birthday, hump day, TGIF – any day is a good day for a generous slice (or two) of this irresistible cake. With its moist, luscious layers of rich chocolate and delicate coconut, this snowy-topped treat is the perfect way to hit the sweet spot.
Chocolate & Coconut Layered Cake
Serves 10-12
200g dark chocolate, chopped
175g unsalted butter, chopped
1 cup caster sugar
3 eggs
1½ cup self-raising flour
½ cup desiccated coconut
¾ cup milk
¼ cup Malibu
600ml thickened cream
250g marscapone
2 tbsp pure icing sugar
2 tsp vanilla essence
1 ⅓ cup shredded coconut
1. Preheat oven to 160°C. Grease and line the base and sides 
of a 23cm-round cake tin with baking paper. Melt chocolate in 
a heatproof bowl over a saucepan of simmering water, then let cool.
2. Put butter and sugar in the small bowl of an electric mixer and beat until light and creamy. Add eggs one at a time, beating between additions. Transfer to a large bowl and stir in chocolate.
3. Sift flour over mixture, then add coconut, milk and Malibu. 
Stir until combined. Spread mixture in tin. Bake for 1 hour or 
until a skewer inserted in the centre comes out clean. Allow 
to cool slightly, then invert onto a wire rack to cool.
4. Whip cream, mascarpone, icing sugar and vanilla in the large bowl of an electric mixer until soft peaks form. Cut 2 horizontal slices through the cake to form 3 even layers. Put top layer, smooth side down, on serving plate and spread with cream mixture, until 7mm thick. Top with the middle cake layer and another 7mm of cream. Finish with the bottom layer, smooth 
side up. Spread top and sides of cake with remaining cream mixture, and sprinkle with coconut to serve.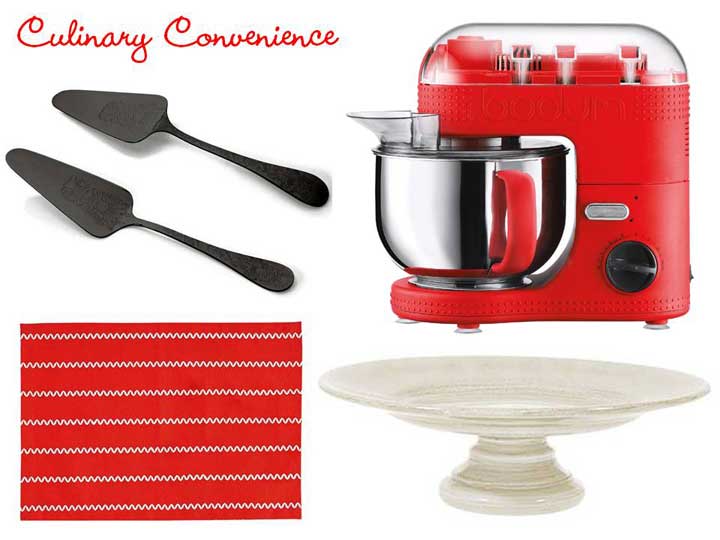 Clockwise from top right: Bodum 'Bistro' Mixer, 'Mateus' Cake Plate, 'Ena' Set of 4 Placemats, 'Santamarta' Serving Knife