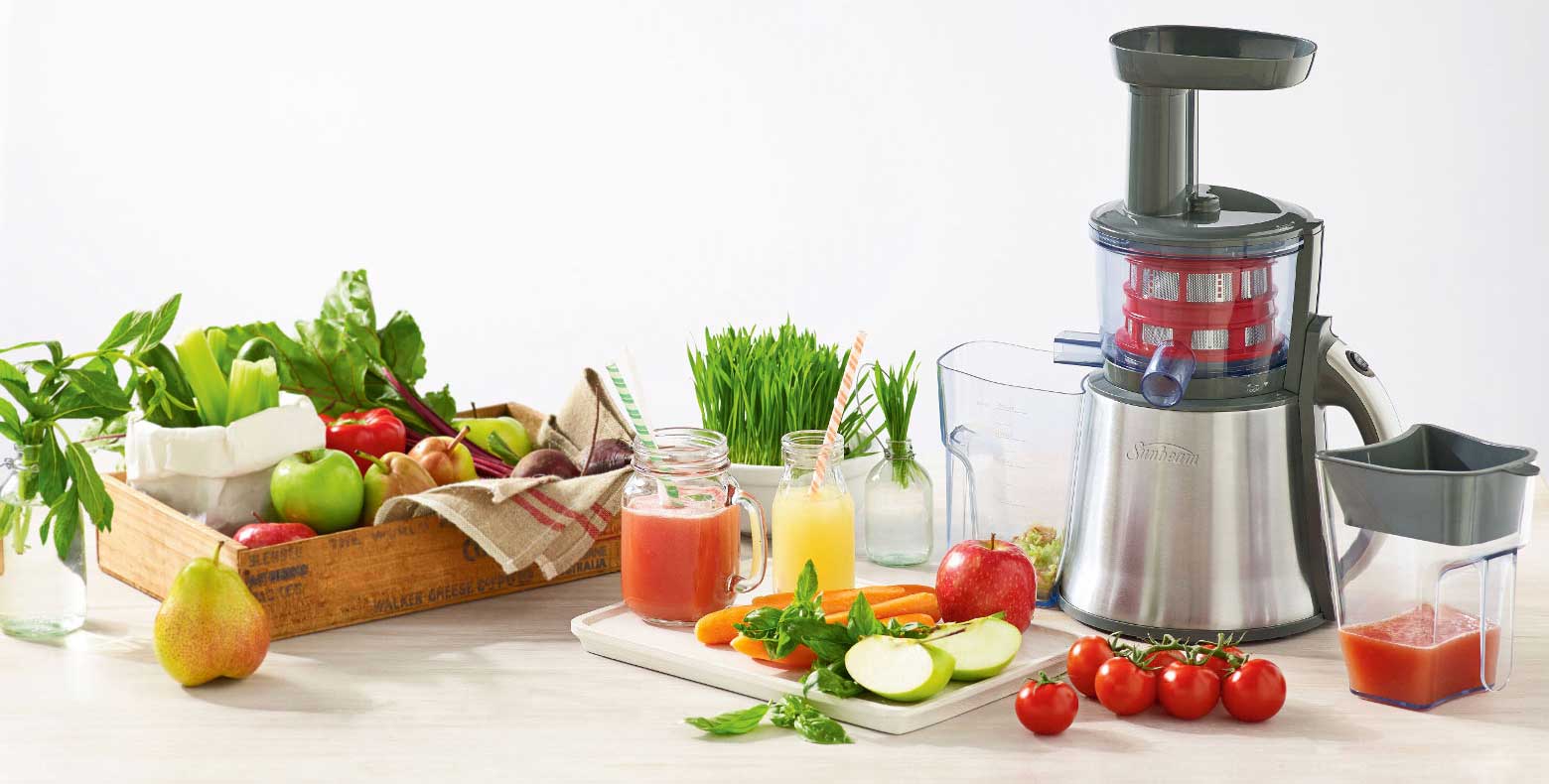 Lean, Mean (and Supreme) Juicing Machines
---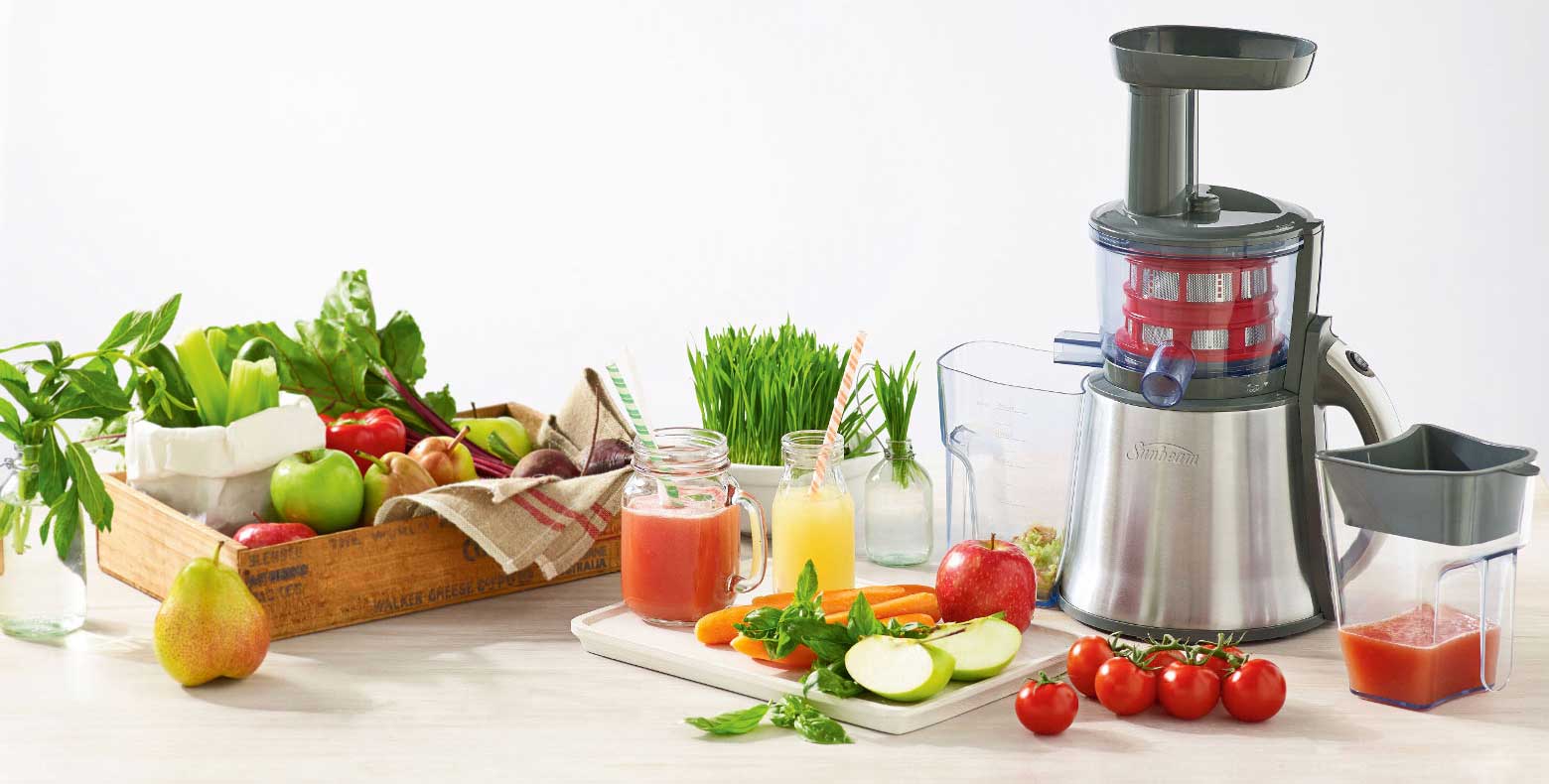 Pulp fiction friction: All the juicy goss on the benefits of juicing, health tips and the top juicers for the job – try saying that quickly!

It's no secret that our over-processed, over-indulgent, under-nourished diets are wreaking havoc on our health and well-being. Hardly surprising then, that in a bid to kick-start healthy new habits, many of us are jumping on the juicing bandwagon. Much more than a flash-in-the-pan fad, incorporating fresh, flavour-packed juice into your diet has some serious health benefits.
Here's our top 3 reasons why you should squeeze a juice into your daily routine:
Super-Charge Your Diet – Raw fruit and vegetable juice provides a fabulously concentrated shot of antioxidants, essential vitamins, minerals and enzymes which are rapidly absorbed into the body.
Get Your Five Serves – Juicing is a quick, easy and tasty way to up your vegetable intake. A great way to sneak 'em in so the kids don't notice, too!
Savour the Flavour – Nothing packs a flavour punch quite like a glass of fresh juice. If you've never had raw vegies in your juice before – and you aren't sure you'll like them – try sweetening the juice with a greater ratio of fruit to vegetables, then gradually cut down on the fruit and increase the vegies.

Digest These Juicy Tips:
* Consume your juice immediately after blending – before  oxidation – to gain the full nutritional benefit and prevent those fabulous enzymes from deactivating.
* Medical experts recommend that you knock that juice back first thing in the morning. Not only will you start the day on a positive, healthy note, but juicing on an empty stomach allows the vitamins and minerals to be readily absorbed into the bloodstream and easily digested.
* Now that you're drinking your way to good health, don't think that you can stop eating those whole fruits and vegies! Consuming whole fruit and vegetables is important for fibre intake – and keeps you feeling fuller for longer than juice will.
* Okay, this may sound (and look) rather odd but those in the know advise that you swish, swirl and even chew (!) your juice before swallowing. Why? Studies show that the enzymes in your saliva speed up digestion and this boosts your intake of valuable vitamins and minerals.
*  Give your juice a shot of flavour – and increase those nutrients – with a handful of fresh herbs. Try ginger for its anti-inflammatory and digestive properties and parsley as it is a source of antioxidants and folic acid as well as Vitamins C, A and K!
Choosing The Right Juicer For Your Needs
With so many juicers on the market, finding the right fit for your lifestyle can prove a tad tricky. Here are a few of our faves at Domayne:
If you're a newbie to the wonderful world of juicing, this affordable, simple-to-use, easy-to-clean, fruit-squeezing machine may be just the ticket! With its low-speed, pressure-based juicing method, the Sunbeam Slow Juicer offers quiet operation whilst yielding generous amounts of high quality juice. Just pop your washed selection of chopped fruit and veg into the feed chute and sit back while the innovative juicing screw presses and squeezes all the juicy goodness out – and conveniently delivers it into a jug ready for drinking. Nice one!
Ok, so you're a juice enthusiast but you also have a soft spot for smoothies? Not to worry – this bad boy does both! Thanks to its  84mm large feed chute, the Breville ikon Froojie Juice Fountain can accommodate whole fruit and veg. It features a generous 1.2L juice jug with froth separator and automatically ejects pulp into a 3L pulp container. Clever! The Froojie comes with a secondary Froojie disc which perfectly purees bananas, strawberries, mangoes and other soft fruits – ensuring maximum yield. Think smoothies, sauces, dips and even (wait for it) ice cream!
Whip up your morning juice in peace and quiet – and without waking others – with the Kuvings Silent Cold Press Juicer. No matter if you're juicing those hard vegies – such as carrots – or softer fruits and fresh herbs, this quiet achiever runs at 40 to 50 decibels compared to standard juicers which run at 80 to 90 decibels. The patented low-speed masticating technology of the Kuvings Juicer, gently presses the fruit and vegies – rather than chewing and grinding them up – to extract and retain those vitamins, minerals and enzymes for a healthier, nutrient-dense juice with no separation.
Has all this juicing chit-chat got you craving a glass of fresh, healthful goodness? Naturally! Try this raw detox juice recipe – and add your own trimmings to taste.
Fresh Start
4 stalks celery
2 carrots
1 green apple
1 cucumber
1 inch piece of fresh ginger
Optional: Handful of fresh parsley or squeeze of lime
Cheers! To your good health.