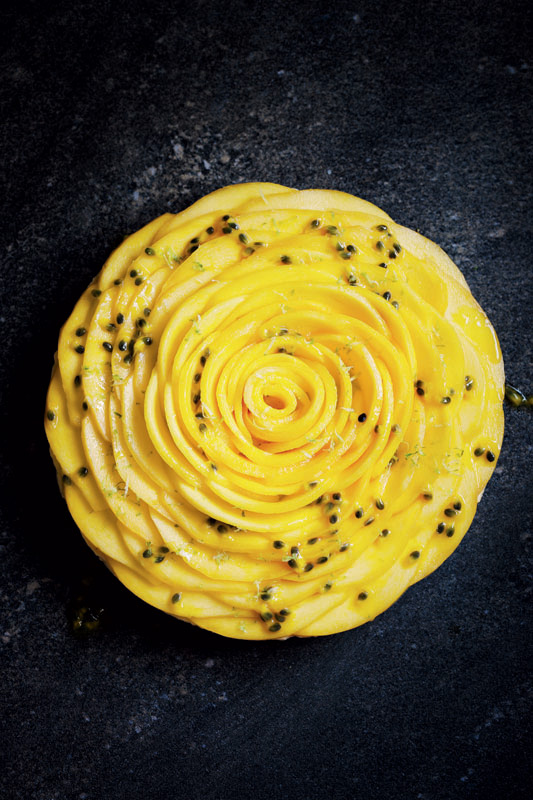 Mango Daiquiri Tart
---
It wouldn't quite feel like Christmas if mango wasn't on the menu. And while it has its place on fruit platters and savoury salads, this crumbly, rum-tinted tart is where the very taste of summer shines through. Once you've seen how easy this recipe is, you'll be volunteering to take care of the Chrissie dessert this year for sure!
Serves 10
Prep 30 minutes (plus cooling and 4 hours 45 minutes refrigeration)
Cook 20 minutes
Ingredients
1 1/2 cups plain flour, plus extra for dusting
2/3 cup caster sugar
125g butter, chilled, chopped
1 egg yolk
1 tablespoon chilled water
2 teaspoons gelatine powder
1 tablespoon boiling water
1 1/2 cups thickened cream
4 mangoes
1/4 cup white rum
2 tablespoons lime juice
2 passionfruit, halved
1 teaspoon finely grated lime rind
 Method
1 Process flour, 2 tablespoons sugar and butter until mixture resembles fine crumbs. Add egg yolk and water. Process until dough just comes together, adding a little extra chilled water if needed. Turn onto a lightly floured surface. Knead until just smooth. Shape into a disc. Wrap in plastic wrap. Refrigerate for 30 minutes.
2 Preheat oven to 200°C/180°C fan-forced. Grease a 3cm-deep, 23cm round (base) loose-based fluted tart pan. Roll out pastry between 2 sheets of baking paper until 3mm thick. Line base and sides of prepared pan with pastry. Trim edge. Refrigerate for 15 minutes.
3 Place tart pan on a baking tray. Line pastry with baking paper. Fill with pie weights or uncooked rice. Blind-bake for 10 minutes. Remove weights and paper. Bake for a further 10 minutes or until pastry is golden and cooked through. Cool completely.
4 Sprinkle gelatine over boiling water in a jug. Stir until dissolved. Place remaining sugar and half the cream in a saucepan over medium heat. Cook, stirring until sugar dissolves. Stir in gelatine mixture.
5 Roughly chop 1 mango. Place in a blender with rum and lime juice. Blend until smooth. Stir into gelatine mixture. Using an electric mixer, beat remaining cream until just-firm peaks form. Fold into mango mixture. Pour into prepared pastry case. Refrigerate for 4 hours or until set.
6 Thinly slice remaining mangoes. Place tart on a serving plate. Starting from the centre of tart, decorate with mango slices. Combine passionfruit pulp and lime rind in a bowl. Spoon over tart. Serve.
 Showstopping Serveware
Show off the beautiful dessert you've lovingly prepared with worthy serveware from Domayne:

From left:
Robert Gordan swatch lilac plate