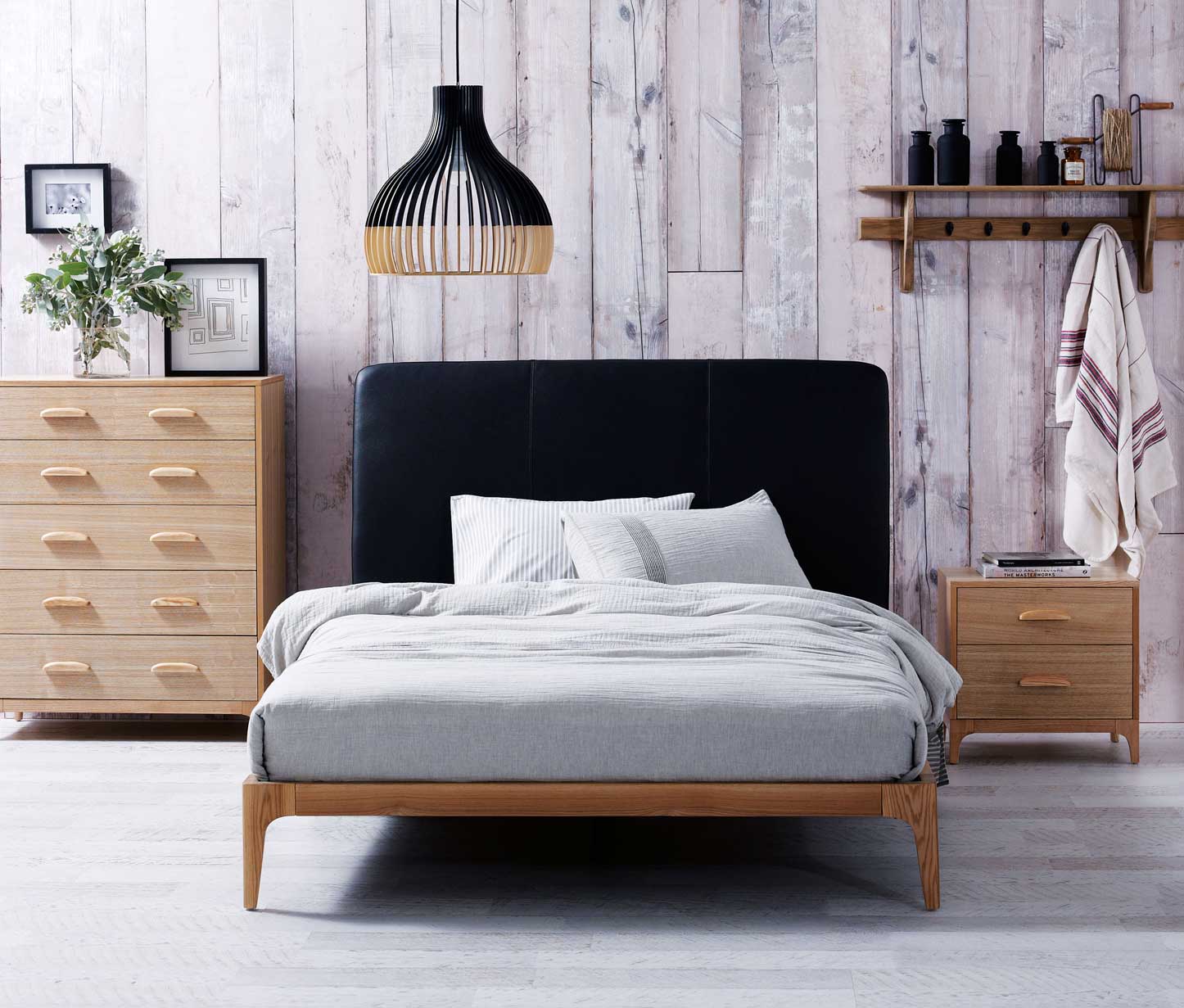 Neutral Territory: Our Resident Stylist Talks New Neutrals
---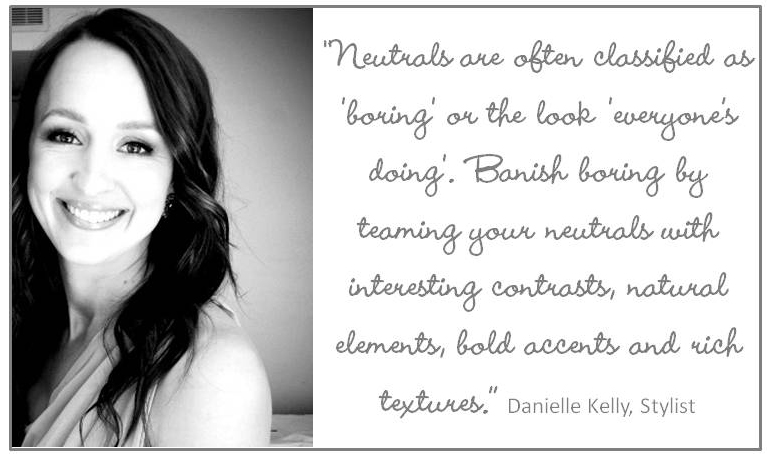 Be inspired to make the shift into neutral with Domayne's knockout, new season looks – as seen in our stunning Classic & Contemporary catalogue. The uber-talented stylist responsible for working her decorating magic on the catalogue, Danielle Kelly, shares her tips on styling a neutral theme and reveals her top picks from our latest collection of furniture, homewares and bedding.
What is this season's take on the popular neutral theme?
At Domayne we want to show our customers the versatility of working with a neutral base palette. Being a particularly popular theme in Australian homes, we understand that many people struggle to mix up their decor in a way that's both cost efficient and aesthetically effective.
The new-look neutrals theme is entirely open to interpretation – it isn't distinguished by any one trend or style but can be depicted in countless ways. In Domayne's latest catalogue we showcase myriad neutral looks:
• Whites punctuated with soft greys – as seen in our 'Caprice' Leather Sofa shot, below.
• White on white – these are beautifully enhanced with a measured splash of colour or a chic assortment of metallics.
• Classic beige with a comforting mix of neutral textures.
• Shades of darker grey – accentuate that pale lounge, dining suite or bed by contrasting with decorator pieces in sophisticated charcoal and graphite hues.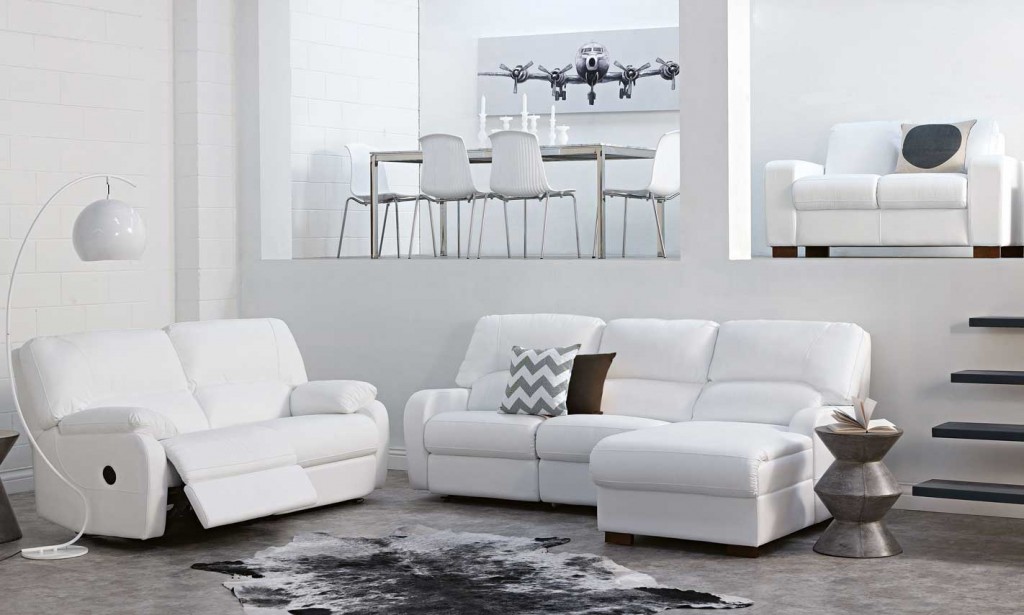 There's a common misconception that neutral interiors are bland – how can we take a fresh approach to neutrals?
Neutrals are often classified as 'boring' or the look 'everyone is doing'. Banish boring by teaming your neutral pieces with interesting contrasts, natural elements, bold accents and rich textures.
For those with a penchant for modern minimalist styling, offset a clean, elegant grey and white scheme with an edgy burst of black.
Love a pop of colour? Break up a sublime neutral scene with surprising neon accents for a cheery, youthful appeal. For a subtly sweet approach, candy-coloured pastels work a dream.
For the eco-minded, the inclusion of foliage and raw, natural timber finishes add interest and create a refreshing atmosphere – add metal elements to the mix for an urban-industrial effect. The options are endless when it comes to dressing up a simple neutral base.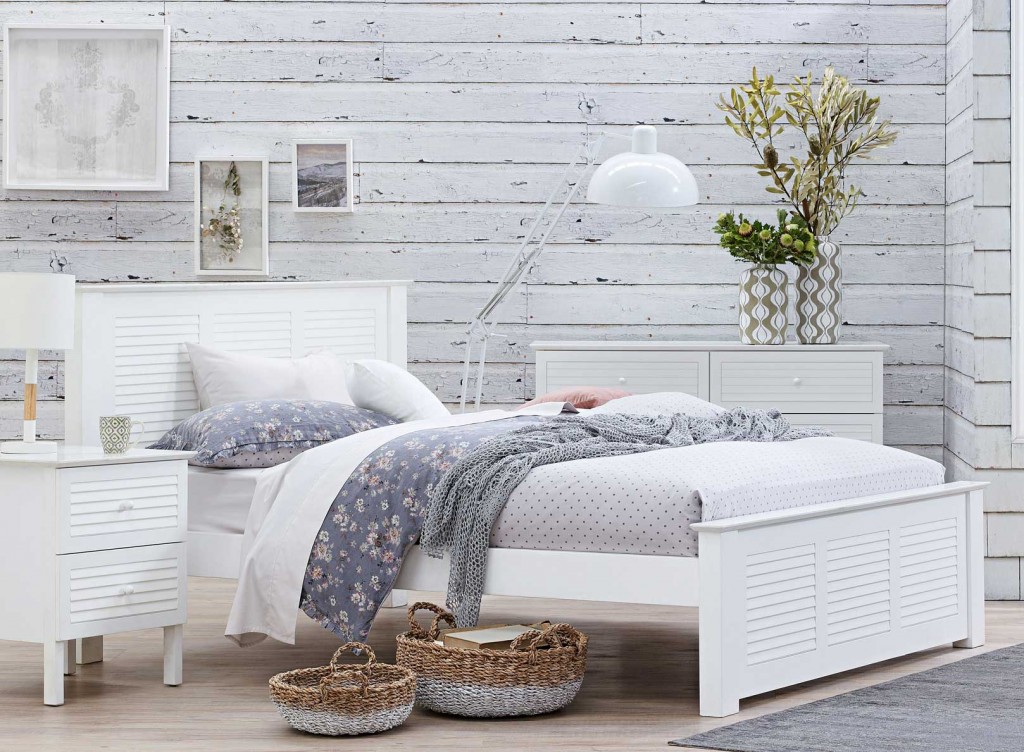 What are your golden rules when styling a neutral look?
1. Use your favourite accessories to add colours that inspire you, as shown in the 'Beachcomber' Bed shot pictured above. Pick out a preferred hue from a patterned rug or wall print and accessorise with a throw or cushion in a matching block hue to anchor the colour within the space.
2. Look at your existing decor with a fresh eye. Just because you want to re-decorate doesn't mean you have to start from scratch. Love neons? Frame your fave photo in a playful neon frame and add a bold neon cushion or vase for good measure!
3. Choose your general colour palette/theme from the start and stick to it throughout the home for a unified look.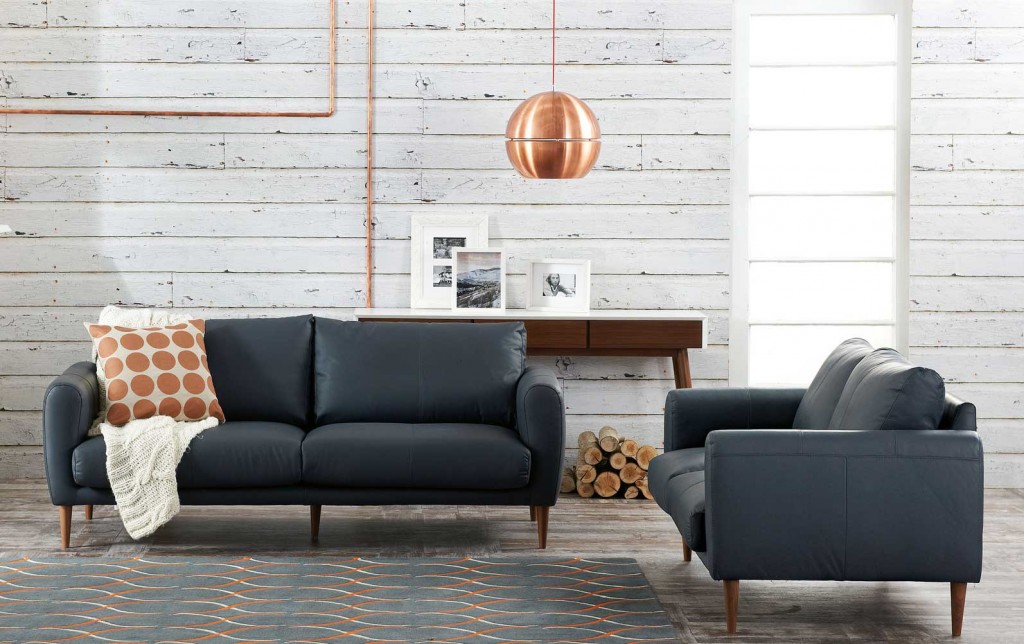 When it comes to introducing accent colours to a neutral base, what are your tips?
Accents are a fantastic way to shake up a neutral palette as they add energy and character. Whether they're introduced in the form of an elegantly upholstered chair, a vibrant artwork, lamp or selection of cushions – accents add dimension and interest.
I believe that it's important to have more than one accent piece in any one space. If you have just one piece that's a different colour to everything else, it will have a jarring effect on the overall scene and will end up being the only thing you look at!
Metallic accents are a huge trend this season – we've styled the 'Sisco' Leather Sofa shot (pictured above), using old copper pipes coordinated with our 'Comet' Pendant and Aura 'Spot' Cushion in copper.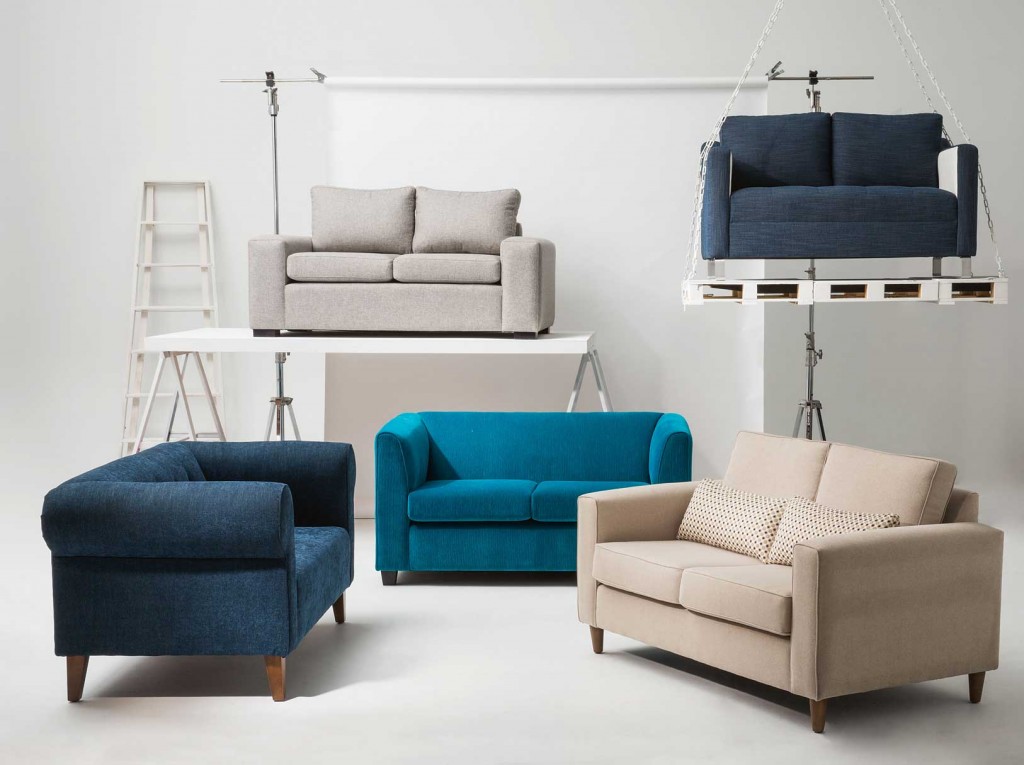 What's your favourite lounge room shot from the catalogue? What was the inspiration behind it?
Our Australian-made sofas shot (pictured above) is my absolute favourite. It's certainly not a lounge room shot in the traditional sense – the idea was to showcase each sofa as if it were having its photo taken in a photo studio. We wanted to present each lounge with nothing else around, so you could fall in love with its size, texture and shape…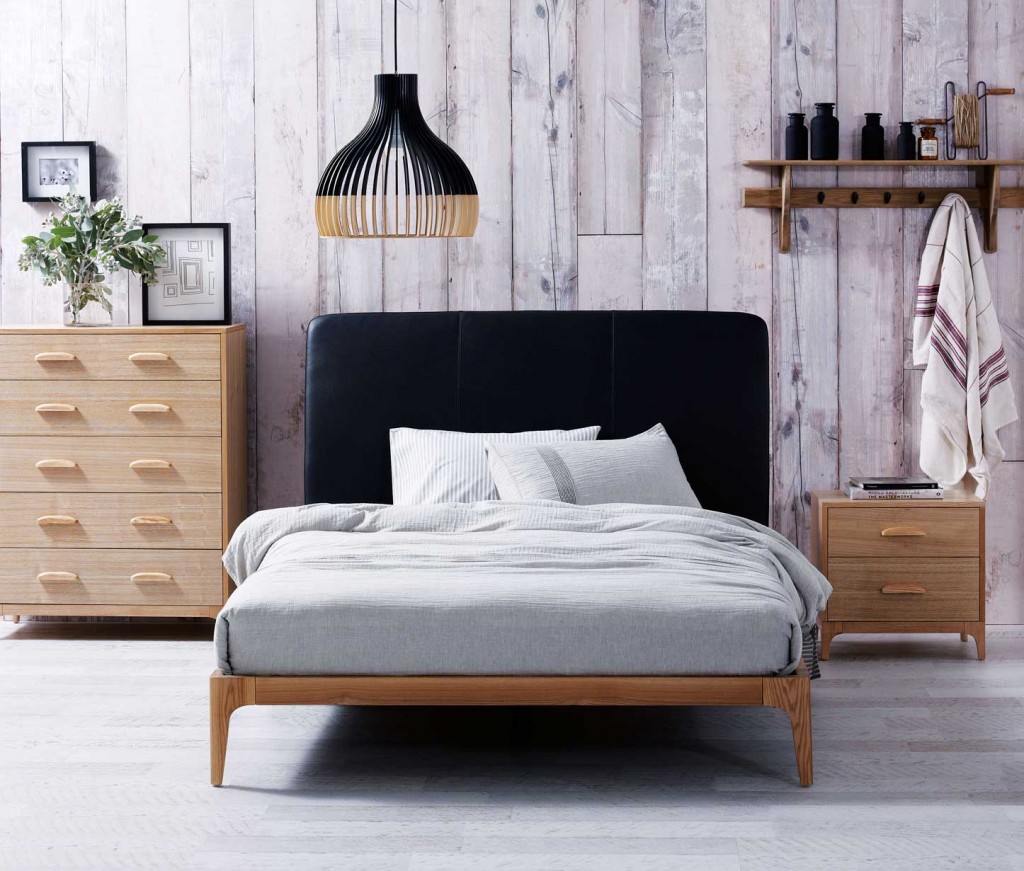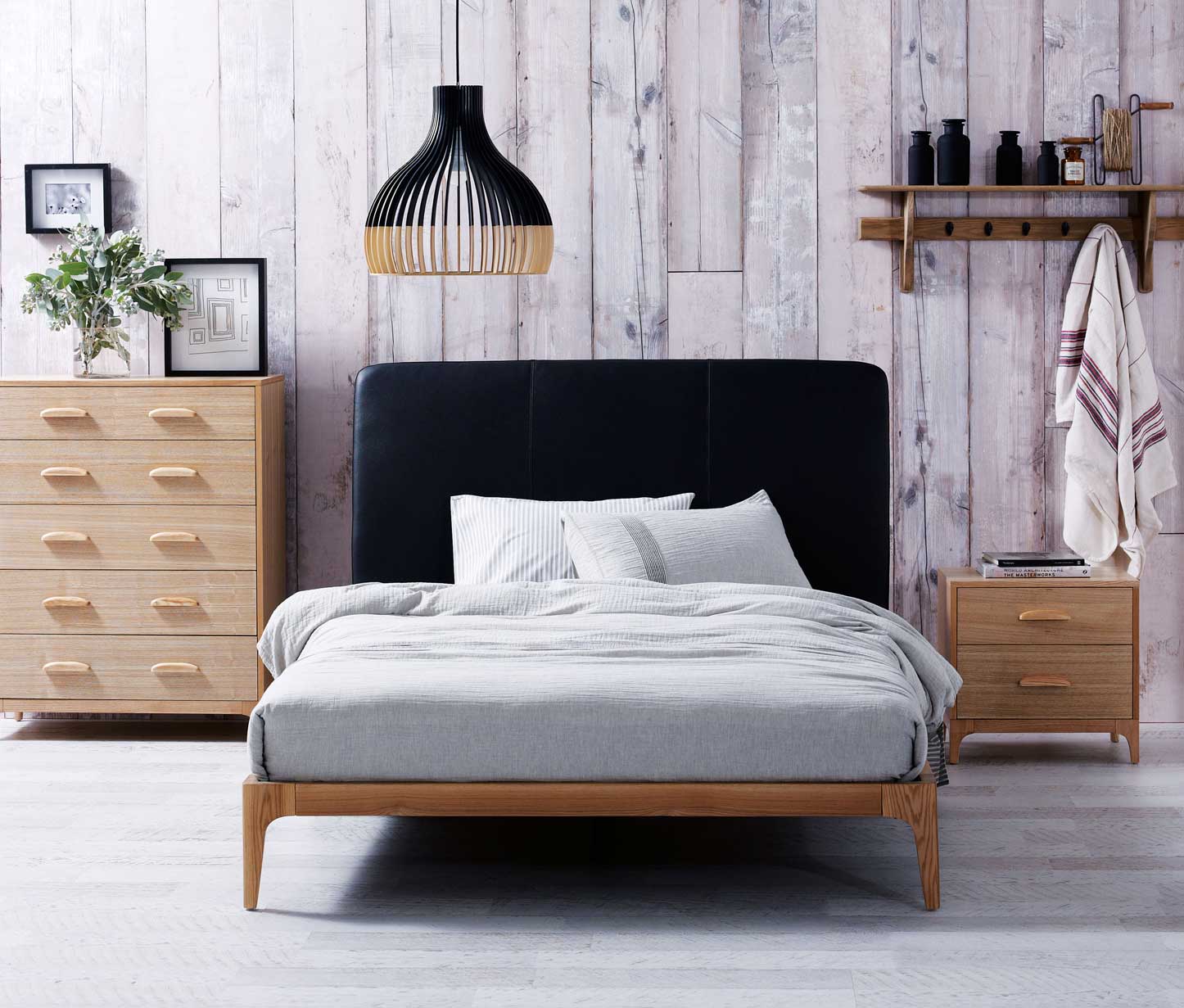 Nordic-inspired design plays a prominent role in the catalogue. What are some of your suggestions on styling this trend in the bedroom?
The 'Carlsen' Bed (pictured above) is a perfect example of the nordic theme represented in the bedroom. The golden ash timber frame contrasted with the black leather bedhead and soft neutral bedlinen gives it a beautifully understated and inviting feel – such a lovely way to incorporate Scandi-style into the bedroom. Only soft colours were used as a compliment within the shot, and the black gives it that punch of modernism and masculinity.
The 'Migo' Pendant (pictured above) is my top pick for a Scandi accessory in any room of the house. Available in two sizes and dipped in a variety of colours including grey, black, neon orange and pink, with its contrasting light timber and slatted design the 'Migo' is sure to impress no matter where it's hung!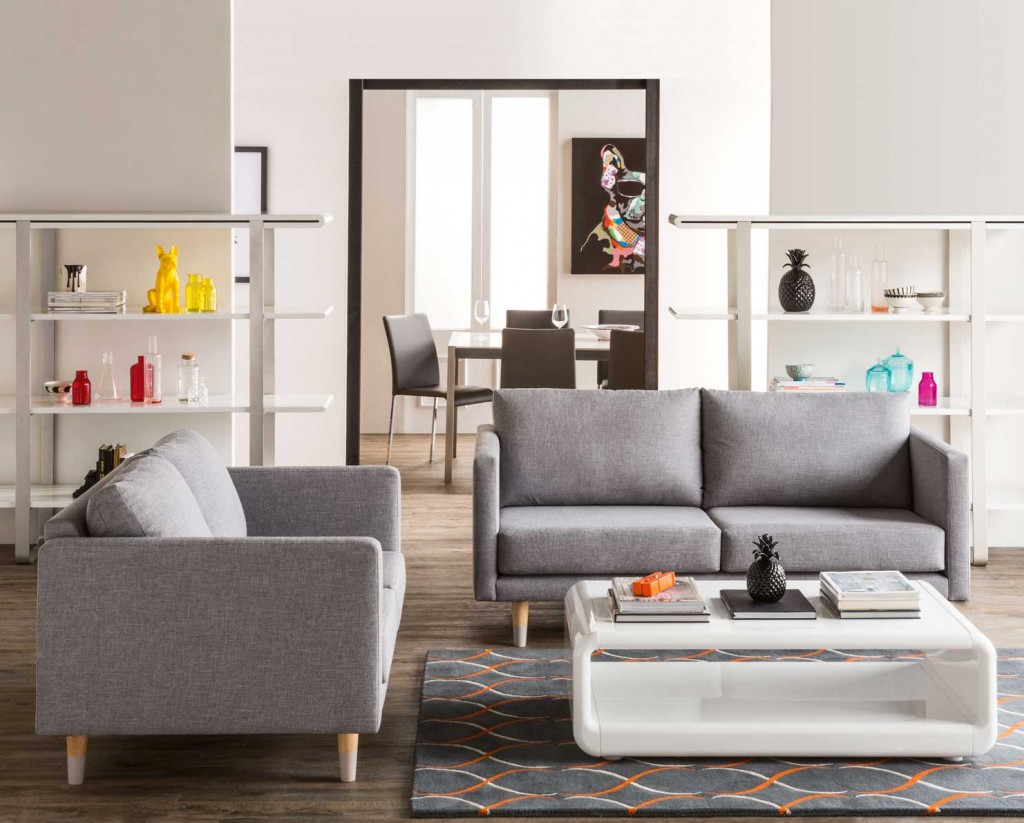 Fab Five
Danielle's five fave Domayne decorator pieces, guaranteed to enliven a neutral theme:
1. Mr French Canvas Art. This is a novel way for dog-lovers to bring in some colour and fun to a neutral palette.
2. 'Tutti' Pineapple in Black. What a statement piece! This fashionably fruity jar works absolute wonders when placed in a completely white scene. Available in a variety of lively hues, the 'Tutti' adds a quirky, decorative touch both indoors and outdoors.
3. Assorted Glass Vases. Simple glass vases are a gorgeous way to display beautiful floral arrangements – or fill with small treasures for a stylish storage solution!
4. 'Margaret' Round Rug. A simple yet effective piece, the 'Margaret' has an amazing shape and intricately woven texture.
5. 'Elite' Stripe Gold Cushion. Add a touch of class and style to your decor by teaming the 'Elite' with an assortment of luxe metallic pieces.
 Love our new-season neutral looks? With our revolutionary new Domayne L.I.V.E. app you can virtually preview all of the Domayne furniture in our Classic & Contemporary catalogue, anywhere in your home and from any angle! That's right, you can plan your decor by seeing how our products will suit your space before making a purchase.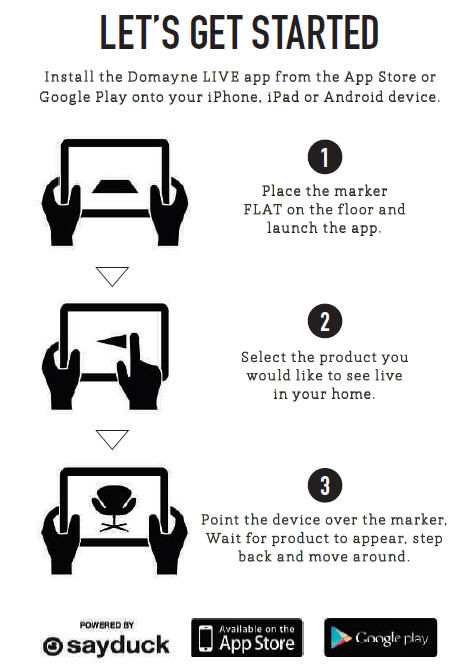 For more info or to download the marker, head to
http://www.domayneonline.com.au/promotions/domayne-live-app.html