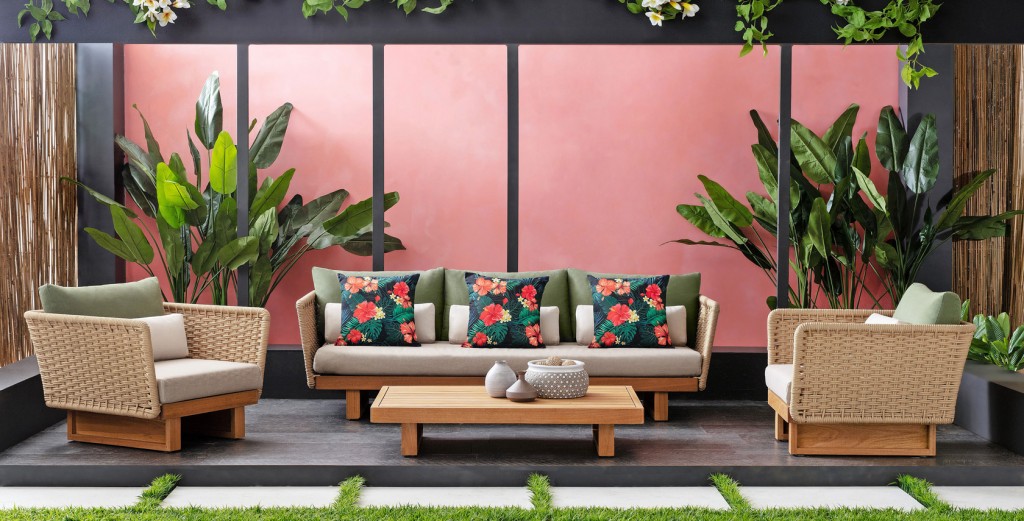 Outdoor Furniture Materials You're Going To Love For Your Backyard Or Balcony
---
Let's talk about the fifth room in your home that's usually neglected during the frosty winter months – your outdoor area. No matter how small or large it is, the outdoor living area is the most loved space in any Australian home during the long spring and summer months. With spring right around the corner, it's the perfect time to choose outdoor furniture that will suit your space and style.
The new season's outdoor furniture has arrived at Domayne and with so many different outdoor furniture materials available – wicker, aluminium, rope, timber, concrete – you're spoilt for choice!
Here are some of the outdoor lounge and dining settings we've been eyeballing at Style Insider and think you're going to love for your home too!
Wicker
These hand-woven synthetic wicker outdoor furniture options give you the look and feel of classic wicker without the hassle of endless maintenance. It's a definite favourite for both sprawling backyards in larger houses and compact balconies in smaller apartment-style homes.
Pictured above: Pipon 3-Piece Outdoor Wicker Tub Chair Package
Pictured above: Clarke 3-Seater Outdoor Wicker Lounge Package
Aluminium
Versatile, sturdy, durable, and available in an array of contemporary designs – aluminium is a popular material choice for both outdoor lounge and outdoor dining. This season, a clean and fuss-free minimalist aesthetic is trending and perfect for modern homes.
Pictured above: Spritz 4-Piece Outdoor Lounge Setting
Pictured above: Arcadia Outdoor Rectangular Extension Table
Rope
Rope outdoor furniture is right on trend and with a softer texture it's highly comfortable and functional, while still being very stylish. Rope is perfect for creating a luxury resort or coastal cottage feel in your home and giving your outdoor area a holiday vibe.
Pictured above: Alpin 4-Piece Outdoor Lounge Package
Pictured above: Perry 3-Seater Outdoor Lounge
Timber
Whether you want to create an intimate inner-city garden or a laidback family hub in suburbia that's great for barbecues and picnics, timber outdoor furniture is always a great choice.
Pictured above: Langton Outdoor Eucalyptus Timber Lounge 
Pictured above: Torens Outdoor Timber Dining Table
Concrete
The latest look that's trending in a big way in every facet of the home is concrete – it's a great way to add a hint of urban edge and industrial feel to even your outdoors.
Pictured above: Estrella Dining Table
Pictured above: Sovereign Dining Table
Has an outdoor furniture material caught your eye? Head to your local Domayne to view the range in person or browse the extensive collection online.