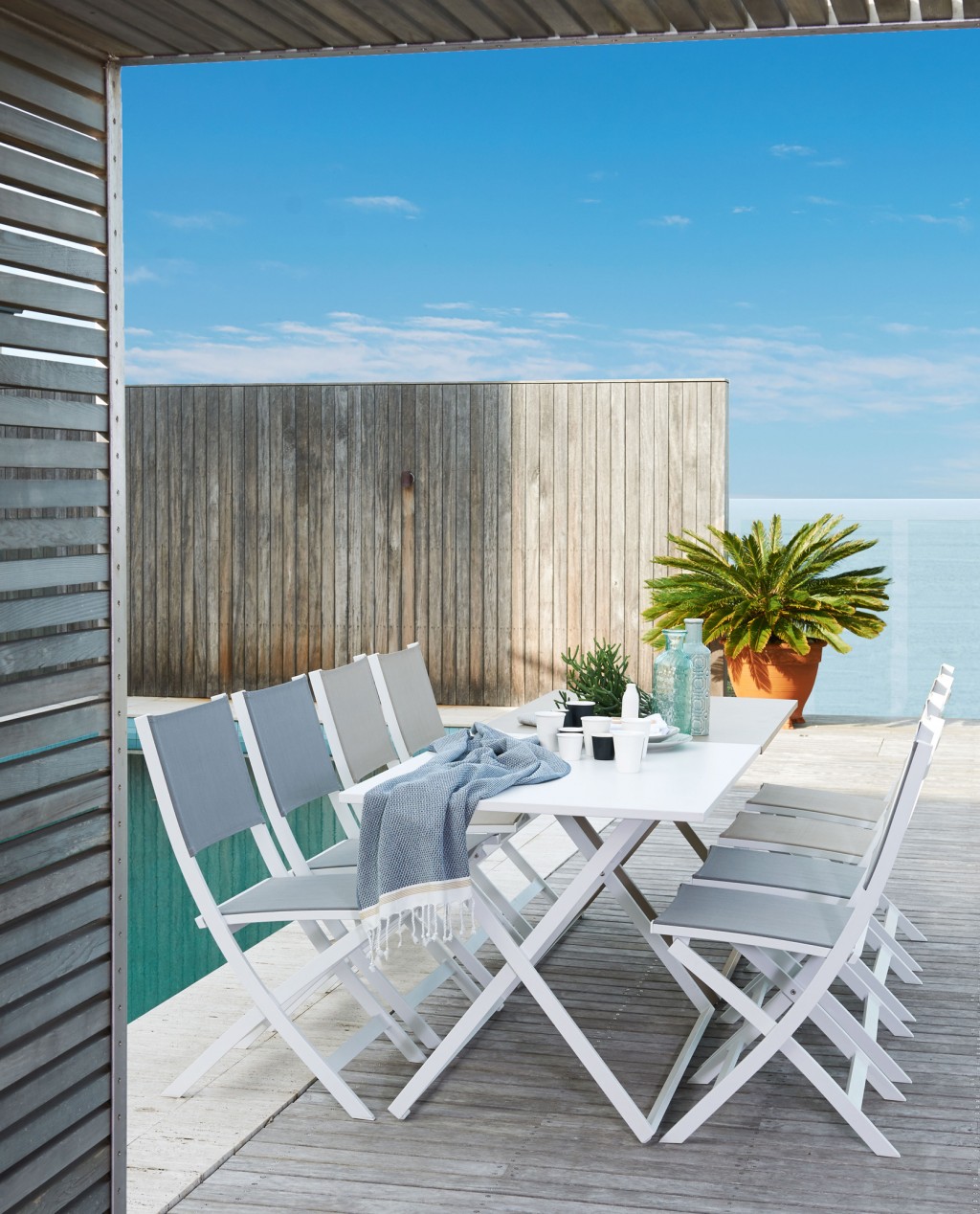 Perfect 10: Domayne Outdoor Furniture Launch 2015/16
---
The season of sandy feet, leisurely barbecue lunches and balmy evenings will soon be upon us and we're looking forward to celebrating this summer in style. Be inspired by our top ten pieces that'll transform your al fresco entertaining space into a five-star retreat!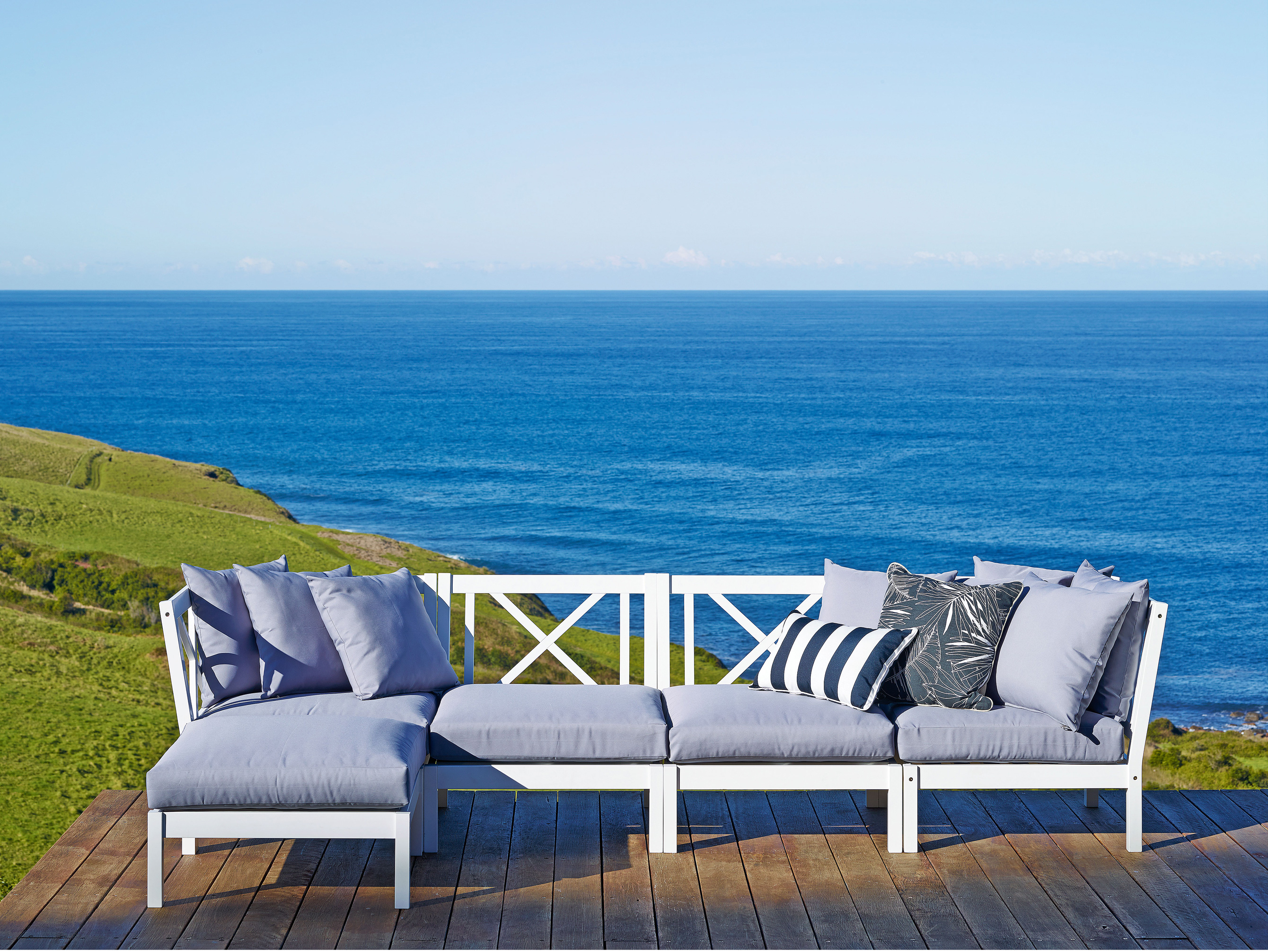 A contemporary twist on beautiful Balinese design, this spacious outdoor modular brings cushioned-comfort and laid-back luxury to your outdoor living area. Featuring a fresh white frame expertly crafted from premium eucalyptus timber, the 'Bali II' can be configured to seamlessly fit your space.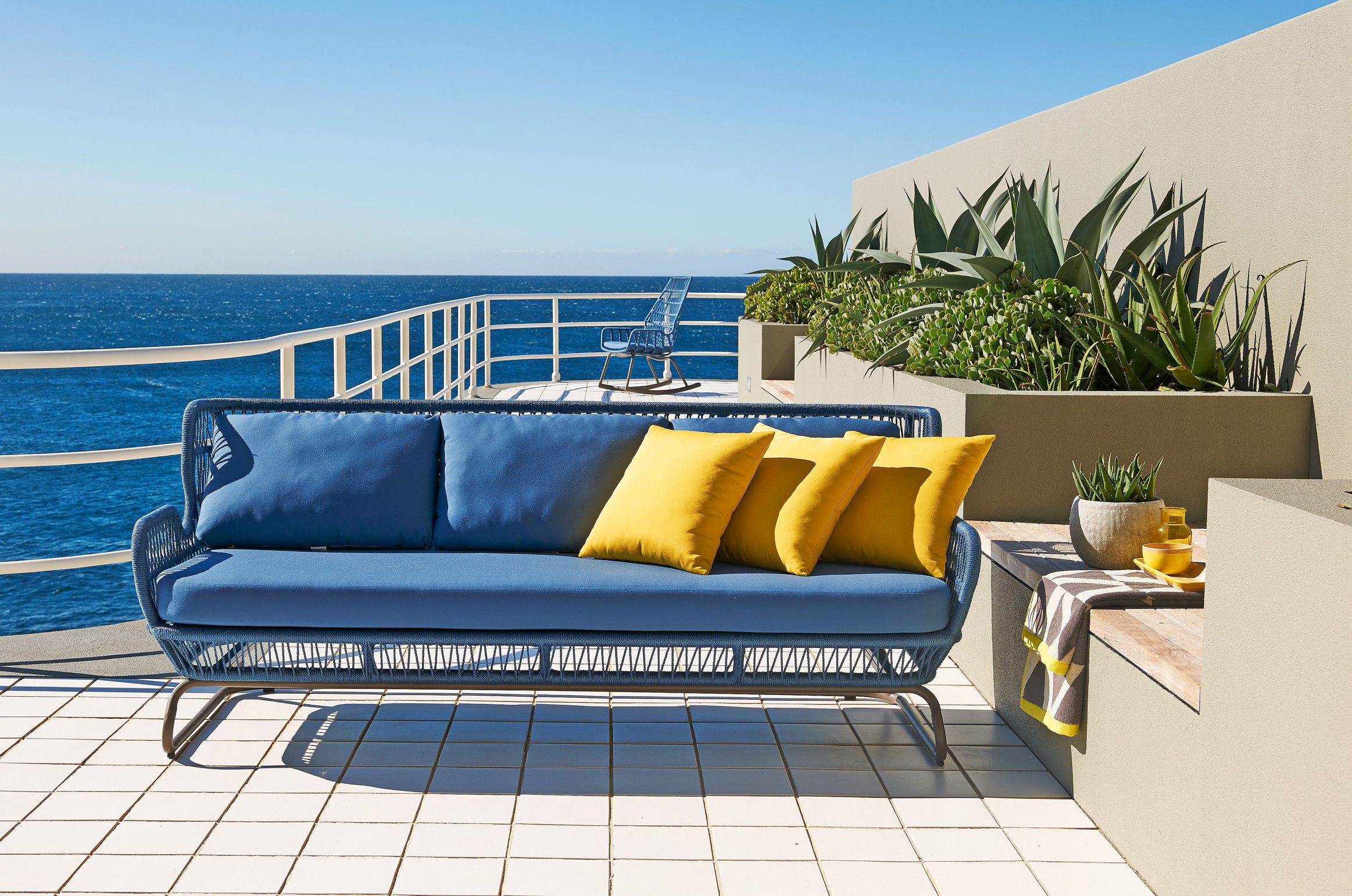 2. 'Sorento' 3-Seater Outdoor Sofa.
If blue's your hue, this one's for you! What better way to enjoy a spot of blue-sky lounging than in the sink-in comfort, high back support and easy, modern design of the sophisticated 'Sorento'? Boasting a sturdy aluminium frame and polypropylene rope detailing, this generous sofa is just what you need to while away those sun-drenched summer afternoons.
3. 'Capri' Extension Dining Table.
An easy, breezy, welcoming entertainer – the 'Capri' is the ideal table for the family who love to enjoy good food with good company. Featuring the timeless appeal of faux-timber coupled with a sleek aluminium powder-coated frame, this easy-to-maintain outdoor dining table is available in 3 lengths; Small 154-220cm, Medium 200-300cm and Large 240-335cm. Style this table to suit your taste by mixing and matching an assortment of chic outdoor chairs.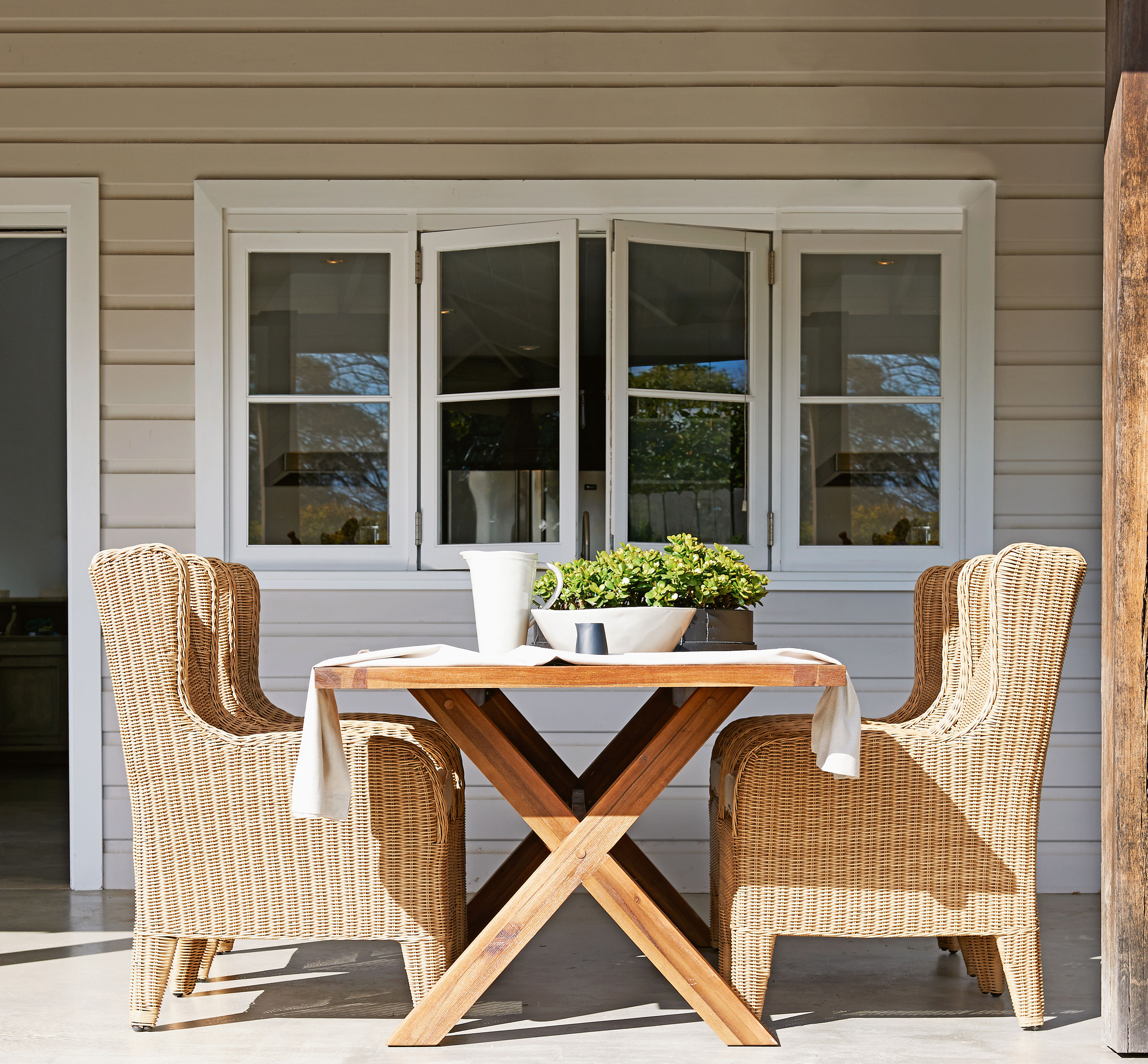 4. 'Buffalo' Outdoor Dining Table.
Solid and reliable – the 'Buffalo' is a keeper! Dine out in style – without leaving the comfort of your own home – with this al fresco dining table artfully crafted from sturdy acacia timber. Featuring a classic table top design and rustic crossed-leg base, this charming piece just gets better with age. Match with timber slatted chairs or mix things up with a selection of sleek metal chairs for an edgy appeal.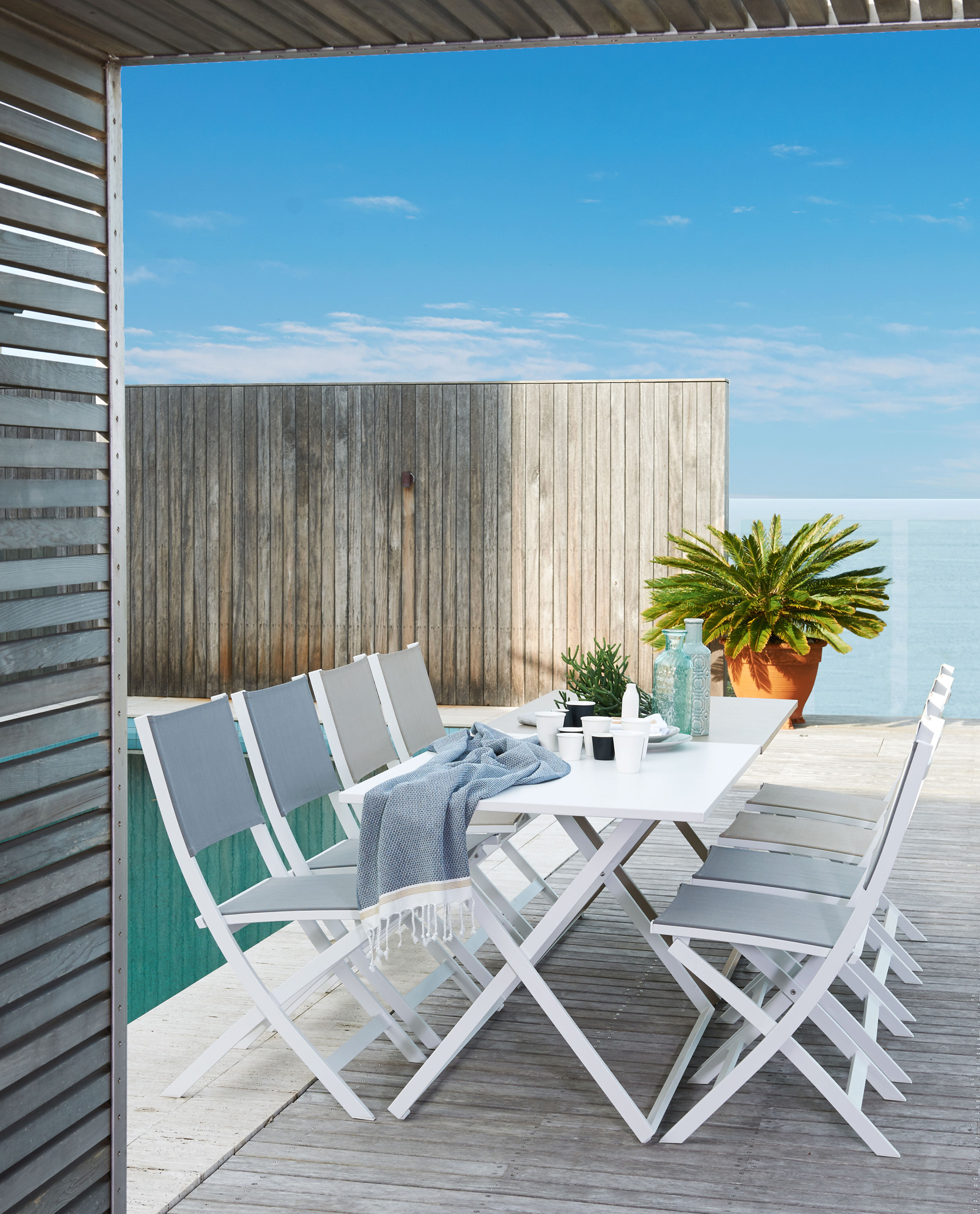 Short on space but big on summertime entertaining? No problemo! The go-to dining table for those with compact courtyards, petite balconies and diminutive decks – the 'Rosy' can be quickly, easily and conveniently folded and stored away thanks to its simple folding mechanism. Available in chic white or fashionable taupe, this clever combo of form and function features a durable aluminium frame and sleek, hard-wearing finish. The 'Rosy' is available in two sizes: 70cm and 120cm.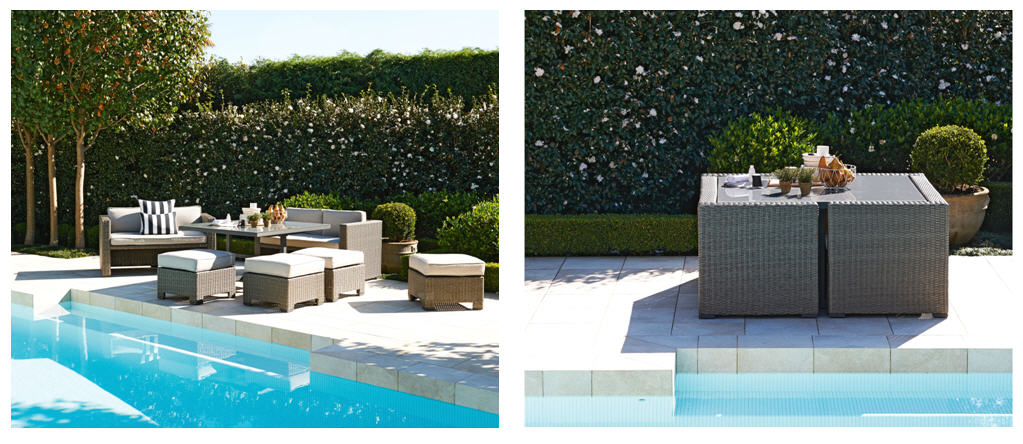 6. 'Compaq' Outdoor.

If you're after a Mediterranean feel that will add some panache to your outdoor entertaining space, then the 'Compaq' 7-Piece Outdoor Setting is a bright idea for summer. Comfortably relaxed in a seating style that would perfectly suit those lazy Sunday sessions, the 'Compaq' boasts an authentic wicker look and durable, high-quality Olefin seat cushion fabric that's UV protected. Featuring a pair of 2-seater sofas, four cushioned ottomans and a tempered glass-top table, this setting will feel right at home poolside or on your deck. The space-saving design will certainly come in handy when the colder months return, as the 'Compaq' truly lives up to its name with seats that tuck away to save on storage space.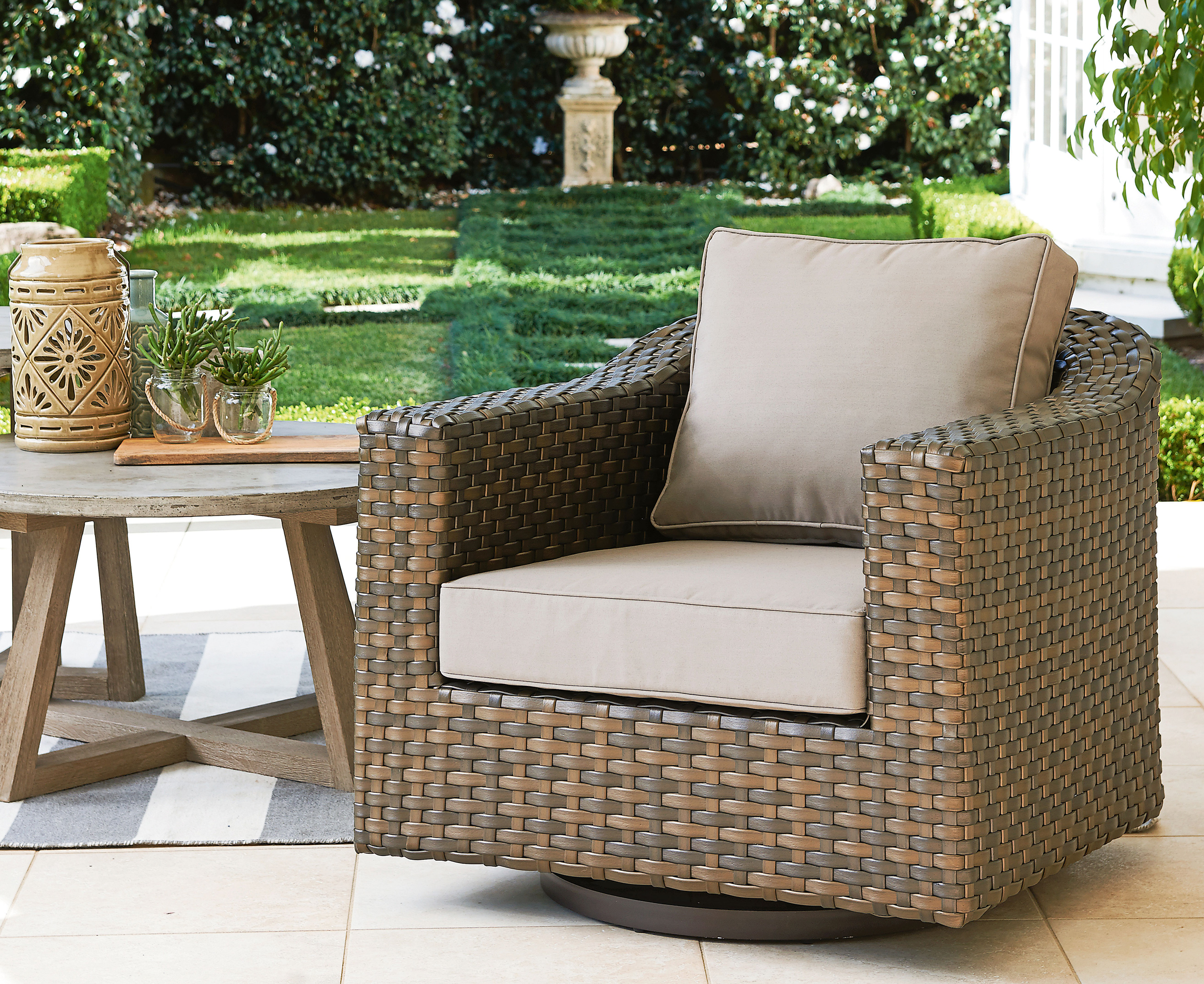 7. 'Kenthurst' Outdoor Furniture Range.

If lazy summer afternoons that stretch on into the evening sounds like your idea of fun, then the 'Kenthurst' range has got you covered. The evocative allure of wicker and sumptuous comfort combine in a design that embraces both its traditional and contemporary heritage. Available in 3-seater, 2-seater and rocker armchair options, the durability and high-quality wicker weave of 'Kenthurst' makes it a long term addition to your palatial patio.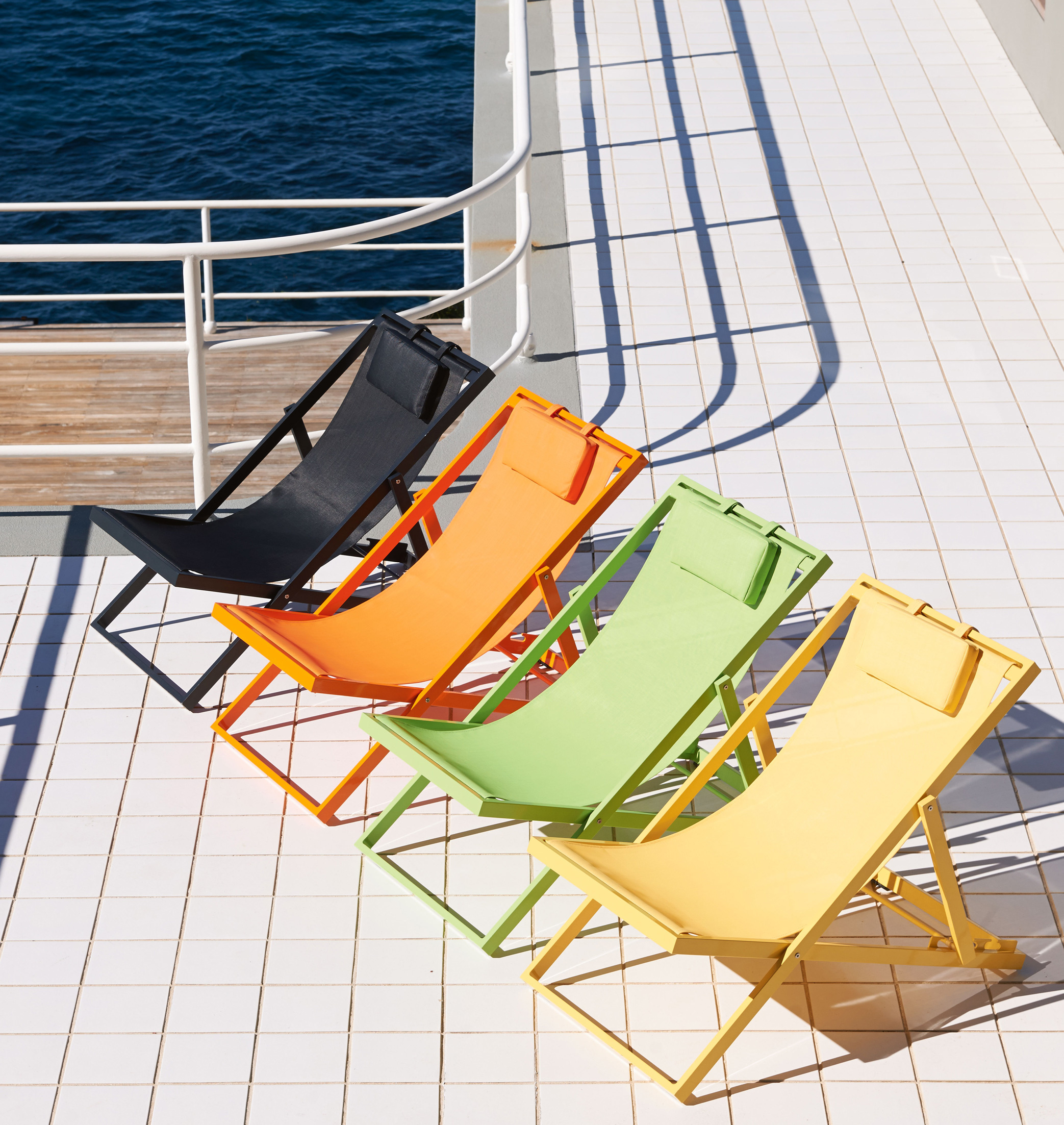 8. Deck Chairs
Add a splash of colour to your summer with a bright and bold assortment of our Deck Chairs. Super-stylish and oh-so-comfy, these convenient chairs feature the strength and support of a sturdy powder-coated aluminium frame, the comfort of a cushioned head rest and a durable textiline sling that can withstand the harsh Aussie climate. Available in four fashionable colours, these Deck Chairs are just what you need to relax and unwind.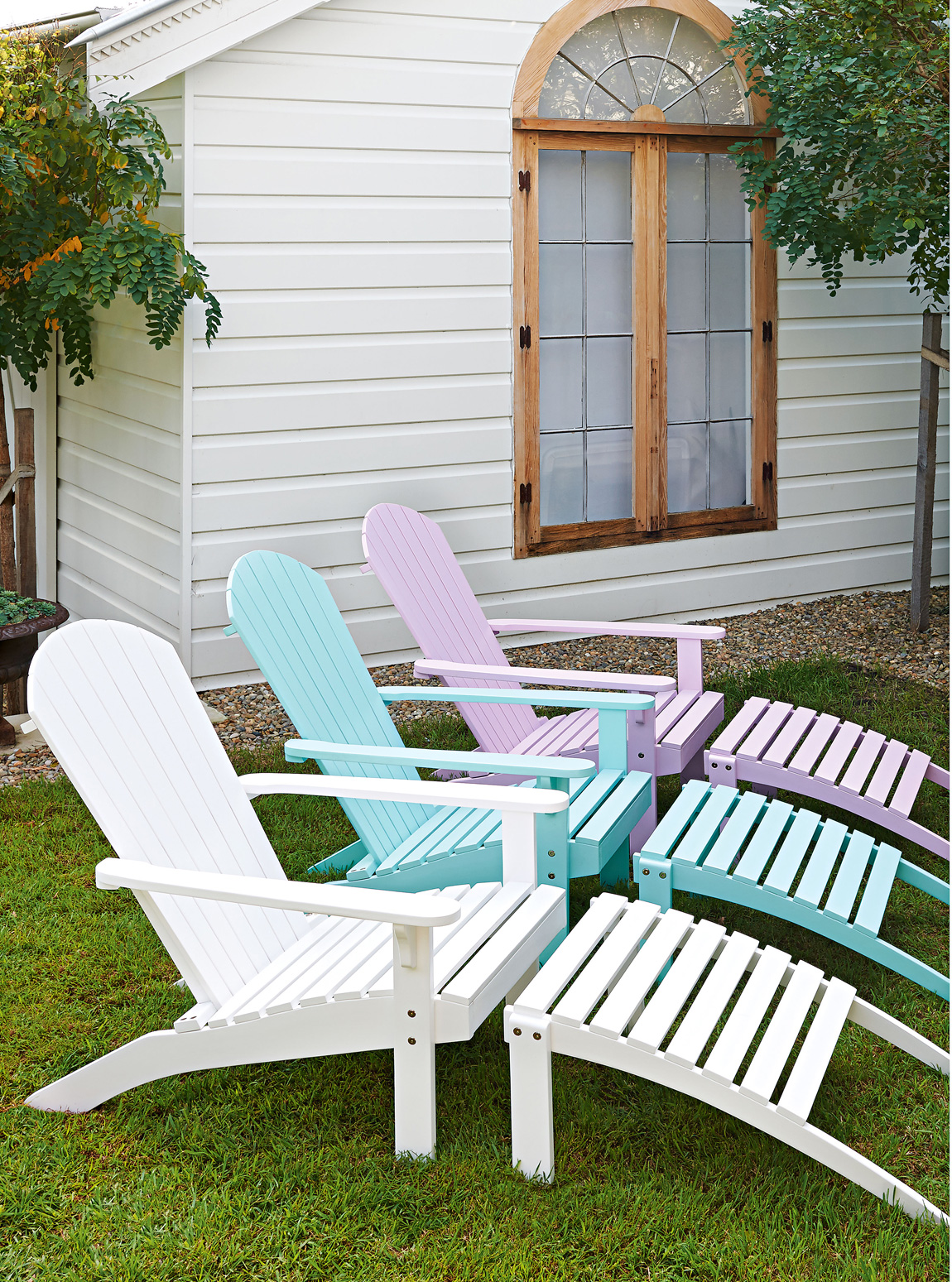 Whether you live by the coast or simply holiday there, you can chill out in true Domayne style with the sophisticated 'Coast' Deck Chair. Boasting a generous high-back arched frame, constructed from quality hardwood timber, this stunning piece will add an air of vintage chic to any outdoor space. Timeless in classic white, this design is also available in the sweet pastel shades of Mint, Pink and Lemon.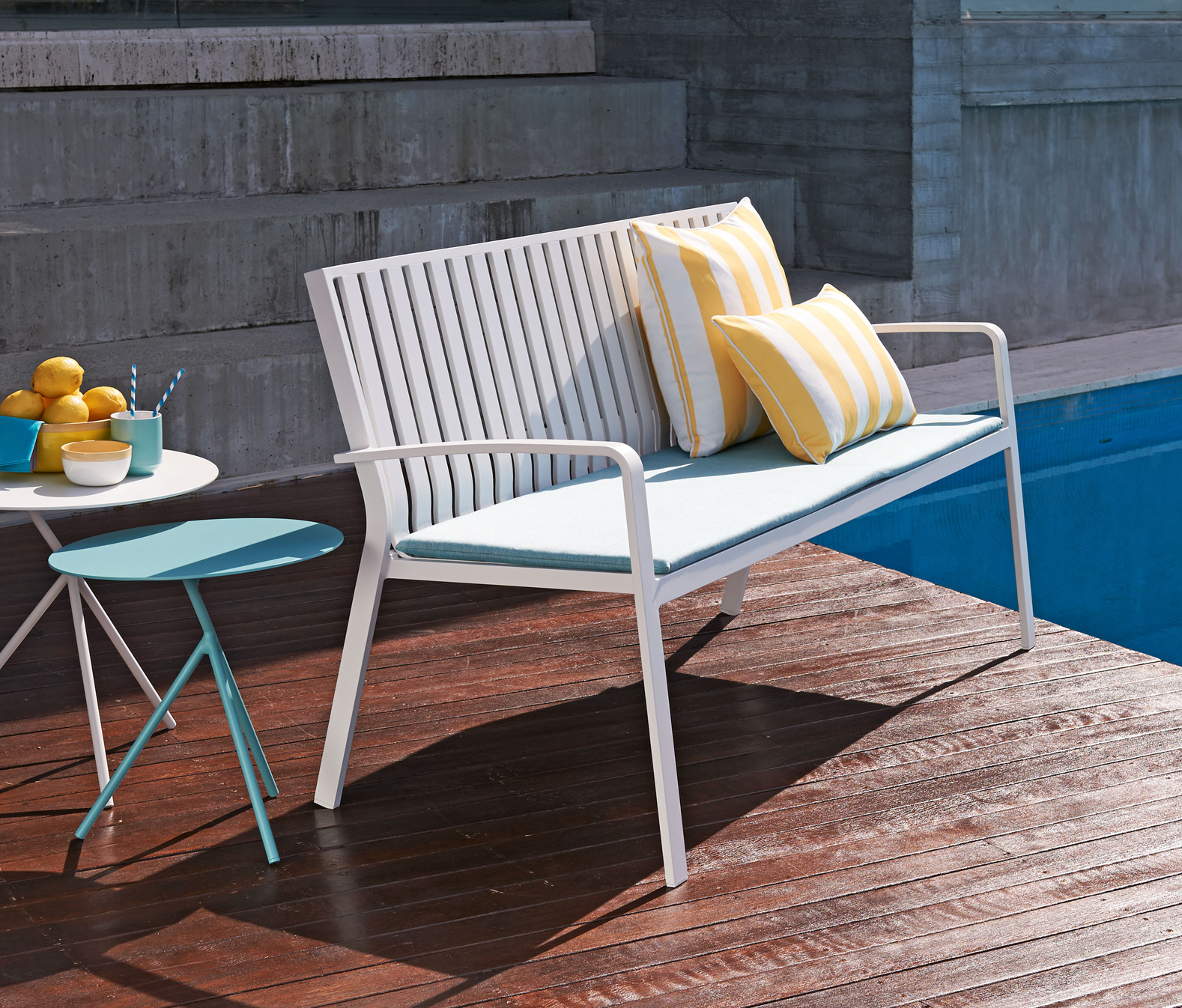 Make this the summer of smoothies at sunrise and sangria at sunset. Our handy 'Explorer' Side Tables are ideal for keeping your icy drink and riveting new paperback close at hand while you're kicking back and enjoying the great outdoors. At home both indoors and out, this simple and striking design is crafted from sturdy aluminium, comes in White and Mint and is available in three two sizes:  Small (44 x 46cm) and Large 52 x 52cm