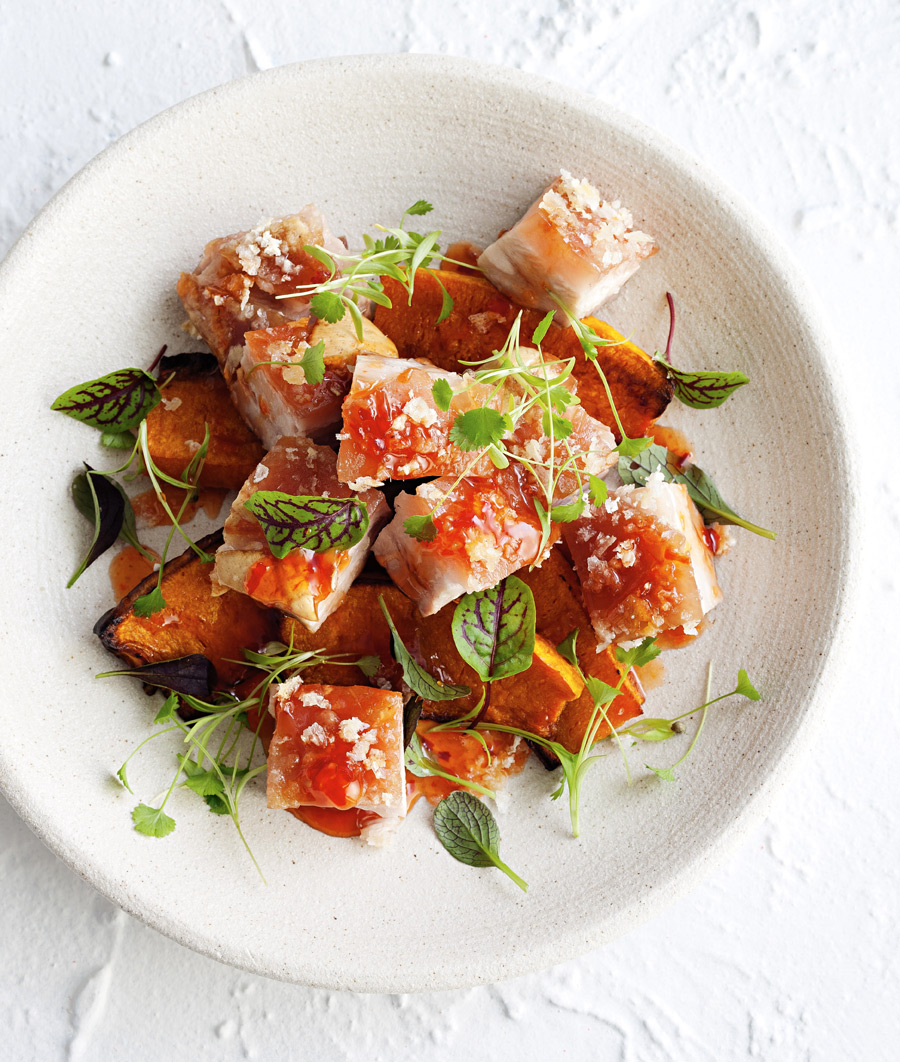 Pork Belly With Sticky Maple Chilli Pumpkin
---
It's pumpkin season! And this winter recipe sees it paired with pork belly to bring you a flavour profile that's sweet, sticky with a hint of spicy.
Serves 6
Prep 20 minutes
Cook 8 hours 15 minutes (on low)
You'll need to start this recipe 1 day ahead. You'll need a 5.5litre slow cooker for this recipe.
Ingredients
1.25kg piece pork belly
1/2 cup apple cider
3 teaspoons sea salt flakes
1 teaspoon fennel seeds
1 teaspoon ground cumin
1.25kg kent pumpkin, cut into wedges
1 tablespoon extra virgin olive oil
1/4 cup maple syrup
2 small red chillies, finely chopped
Micro herbs, to serve
Method
1 Pat pork dry with paper towel. Place on a paper towel-lined plate. Refrigerate overnight to allow rind to dry out.
2 Place cider in bowl of a 5.5litre slow cooker. Combine 2 teaspoons salt, fennel and cumin in a small bowl. Rub all over pork, including rind. Season with pepper. Place pork, rind-side up, in slow cooker. Cover. Cook on low for 8 hours (or high for 4 hours), until pork is tender and cooked through.
3 Meanwhile, preheat oven to 220°C/200°C fan-forced. Line a large tray with baking paper. Place pumpkin on tray. Drizzle with oil and 2 tablespoons maple syrup and sprinkle with half of the chilli. Season with salt and pepper. Roast for 30 minutes, turning pumpkin halfway, or until caramelised and tender. Set aside, covered, to keep warm.
4 Increase heat to 240°C/220°C fan-forced. Place pork on a tray. Sprinkle with remaining salt. Roast for 15 minutes or until rind is golden and crackles. Transfer to a board. Cut into pieces. Arrange pork and pumpkin on a serving plate. Combine remaining maple syrup and chilli in a bowl. Drizzle over pork. Serve sprinkled with micro herbs.
Tools of the Trade
In need of a quality slow cooker to make this recipe and many others like it? Equip your kitchen with all the right tools from Domayne.