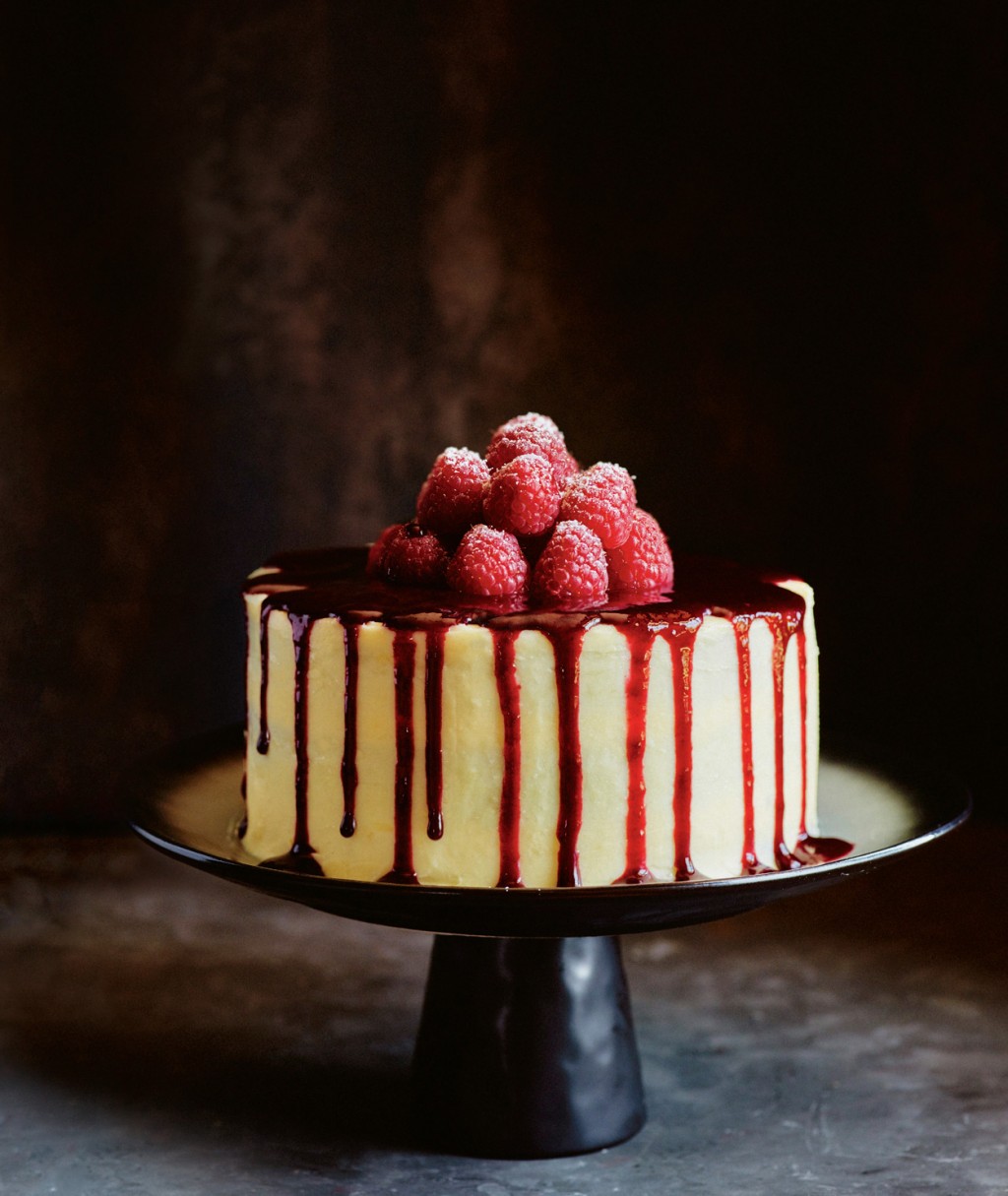 Red Velvet Coconut Cake
---
Sweet dessert dreams are made of these: a rich red velvet cake, fluffy coconut cream, lush white chocolate ganache and fresh raspberries.
Bring out the good tea set and enjoy a slice with all your favourite people!
Serves 12
Prep 35 minutes (plus cooling and refrigeration)
Cook 1 hour 20 minutes
Ingredients
2 1/4 cups plain flour
3/4 cup self-raising flour
1 1/2 tablespoons Dutch processed cocoa
1 1/2 teaspoons bicarbonate of soda
2 2/3 cups caster sugar
1 1/2 cups buttermilk
3/4 cup vegetable oil
3 eggs
1 tablespoon red food colouring
3 teaspoons white vinegar
1/3 cup hot water
Raspberry dessert sauce and fresh or frozen, thawed raspberries, to serve
White Chocolate Ganache
2 x 180g blocks white chocolate, chopped
2/3 cup thickened cream
Coconut cream
300ml thickened cream
165ml can coconut milk
1 teaspoon caster sugar
Method
1 Preheat oven to 180°C/160°C fan-forced. Grease a 6cm-deep, 22cm round cake pan. Line base and side with 2 layers of baking paper, extending paper 2cm above edge of pan.
2 Whisk flours, cocoa, bicarbonate of soda and sugar into a bowl. Add buttermilk, oil, eggs, food colouring, vinegar and hot water. Mix well to combine. Pour mixture into prepared pan. Level top. Bake for 1 hour to 1 hour 15 minutes or until a skewer inserted into the centre of cake comes out clean. Stand in pan for 10 minutes. Turn, top-side up, onto a wire rack to cool completely.
3 Make White Chocolate Ganache: Place chocolate and cream in a heatproof bowl over a saucepan of simmering water. Cook, stirring occasionally, for 5 minutes or until melted and smooth. Remove from heat. Set ganache aside to cool for 15 minutes. Refrigerate for 1 to 2 hours or until thick and spreadable.
4 Make Coconut Cream: Using an electric mixer, beat cream, milk and sugar together until just-firm peaks form.
5 Trim top of cake to level. Cut cake into 3 equal layers. Place 1 cake layer onto a serving plate. Top with half the coconut cream. Repeat layering with remaining cake and coconut cream, finishing with cake. Spread ganache over top and side of cake. Refrigerate for 20 minutes to set. Serve drizzled with dessert sauce and topped with raspberries.
Tools of the Trade
When you use quality ingredients and spend time preparing a beautiful batter, you want the results of your labour to shine through in the finished cake. These freestanding cookers from Domayne are equipped with high-performing ovens that will rise to the occasion every time!

Appliances from left:
Euromaid 900mm Dual-Fuel Freestanding Cooker
Euromaid 900mm Freestanding Cooker