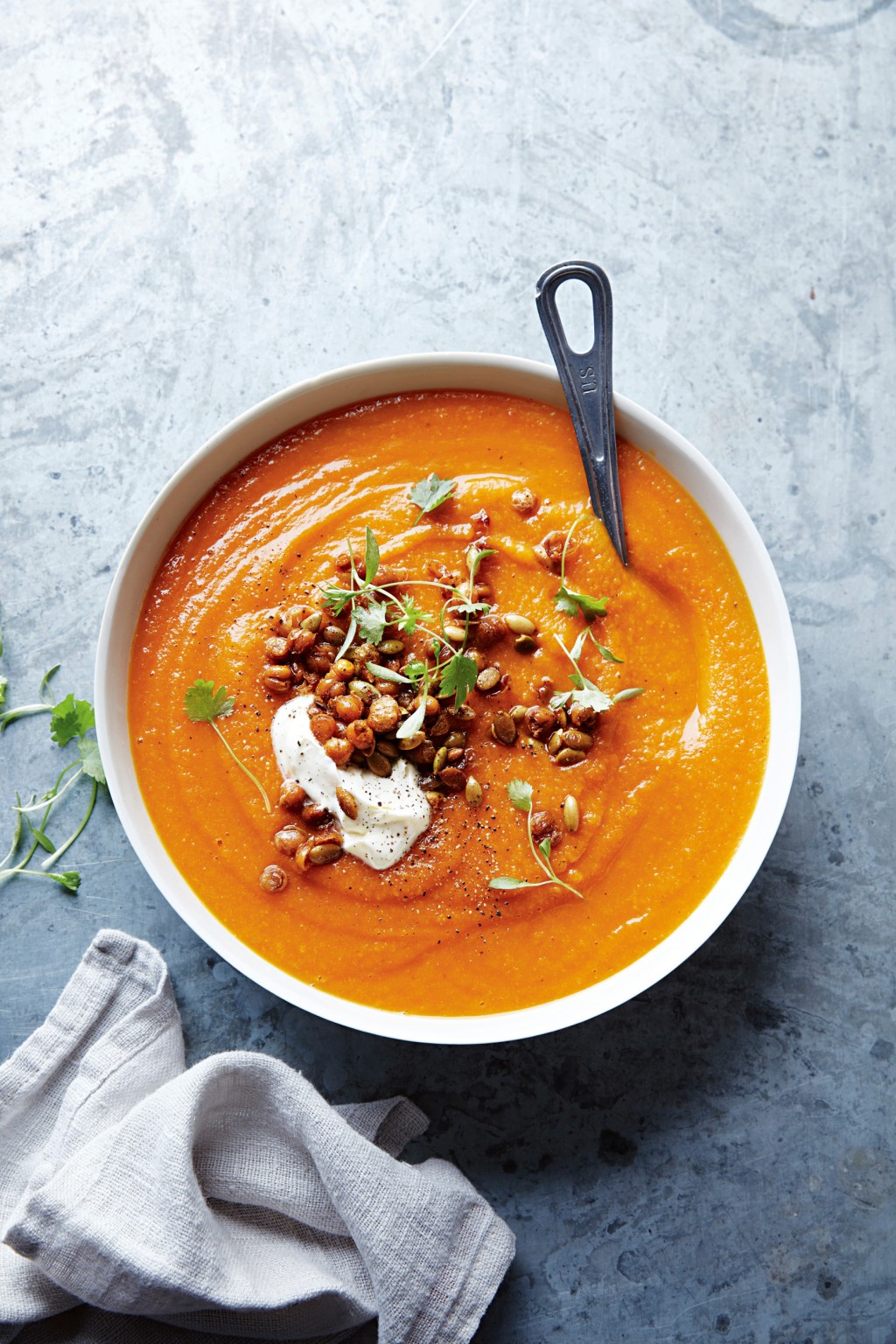 Roasted Pumpkin and Carrot Soup with Chickpea Crumble
---
Soup season is upon us! Give the classic pumpkin soup a Middle Eastern makeover with harissa spice blend, moreish chickpeas and crunchy pepitas! Comfort food that's full of hearty ingredients? Coming right up!
Serves 6
Prep 15 minutes (plus standing)
Cook 1 hour
 Ingredients
1kg Kent pumpkin, peeled, cut into 3cm pieces
500g carrots, peeled, roughly chopped
2 teaspoons harissa Middle Eastern spice blend
2 tablespoons extra virgin olive oil
2 garlic cloves, unpeeled
1 leek, trimmed, roughly chopped
2 Sebago potatoes, peeled, chopped
1 litre chicken stock
Plain Greek-style yoghurt and micro coriander, to serve
Chickpea Crunch
1 tablespoon extra virgin olive oil
400g can chickpeas, drained, rinsed
2 tablespoons pepitas
1 teaspoon harissa Middle Eastern spice blend
Method
1 Preheat oven to 200°C/180°C fan-forced. Line a large baking tray with baking paper.
2 Place pumpkin and carrot on prepared tray. Sprinkle with spice blend and drizzle with half the oil. Roast for 40 minutes or until vegetables are tender, adding garlic to tray halfway through cooking.
3 Meanwhile, heat remaining oil in a large saucepan over medium heat. Cook leek, stirring occasionally, for 6 to 8 minutes or until softened. Add potato. Cook for 1 minute. Add stock. Cover. Increase heat to high. Bring to the boil. Reduce heat to low. Simmer, covered, for 12 to 15 minutes or until potato is almost tender.
4 Squeeze garlic from skins and add to soup with pumpkin and carrot. Simmer for 10 minutes. Remove from heat. Stand 5 minutes. Blend soup in batches until smooth, adding a little water to thin the soup if needed. Return to pan. Season with salt and pepper.
5 Chickpea Crunch: Heat oil in a frying pan over medium-high heat. Add chickpeas, pepitas and spice blend. Cook, tossing, for 5 to 8 minutes or until pepitas are toasted and chickpeas and crunchy.
6 Serve soup dolloped with yoghurt and sprinkled with chickpea mixture and micro coriander.
Tools of the Trade
The cold weather calls for comfort food and there's nothing quite as comforting as a piping bowl of soup. Prepare a batch at home with these handy kitchen helpers from Domayne:

Appliances from left: