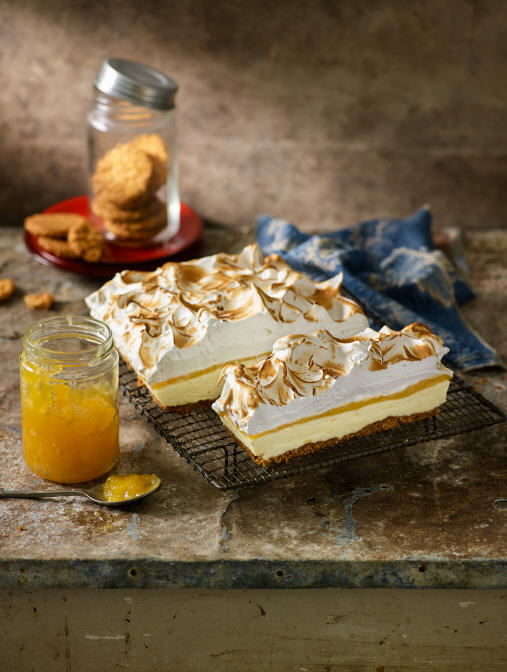 Recipe and Image courtesy of Better Homes and Gardens Magazine
What's the best thing about this tempting cheesecake slice? Is it the delicious, crumbly biscuit base? The creamy centre with zesty citrus tang? The light and fluffy meringue topping? We can't decide – you'll just have to get baking and sample it for yourself!
Lemon Meringue Cheesecake Slice
Prep time: 35 mins (plus overnight chilling)
Cooking time: 15 mins
Serves 12
Cooking oil spray, for greasing
250g Arnott's Butternut Snap Cookies, roughly broken
70g butter, melted
¼ cup water
3 tsp powdered gelatine
280g jar Masterfoods Lemon butter
500g cream cheese/ chopped, at room temperature
¾ cup thickened cream
½ cup caster sugar
Finely grated zest of ½ lemon
Extra ⅓ cup water
Extra 1 cup caster sugar
4 egg whites
1. Grease a 25 x 16 cm slice tin with cooking oil spray and line with baking paper. Put biscuits in the bowl of a food processor and pulse until finely crushed. Add butter and pulse until combined.
2. Spoon mixture into prepared tin and press evenly into base of tin. Refrigerate for 30 mins.
3. Meanwhile, put water into a small microwave jug. Add gelatine and whisk with a fork to combine. Cook on high/100% for 35-45 seconds or until gelatine is dissolved. Set aside to cool for 5 minutes. Put lemon butter in a small bowl and stir until smooth. Add 1 tbsp of the gelatine mixture and stir until well combined. Set aside.
4. Put cheese, cream, sugar and zest in a large bowl. Beat with an electric hand mixer on low speed to combine. Increase speed to high and beat for 4 minutes or until smooth.
5. If remaining gelatine mixture has firmed, heat in microwave on high/100% for 10 second bursts until pourable. Add to cream cheese mixture and beat until well combined.
6. Pour cream cheese mixture over biscuit base. Smooth surface.
7. Spread lemon curd over base. Refrigerate for 4 hours or overnight until cheesecake is set.
8. Put extra water in a small saucepan over medium heat. Add extra sugar and stir until combined. Cook for 3 minutes or until sugar is dissolved. Increase heat to high. Do not stir. Cook for 10 minutes or until syrup reaches 120 degrees Celsius on a sugar thermometer. Remove from heat.
9. Put egg whites in the bowl of an electric mixer and beat on medium until soft peaks form. With motor running, add hot sugar syrup in a slow, steady stream. Increase speed to high and beat for 8-10 minutes or until mixture is thick and glossy. Spoon meringue onto set base and spread to cover, using the back of a spoon to create peaks.
10. Remove from tin and transfer onto a chopping board. Hold a chef's torch about 10cm from meringue and use to lightly brown surface. Cut into 12 slices. Serve.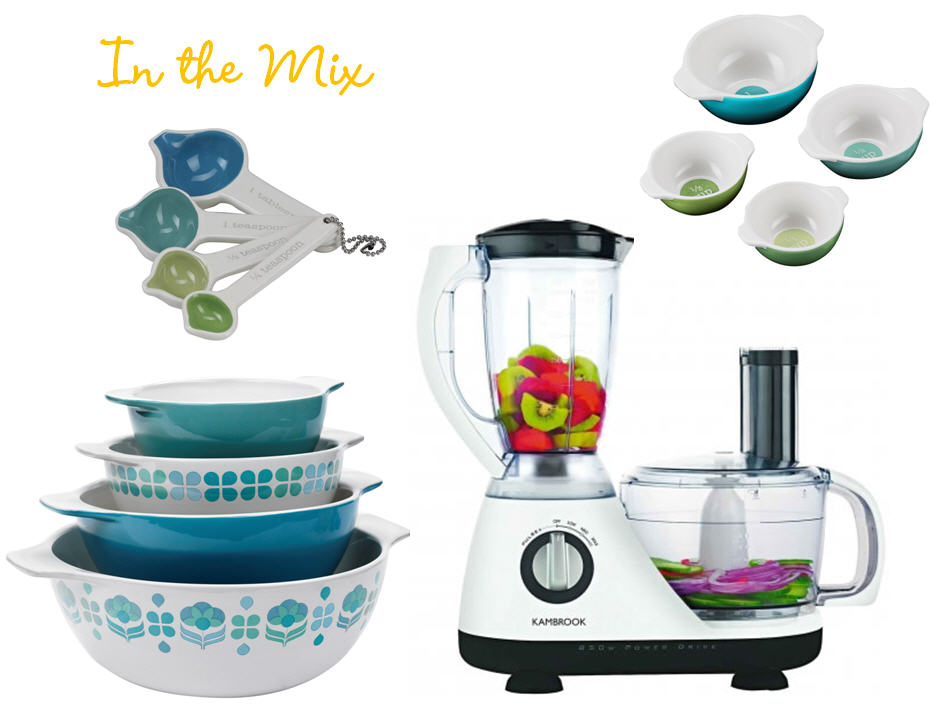 Clockwise from top left: Anna Gare Measuring Spoons,  Anna Gare Measuring Cups, Kambrook Dual Food Processor, Anna Gare Mixing Bowls (Set of 4)