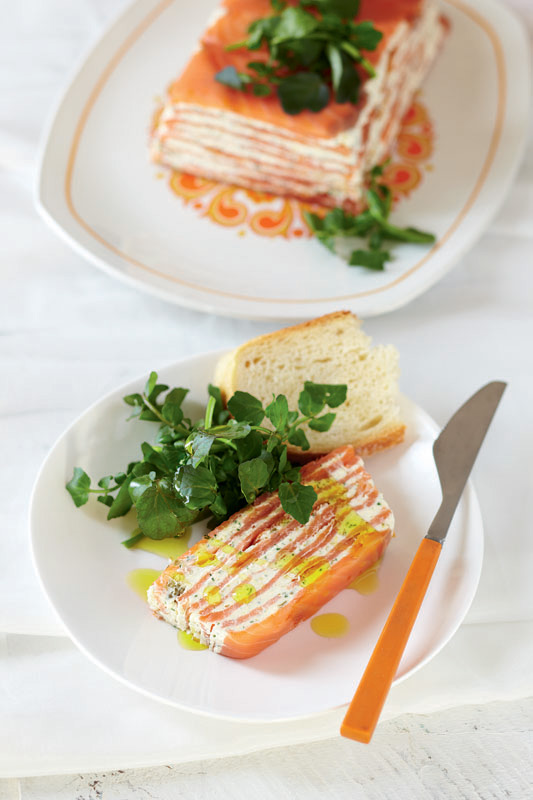 Smoked Trout with Whipped Feta and Preserved Lemon Oil
---
At this year's Christmas get-together, make trout the seafood star at the heart of your celebration with this luscious terrine. The delicate flavours of the fish are accentuated with the tart addition of  feta, lemon, dill and chilli.
Serves 8
Prep 30 minutes (plus 2 hours standing and overnight refrigeration)
You'll need to start this recipe 1 day ahead.
 Ingredients
200g feta, crumbled
250g mascarpone
1 tablespoon lemon juice
1 tablespoon finely chopped fresh chives
2 tablespoons chopped fresh dill
2 teaspoons finely grated lemon rind
Pinch of chilli flakes
16 slices (700g) smoked trout
Preserved Lemon Oil
1/4 cup light extra virgin olive oil
2 tablespoons finely chopped preserved lemon rind
Method
1 Place feta, mascarpone and lemon juice in a small food processor. Process until well combined. Transfer to a bowl. Stir in chives, dill, lemon rind and chilli. Season with salt and pepper.
2 Line a 7cm-deep, 11.5cm x 20cm loaf pan with plastic wrap, extending plastic 6cm above edges.
3 Place 2 slices of smoked trout over the base of prepared pan. Top with 1/4 cup feta mixture, spreading to level. Continue layering with remaining trout and feta mixture, finishing with a layer of trout. Fold over plastic to cover. Refrigerate overnight.
4 Make Preserved Lemon Oil: Combine oil and lemon in a glass or ceramic bowl. Set aside for 2 hours to allow flavours to develop. Strain, discarding lemon.
5 Turn terrine onto a serving plate. Remove and discard plastic wrap. Serve sliced and drizzled with lemon oil.
 Sensational Serveware
Domayne has an eye-catching range of plates and platters to add to the festivities around your dinner table this Christmas:

From left:
Salt & Pepper Matte Rectangular Platter