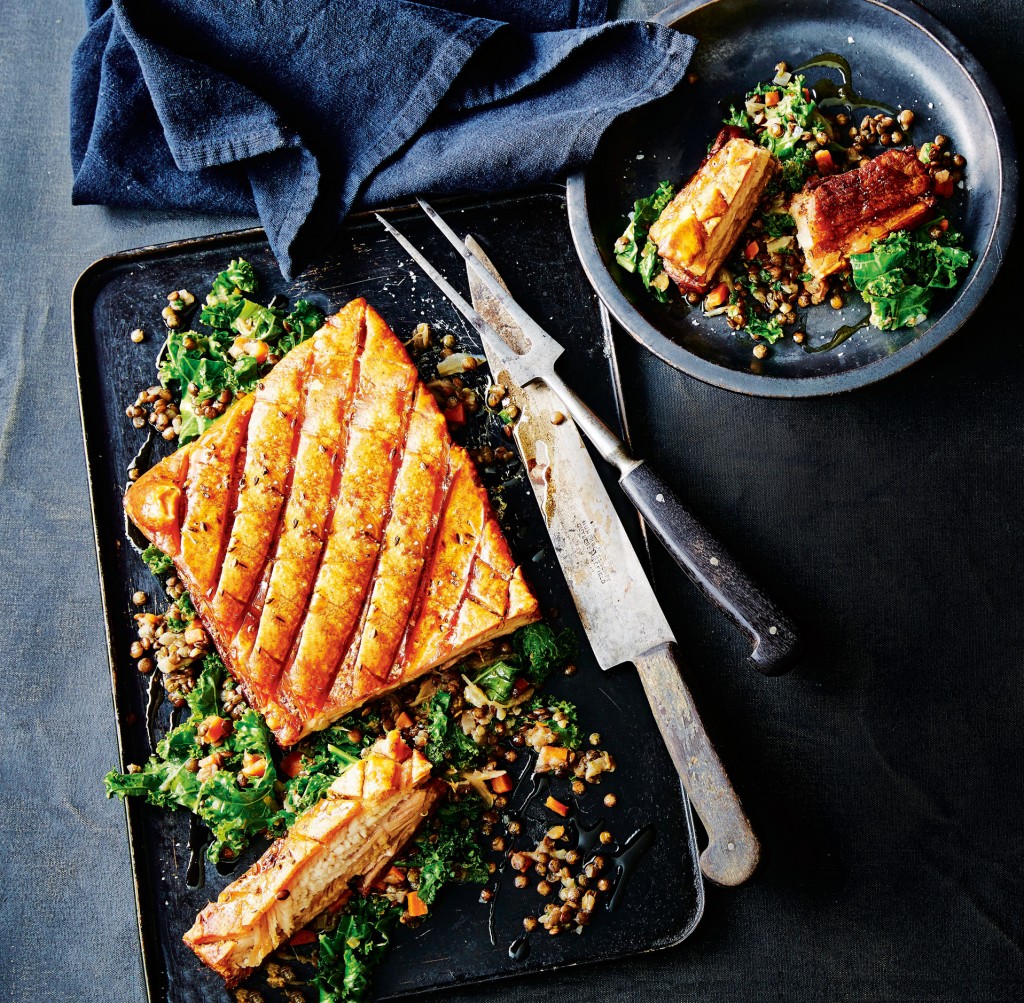 Sous Vide Pork Belly with Warm Kale Salad
---
You haven't tried slow-cooked pork until you've tried it lovingly sous vided in a water bath for 6 hours! Pair it with lentils, kale and the punchy flavour combo of caraway seeds, fresh fennel and chorizo to really get the palate party pumping!
Serves 6
Prep 20 minutes
Cook 40 minutes (plus 6 to 24 hours sous vide time)
 Ingredients
1.25kg pork belly, rind scored at 2cm intervals
1 1/2 tablespoons extra virgin olive oil
1 teaspoon caraway seeds, lightly crushed
1 teaspoon sea salt
1 baby fennel, trimmed, thinly sliced
2 eschalots, finely chopped
1 carrot, finely chopped
1 chorizo, finely chopped
1 garlic clove, crushed
1 dried bay leaf
3/4 cup dried French-style lentils, rinsed
1 cup apple cider
1 1/2 cups chicken stock
4 stalks kale, stems discarded, leaves roughly chopped
1 tablespoon lemon zest
Lemon wedges, to serve
 Method
1 Seal pork in a sous vide pouch following manufacturers instructions. Cook in sous vide machine following manufacturers instructions for a minimum of 6 hours and maximum of 24 hours.
2 Preheat oven to 200°C/180°C fan-forced. Line a baking tray with baking paper. Remove pork from sous vide pouch. Pat dry with paper towel. Rub all over with 2 teaspoons of the oil, caraway seeds and salt. Season with pepper. Place on prepared tray. Roast for 15 minutes. Increase temperature to 220°C/200°C fan-forced. Roast for a further 15 to 20 minutes or until rind is golden and puffed.
3 Meanwhile, heat remaining oil in a large, deep frying pan over medium heat. Add fennel and eschalot. Cook, stirring for 5 minutes or until fennel just starts to soften. Add carrot, chorizo, garlic and bay leaf. Cook, stirring for 5 minutes. Add lentils and cider. Bring to a simmer. Simmer for 2 minutes. Add stock. Stir to combine. Reduce heat to low. Cover. Cook, stirring occasionally, for 25 to 30 minutes or until lentils are just tender.
4 Add kale to lentil mixture. Toss over heat for 5 minutes or until kale is just wilted. Add lemon zest. Season with salt and pepper. Toss to combine. Serve pork with lentil mixture and lemon wedges.
Tools of the Trade
You'll be sous vide cooking more than just this recipe with the quality AEG appliances from Domayne. Find your nearest store by clicking here.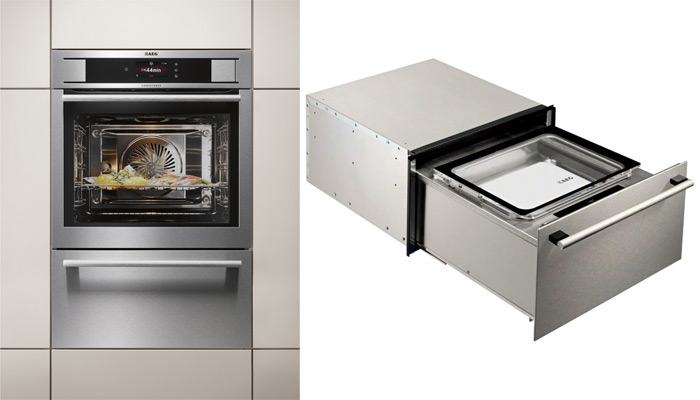 Find out more about the pictured appliances by clicking on the links below:
AEG 600mm Maxiklasse Procombi Plus Steam Oven