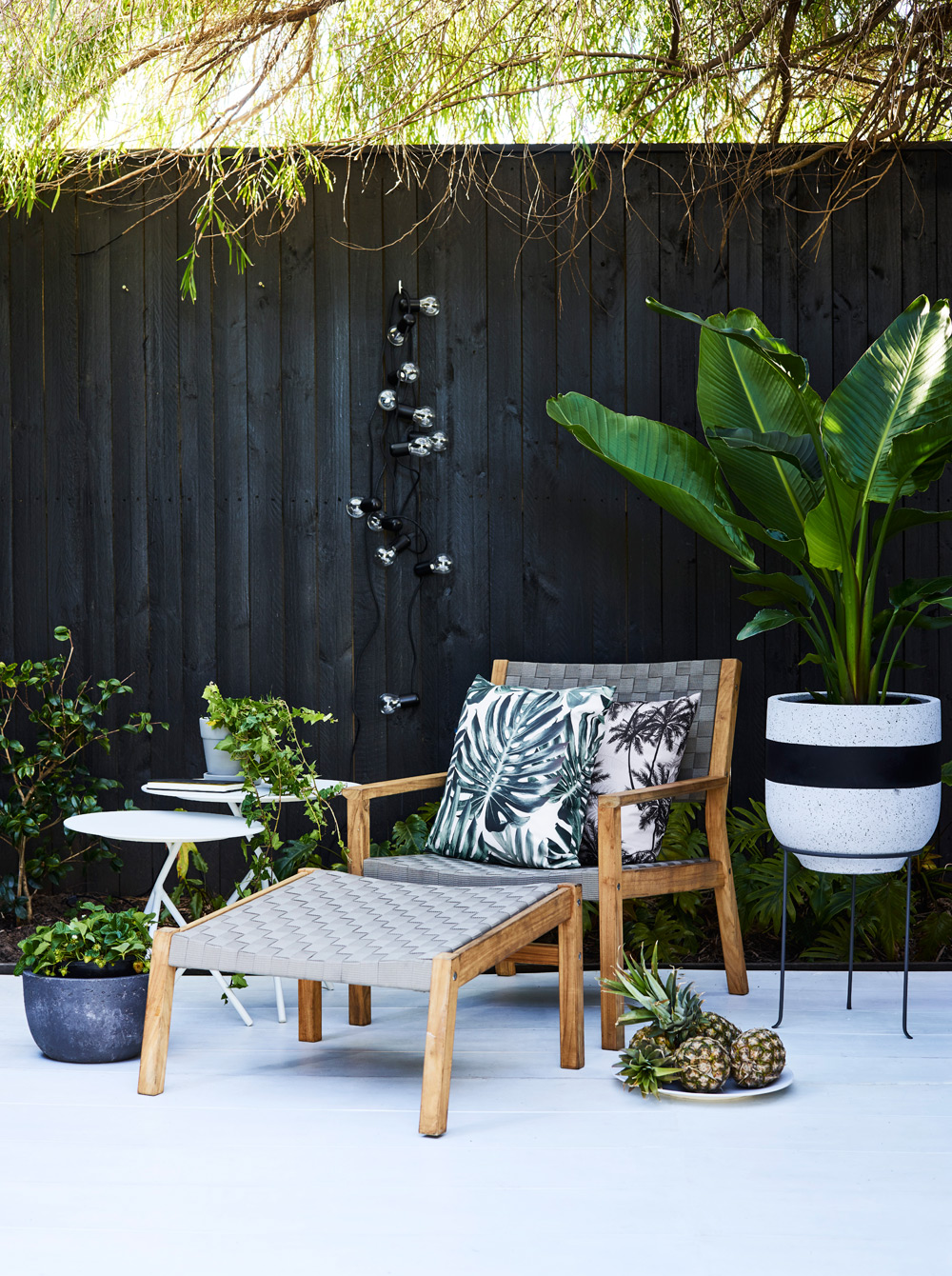 Summer Chic: Outdoor Ideas For Your Home
---
It's shaping up to be a warm and sunny spring, which means that summer will be here before we know it! Are you excited? We know we are! Especially since we've browsed through the Summer Chic magazine feature the talented team at Home Beautiful have put together. They've curated the Domayne outdoor furniture range to create stylish looks you're going to love for your home.
We sat down with Sarah Burman, the editor of Home Beautiful magazine to get her insights into the Summer Chic outdoor furniture feature and to get tips on how you can achieve these looks in your home.
Prep your outdoor area
When we asked Sarah how we should prepare our outdoor area – the fifth room in every Australian home – for summer, she told us to start with a clean slate.
"Grab a high pressure hose and get rid of the stains, cobwebs and mould from winter. Throw out broken pots and any plants that have really had their day."
She goes on to advise: "Keep your colour scheme minimal – I love a black and white palette with the predominance of grey."
Sarah also loves lots of texture with natural finishes, such as timber that will age to a gorgeous, weathered patina.
"This palette allows greenery and spring florals to really pop – it's such an ideal Australian look," says Sarah.
Sarah tells us that the best way to add interest to your al fresco décor is with outdoor rugs and outdoor cushions.
"Outdoor rugs and cushions are a must-have and a great way to bring in pattern and texture
Shades of summer
When you think summer, you usually think candy shop shades. But we've noticed a lot of hushed hues in cool colours shining through as this season's key players.
Sarah agrees that while bold brights have their place by the pool, most of us don't actually live with a water view.
"What works with the Australian landscape is a combination of muted greens, greys and warm ochres."
She goes on to say: "They complement our lawn, our gums, our decks and our timber homes. Using tonal greys elevates our gardens to centre stage."
Sarah's outdoor must-haves
Sarah's personal favourite is the Charlie Love Seat: "I can see myself reclining on this with a cup of coffee, just enjoying the sunshine."
Putting her editor hat on, Sarah picks the Archer 9-Piece Dining Setting for her Home Beautiful readers.
"The combination of timber and black is so striking, and it's an extension table, meaning you can have even more friends and family around to enjoy a Sunday lunch."
Sarah rates the Koa Modular Lounge very highly as well: "It's not just because of its deliciousness but also its practicality – modular coffee tables are so clever!"
Sarah really loves the Shutter Outdoor Screen: "This is a great product for an urban home with a small courtyard, and the perfect product to hide the bins – or my husband's bicycle!"
According to Sarah, well-maintained plants can make a world of difference to any outdoor space – be it a cosy courtyard, compact balcony or a sprawling lawn.
"Use non-matching pots – no black plastic allowed – with both plant and pot in tip-top condition!"
She's also a big fan of ottomans: "They are so versatile as an extra seat, a side table or even a foot rest. The cube ones this season are very cute."
Finally – and most importantly – sun safety. As Sarah points out, the Australian sun is quite harsh, so the number one priority is shade.
"It's key not to plan your outdoor entertaining area where there is full sunshine, so invest in an outdoor umbrella."
For more summer inspiration and outdoor ideas, check out our outdoor trends blog as well as the summer styles blog.
Feeling eager to get started on your outdoor area? Browse more beautiful outdoor furniture and decorator items online or visit your nearest Domayne store to see the collection in person.