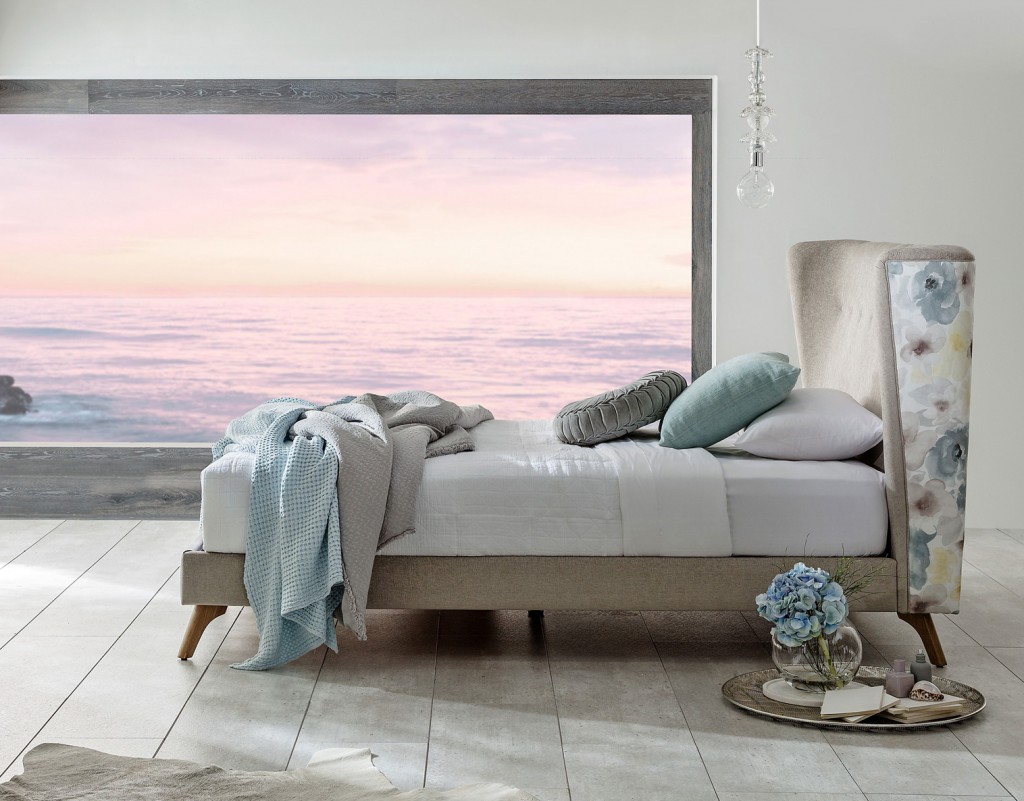 Summer Styles You'll Love For Your Home
---
Keep your cool this summer with a beautifully breezy home décor. The Domayne Summer Launch 2017 catalogue is out now and full of stylish sofas, dining furniture, beds, bed linen and decorator items. We've selected some of our favourites to help inspire the interior design enthusiast in you.
Cool Composure
Equip your bedroom against the stifling heat with light and airy colours. Toned down timber, paired with crisp white accessories and dots of pale pastels, such as soothing mint create a winning combination.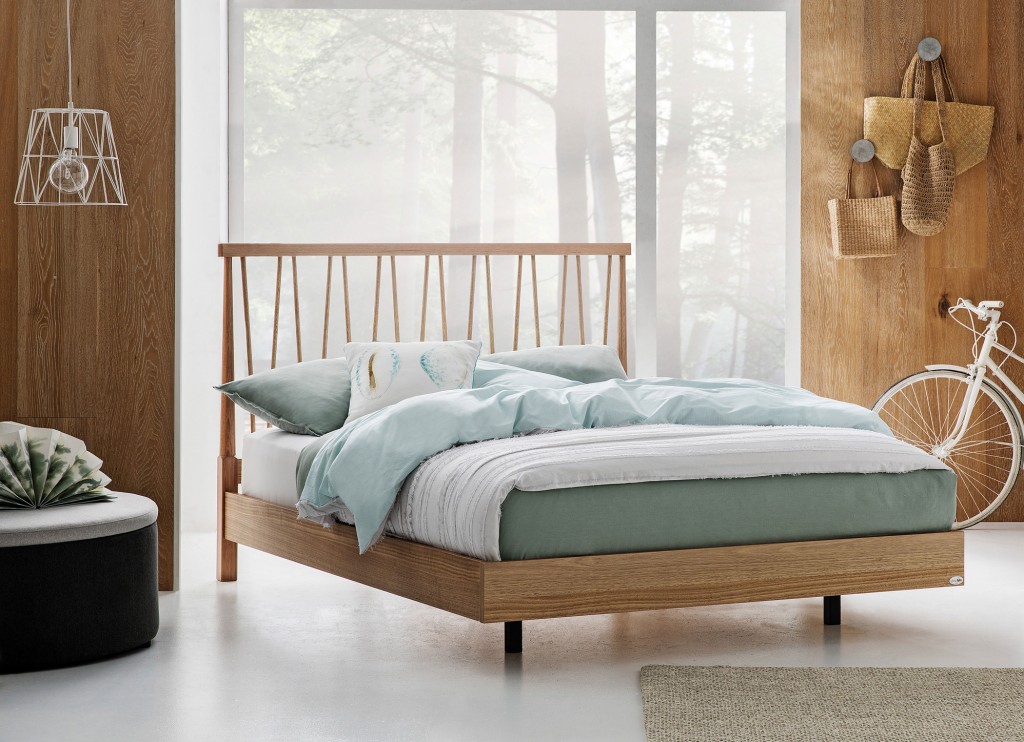 The sun-kissed sandy hue of the Spindle timber bed will lend an air of cool composure to your bedroom. Made in Australia and showcasing a stylish spindle design on the bedhead as well as a floating base, this beautiful bed frame is a contemporary take on a classic design.
Blush Crush
Take inspiration from nature in full bloom and incorporate floral-inspired designs and colours into your home. Steering clear of bright, busy shades and loud patterns, opt for the pale perfection of pastels pinks. Balance the look with soft greens and deep navy.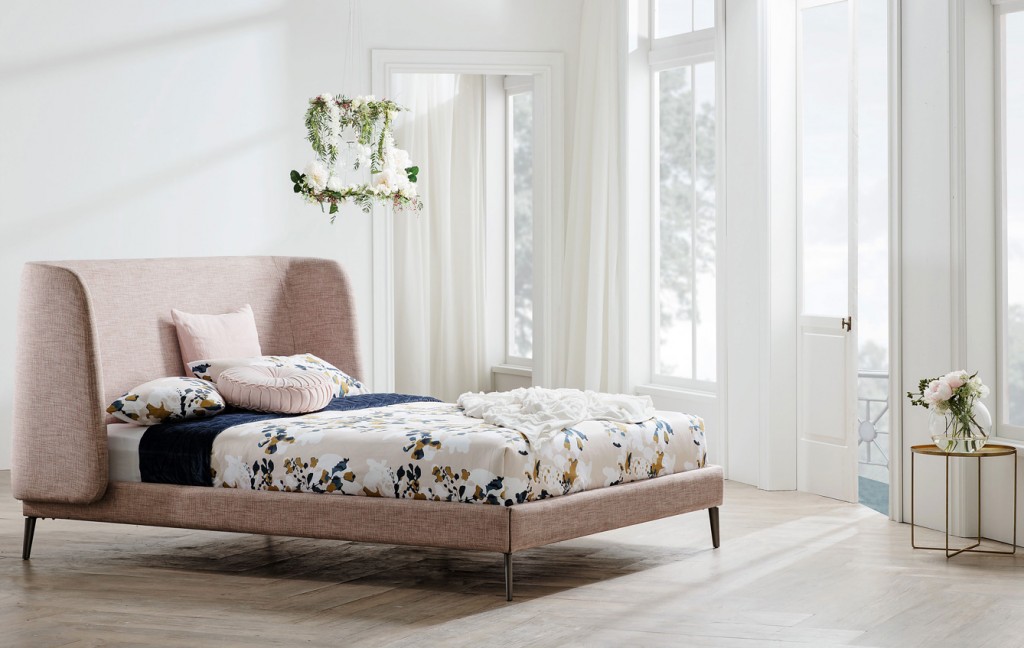 We love the dusty pink hue of the Peony bed. With a gently curving wrap-around bedhead and low-lying bed base, this Australian made beauty is all about sleep-ins and languid luxury.
Sunny Spots
When humidity is high and everything feels sticky, a breathable fabric in a snowy white and soothing grey palette is the way to go, especially at night when you're trying to get that much needed shut eye.
The Harley quilt cover is made from cotton with a lived-in look that evokes a sense of crisp comfort. Pair with cool white sheets and add layers to combat those unseasonably cold nights we tend to get even in summer.
Cotton Candy Dreams
Float away on a cloud of cotton candy comfort. Think layers of sweet, subtle pink paired with hushed white. Bring this pretty colour combination to life with sumptuous quilts and smooth sheets.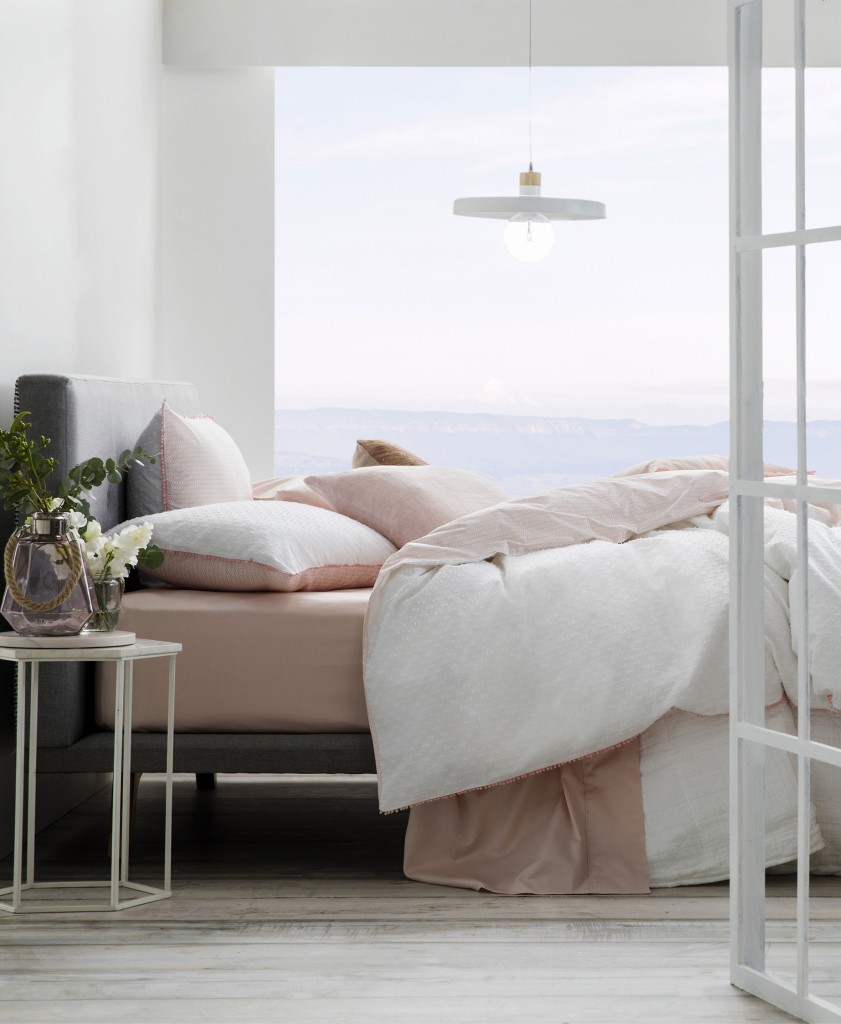 The name of this quilt cover set says it all – Stillness. This whisper design will encourage you to slow down, make time for yourself and rest. Enjoy the tranquillity of the rose bud colourway and languish in the tactile fabric design. Perfect for Sunday sleep-ins.
Lounge Love
You'll love lounging in your living room all the more when it's updated with a comfortable sofa in an appealing colour. Choose from a summery shade of blue to add a sophisticated style to your home that won't go out of date any time soon.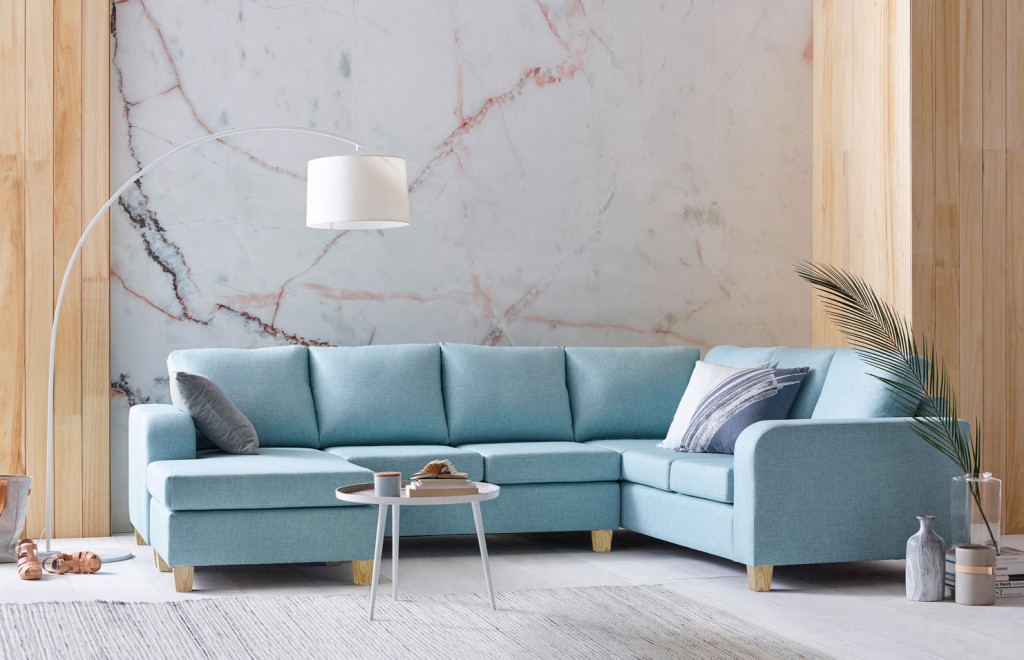 Our Oxford modular lounge is the perfect choice. Sporting aqua fabric upholstery, the clean lines and comfort-oriented design of this modular will see it become the focal point in your family room. The other great thing about this Australian made modular is that its customisable, which means you can choose from a huge collection of fabrics to suit your taste.
Calm Comfort
Not only are white furnishings elegant and effective, they act as the perfect blank canvas, allowing you to play with decorator items – such as lighting, vases and cushions – to either complement the neutral look or contrast with bursts of colour.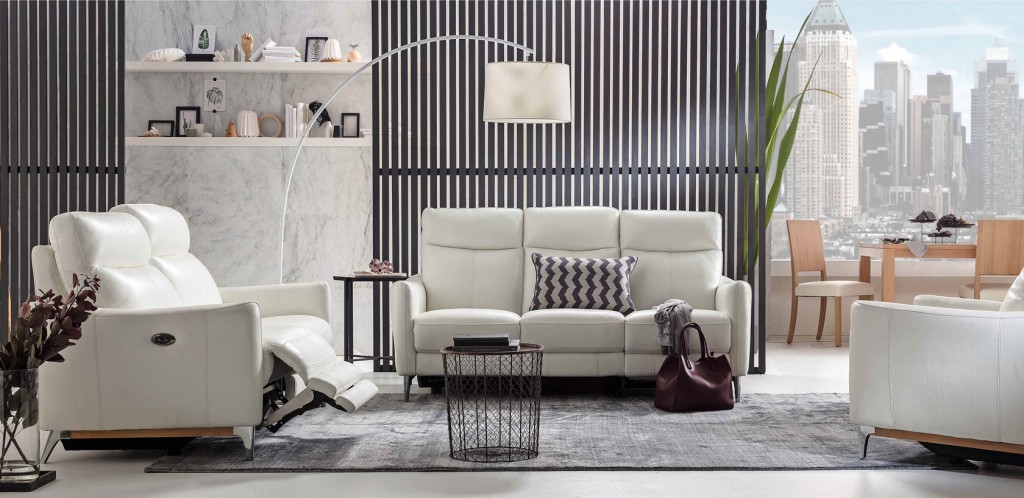 There's nothing quite as classic as white, especially when showcased in supple leather, such as with the Toledo lounge suite. Offering plush seating, a timeless design and electric reclining actions as well as a built-in USB port, the Toledo is definitely an investment piece.
Serene Style
Updating your decorator items is the easiest way to freshen up your home anytime of the year. This summer is gentle shades, cooling textures and graceful designs. Whites and greys are a staple that can be given a bit more oomph with deep purples and muted greens.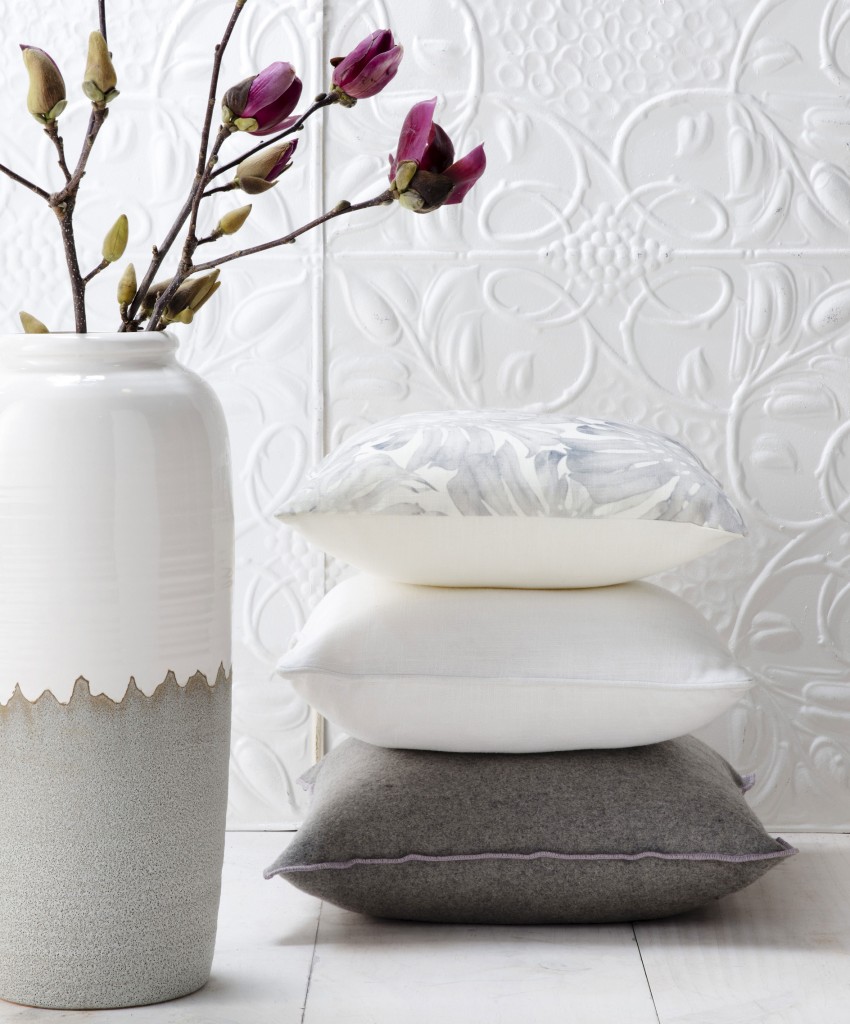 At Style Insider, we love cushions and one of our favourites is the Foliage, especially when piled on a sofa with the Basic in white and the Felt in orchid. Enhance the organic appeal of this trio by placing our Bubble vase on a side table next to cushions, and fill with your favourite flowers or cuttings.
Ready for some summer styling? Shop our gorgeous decorators and browse our huge variety of furniture and bedding online or stop by at your nearest store today.