Taste This: Tropical Christmas Dessert
---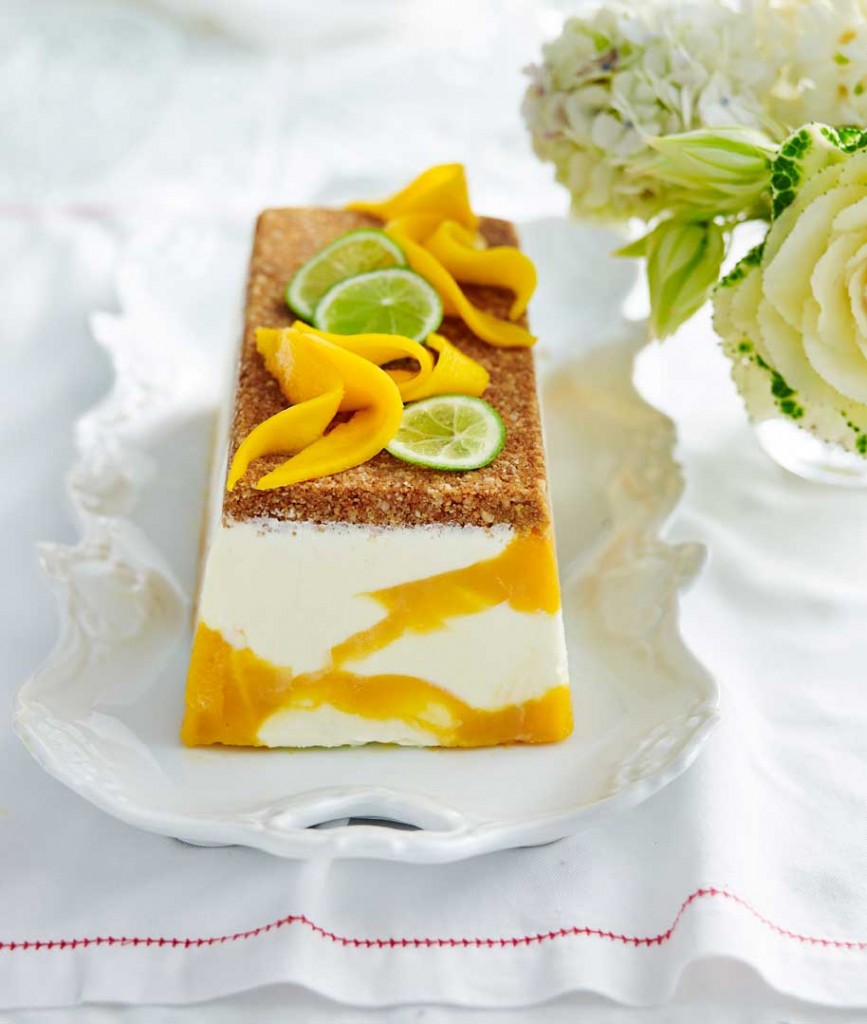 For more delicious recipes, visit Australian Women's Weekly
Frosty, creamy ricotta laced with seductive bursts of mango and lime and decadently finished with a golden butternut and macadamia crunch. More, please! For those who like to be prepared for Christmas lunch, make several days ahead and crown with fresh fruit on serving.
Frozen mango macadamia crunch
Serves 8
Prep time: 30 minutes (+ freezing and standing time)
100g butternut snap cookies
2 tablespoons finely chopped toasted macadamia nuts
20g butter, melted
2 large (1.2kg) mangoes
1 tablespoon caster sugar
1 tablespoon lime juice
400g ricotta cheese
¾ cup (165g) caster sugar, extra
300g carton sour cream
2 medium (860g) mangoes, sliced, extra
2 medium (180g) limes, sliced thinly, extra
1. Grease a 14cm x 22cm loaf pan; line base and sides with a double layer of foil, extending foil 10cm over the edges of the pan.
2. Blend or process biscuits until fine crumbs; transfer to a medium bowl. Add nuts and melted butter; stir to combine. Using hand, press biscuit mixture lightly over base of prepared pan, cover; freeze about 20 minutes or until firm.
3. Meanwhile, slice cheeks from mangoes; discard skin and seed. Blend or process mango cheeks, sugar and lime juice until smooth. Transfer to a medium bowl.
4. Blend or process ricotta and the extra caster sugar until smooth. Add sour cream; blend or process until just combined.
5. Drop alternate spoonfuls of mango mixture and ricotta mixture over biscuit base in prepared pan; using a butter knife, swirl the mixtures gently. Cover; freeze overnight or until firm.
6. Turn out onto serving plate or board, decorate with sliced extra mango and limes. Stand for 15 minutes before slicing and serving.
Got a hankering for some more tasty recipes? Get 'em on the Flavour section of the blog.