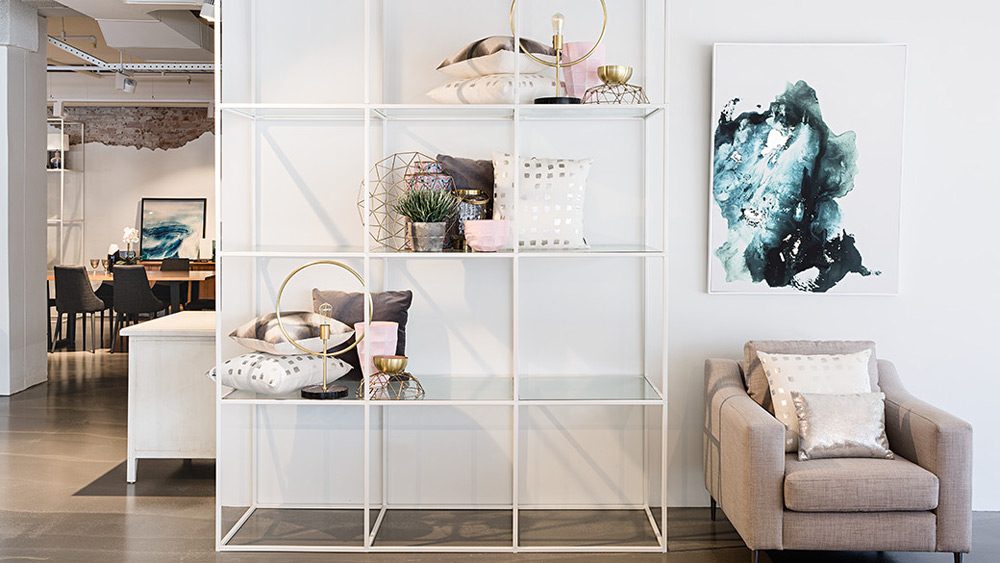 The Benefits Of Staging Your Property With Domayne Hire
---
The Australian property market is very competitive – for buyers and sellers both. Property developments are popping up all throughout the major cities, and all of them are vying to attract genuine buyers. With so much activity in the market, it's more crucial than ever to find an edge over your competition. And that's where Domayne Hire can help.
If you have a home or investment property you're thinking of putting on the market, the first thing you need to do is give the idea of professional property staging some serious thought. An experienced stylist – who knows how to show a room to its full potential utilising beautiful furniture and decorator pieces – can be the difference between a lucrative sales offer versus a stalemate.
Domayne Hire has been staging homes in the Brisbane area for some time now with great success. Having identified a gap in the Sydney market they've recently opened a brand new showroom in Rosebery and held an exclusive launch event to announce their arrival. We, at Style Insider, were invited to attend and mingle with the glitterati of the interior design world, including magazine editors, interior stylists, builders, developers and realtors.
Keep reading to discover what we learned at the event about the importance of professional property staging.
Why style your property?
Once all the guests had finished a glass or two of bubbly and enjoyed the delicious canapés on offer, we all gathered in the showroom where Claire Bradley, editor-in-chief of Inside Out magazine, held a conversation with Melinda Williams, senior stylist and proprietor of the Domayne Hire Brisbane branch, on what Domayne Hire is all about.
When asked about the importance of property styling, Melinda answered:
"Engaging with a professional property stager has become even more essential to achieving a successful sale. Properties need to present beautifully not just in photos and online, but also in the flesh. It's crucial that you connect emotionally with your buyers – and this is where we come in."
When Claire asked what distinguishes Domayne from other services out there – Melinda replied:
"Domayne has become an industry leader in the past 19 years when it comes to the home furniture sector. And our key point of difference is that we are stylists ourselves so we appreciate and understand what other stylists want for their clients."
When Claire broached the topic of affordability, Melinda responded:
"As property styling continues to become popular, we've identified a gap in the market for quality, fashionable furniture needed for medium to high end properties wanting to style their home appropriately to attract genuine buyers. With this at the forefront of our mind, we are aiming to provide a premium service at an affordable price."
What's the Domayne difference?
Melinda went on to clarify that with Domayne Hire, you are guaranteed to not look like everyone else – this means your house or apartment will stand out head and shoulders above the crowd.
"We carry a huge range of exclusive furniture, outdoor, bedding, linens, soft furnishings and accessories, and our aim is to be one step ahead of everyone else. We hold a vast and varied mix of furniture styles in our warehouses all over the city and cater to the most up-and-coming contemporary apartments of the west/inner west right through to the sought-after shacks in the Northern Beaches of Sydney."
The other exciting thing we learnt is that the most current and on-trend products you see in Domayne stores and online can be made available for you to rent from Domayne Hire to stage your property! Whether you're after a complete package to deck out a brand new apartment or just want an accent chair, floor lamp, bespoke painting or framed artwork to add to the existing décor of your house – you have the flexibility to tailor the options to suit your specific styling requirements and budgeting needs.
What's the duration of the furniture hire?
Melinda told Claire that Domayne Hire provides both short and long term options, and are upfront and honest about the costs involved from day one so there are no hidden fees.
"You can use our standard six-week hire to work alongside your realtor's marketing campaign, all the way through to yearly packages for builders and developers wanting to maximise their investments, especially if they have a number of units to sell over a longer period of time."
Another great thing we discovered was that the products being hired are available for sale. So if a particular sofa, cushion or vase catches your eye, you have the option to buy it after the duration of the hire – at a very competitive price!
"The benefit of this is that it's all fully set up for you – no need to hire movers, assemble the products or decide where to put them in your home," said Melinda.
What do the professionals think of Domayne Hire?
You may have a gorgeous residence already, but as Charles Caravousanos – a leading Sydney real estate agent who is a regular at Domayne Hire – told us, you need to de-clutter and de-personalise a house or apartment so buyers can see it as a potential home for themselves, rather than as belonging to someone else.
"Buyers like imagination – they should be able to see it as a welcoming space and styling can do that."
This point was further reiterated by Natalie Fryer, stylist and owner of m2 Property Presentation, who recently started using Domayne Hire to furnish an eclectic mix of homes all around Sydney:
"When people walk in to a room, they should think to themselves – this is how we will live. You have to show them the lifestyle potential of a house."
Natalie went on it say that since professional stylists stage homes every day, they can see areas that could benefit from styling and vastly improve the overall impact of the décor – things home owners could potentially miss, since they are so accustomed to the space they occupy.
When we asked Natalie what she thought of the Domayne Hire service, her eyes lit up!
"I was styling a multi-million dollar home a week ago and needed a few finishing touches to complete the look. I drove to the Rosebery showroom for the first time to have an initial consultation and see availability.
"Normally, choosing props is a chore but as soon as I walked in, I felt like a kid in a lolly store! I spent over an hour selecting lamps, cushions, you name it. Karen, Tamara and the team helped me load it all in my car and off I went."
She confided that if they'd let her in to the storeroom now (while at the launch), she'd be loading up her car for another property she is styling.
"What they do here is like fairy dust, it really makes a difference to the look and feel of a property. Normally this is stuff I'd have to go out and buy but now I don't have to – I can just hire it!"
Top property staging tips from industry taste-makers
Thinking of styling your property or hiring a professional property stager? We spoke to some of Australia's leading interior design magazine editors – both print and digital – to get their take on why professional property staging can make all the difference.
Wendy Moore, general manager of the Home & Food division at Pacific Magazines and judge on Channel 7's House Rules, shared her thoughts on the emerging interior décor colour trends of 2018:
"Pantone's colour of the year is Ultra Violet, so we will see a bit of this purple hue in homes but rather than say – watch out for violet as it's going to be popular – my advice is: watch out or this could go very, very wrong. Bottom line: buy the cushion, not the couch."
Wendy's number one styling tip?
"Always start with a moodboard as it's a sure-fire way of working out exactly what look you want as well as being able to communicate that look to others – like an interior designer for instance. It's also a great way of staying on track when you're actually shopping."
We also had the pleasure of speaking with Alice Stolz, national managing editor of Domain who shared her insights on the importance of staging a property before putting it on the market:
"Styling can also be a great tool, showing potential buyers how they could live in a house. If you see a house with lots of empty rooms and a funny little nook off a living space, you're not helping buyers understand how to work the house.
"Many potential buyers need a roadmap of sorts and styling can do that. All of a sudden they can see where the bedroom for the children will fit. Yes, a desk does work in that little spot off the kitchen, and wow, that funny nook is actually a great play area for the kids.
"Buying property is such a massive financial and emotional decision – the more guidance you can provide the better."
When we asked why a professional service, such as Domayne Hire, is a better option than styling your home yourself, Alice replied:
"When it comes to styling, I think a lot of people think 'how hard can it be?' and the answer is that styling can be incredibly tough. Property staging is also not the time to tap into your own personal taste. It's not about you, it's the property you're selling."
Alice's number one styling tip?
"Artwork is a wonderful way to make a house feel like a home. It also adds a flourish without being imposing. Rugs are another terrific and really effective way of adding character to a property without being a fundamental feature that can't be changed.
"People need to see a property as a blank canvas for whatever their living situation is, but they need to see a bit of flair and style in it to make them fall in love with it. You have to tap into the emotion of potential buyers."
Thinking of selling your home? Attract the right kind of interest and genuine buyers simply by staging the property with furniture, bedding and homewares from Domayne Hire. Learn more online or tell your interior stylist to do it on your behalf.
You can also visit the Sydney showroom at 33 – 35 Morley Street, Rosebery or the Brisbane showroom at 89 Northlink Place, Virginia.