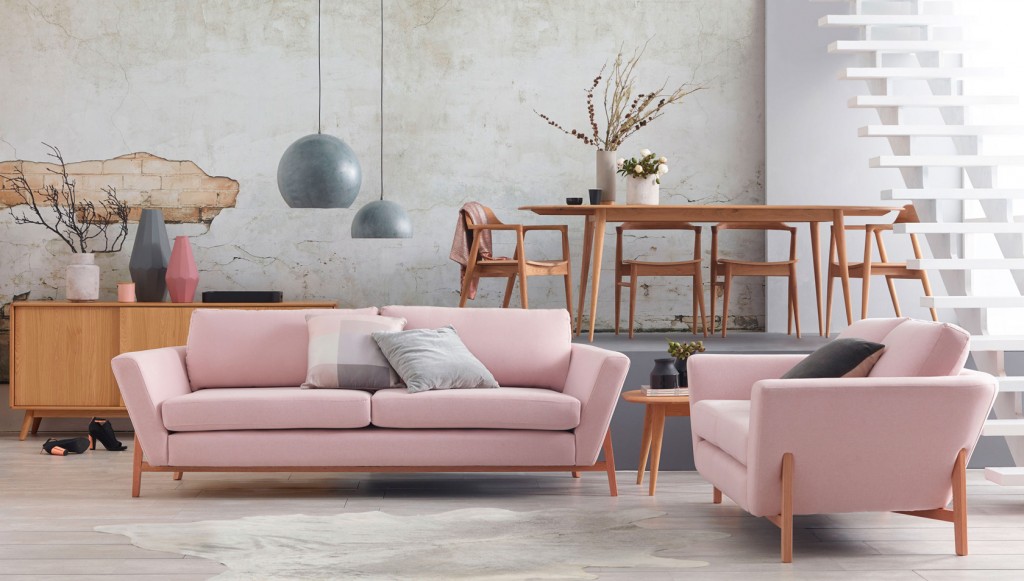 Top 10 Apartment-Friendly Furniture – Stylist's Choice
---
Apartment-style homes, where space is at a premium, are on the rise. This doesn't mean you have to put up with cramped quarters and tiny furniture. Whether you live in an inner city loft or have taken up residence in a suburban townhouse, make your home feel stylish and spacious with apartment-friendly furniture from Domayne.
We spoke to Caitlin Melling and Sibel Alpsal – stylist extraordinaires responsible for creating the look and feel of Domayne's latest catalogue, which is full of beautifully clever and compact dining, living and bedroom furniture options.
Caitlin and Sibel both shared their top picks from the catalogue and were full of sound advice on how to transform petite spaces into cosy, comfortable and chic homes.
As pictured above, clockwise:
1. Marli Dining Table and Chairs
A round dining table is perfect for a small room as it takes less space, while still offering enough surface area to house your cutlery, serveware, drinks and a floral centrepiece. Plus, it creates a more intimate ambience and encourages an open flow of conversation, so nobody feels left out. The 'Marli' is a great Nordic-inspired choice, featuring a Victorian Ash timber veneer table and gently curved chairs in a Charcoal, Beige or Olive fabric upholstery option.
2. Marine Marble Tray in Black

Celebrating the timeless grace and good looks of real marble, the moody black 'Marine' tray is perfect for creating a bold vignette on your coffee table, mantle or console. Complement with lustrous metallics, leather accents and ceramics in a matte finish.
3. Bottle Wire Pendant
Pendant lights are a great way to conserve floor space, while adding visual drama to any room. With so many exciting designs to select from, you are spoilt for choice! We recommend the uber elegant, gilded cage-like aesthetic of the 'Bottle Wire' pendant in a brass finish.
4. Pure Marble Box in White
The speckled, white chocolate hue of the sophisticated 'Pure' marble box makes it a great decorator item. Not only will it add a sense of grandeur and majesty to your boudoir, it will also be the perfect place to store your jewellery, make-up and maybe even act as the perfect hiding space for after-dinner mints or gourmet chocolates.
5.Elliot Floor Lamp
With a streamlined stand, a slim base and an oversized shade, the 'Elliot' floor lamp may not seem like the obvious choice for an apartment, but is great for adding height and making a bold style statement as a focal point in the bedroom or lounge area.
As pictured above, clockwise:
 6. Killarney Bed Base with Storage (also available:Bed Head)
Exclusively available at Domayne, this Australian made bed comes with the option of several timber stains and is equipped with four drawers, giving you plenty of storage to keep your bed linen, extra pillows and throws neatly tucked away yet within reach.
7.Cowhide Rug in Black & White
Add upscale New York loft vibes to your apartment with the classic black and white appeal of this genuine cowhide rug. Luxurious underfoot, it'll be a plush addition to your dining room, lounging area or bedroom. Black and White isn't for you? Then how about Light Grey, Beige, or Reddish Brown?
8. Contour 3-Piece Dining Setting

Featuring an oval timber table in a honey-blonde finish and gently curved, padded benches, the 'Contour' setting doesn't skimp on style or comfort. Tuck it away in a corner or have it take centre-stage in a more open plan space – the choice is yours.
9.  Aura Chambray Quilt Cover
With an inky indigo hue in a washed finish, a gorgeously tactile feel and 100% cotton material – this quilt cover is a comfort sensation and looks beautiful layered with throws, cushions and bed sheets in powder pink, coral, dove grey or the many shades of always in trend blue.
10. Mansfield 2-Seater Fabric Sofa
The tub-like design and exposed timber frame of the 'Mansfield' sofa highlight the blushing beauty of the pastel pink fabric upholstery. Streamlined and small, this sublime sofa is great for an inviting sitting room or a relaxed family room.
Feeling inspired to rethink the structure and style of your apartment? Browse our gorgeous furniture, bedding and homewares online or go to your nearest store and talk to the friendly Domayne sales team about your décor vision and spatial requirements.