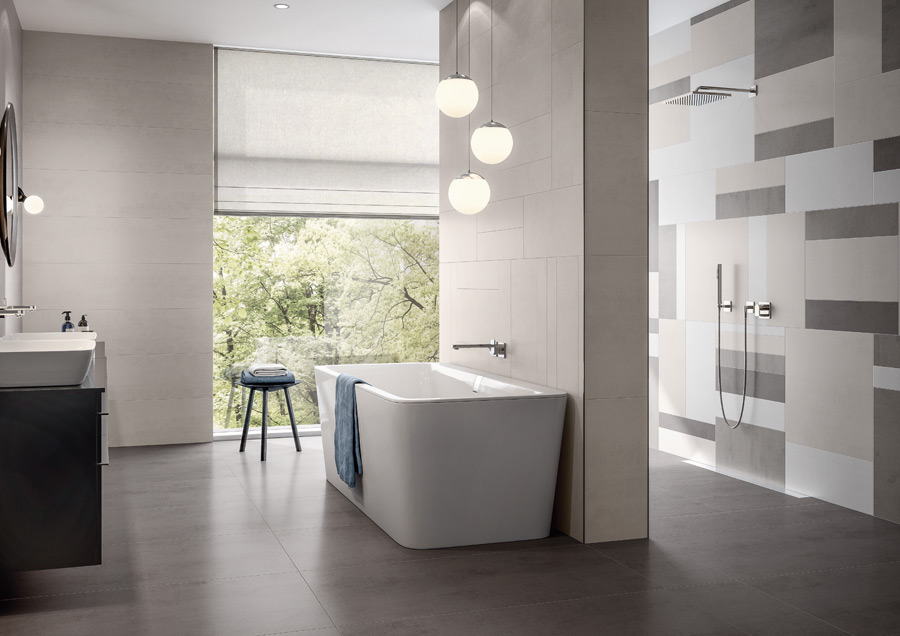 Top 5 Frequently Asked Questions About Bathroom Renovations
---
Renovating your bathroom is a pretty big deal, and while it's fun admiring designer bathrooms in glossy magazines, reading lifestyle blogs for styling tips, searching trending hashtags on Instagram for inspiration and creating wish-list boards on Pinterest – the reality and actual planning of the renovation can be a daunting task. There are so many questions that pop up: where do you start? How do you minimise costs? How do you choose the right fixtures and fittings?
To help you get started on your bathroom renovation journey, we sat down with Head of Domayne Bathrooms, Elie Habib, and Head Designer, Roger Ibrahim, to get their insights into the five most commonly asked questions.
1.   What's the first step towards getting my renovations started?
Finding a well-reputed renovation company – such as Domayne – is a must. A skilled and knowledgeable team who do this every day will help you tackle the magnitude of such a major remodelling project. A highly qualified and experienced designer will help you distinguish between necessities and wish-list items in order to establish a budget. They will explain the features and benefits of products such as bath tubs, shower heads, taps, toilets, tiles, etc. They will offer options that meet your expectations and explain the pros and cons of each choice available to you. They will also come to your home and do all the groundwork, including taking measurements of plumbing points to ensure everything on your must-have list can fit into the space available.
2.   How can I cut costs when renovating?
A dream bathroom is the ultimate luxury and usually falls on the premium end of the spectrum when it comes to budgeting. Talking to an expert renovations team will help you assess what is realistically achievable based on your specific budget. Further to this, minimising structural changes – such as changing the entry door position or the size of the windows – and reducing plumbing excavation will vastly cut costs. Choice of products also plays a big role, for instance underfloor heating and heated towel rails are generally considered luxury items but an investment worth making for some. Another crucial point to remember: never cut corners. This will only lead to future problems, including leaking showers, waterproof seals breaking, tiling giving way, to name just a few.
3.   How long will the renovations take?
A reliable renovation company can usually deliver a completed bathroom within a five week period but it's important to remember that this can fluctuate based on your specific needs. Structural changes will take longer and a definite timeline will be given upon your enquiry.
Here's a breakdown of a five-week timeline:
Week 1:
Stripping of old site and removal of rubbish. The plumber and electrician will assess the site for key plumbing and electrical work.
Week 2:
Wall sheeting and rendering will take place, including first coat of waterproofing.
Week 3:
Second coat of waterproofing is applied as well as screed flooring.
Week 4:
Tiling grout, silicone and fittings take place by end of this week and measurements are taken for the shower screen.
Week 5:
Fittings are completed and shower screen is installed.
4.   How do I make a small bathroom feel bigger?
Adding large mirrors and cabinets as well as using a light colour palette for wall and floor tiling, and fixtures and fittings, will make a space feel lighter. Try installing accessories such as towel rails, robe hooks, glass shelves, cabinets and mirrors at a more elevated height than usual to add length to the room and make if feel less cluttered. Wall-hung vanities work better in compact spaces than the floored variety. Plus, a freestanding bath gives the illusion of a bigger space. Wall-to-wall shelving and narrow tallboys are also great for creating more storage space in your bathroom.
5.   What's the best way to minimise maintenance once my new bathroom is complete?
Select built-in wall cabinetry and minimise gaps between products to avoid dust accumulation. A frameless shower screen will accumulate less mould build-up, while glazed porcelain tiles are maintenance free, due to being already sealed at manufacturing stage, as opposed to natural materials such as marble that need to be sealed every five years. We can also apply EPOXY grouting at the customer's request to reduce mould and mildew – this means less cleaning and more soaking in your new tub!
Have Elie and Roger's insights given you food for thought? Feeling a little less lost and more equipped to get started on your bathroom renovation project?
If you have more questions you'd like answered, fill out our easy online form to book your free consultation with one of our leading Domayne bathroom designers who can answer all your questions, put your mind at ease and help you plan and execute a hassle-free renovation.