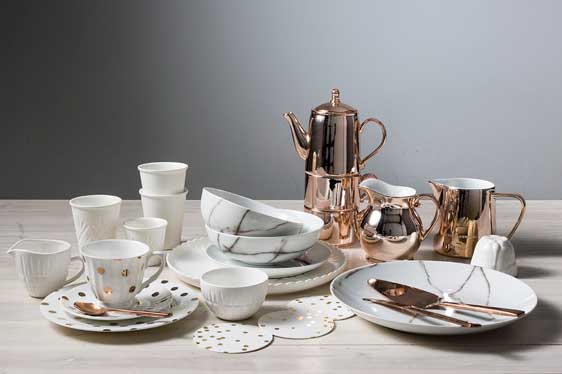 Trend Report: Marble Accents
---
Naturally beautiful and unmistakably elegant, marble homewares are currently one of the key trends in the interior decorating world. Domayne's Assistant Stylist, Rachael Vicary, shares her take on this classic stone and reveals her top tips for updating your home decor with marble accents.
Marble is a particularly risk-free interior investment due to its timeless quality. One of marble's reigning features is its ability to make a statement in both dramatic doses and subtle hints. If marble isn't a natural style choice for your space, introduce it on a smaller scale with a selection of stylish homewares. Its weight and natural beauty offer a sense of dimension and solidity within a room and can help break up the repetitive aesthetics of plastered walls, timber and glass.
BRINGING CLASSIC MARBLE TO LIFE
Carrara Marble is one of my favorite materials to work with in interior spaces. It compliments most styles and surfaces and adds a sense of luxe to any room. It is particularly striking when married with warm timbers and leathers, concrete and/or copper.
The combination of marble and copper is almost faultless in style and sophistication. By introducing reflective metallic hints, you really allow the muted veins of the stone to add an elegant dash of drama and movement to a space. However, if modern luxe is slightly too imposing for your space, try opting for a softer palette by introducing pastel tones and blonde timbers for a more feminine and Scandinavian feel.
As a light stone, marble can sit just as comfortably within a neutral palette as it can amid a monochrome and neon palette. Assess the space you have and determine what sort of marble accents you need to break up the repetition; a busier room may only need subtler hints – such as dinnerware – whereas a more understated space may require a slightly more dominant feature such as our 'Lilia' Marble Dining Table.
STYLING MARBLE ACCENTS IN THE HOME
Don't be afraid to use marble pieces in different zones of your home. Domayne's Marble and Mangowood Chopping Board not only functions as an elegant serving board, it also looks incredibly striking on your coffee table or buffet as a decorative tray to display homewares or trinkets. Think outside the box regarding how you can use marble to accent a forgotten corner or add sophistication to a bedside table.
Get creative by introducing marble into your laundry or bathroom with Domayne's range of Lotion Bottles and Soap Dishes. It adds a sense of consideration to a room which may be lacking on the style front.
Marble is a great choice for adding that extra dimension of luxe and texture to your home this winter. Prepare for a timeless yet contemporary style your visitors will be instagramming all year long.
 DOMAYNE'S 5 MARBLE MUST-HAVES
From lotion bottles and photo frames to chopping blocks and dining tables, here are our favourite marble decorator essentials for the season:
Looking for more interior inspiration? Browse our extensive collection of new season furniture and homewares at your local Domayne store or shop online today!