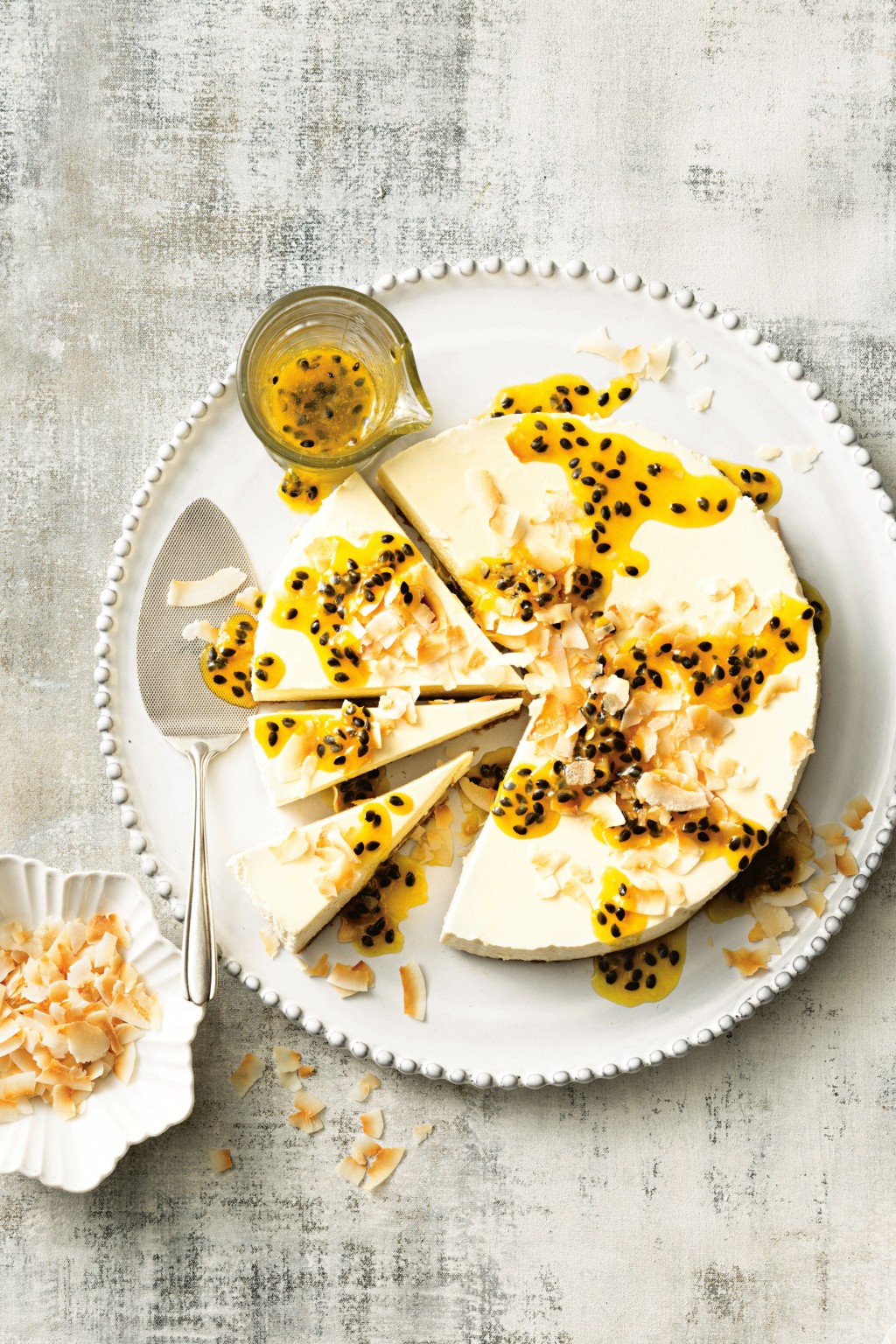 White Chocolate and Passionfruit Cheesecake
---
Save traditional puddings and filling fruit cakes for Christmas in July, when the weather is more suitable for those kinds of treats. Opt for a light yet luscious cheesecake instead that's more suitable for a sunny Aussie Chrissy. Celebrating the tropical flavours of summer, this no-bake beauty is topped with tart passionfruit pulp and toasted coconut flakes, which perfectly balance the decadent white chocolate that's laced throughout this luxurious cheesecake.
Serves 12
Prep 35 minutes (plus overnight refrigeration)
Cook 10 minutes
Ingredients
200g plain sweet biscuits
100g butter, melted
6 gelatine leaves
2 x 180g blocks white chocolate, chopped
600ml tub thickened cream (see note)
750g cream cheese, softened
2 teaspoons vanilla extract
4 passionfruit, halved
2 tablespoons caster sugar
1/4 cup toasted coconut flakes
Method
1 Grease a 6cm-deep, 22cm round (base) springform pan. Line side of pan with baking paper, extending paper 2cm above edge of pan.
2 Process biscuits in a food processor until fine crumbs form. Add butter. Process until mixture is well combined. Press over base of prepared pan. Refrigerate until needed.
3 Place gelatine leaves in a small bowl of cold water. Stand for 5 to 7 minutes or until softened.
4 Meanwhile, place chocolate in a microwave-safe bowl. Microwave on HIGH (100%), stirring with a metal spoon every 30 seconds, for 1 to 2 minutes or until smooth. Gradually add half the cream, stirring constantly, until mixture is well combined.
5 Squeeze excess liquid from gelatine and place in a small saucepan over low heat. Cook, stirring constantly for 20 seconds or until melted. Set aside.
6 Using an electric mixer, beat cream cheese and vanilla until light and fluffy. Add hot gelatine, beating until combined. Add white chocolate mixture. Beat to combine, scraping down sides of bowl. Beat in remaining cream until just combined. Pour mixture into prepared pan. Level top. Refrigerate overnight or until cheesecake has set.
7 Place passionfruit pulp, sugar and 1/4 cup water in a small saucepan over medium-high heat. Bring to the boil. Reduce heat to low. Simmer for 5 to 7 minutes or until slightly thickened. Set aside for 5 to 10 minutes to cool.
8 Transfer cheesecake to a serving plate. Spoon over half the passionfruit sauce and top with coconut. Serve with remaining sauce.
Cook's note: Stand cream at room temperature for at least 20 minutes before using. If it's too cold, the chocolate mixture will seize when adding the cream in step 4.
Tools of the Trade
Keep your cheesecake chilled and at its freshest, until it's time for dessert, with the right fridge from Domayne.
Appliances from left:
• Fisher & Paykel 614 Litre French Door Fridge
• Samsung 719 Litre French Door Fridge
• Westinghouse 620 Litre French Door Fridge